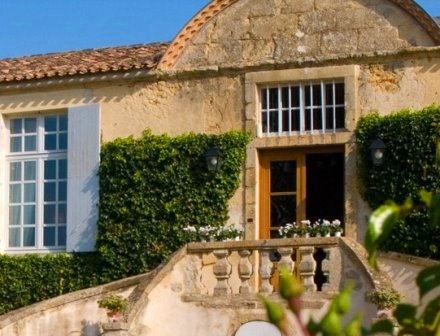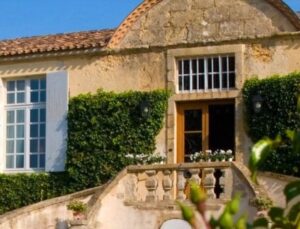 Learn everything about Chateau d'Arche Sauternes, Deuxiemes Crus with wine tasting notes, wine, and food pairing tips, best vintages, a history of the property, information on the vineyards and winemaking. If you want to read about other important, Bordeaux Chateaux: Links to all Bordeaux Wine Producer Profiles
Chateau d'Arche History, Overview
Chateau d'Arche is one of the older estates in the Sauternes appellation. The property was founded by its namesake Henry d'Arche, in 1580. Over the years, like many Bordeaux wine producers, the estate was divided and sold off at different times to a wide array of owners.
At one point, it was known as Chateau d'Arche-Lafaurie-Peyraguey, due to the fact it was shared owners with Chateau Lafaurie-Peyraguey. In 1996, a new drainage system was installed in the vineyards. In 2005, Chateau d'Arche was sold by the Perromat family to an investor group.
Chateau d'Arche Vineyards, Terroir, Grapes, Winemaking
The 40 hectare vineyard of Chateau d'Arche is planted to 90% Semillon, 9% Sauvignon Blanc and 1% Muscadelle. The estate has currently close to 30 hectares under vine.
The terroir is a blend of gravel, rocks, stones, clay, and limestone soils. The average age of the vines is 45 years of age. The vineyard is planted to a vine density of 6,600 vines per hectare.
To produce the wine of Chateau d'Arche, the wine is vinified in French oak barrels and is then aged in 30% new, French oak barrels for 12 to 18 months, before bottling. It is interesting to note that Chateau d'Arche is one of the few, if not the only 1855 classified growth to use a synthetic cork.
The best vintages of Chateau d'Arche are: 2022, 2021, 2020, 2019, 2018, 2017, 2016, 2015, 2014, 2013, 2011, 2010, 2009, 2007 and 2005.
Chateau d'Arche produces close to 4,500 cases of wine every year. They also make a second wine, Prieure d'Arche.
Aside from their two main wines, the estate produces a high-end Cuvee from a 2-hectare parcel of their oldest vines. Those old vines that are close to 60 years of age are used to produce d'Arche Lafaurie. d'Arche Lafaurie is aged in 100% new, French oak barrels for 24 months.
The chateau also makes a dry white wine from a one-hectare parcel, d'Arche Blanc as well as a dry white Bordeaux wine from vines they own in the Graves appellation.
When to Drink Chateau Broustet, Anticipated Maturity, Decanting Time
Chateau d'Arche can be enjoyed on the young side with no decanting. In fact, it is delicious and quite a treat young. Even on release! However, like all great wines, Chateau d'Arche is much better with age.
The wine does not reach full maturity until it's at least 10-15 years of age, or in some years, perhaps even longer in the best vintages! That is when the magic happens! But that is unrealistic for 99% of the world's wine drinkers. So, enjoy it on any special occasion that calls for it.
Of course, the wine is sweet, but there is so much, incredible, racy acidity, the wine always feels fresh, and never cloying, which makes it quite fun to enjoy young. With Chateau d'Arche and frankly, all Sauternes, the temperature is more important than decanting.
Serving Chateau d'Arche with Wine and Food Pairings
Chateau d'Arche is best served at 14 degrees Celsius, 57 degrees Fahrenheit. The cool, almost cellar temperature gives the wine more freshness and lift. The wine will naturally warm in the glass, while it develops more aromatic complexities and fleshes out.
Chateau d'Arche can be served with seafood dishes, especially shellfish, lobster, crab, and oysters on the half shell. Foie gras is a perfect pairing with its natural sweet, salty and savory characteristics. Chateau d'Arche can also be paired with roasted chicken, veal, and pork dishes that are either spicy or prepared with a touch of sweetness. Spicy Asian cuisine, raw fish, like sushi or sashimi, and cheese, both hard and soft also make great pairings with Chateau d'Arche.
Chateau d'Arche is one of a handful of moderately priced, Sauternes producers that understand the need to create new markets and find younger generations of customers.
To help promote their brand, they became one of the early proponents of selling their wine in individual, 10 cl, (Centiliters) about 3.4 ounces, test tube-shaped bottles, which is perfect for consumers wanting to enjoy a small glass of sweet wine. In addition to sweet white Bordeaux wine, Chateau d'Arche is now producing Gin, Rum, and Whiskey!
The technical team at Chateau d'Arche also began to oversee the winemaking and vineyard management of Clos Dady, a neighboring small Sauternes estate after it was purchased by Ilkham Ragimov.
Château d'Arche Wine Tasting Notes
12 Vintages 33,346 Views Sort by Vintage-Rating
2019
Château d'Arche (Sauternes)

On the bright yellow tropical fruit side of the style range with accents of honeyed orange rind and marmalade, the wine offers freshness, sweetness, and lift in an up-front, ready-to-drink style that can be enjoyed paired with savory dishes, as a sweet treat, or chilled as an aperitif. Drink from 2022-2038.

1,576 Views

Tasted

Nov 20, 2022

2018
Château d'Arche (Sauternes)

Light in color, the wine offers sweet, citrus and yellow tropical fruits with a touch of honey, but without much depth of flavor. This lighter-styled sweet wine would be best served as a chilled aperitif and served on the young side. It can also make a nice pairing with savory dishes during a meal.

2,736 Views

Tasted

Mar 19, 2021

2016
Château d'Arche (Sauternes)

On the orange, apricot, floral side of the style range, there is a good degree of sweet, ripe honeyed fruit in the medium/full bodied wine that should make this quite fun to drink on release, yet age well too.

2,827 Views

Tasted

Jul 29, 2017

2015
Château d'Arche (Sauternes)

The best wine I have ever tasted here, the wine is richly textured, sweet, lush and most importantly, fresh. All the pineapple, tropical fruit and apricots are coated with sweet honeyed essence. The acidity is just right as well, so everything has lift, energy and more of that delicious, honeyed tropical fruits.

2,713 Views

Tasted

Jul 29, 2017

2014
Château d'Arche (Sauternes)

A little more bright, crisp and fresh, than sweet, lush and tropical, the medium bodied wine is a good match for savory courses, as it is not overly sweet. However, you need to be a fan of butterscotch here, because that seems to be the dominant flavor.

1,865 Views

Tasted

Aug 15, 2017

2013
Château d'Arche (Sauternes)

Medium bodied, with a strong floral note coexisting with the tropical fruit and honeyed orange rind. Good freshness and sweetness, but not overly concentrated. It's quite charming to drink young.

1,936 Views

Tasted

Aug 2, 2017

2011
Château d'Arche (Sauternes)

Medium-bodied, lighter, elegant styled sweet, Bordeaux wine that is probably close to fully developed with its forward, yellow and orange tropical fruits and honeyed, white peach and candied lemon rind accented, creamy, lifted, finish. Drink from 2022-2032.

1,548 Views

Tasted

Oct 6, 2022

2010
Château d'Arche (Sauternes)

Very light, this is probably best served as either an aperitif or with select savory courses without a lot of weight. The wine is clean, fresh, slightly honeyed and shows some tropical fruit, honey and vanilla, but it lacks fat and depth.

3,115 Views

Tasted

Oct 13, 2019

2009
Château d'Arche (Sauternes)

With a floral, candied orange rind, vanilla and honey coated, tropical fruit nose, the wine has lift, sweetness and a delicious finish.

3,988 Views

Tasted

Aug 16, 2014

2007
Château d'Arche (Sauternes)

With an attractive golden color, the wine offers honey covered pineapple, apricot and orange blossom. Medium/full bodied, with freshness and sweet honey coated, tropical fruit, this is drinking beautifully today.

3,803 Views

Tasted

Oct 8, 2012

2001
Château d'Arche (Sauternes)

Close to fully mature, the caramel, vanilla and butterscotch on top of the orange, apricot and pineapple was the perfect ending to a warm, summer night.

3,475 Views

Tasted

Jul 18, 2018

2001
Château d'Arche (Sauternes)

One of the best deals in Sauternes, this sweet wine delivers a lot of bang for the buck with its floral, honey coated pineapple, apricot and candied lemon nose. The medium bodied finish combines fresh acidity and sweet, honeyed fruits. This is not going to make old bones. I'd drink it over the next 5-7 years.

3,764 Views

Tasted

May 22, 2013