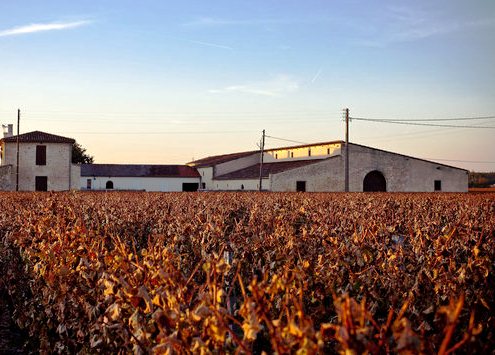 Learn everything about Chateau Broustet Sauternes, Deuxiemes Crus with wine tasting notes, wine, and food pairing tips, best vintages, a history of the property, information on the vineyards, and winemaking. If you want to read about other important, Bordeaux Chateaux: Links to all Bordeaux Wine Producer Profiles
Chateau Broustet History, Overview
During the 1800s, Chateau Broustet was owned by the Capdeville owned Chateau Nairac. When the results of the classification were announced, the wines were sold and classified under the name of Chateau Broustet-Nairac.
That name changed at the end of the 19th century when the Fournier family bought Chateau Broustet and set up a cooperage there.
Chateau Broustet was the property of the Fournier family for most of the 20th century. The Fournier family is best known for owning Chateau Canon in St. Emilion. Today, the estate is owned by the Taillan group, who purchased Chateau Broustet in 2010 at a public auction.
The Taillan Group own numerous Bordeaux estates including: Chateau Gruaud Larose in St. Julien, Chateau Ferriere in Margaux, Chateau Chasse Spleen, Chateau Camensac, Chateau Gressier Grand Poujeaux and Chateau Citran in the Haut Medoc and a large Bordeaux negociant company as part of their holdings.
Chateau Broustet Vineyards, Terroir, Grapes, Winemaking
The 16.5 hectare vineyard of Chateau Broustet is planted to 80% Semillon, 15% Sauvignon Blanc and 5% Muscadelle. Previously, they maintain one of the largest portions of Muscadelle in the entire Sauternes appellation as it was close to 10% of their vineyard at one time.
The vines are on average close to 35 years of age. The terroir is gravel, sand, and limestone soils. The vineyard is planted to a vine density of 6,600 vines per hectare.
To produce the wine of Chateau Broustet, vinification takes place in stainless steel tanks. Chateau Broustet is then aged in 20% new, French oak barrels for an average of 12 months before the wine is returned to their stainless steel vats for several more months of aging prior to bottling.
The best vintages of Chateau Broustet are: 2022, 2021, 2020, 2019, 2018, 2017, 2016, 2015, 2014, 2013, 2011, 2010, 2009, 2007 and 2005.
Chateau Broustet is a small estate with a tiny production, making their wine hard to find. The wine, which drinks well early, is a good example of a value-priced, sweet, white Bordeaux wine. On average Chateau Broustet makes close to 2,200 cases of wine a year. There is a second wine, Les Charmes de Brouset.
When to Drink Chateau Broustet, Anticipated Maturity, Decanting Time
Chateau Broustet can be enjoyed on the young side with no decanting. In fact, it is delicious and quite a treat young, even on release! However, like all great wines, Chateau Broustet is much better with age and does not reach full maturity until it's at least 10-15 years of age, or in some years, perhaps even longer in the best vintages!
That is when the magic happens! But that is unrealistic for 99% of the world's wine drinkers. So, enjoy it on any special occasion that calls for it.
Of course, the wine is sweet, but there is so much, incredible, racy acidity, the wine always feels fresh, and never cloying, which makes it quite fun to enjoy young. With Chateau Broustet and frankly, all Sauternes, the temperature is more important than decanting.
Serving Chateau Broustet, with Wine and Food Pairings
Chateau Broustet is best served at 14 degrees Celsius, 57 degrees Fahrenheit. The cool, almost cellar temperature gives the wine more freshness and lift. The wine will naturally warm in the glass, while it develops more aromatic complexities and fleshes out.
Chateau Broustet can be served with seafood dishes, especially shellfish, lobster, crab, and oysters on the half shell. Foie gras is a perfect pairing with its natural sweet, salty and savory characteristics. Chateau Broustet can also be paired with roasted chicken, veal, and pork dishes that are either spicy, or prepared with a touch of sweetness.
Spicy Asian cuisine, raw fish, like sushi or sashimi, and cheese, both hard and soft also make great pairings with Chateau Broustet.
The estate of Chateau Broustet also produces a dry, white Sauternes, Le Blanc Sec. Chateau Broustet is one of a handful of moderately priced, Sauternes producers that understand the need to find and create new markets as well as reach out to generations of younger customers.
To help promote their brand, they became one of the earliest, if not the first Sauternes proponents selling their wine in individual, 10 cl cigar-shaped bottles.
Each of these tubes is sealed with an easy-to-remove screw cap. The cigar-shaped bottles, or cylinders, are sold under the name of Sweet Broustet. On average, the annual production of Chateau Broustet is close to 3,500 cases of Sauternes per year.
Château Broustet Wine Tasting Notes
8 Vintages 14,310 Views Sort by Vintage-Rating
2022
Château Broustet (Sauternes)

Bright, light, zesty, sweet, wine with pineapple, apricot, and honey with a candied, citrus finish. This will work well as an aperitif or with spicy, and savory courses. Drink from 2025-2035. 90-90 Pts.

879 Views

Tasted

May 8, 2023

2020
Château Broustet (Sauternes)

Buttery pineapples, cashews, tangerine rind and candied oranges for the nose. The wine is lush, sweet, fruity and focused on its honey coated yellow citrus rind in the buttery finish. 89-91 Pts

933 Views

Tasted

May 20, 2021

2019
Château Broustet (Sauternes)

Light, bright, sweet and and zesty, the wine expresses candied-lemon and dried pineapple character. This is not particularly weighty, instead it focuses on its balance between sweetness and lift. This will work well as an aperitif or with spicy and savory courses. Drink from 2023-2034.

500 Views

Tasted

Mar 29, 2022

2016
Château Broustet (Sauternes)

Light bright, fresh, forward, energetic, slightly honeyed, yellow fruit dominated Sauternes with a nice mango and pineapple, honeyed finish. You can enjoy this young as a chilled aperitif, or with spicy meals.

1,612 Views

Tasted

May 10, 2020

2013
Château Broustet (Sauternes)

Vanilla and honey, spooned over very ripe, tropical fruits, with a nice jolt of acidity in the honey and vanilla drenched, medium bodied, pineapple filled finish. Young, but already easy and quite a bit of fun to drink.

2,106 Views

Tasted

Aug 27, 2017

2011
Château Broustet (Sauternes)

Not a wine I see often, this medium bodied, sweet, forward styled wine is on the flora, candied, orange, tangerine and apricot side of the honeyed side of the style range. This is not a wine to age for years, as it will be better in its youth.

2,071 Views

Tasted

Jul 28, 2016

2009
Château Broustet (Sauternes)

Delicious, value priced, medium bodied Sauternes that drinks well young, offering a sweet, open, apricot and honey profile.

3,104 Views

Tasted

Nov 24, 2014

2007
Château Broustet (Sauternes)

Uncomplicated, fresh, medium bodied sweet wine, with more peach than pineapple and more sugar than honey. Still, this is a reasonably nice, entry level Sauternes for early drinking.

3,105 Views

Tasted

May 23, 2013