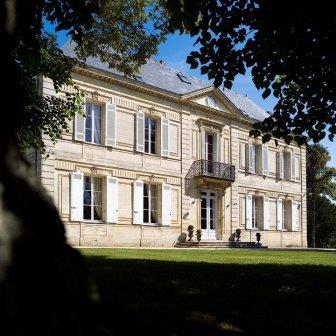 Learn everything about Chateau Ferriere Margaux Third Growth with wine tasting notes and wine-with-food pairing tips. Learn all the best vintages, a history of the property, and information on the vineyards, and winemaking. If you want to read about other important, Bordeaux Chateaux: Links to all Bordeaux Wine Producer Profiles
Chateau Ferriere History, Overview
Chateau Ferriere followed the Bordeaux tradition of taking its name from the original owners, the Ferriere family that founded the estate in the second half of the 18th century.
Chateau Ferriere left the original families' hands in 1914 when it was sold by Henri Ferriere to Armand Feuillerat. Armand Feuillerat was already popular in the Bordeaux wine trade because he also owned Chateau Marquis de Terme, which is located in the Margaux appellation as well.
Following World War 2, Alexis Lichine who owned a part of Chateau Prieure Lichine, as well as a percentage of Chateau Lascombes leased the vineyards of Ferriere in the early 1950s until 1991. During that period of time, most of the vineyard was used for Chateau Lascombes, with only a very small amount of Ferriere being produced, just enough to maintain the name and its 1855 Classified Growth status. This explains why for a part of the estate's history, almost no one wine can be found from the late 50s until the beginning of the 90s.
Chateau Lascombes and Chateau Ferriere were eventually both sold again. Chateau Lascombes went to Colony Capitol and in 1988, Chateau Ferriere was purchased by Jacques Merlaut. Jacques Merlaut also owned Chateau Gruaud Larose, Chateau Chasse Spleen, Chateau Citran, Chateau La Gurgue, and Chateau Haut Bages Liberal in Pauillac. Starting with the 1992 vintage, Chateau Ferriere was back as a full-time producer. However, as no cellars existed at the property, the wines were made at both Prieure Lichine and Lascombes until new cellars were built for Chateau Ferriere.
The daughter of Jacques Merlaut, Bernadette Villars eventually assumed the responsibility for Chateau Ferriere. This success was marred by tragedy when Bernadette Villars and her husband perished in a hiking accident in the Pyrenees. Claire Villars runs all the family Bordeaux wine properties today.
Chateau Ferriere Vineyards, Terroir, Grapes, Winemaking
The 24-hectare vineyard of Chateau Ferriere is planted to 65% Cabernet Sauvignon, 29% Merlot, 4% Petit Verdot, and 2% Cabernet Franc. This represents a big change in the vineyard, in size, as it was at one time, the smallest 1855 Classified Growths at 8 hectares.
And also in its plantings, as previously, the amount of Cabernet Sauvignon was closer to 80% and there was no Cabernet Franc. The removed Cabernet Sauvignon vines are now used for Merlot. They have old vines. In fact, 50% of the vineyard was planted in 1952.
The vineyard of Chateau Ferriere has a terroir of gravel with chalk and sand in their soils. The vines are on average almost 50 years of age. Some of their vineyards are owned by the property, while other parcels are under a long-term, rental agreement. Their best parcels are in the commune of Cantenac.
The vineyard is planted to a vine density typical of the Left Bank at 10,000 vines per hectare. Chateau Ferriere was certified as using 100% organic farming techniques in 2015. They were certified biodynamic in 2018. The vineyards are located behind stone walls in the center of the village of Margaux.
With 24 hectares of vines, which is a huge increase from their previous 8-hectare size, Chateau Ferriere is no longer the smallest 1855 Classified property. In part, their previous diminutive size explains why the winery remains relatively obscure, as not much wine is available for sale.
Adding to their lack of renown is that for a period of time, the wine was sold mostly direct to French restaurants and not through negociants on the open market of the Place de Bordeaux. That previous lack of exposure did not help consumers discover the wines of Chateau Ferriere. Today, their wines are sold openly, using the Negociant system.
To produce the wine of Chateau Ferriere, vinification takes place in a combination of temperature-controlled, traditional, cement tanks and large wood vats along with a small portion that is vinified in concrete egg-shaped vats for about 20 days. The older vines are vinified in the wood.
Malolactic fermentation takes place in barrels and tanks. The wines are aged in up to 40% new, French oak barrels for about 18 months. However, it is important to note that 20% of the wine is aged in amphora starting with the 2016 vintage. There is a second wine, Les Remparts de Ferriere. On average, the estate produces about 8,000 cases of wine per vintage.
The best vintages of Chateau Ferriere are: 2022, 2021, 2020, 2019, 2018, 2016, 2015, 2014, 2012, 2010, 2009, and 2005. Today, Chateau Ferriere is making the best wines in the history of the estate. The turnaround began taking place with the 2015 vintage. Previous years are not at the same high level of quality.
When to Drink Chateau Ferriere, Anticipated Maturity, Decanting Time
Chateau Ferriere can be enjoyed on the young side with decanting. Young vintages can be decanted for an average of 1-2 hours, give or take. This allows the wine to soften and open its perfume. Older vintages might need very little decanting, just enough to remove the sediment.
Chateau Ferriere is usually better with at least 7-8 years of bottle age. Of course, that can vary slightly, depending on the vintage character. Chateau Ferriere offers its best drinking and should reach peak maturity between 10-02 years of age after the vintage.
Serving and Decanting Chateau Ferriere, with Wine, Food, Pairing Tips
Chateau Ferriere is best served at 15.5 degrees Celsius, 60 degrees Fahrenheit. The cool, almost cellar temperature gives the wine more freshness and lift.
Chateau Ferriere is best served with all types of classic meat dishes, veal, pork, beef, lamb, duck, game, roast chicken, roasted, braised, and grilled dishes. Ferriere is a perfect match with Asian dishes, hearty fish courses like tuna, mushrooms, and pasta as well as cheese.
The Villars family also owns Chateau Chasse Spleen in Moulis, Chateau Haut Bages Liberal in Pauillac, Chateau Domeyne in St. Estephe, and Chateau La Gurgue which is also located in the Margaux appellation.
Château Ferrière Wine Tasting Notes
16 Vintages 63,962 Views Sort by Vintage-Rating
2022
Château Ferrière (Margaux)

Flowers, cocoa, cherries, and plum aromatics open the nose. On the palate, the wine is medium-bodied, fresh, bright, crisp, and spicy. The finish delivers peppery red fruits, soft-textured plums, and savory red pit fruits with a fresh, spearmint note in the finish. The wine blends 67% Cabernet Sauvignon, 27% Merlot, 5% Petit Verdot and 1% Cabernet Franc. 13.7% ABV, 3.64 pH. Drink from 2026-2042. Drink from 2027-2047. 92-94 Pts

652 Views

Tasted

May 8, 2023

2021
Château Ferrière (Margaux)

With flowers and raspberries on the nose, the wine is medium-bodied, crisp, soft, and fresh with a spicy, bright, red, currant, and cranberry mid-palate and crisp finish. The wine blends 81% Cabernet Sauvignon, 13% Merlot, 5% Petit Verdot and 1% Cabernet Franc. 13.1% ABV. Drink from 2023-3035. 89-91

1,580 Views

Tasted

May 20, 2022

2020
Château Ferrière (Margaux)

Blackberries, currants, flowers and spice create the nose. On the palate, the wine is medium-bodied, soft, round and fruity, with an edge of dark cocoa and plums in the fresh , vibrant, long and resonating finish. With age, this could score even higher. The wine blends 81% Cabernet Sauvignon, 13% Merlot, 5% Petit Verdot and 1% Cabernet Franc. 13.1% ABV. Drink from 2025-2042.

1,170 Views

Tasted

Aug 21, 2023

2019
Château Ferrière (Margaux)

Clearly, this is the best vintage of Chateau Ferriere ever produced. Black raspberries and flowers with tobacco leaf are what you find on the nose. The wine is medium-bodied, soft, silky, and fresh, with a beautiful purity of fruit on the palate that carries through to the bright, vibrant, spicy finish. The wine is a blend of 70% Cabernet Sauvignon, 25% Merlot and 5% Petit Verdot. Drink from 2026-2050.

4,524 Views

Tasted

Jul 8, 2022

2018
Château Ferrière (Margaux)

Just a bit more time in the bottle has really helped this wine develop. Flowers, tobacco, forest floor, and sweet, plums and currants show in the nose. On the palate, the wine is sweet, fresh, medium-bodied, and fruity with nice sweetness on the mid-palate and in the finish. The wine blends 81% Cabernet Sauvignon, 13% Merlot, 5% Petit Verdot and 1% Cabernet Franc. 13.1% ABV. Drink from 2023-3035.

754 Views

Tasted

Aug 21, 2023

Medium-bodied, fresh, with a focus on sweet, red cherries, raspberries, flowers and earth. Soft, silky, fresh and vibrant, give it just a few years in the cellar. The wine is a blend of 68% Cabernet Sauvignon, 25% Merlot, 4% Petit Verdot and 2% Cabernet Franc. The yields were quite low at 22 hectoliters per hectare.

2,964 Views

Tasted

Mar 9, 2021

2017
Château Ferrière (Margaux)

Medium-bodied, leaning to light, with its focus firmly in the bright, crisp and crunchy, red berry style, this classic wine should drink well young.

3,390 Views

Tasted

May 14, 2020

Medium-bodied, sharp, bright, crunchy, red fruits with a nice floral accent. The wine is correct with light, red spicy fruits from start to finish.

2,704 Views

Tasted

Apr 26, 2018

2016
Château Ferrière (Margaux)

Medium-bodied and floral in character, the wine is correct with lean, spicy fruits though it lacks in complexity.

3,818 Views

Tasted

Apr 29, 2017

2015
Château Ferrière (Margaux)

The best wine I have ever tasted here. Medium bodied, finesse in style with fresh, sweet, ripe red berries, spice and dusty, cherry finish, with a hint of dust in the tannins.

4,241 Views

Tasted

Mar 12, 2018

Medium-bodied, classic in style, the fruit is crisp, bright and fresh with a red berry core and a complexity of cedar, spice and herbs in the finish. 88 - 89 Pts

2,534 Views

Tasted

Apr 21, 2016

2014
Château Ferrière (Margaux)

Medium bodied, light in color and on the very fresh side of the style range, the red berry, herb and spicy, crisp style will appeal to some folks more than others. The wine was made from a blend of 61% Cabernet Sauvignon, 31% Merlot, 6% Petit Verdot and 2% Cabernet Franc.

3,200 Views

Tasted

Feb 4, 2017

With a bright, classic, red berry character, this medium-bodied wine finishes on the crisp side of the red fruit style range. 85-88 Pts

2,326 Views

Tasted

Apr 22, 2015

2013
Château Ferrière (Margaux)

Leaf, tobacco and red berry are the best aromas in this lean wine. Light in style and focusing on tart, red fruits, this wine will be best young. 83-85 Pts

2,195 Views

Tasted

Apr 20, 2014

2011
Château Ferrière (Margaux)

From a blend of 70% Cabernet Sauvignon, 18% Cabernet Franc and 2% new oak, the wine is aged in 40% new oak. Light ruby in color. The wine offers earth and cherry notes. Medium-bodied, the wine ends with a lightweight red berry and cherry finish. 86-88 Pts

4,887 Views

Tasted

Apr 19, 2012

2010
Château Ferrière (Margaux)

Light, lean and dominated by crisp red berries and earth, this medium bodied, fresh, bright wine ends with peppery, cranberries and cherry in the classically styled finish.

4,990 Views

Tasted

May 18, 2013

2009
Château Ferrière (Margaux)

With an herb, earth and cassis nose, this medium bodied, soft textured blend of 58% Cabernet Sauvignon, 40% Merlot and 2% Cabernet Franc is a lighter, bright, red fruit dominated style of Margaux wine that will drink well young.

4,730 Views

Tasted

Jan 29, 2012

2005
Château Ferrière (Margaux)

Ready to drink, classically styled, with a focus on its bright red fruits, earthy, cedar and tobacco leaf nature, the wine is medium-bodied, crisp and lively with bite to the red fruits in the finish.

4,286 Views

Tasted

Aug 4, 2020

2000
Château Ferrière (Margaux)

Light in color, medium bodied, pleasant, easy to taste, with a red berry character that is made more interesting with the tobacco and wet earth notes. This is not a wine for further aging. Drink up.

4,018 Views

Tasted

Oct 18, 2016

1996
Château Ferrière (Margaux)

Fully mature, rustic, medium bodied, old school style of Bordeaux, with a crisp, bright, red berry and herb character. The nose, with its tobacco and earthy accents is more satisfying than the palate.

2,856 Views

Tasted

Oct 18, 2016