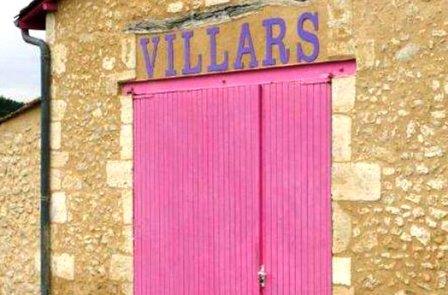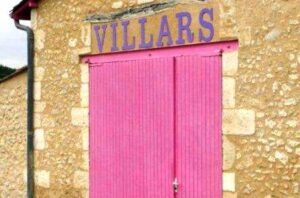 Learn everything about Chateau Villars Fronsac with wine tasting notes and wine with food pairing tips. Learn the best vintages, the history of the property, and information on the vineyards and winemaking. If you want to read about other important, Bordeaux Chateaux: Links to all Bordeaux Wine Producer Profiles
Chateau Villars History, Overview
Chateau Villars was founded at the tail end of the 19th century by Octave Trocard. At the time, the estate was close to 18 hectares in size. Over the years, Chateau Villars has slowly expanded in size. Currently, the property occupies close to 36 hectares in the Fronsac appellation, which is slightly more than twice the size of the estate when it was first created.
Today, Chateau Villars is still a family-owned property as the vineyard and winemaking are managed by Thierry Gaudrie, a direct descendant of Octave Trocard. In fact, Thierry Gaudrie is the seventh generation of his family to own and manage the vineyards of Chateau Villars. Prior to Thierry Gaudrie, Chateau Villars was managed by his parents, Jean Claude Gaudrie and Brigitte Gaudrie.
Chateau Villars Vineyards, Terroir, Grapes, Winemaking
The 30-hectare Right Bank vineyard of Chateau Villars is planted to 81% Merlot, 15% Cabernet Franc and 4% Cabernet Sauvignon.
In addition to their vineyards, 3 hectares of the estate are reserved for parkland surroundings and meadows, while another 3 hectares are forest land, which is not able to be cultivated. But the forest land does add to the terroir, which is mostly clay, chalk, and limestone soils on top of sandstone soil. Their best parcels are on the plateau at 55 meters in elevation.
The vineyard can be divided into 3 parts with parcels close to the chateau, another section is just due south of the chateau and a third parcel is located east of the chateau. Each parcel provides a slightly different terroir.
On average the vines are close to 35 years of age. Until 2005, the vineyard had some of the oldest vines in the Right Bank, which were over 100 years in age. Those vines were just not producing enough fruit and had to be removed so the land could be replanted. The replanting also added more Merlot to the vineyards, as many of those older vines were Cabernet Sauvignon.
To produce the wine of Chateau Villars, vinification takes place in traditional cement vats. The wine is aged in an average of 33% new, French oak barrels for 10 to 14 months, depending on the vintage and its characteristics. Prior to 1978, the wines were never aged in new oak barrels. On average, the production is close to 8,500 cases of Chateau Villars per vintage. There is a second wine, Chateau Moulin Haut Villars.
The best vintages of Chateau Villars are: 2022, 2021, 2020, 2019, 2018, 2017, 2016, 2015, 2014, 2012, 2010, 2009 and 2005.
Thierry Gaudric also produces Chateau Malvet and Charme de Villars from vines that are planted in the Fronsac appellation.
When to Drink Chateau Villars, Anticipated Maturity, Decanting Time
Chateau Villars is much better with at least 2-3 years of aging in good vintages. Young vintages can be decanted for 1 hour, allowing the wine to soften and open its perfume.
Older vintages might need very little decanting, just enough to remove the sediment. Chateau Villars offers its best drinking and should reach peak maturity between 3-10 years of age after the vintage.
Serving Chateau Villars with Wine, Food, Pairing Tips
Chateau Villars is best served at 15.5 degrees Celsius, 60 degrees Fahrenheit. The cool, almost cellar temperature gives the wine more freshness and lift.
Chateau Villars is best paired with all types of classic meat dishes, veal, pork, beef, lamb, duck, game, roast chicken, roasted, braised, and grilled dishes. Chateau Villars is also good when matched with Asian dishes, rich fish courses like tuna, mushrooms, and pasta.
Château Villars Wine Tasting Notes
15 Vintages 39,599 Views Sort by Vintage-Rating
2022
Château Villars (Fronsac)

Flowers, and all the chocolate-covered plums you can eat are all over the place. The wine is creamy, supple and vibrant, with sweetness, lift and ripe, deep fruits in the mid-palate and in the finish. Drink from 2025-2038. 92-94 Pts.

725 Views

Tasted

May 8, 2023

2021
Château Villars (Fronsac)

Soft, supple, fresh and plummy, with chocolate, licorice, and black cherries and spice. Round, forward and fruity, you can enjoy this on release. Drink from 2023-2032. 89-91

1,532 Views

Tasted

May 20, 2022

2020
Château Villars (Fronsac)

Flowers, dark cherries, smoke, cocoa and spice open the nose. On the palate, the wine is loaded with sweet, chocolate covered cherries. The finish is round, polished, and packed with fruit, surrounded by toasty oak. This offers a lot of bang for the buck for savvy Bordeaux value wine seekers. Drink from 2023-2035.

952 Views

Tasted

Mar 21, 2023

Chocolate covered cherries with a round, polished, luscious, seductive core of fruits, espresso bean, licorice, freshness and spice that hit the spot. This offers a lot of bang for the buck for savvy Bordeaux value wine seekers. 91-93 Pts

2,209 Views

Tasted

May 20, 2021

2019
Château Villars (Fronsac)

Soft, supple-textured, medium-bodied, cocoa and infused, red pit fruit packed wine with a savory edge. The finish is marked by green olives and herbs in the end note. You can enjoy this easily on release. Drink from 2022-2031.

1,520 Views

Tasted

Mar 29, 2022

Luscious, rich, ripe, and dark, red fruits, espresso, licorice and dark cocoa on the nose. The wine is plush, round, and juicy with a blast of dark fruits in the finish. This offers a lot of bang for the buck for savvy, Bordeaux value wine seekers. 90-92 Pts

2,120 Views

Tasted

Jun 28, 2020

2018
Château Villars (Fronsac)

Much better in barrel than in bottle, the wine is lush, sensuous, rich and silky with layers of dark chocolate covered plums, licorice and cherries. There is ample fruit on the palate and in the long, plush finish. Give it a few years and it should fill out.

1,312 Views

Tasted

Mar 9, 2021

Medium bodied, soft and forward, the wine goes in the direction of smoke, espresso, dark cocoa, licorice and red pit fruits. Give it a few years and it should fill out. 88-90 Pts

1,866 Views

Tasted

Apr 19, 2019

2017
Château Villars (Fronsac)

Black cherry, plum and citrus fruits create this medium bodied, forward wine. There is fruit here but you'll also find a lot of oak in the finish.

2,022 Views

Tasted

Apr 26, 2018

2016
Château Villars (Fronsac)

Flowers, chocolate, licorice and ripe, sweet, opulent plums with a touch of crushed rock notes are all over the place here, on the nose and on the round, fresh, palate. This gem is drinking in its sweet spot today. Drink from 2023-2030.

2,030 Views

Tasted

Dec 28, 2022

Luscious, dark, red fruits, licorice and dark cocoa, round tannins, forward, sweet, and already delicious, this will offer pleasure on release and reward aging for a few years as well.

2,805 Views

Tasted

Apr 29, 2017

2015
Château Villars (Fronsac)

Forward, with a plush, round, polished character, the wine delivers sweet, ripe, fresh, dark berries, licorice and chocolate in every tasty, sniff and sip.

3,198 Views

Tasted

Apr 29, 2016

2014
Château Villars (Fronsac)

Lush, round, polished and packed with plenty of fat, juicy, round berries, licorice and chocolate. 89-91

2,445 Views

Tasted

May 1, 2015

2012
Château Villars (Fronsac)

Forward, plush, soft and sweet, with plenty of licorice, dark chocolate, blackberry and fresh cherries in every sniff and sip, with a long sweet, fresh, fruit filled finish. This is a top Bordeaux value wine.

2,631 Views

Tasted

May 16, 2015

2011
Château Villars (Fronsac)

Forward, easy drinking, medium bodied, already tasty concoction of ripe, juicy, sweet plums, licorice, espresso and coffee bean. A bit oaky in the finish, this is a true wine of easy pleasure, and not a wine for long term aging. The wine was made from blending 72% Merlot, 25% Cabernet Franc and 3% Cabernet Sauvignon.

2,401 Views

Tasted

Dec 19, 2017

2010
Château Villars (Fronsac)

If you're seeking a forward, ripe, plush wine filled with licorice, chocolate covered cherries and earth, with round, soft textures, that is drinkable on release for a fair price, look no further. It's not going to make old bones, but that misses the point on wines like this.

2,972 Views

Tasted

Mar 11, 2015

2009
Château Villars (Fronsac)

A great example of a value Bordeaux wine. Licorice, black cherry and hints of dark chocolate in a round, forward style.

2,690 Views

Tasted

Mar 8, 2015

2008
Château Villars (Fronsac)

Fully mature, the round, soft, fleshy, ripe licorice and dark, cherry filled wine is not overly complex, but it is fun and easy drinking. However, if you are sitting on any, it is not a wine for aging.

1,863 Views

Tasted

Dec 18, 2017

2005
Château Villars (Fronsac)

Definitely better 5 years ago, the wine is in its decline. Still, if it has been well stored you can find, earthy, tobacco, leafy secondary notes accompanied by fading tones of red plums, cherries and cocoa.

2,306 Views

Tasted

Aug 27, 2021