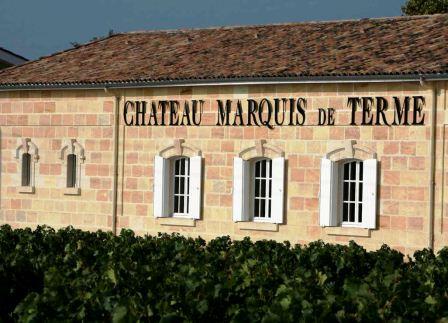 Learn everything about Chateau Marquis de Terme Margaux Fourth Growth with wine tasting notes and wine-with-food pairing tips. Learn the best vintages, a history of the property, information on the vineyards, and winemaking. If you want to read about other important, Bordeaux Chateaux: Links to all Bordeaux Wine Producer Profiles
Chateau Marquis de Terme History, Overview
Chateau Marquis de Terme is another Bordeaux wine estate with a long history. The original owner was Bernard de Faverolles. In 1661, September 7, he sold it to Pierre des Mesures de Rauzan. At the time, this was one of the largest properties in Bordeaux.
In fact, this Medoc estate was so big, it gave birth to four different Classified growths; Rauzan-Segla, Rauzan-Gassies, Chateau Desmirail, and Marquis de Terme! Like many properties in Bordeaux owned by wealthy families at the time, it was originally created through a marriage dowry.
It was a gift to celebrate the marriage of Mademoiselle Rauzan du Ribail to Jean Desmirail which helped create a dowry gift for the marriage between Elizabeth de Ledoulx d'Emplet and the Marquis de Termes, François de Peguilhan de Larboust.
That wedding gave birth to the estate's name after the Marquis de Termes took control of the vineyard. Chateau Marquis de Terme was already well known by the 1700s and counted Thomas Jefferson, America's third President as one of their fans. This is known due to notes from the diary of Thomas Jefferson.
In 1886, Chateau Marquis de Terme was purchased by Frederic Eschenauer, a very popular Bordeaux negociant. The Eschenauer family managed the chateau until it was acquired by Jean Feuillerat in 1898. Pierre Seneclauze bought the property in 1935. Marquis de Terme continues to be a family-owned property today as it is owned and managed by the children of Pierre Seneclauze, Jean Seneclauze, Philippe Seneclauze, and Pierre-Louis Seneclauze.
In 2009, a complete renovation and modernization were finished for all the technical wine-making facilities at Chateau Marquis de Terme. In 2018 the Chateau opened a restaurant headed by chef Nicolas Lascombes [AU] Marquis de Terme. In March, 2023, the owners of Marquis de Terme purchased the neighboring estate of Marojallia.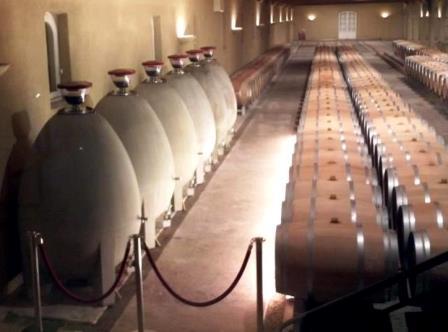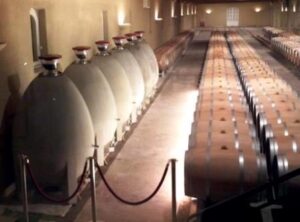 Chateau Marquis de Terme Vineyards, Terroir, Grapes, Winemaking
The 40-hectare, Left Bank vineyard of Chateau Marquis de Terme is planted to 60% Cabernet Sauvignon, 33% Merlot, and 7% Petit Verdot. This shows a slight change since the mid-1990s with less Cabernet Sauvignon and more Merlot planted today. The Cabernet Franc has also been removed from the vineyard.
The terroir is gravel, sand, limestone, and clay soils. On average, the vines are 30 years of age. The vines are planted to a density of 10,000 vines per hectare. Their best parcels of vines are located close to the chateau, not far from Rauzan Segla. They also have parcels in the Cantenac commune and a bit further south, they have vines planted next to Chateau dIssan.
Starting with the 2013 vintage, Chateau Marquis de Terme began experimenting with organic farming on a small parcel of vines. They are now farming their vineyards using only, 100% organic vineyard management techniques, and were certified organic in 2017. In 2020, in a bid to join the growing oenotourisme movement, the estate opened a restaurant on the property called Marquis.
Chateau Marquis de Terme Winemaking
To produce the wine of Chateau Marquis de Terme, vinification takes place in large, cement vats that vary in size from 80 hectoliters all the way up to 250 hectoliters. Malolactic fermentation takes place in tanks.
The wine of Chateau Marquis de Terme is aged in a combination of 33% to 50% new, French oak barrels and a small amount of 600-liter, Nomblot, concrete, egg-shaped vats for an average of 18 months. The Nomblot eggs, which are used for an average of 8% of their production, first became popular due to their usage in the Rhone Valley by Michel Chapoutier.
The egg-shaped, concrete vats are said to add more minerality to the wine. Additional experiments are taking place with the portion of the wine aged in the egg-shaped vats by exposing the wine to a nano oxygenation technique that introduces tiny amounts of Nitrogen, Oxygen, and Carbon Dioxide into the wine.
On average, Chateau Marquis de Terme produces close to 12,500 cases of Margaux wine per year. There is a second wine. Prior to 2008, the second wine was sold as Les Gondats de Marquis de Term. In 2008, the name for the second wine was changed to La Couronne de Marquis de Terme. The name was changed again in 2018 to its current moniker, Marquis de Terme Cuvée 1762. The owners also produce wine in the Rhone Valley in the Bandol and Cotes de Provence appellations.
The Best Vintages of Chateau Marquis de Terme are: 2022, 2021, 2020, 2019, 2018, 2017, 2016, 2015, 2014, 2012, 2010, 2009, and 2005. Approach older vintages with extreme caution as they are not at the level the vineyard is capable of producing.
Today Marquis de Terme is making the best wines in the history of the estate! So far, 2015 is the best wine they have ever produced! Though, the 2018, 2019 and 2020 vintages are all at the same high level. It is going to be fun comparing all those vintages when the wines mature.
When to Drink Chateau Marquis de Terme, Anticipated Maturity, Decanting Time
Chateau Marquis de Terme can be enjoyed on the young side with decanting. But you are better off giving the wine some time to develop. Young vintages can be decanted for 1-3 hours, give or take. This allows the wine to soften and open its perfume. Older vintages might need very little decanting, just enough to remove the sediment.
Chateau Marquis de Terme is usually better with at least 7-9 years of bottle age. Of course, that can vary slightly, depending on the vintage character. Chateau Marquis de Terme offers its best drinking and should reach peak maturity between 10-18 years of age after the vintage.
Serving Chateau Marquis de Terme, with Wine, Food, Pairing Tips
Chateau Marquis de Terme is best served at 15.5 degrees Celsius, 60 degrees Fahrenheit. The cool, almost cellar temperature gives the wine more freshness and lift.
Chateau Marquis de Terme is best served with all types of classic meat dishes, veal, pork, beef, lamb, duck, game, roast chicken, roasted, braised, and grilled dishes. Chateau Marquis de Terme is a perfect match with Asian dishes, hearty fish courses like tuna, mushrooms, and pasta as well as cheese.
www.chateau-marquis-de-terme.com
Château Marquis de Terme Wine Tasting Notes
22 Vintages 126,726 Views Sort by Vintage-Rating
2022
Château Marquis de Terme (Margaux)

Lusciously-textured, supple, creamy, full-bodied, and deep, the fruits and long, silky and vibrant, leaving you with layers of ripe, black, and deep red, sweet, fresh, elegant berries. Drink from 2026-2050. 93-95 Pts.

1,660 Views

Tasted

May 8, 2023

2021
Château Marquis de Terme (Margaux)

Violets, cherries, plums and flowers, with accents of licorice and black cherries, the wine has good concentration, ripeness, polished tannins, round-textures and a lot of flesh and depth for the vintage. Drink from 2024-2039. 91-93

1,841 Views

Tasted

May 20, 2022

2020
Château Marquis de Terme (Margaux)

Licorice, black cherries, blackberries, cocoa, crushed rocks and violets pop in the nose. On the palate, the wine is silky, plush and creamy, with a wealth of lusciously-textured black and red fruits and a touch of spicy chocolate that holds with you from the mid-palate, all the way through to the finish. Drink from 2025-2050.

955 Views

Tasted

Mar 21, 2023

A beautiful display of violets, roses, cherry blossoms, espresso, plums, black cherry and cocoa come to the surface with little effort. Silky, soft and polished, medium/full-bodied, with a finish that delivers layer after layer of chocolate covered dark red, plush fruits. 93-95 Pts

2,100 Views

Tasted

May 20, 2021

2020
Château Marquis de Terme Cuvée 1762 (Margaux)

Flowers, cherries and licorice open the wine before you get to its medium-bodied, soft, silky core of polished, sweet, ripe, cherries, strawberries and black raspberries with just a touch of spice that comes in at the end. You can enjoy this with pleasure on release. Drink from 2023-2032.

1,884 Views

Tasted

Mar 21, 2023

2019
Château Marquis de Terme (Margaux)

Full-bodied, round, rich, ripe, lush and polished, the nose starts off with its display of flowers, dark chocolate and black currants. Soft, silky and lusciously-textured, the wine leaves with an energetic, polished finish which is the perfect back-drop for all of its sweet, dark plums, currants, licorice, cocoa, espresso and spice. Drink from 2026-2047.

2,039 Views

Tasted

Mar 29, 2022

Violets and spice, coupled with dark chocolate and black juicy plums, bring you to a silky, sexy, soft and polished center. From there, the medium-bodied wine on the palate serves up all its layers of ripe, sweet, sensuously textured fruits. The wine is a blend of 60% Cabernet Sauvignon, 33% Merlot and 7% Petit Verdot. 93-95 Pts

3,727 Views

Tasted

Jun 8, 2020

2018
Château Marquis de Terme (Margaux)

Smoke, black raspberries, espresso, wet earth, truffle, plum and currants create a fabulous nose. Lush, silky, polished, soft and sweet, the fruit tastes as good as it feels on the palate and in the finish.

2,146 Views

Tasted

Mar 9, 2021

Flowers and black raspberry permeate the nose, while soft, silky, polished, ripe, red fruits do their work on your palate. The wine is refined, elegant and very Margaux. 92-94 Pts

2,524 Views

Tasted

Apr 19, 2019

2017
Château Marquis de Terme (Margaux)

I like the floral nature here, especially since it is coupled with loads of ripe, soft, round, sweet, silky, fresh red fruits with a kiss of oak. This should come around nicely with a few more years in the cellar.

2,714 Views

Tasted

May 14, 2020

Deeply colored with a nose that focuses on fresh red fruits, licorice, espresso and bitter chocolate, the wine is medium bodied, bright and almost crisp on the palate. There is fruit, sweetness and a lot of lift.

3,106 Views

Tasted

Apr 26, 2018

2016
Château Marquis de Terme (Margaux)

Elegant, silky, fresh and vibrant, the fruit is soft, polished, ripe and pure. If you look closely, you can already find the floral nuances along with licorice, cherry, black raspberry and smoke. Give this 8-10 years and it is going to be a beauty!

6,320 Views

Tasted

Sep 21, 2019

Showing better from the bottle than it did in barrel, the wine has filled out and softened, adding floral nuances to the licorice, cherry, black raspberry and smoky overtones. Soft, polished, round and with fruit to spare, this is showing great today and will only get better wine time.

4,777 Views

Tasted

Feb 10, 2019

Deep in color, flowers, black raspberries, licorice and smoke are easy to find. Lush, silky, fresh and polished, this is quite a nice style of wine.

3,460 Views

Tasted

Apr 29, 2017

2015
Château Marquis de Terme (Margaux)

Dark ruby in color, there is a real depth of flavor here, due to all the layers of lushly textured, soft, polished, ripe, sweet, black and red fruits. The wine is silky, concentrated, velvety textured and energetic. This will age quite well.

6,599 Views

Tasted

May 21, 2018

With intensity of flavor, the dark, perfectly ripe, sweet, black and deep fruits offer a concentrated, velvety textured, mouthful of wine. There is length, richness, complexity, energy and the ability to age and evolve for at least 3 decades, or longer. This is another Margaux that is a contender for the best wine ever produced at the estate.

6,450 Views

Tasted

Mar 12, 2018

A fabulous wine in every sense of the word, the wine is silky, plush and with a solid intensity of flavor, finish with silky tannins and freshness. Clearly the best wine ever from Marquis de Terme.

3,745 Views

Tasted

Jul 12, 2017

Deeply colored with an espresso, cocoa, black plum and earthy nose, this wine is rich, silky, plush and shows good intensity of flavor and depth with a silky, sensuous finish. Clearly, the best ever for Marquis de Terme. 93 - 95 Pts

3,607 Views

Tasted

Apr 21, 2016

2014
Château Marquis de Terme (Margaux)

Medium bodied, finesse styled wine with a fresh, cherry component, toasty oak and sweet, but light, fruits in the finish.

3,517 Views

Tasted

Feb 4, 2017

Soft and open with a bittersweet chocolate, licorice and black cherry core, the wine is lush, smooth, bright, round and forward. 90-91 Pts

2,669 Views

Tasted

Apr 22, 2015

2013
Château Marquis de Terme (Margaux)

Filled with black raspberry and floral notes, this medium-bodied wine features an oak-driven, tannic finish highlighted by red berries. 86-88 Pts

3,201 Views

Tasted

Apr 20, 2014

2012
Château Marquis de Terme (Margaux)

From a blend of 55% Cabernet Sauvignon, 40% Merlot and 5% Petit Verdot, the medium bodied wine displays a floral, black cherry, espresso and earthy soft, Soft and easy to drink, this should drink well young.

3,397 Views

Tasted

Mar 11, 2015

Ripe black fruit with chocolate, round textures and a fleshy, flashy blackberry and dark chocolate finish. 90-92 Pts

2,305 Views

Tasted

Apr 25, 2013

2011
Château Marquis de Terme (Margaux)

Smoky, with licorice, black raspberries and note of cocoa in the nose, the wine is soft, forward, medium bodied and ready to drink almost on release. .

3,165 Views

Tasted

Feb 17, 2014

Floral, earth, cassis, espresso and jam aromas, round tannins, medium body and a sweet, tasty chocolate, coffee and black cherry jam finish are found in this wine. 89-91 Pts

3,906 Views

Tasted

Apr 19, 2012

2010
Château Marquis de Terme (Margaux)

With a floral, dark red berry, espresso and thyme scented nose to start things off, the medium/full bodied wine keeps going, with its polished tannins, freshness and core of ripe dark cherries and cassis. Still young, give it 5-7 more years to develop.

6,618 Views

Tasted

Feb 3, 2016

2009
Château Marquis de Terme (Margaux)

Medium bodied, soft, round and approachable, the wine loads on up on wet earth, flowers, espresso and spicy red fruits, leaving you with a soft, suave finish loaded with sweet cherries.

3,293 Views

Tasted

Sep 20, 2019

Coffee bean, earth, black raspberry and spicy plum aromas create the aromatics. Suave and round in texture, the round wine, from an assemblage of 60% Cabernet Sauvignon 34% Merlot and 6% Petit Verdot, finishes with a long, fresh, ripe, concentrated layer of dark cherries.

4,650 Views

Tasted

Feb 1, 2012

2008
Château Marquis de Terme (Margaux)

You can see some lightening in the color that is correct for its age. Tobacco, cedar, thyme, herbs and red berries are delivered via the medium bodied, crisp, classically styled, wine.

4,271 Views

Tasted

Sep 17, 2018

Medium bodied, tannic and with a lean to the bright side of the style range, the nose is best part of the experience with its earthy, floral, red berry and tobacco character. Future vintages are much better at this estate.

5,788 Views

Tasted

Jul 7, 2017

2006
Château Marquis de Terme (Margaux)

Mature, easy to like and drink, the wine is medium-bodied, soft, round and with just a hint of tannins remaining, the gentle cherry fruit, wet earth, tobacco, espresso, licorice and floral charms are ready to go. This is not a wine to hold for long term development, but it is quite nice today.

3,253 Views

Tasted

Nov 13, 2019

2005
Château Marquis de Terme (Margaux)

From a blend of 65% Cabernet Sauvignon, 30% Merlot and 5% Petit Verdot, cassis, tobacco, earth and leafy scents poke through. Medium bodied with some dryness in the tannins, give it a few more years. There is some tartness in the red and black fruit finish.

5,222 Views

Tasted

Jun 13, 2012

2004
Château Marquis de Terme (Margaux)

Bright red fruits, freshness, medium bodied and soft textured, the wine is more interesting on the nose than the palate.

2,455 Views

Tasted

Jan 4, 2015

2001
Château Marquis de Terme (Margaux)

Charming, fully mature, mid-weight, easy drinking charmer, with perhaps more interest on the nose, than the soft, but light palate.

3,241 Views

Tasted

Dec 3, 2018

2000
Château Marquis de Terme (Margaux)

Fully mature, medium bodied, earthy, tobacco infused wine, with bright red fruits and cigar box notes. The wine offers soft textures and a light, fresh, earthy, red berry and leafy sensation in the finish. This is not a wine for long term aging.

3,598 Views

Tasted

Oct 4, 2016

1990
Château Marquis de Terme (Margaux)

Well past its best-drinking days, you can still find some remaining red fruits in all of its tobacco, herb, wet earth, and forest floor characteristics. Medium-bodied and pleasant, the wine requires drinking over the next few years before any additional fruit fades away. Drink from 2022-2025.

2,523 Views

Tasted

Jul 10, 2022