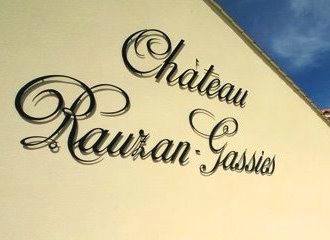 Learn everything about Chateau Rauzan Gassies Margaux, Second Growth with wine tasting notes and wine with food pairing tips. Learn the best vintages, a history of the property, information on the vineyards and winemaking. If you want to read about other important, Bordeaux Chateaux: Links to all Bordeaux Wine Producer Profiles
Chateau Rauzan Gassies History, Overview
Chateau Rauzan Gassies started out life in the middle of the seventeenth century. At the time, it was a part of the gigantic Rauzan estate owned by Pierre de Mesures de Rauzan. The massive Bordeaux wine property was over-time split up again and again.
By the time of the 1855 Classification, the once vast Margaux estate had given birth to not only Rauzan Gassies, but Chateau Rauzan Segla, Chateau Marquis de Terme, and even Château Desmirail.
After World War 2, in 1946, Chateau Rauzan Gassies was sold to Quie family. The Quie family continue to own Chateau Rauzan Gassies today as well as Chateau Croizet-Bages in Pauillac and Chateau Bel Orme Tronquoy de Lalande, a Cru Bourgeois estate in the Medoc.
In 2008 they opened an attractive new tasting room, overlooking their vineyard. In 2018, they completed a renovation and modernization of their cellars.
Chateau Rauzan Gassies Vineyards, Terroir, Grapes, Winemaking
The 28.5-hectare, Left Bank vineyard of Chateau Rauzan Gassies is planted to 65% Cabernet Sauvignon, 25% Merlot, 5% Cabernet Franc and 5% Petit Verdot. The terroir is gravel and sand soils. Their best gravel parcels are located near the chateau. At their peak, they have elevations of up to 21 meters. They also have vines planted close to Chateau Kirwan and Chateau Margaux.
The average age of the vines is 35 years. The vineyard is planted to a vine density of 10,000 vines per hectare. Chateau Rauzan Gassies is one of the very few 1855 Classified Growths that do much of their vineyard work, using machine harvesting. Currently, 50% of the vineyards are harvested by machine.
The wine of Chateau Rauzan Gassies is vinified in temperature-controlled, stainless steel vats that range in size from 25 hectoliters to 150 hectoliters. The vats are new, having been installed after a renovation and modernization of the estate that was completed in 2013.
At Rauzan Gassies, they now practice co-inoculation, which means that alcoholic fermentation and malolactic fermentation take place at the same time. The wine of Rauzan Gassies is aged in 30% new, French oak barrels for an average of 12 months.
On average, Chateau Rauzan Gassies produces close to 11,000 cases of Margaux per year. There is a second wine, Chevalier de Rauzan Gassies.
The best vintages of Chateau Rauzan Segla are: 2022, 2021, 2020, 2019, 2018, 2017, 2016, 2015, 2014, 2012, 2010, 2009, 2006 and 2005. It should be noted that starting with 2015, the quality of wine here definitely improved with 2020 being the best wine made at Chateau Rauzan Gassies since 1928!
With the terroir of Chateau Rauzan Gassies, one would hope they would produce better wines. But the wines have been weak at this estate for over 50 years. Due to a leasing arrangement, Chateau Rauzan Gassies could be changing hands in the future. Until then the Quie family remains in change. A complete renovation of Chateau Rauzan Gassies began taking place in 2013.
When to Drink Chateau Rauzan Gassies, Anticipated Maturity, Decanting Time
Chateau Rauzan Gassies can be enjoyed on the young side with decanting. Young vintages can be decanted for an average of 1-2 hours, give or take. This allows the wine to soften and open its perfume. Older vintages might need very little decanting, just enough to remove the sediment.
Chateau Rauzan Gassies is usually better with at least 6-8 years of bottle age. Of course, that can vary slightly, depending on the vintage character. Chateau Rauzan Gassies offers its best drinking and should reach peak maturity between 10-20 years of age after the vintage.
Serving Chateau Rauzan Gassies with Wine, Food, Pairing Tips
Rauzan Gassies is best served at 15.5 degrees Celsius, 60 degrees Fahrenheit. The cool, almost cellar temperature gives the wine more freshness and lift. The wine will also warm up in the glass as the aromatics develop.
Chateau Rauzan Gassies is best served with all types of classic meat dishes, veal, pork, beef, lamb, duck, game, roast chicken, roasted, braised, and grilled dishes. Chateau Rauzan Gassies is a perfect match with Asian dishes, hearty fish courses like tuna, mushrooms, and pasta as well as cheese.
Château Rauzan-Gassies Wine Tasting Notes
17 Vintages 81,469 Views Sort by Vintage-Rating
2022
Château Rauzan-Gassies (Margaux)

Flowers, black raspberries, currants, spice, and licorice create the aromatic profile. On the palate, the wine is medium-bodied, soft, supple, and forward, finishing with black currants, cherries, touches of spice, and savory herbs on the backend of the chalky finish. Drink from 2026-2040. 91-93 Pts.

1,780 Views

Tasted

May 8, 2023

2020
Château Rauzan-Gassies (Margaux)

Plums, cherries, chocolate, and flowers emerge with no effort. Silky, fresh, soft, and polished, this is what Margaux elegance is all about. There is length, vibrance, and purity in the fruits that linger in the long, refined, polished finish. As I wrote in my barrel tasting notes, clearly, this is a big step up from previous vintages. You must go back to 1928 to taste a wine from Rauzan Gassies this good. Drink from 2024-2050.

1,201 Views

Tasted

Mar 21, 2023

With a beautiful, deep hue, the wine pops with its floral, dark pit fruit, espresso, smoke, licorice and spice perfume. On the palate the wine is rich, full and with a solid depth of flavor, finishing with layers of concentrated, silky, lusciously textured black, red and blue fruits. Clearly, this is a big step up from pervious vintages. From what I've tasted, you have to go back to 1928 to taste a wine from Rauzan Gassies this good. 91-93 Pts

1,973 Views

Tasted

May 20, 2021

2019
Château Rauzan-Gassies (Margaux)

Rauzan-Gassies has been on a roll lately and 2019 continues its positive trend. Medium-bodied. soft, polished, fresh, and vibrant, the chewy, red fruits come with an intriguing, orange citrus, espresso, and spice accent on the nose and palate. The fruit has a smoked, savory edge with a nice floral background note. Drink from 2024-2040.

1,733 Views

Tasted

Mar 29, 2022

2018
Château Rauzan-Gassies (Margaux)

Medium-bodied with leafy red fruits, herbs, flowers and soft textures on the palate, this wine only requests a few years in the cellar before it is ready to be enjoyed. 88-90 Pts

3,077 Views

Tasted

Apr 19, 2019

2017
Château Rauzan-Gassies (Margaux)

Forward, medium-bodied and already showing off its bright, almost crunchy red fruits, earth and herbs, you can enjoy this with just a bit of time in the cellar.

2,564 Views

Tasted

May 14, 2020

Medium bodied with an herbal, leafy accent to the bright red fruits, a few years in the cellar will add more complexity and softness to the wine.

2,848 Views

Tasted

Apr 26, 2018

2016
Château Rauzan-Gassies (Margaux)

On the bright red side of the style range, the wine is medium-bodied with nice floral overtones and a crisp, lean herbal and sharp red fruit finish.

3,206 Views

Tasted

Feb 10, 2019

Medium-bodied and floral with ripe fruits and a lean character, this wine is produced in an old school, traditional style.

2,547 Views

Tasted

Apr 29, 2017

2015
Château Rauzan-Gassies (Margaux)

Medium-bodied with tobacco and cassis at the forefront, this wine gives a strong, green olive sensation in the mouth, which subtracts from the overall experience. 88 - 90 Pts

1,790 Views

Tasted

Apr 21, 2016

2014
Château Rauzan-Gassies (Margaux)

The focus is on bright, crisp red fruits. This medium-bodied, lighter, fresh, style of Margaux will be best in its youth. 86-88 Pts

3,243 Views

Tasted

Apr 22, 2015

2013
Château Rauzan-Gassies (Margaux)

Light in color and concentration, the wine focuses on bright, crisp, pomegranate, cranberry and cherry tones. 82-84 Pts

2,948 Views

Tasted

Apr 20, 2014

2012
Château Rauzan-Gassies (Margaux)

Medium bodied, dominated by red berries, with a lean, cranberry, cherry finish. 86-89 Pts

4,443 Views

Tasted

Apr 25, 2013

2010
Château Rauzan-Gassies (Margaux)

Medium bodied, with a cherry, tobacco tinged, floral nose. Soft, but with firm tannins, and a finish that is about its red berry freshness, more time is still required here, for this to come together.

5,213 Views

Tasted

Sep 18, 2017

2009
Château Rauzan-Gassies (Margaux)

From a blend of 75% Cabernet Sauvignon, 23% Merlot and 2% Petit Verdot, the wine opens with blackberry, pepper, earth and forest smells. Medium/full bodied and slightly rustic in its traditional approach, some tasters might like this more than others.

9,800 Views

Tasted

Feb 1, 2012

2005
Château Rauzan-Gassies (Margaux)

Better on the nose, with its earthy, tobacco, cedar wood, red berries and forest scented aromatics than on the medium bodied, fresh, bright, crisp and clipped palate. Stylistically classic in its nature, some tasters are going to like this wine more than others.

4,141 Views

Tasted

Feb 20, 2016

2004
Château Rauzan-Gassies (Margaux)

Light in color, fruit, complexity and probably fully mature.

5,254 Views

Tasted

Jan 4, 2015

1961
Château Rauzan-Gassies (Margaux)

Smoke, tobacco, earth and sour cherry aromas, no fruit and too much acidity were the best of this bottle. The tart, sour red berry finish was undrinkable. If your looking at abottle with less than perfect provenance, it's not something you want to buy or drink. I have had better bottles on different occasions.

7,043 Views

Tasted

Dec 6, 2013

Better in the nose than the mouth, with its earthy, leathery, 5 spice aromas, this wine was dried out, tart and lacking in pleasure.

4,434 Views

Tasted

Mar 8, 2011

This showed light ruby with bricking color. Spearmint, cassis, tobacco, smoke, cedar and metal aromas were easy to find. Medium bodied, with soft textures on the palate, the wine ended with a dark cherry finish with some tartness at the end. This fully mature Bordeaux wine is not going to improve. Drink up

4,244 Views

Tasted

May 30, 2010

Little complexity in the perfume. It reminded me of dusty, tobacco laden fruit. In the mouth the finish was clipped short because a sour note seemed to intrude. Not a lot going on to enjoy. While not dead, it was gasping for air.

3,837 Views

Tasted

Sep 12, 2006

1959
Château Rauzan-Gassies (Margaux)

This fully mature Bordeaux opened with smoke, tobacco, damp earth, fresh cut leaves and light berry aromatics. Medium bodied and slightly rustic in texture, this light Margaux will appeal to fans of light, traditional styles, more than it did to me.

2,293 Views

Tasted

Jul 29, 2010

1928
Château Rauzan-Gassies (Margaux)

This is a beauty. Ripe, red berries are made even better with wet forest floor, tobacco leaf, smoke, truffle and earthy scents are all over the place. The tannins have some strictness, but the elegance of the Margaux appellation tires to poke through.

1,857 Views

Tasted

Nov 10, 2017