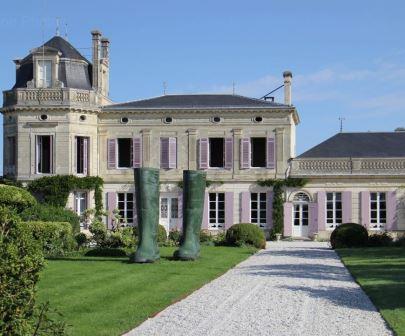 Learn everything about Chateau Chasse Spleen Haut Medoc, Bordeaux, with wine tasting notes and wine-with-food pairing tips. Learn the best vintages, the history of the property, and information on the vineyards and winemaking. If you want to read about other important, Bordeaux Chateaux: Links to all Bordeaux Wine Producer Profiles
Chateau Chasse Spleen History, Overview
Chateau Chasse Spleen was once part of a much larger Haut Medoc estate that sold its wine under the name of Chateau Grand-Poujeaux. The chateau itself dates its creation to the 1700s.
In 1822, their vineyards were divided as follows; half the property became Chateau Gressier-Grand-Poujeaux and the other half of the estate eventually became the foundation for what would become 3 different Bordeaux estates; Chateau Maucaillou, Chateau Poujeaux-Theil, and of course, Chateau Chasse-Spleen.
There are numerous stories trying to explain the name of Chateau Chasse-Spleen. The best possibilities are poetic. The first version is, the name was inspired by a visit by Lord Byron in 1821. During that visit, Bryon was so moved, he was quoted, "Quel remedy pour chasser le spleen", which when loosely translated means, "What remedy to remove the spleen?"
The other equally poetic explanation is attributed to the poem Spleen, whose author Charles Baudelaire also visited Chateau Chasse-Spleen.
Chateau Chasse Spleen remained the property of the Castaing family until it was sold just before World War 1 to a German family of wine merchants. After the outbreak of World War I, Chateau Chasse Spleen was confiscated as enemy property and sold at an auction in 1922 to the Lahary family.
Chateau Chasse-Spleen, The Modern Age
The modern era of Chateau Chasse Spleen starts in 1976 when the estate was bought by the Merlaut family. At the time of the purchase, Chasse Spleen owned about 40 hectares of vines. Under the direction of Jacques Merlaut and his daughter, Bernadotte Villars, they expanded their vineyard holdings most recently with the purchase of the neighboring, Moulis vineyard of Chateau Brillette, adding 35-hectares of vines, so that today, Chasse-Spleen is now one of the largest vineyards in the Medoc!
The Merlaut family did more than just increase their holdings. They replanted large sections of the vineyard to increase the vine density. They also updated and modernized their wine-making facilities.
The new owners have also added a touch of artistic whimsy to the estate. When you visit, make sure you see the sculptures in the garden, with its giant ball and even bigger pair of galoshes! They will definitely put a smile on your face.
The Merlaut family owns several other vineyards including; Chateau Gruaud Larose, Chateau Ferriere, Chateau Citran, and Chateau Haut Bages Liberal. They are also very, successful negociants.
After changing careers from teacher to winemaker, the daughter of Jacques Merlaut, Bernadette Villars, and her husband took control of Chateau Chasse-Spleen. With the famous Professor Emile Peynaud, they brought up the quality of the wines of Chateau Chasse-Spleen.
Tragically, she and her husband died in a mountaineering accident in the Pyrenees in 1992. Today the estate is ably managed by her daughter Claire Villars.
The best vintages of Chateau Chasse Spleen are: 2022, 2021, 2020, 2019, 2018, 2017, 2016, 2015, 2014, 2010, 2009, 2005, 2000, and 1989. Older vintages can still be good if they were well stored. Chateau Chasse-Spleen, along with Chateau Poujeaux are clearly two of the best Bordeaux wines coming out of the commune of Moulis in Haut Medoc today.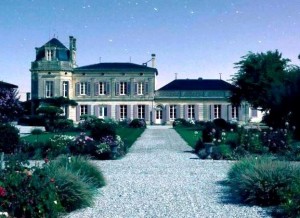 Chateau Chasse Spleen Vineyards, Terroir, Grapes, Winemaking
The large 135-hectare, Left Bank vineyard of Chateau Chasse Spleen is planted to 52% Cabernet Sauvignon, 39% Merlot, 5% Petit Verdot, and 4% Cabernet Franc. This shows a major change in the vineyards from what was previously planted with an increase in the Merlot and a decrease in the Cabernet Sauvignon. Cabernet Franc seems to come and go here, as it was removed and later replanted.
The vines are on average 30 years of age. The terroir is gravel, with clay and chalk soil. However, that varies as they have parcels in several different vineyards spread among the various communes in the appellation. The vineyard is planted to a vine density ranging from 8,000 to 10,000 vines per hectare.
A small 3-hectare portion of vines is planted to 65% Semillon and 35% Sauvignon Blanc. The planting of white wine grape varieties took place in 1990. This is for the production of a dry, white Bordeaux wine, Blanc de Chasse-Spleen. Because white wine grapes are not allowed in the Haut Medoc appellation, Blanc de Chasse-Spleen is sold as a generic, AOC Bordeaux Blanc.
Chasse-Spleen is vinified in a combination of stainless steel tanks and wooden vats. Malolactic fermentation takes place in vat. The wine of Chasse-Spleen is aged in 40% new, French oak barrels for between 12 and 15 months before bottling.
When to Drink Chateau Chasse-Spleen, Anticipated Maturity, Decanting Time
Chateau Chasse Spleen needs some time before it can be enjoyed. Young vintages can be decanted for an average of 1-2 hours, give or take. This allows the wine to soften and open its perfume. Older vintages might need very little decanting, just enough to remove the sediment.
Chateau Chasse-Spleen is usually better with at least 6-9 years of bottle age. Of course, that can vary slightly, depending on the vintage character. Chateau Chasse Spleen offers its best drinking and should reach peak maturity between 8-15 years of age after the vintage.
Serving Chateau Chasse Spleen with Wine, Food, Pairing Tips
Chateau Chasse-Spleen is best served at 15.5 degrees Celsius, 60 degrees Fahrenheit. The cool, almost cellar temperature gives the wine more freshness and lift. The wine of Chateau Chasse Spleen is best served with all types of classic meat dishes, veal, pork, beef, lamb, duck, game, roast chicken, roasted, braised, and grilled dishes.
Chateau Chasse-Spleen is a perfect match with Asian dishes, hearty fish courses like tuna, mushrooms, and pasta as well as cheese.
The estate also makes a small amount of white Bordeaux wine under the name Blanc de Chasse Spleen Blanc. Chateau Chasse Spleen makes two-second wines, L'Ermitage de Chasse-Spleen and L'Oratoire de Chasse Spleen which made their debut in 1982.
Chateau Chasse Spleen produces over 40,000 cases of red Bordeaux wine per vintage. The family also owns vines in the Haut Medoc appellation where they produce a wine called, Heritage de Chasse-Spleen.
Château Chasse-Spleen Wine Tasting Notes
20 Vintages 114,819 Views Sort by Vintage-Rating
2022
Château Chasse-Spleen (Moulis en Médoc)

Tobacco leaf, underbrush, cedar, and currants form the core of the wine. On the medium-bodied palate, the wine is crunchy, crisp, and classic with a savory edge to firm finish. Drink from 2025-2040. 89-91 Pts.

646 Views

Tasted

May 8, 2023

2021
Château Chasse-Spleen (Moulis en Médoc)

Strong underbrush, leafy tobacco, herbs, olives and cedar notes accompany the bright red fruits on the medium-bodied, chewy, peppery-spiced palate. Drink from 2023-2038. 89-90

1,144 Views

Tasted

May 20, 2022

2020
Château Chasse-Spleen (Moulis en Médoc)

Red and black cherries, spice box and dried flowers shoot from the perfume. On the palate, the wine is medium-bodied, fresh and lively, with a brisk, spicy red berry, tea and olive finish. Drink from 2025-2040.

742 Views

Tasted

Mar 21, 2023

Tobacco, herbs, flowers and red fruits combine on the nose. On the medium-bodied palate, this classic styled wine delivers bright, fresh red fruits, soft tannins and a crisp, almost crunchy red berry finish. 88-90 Pts

1,734 Views

Tasted

May 20, 2021

2019
Château Chasse-Spleen (Moulis en Médoc)

Showing much better in the bottle after the aging process, the medium-bodied, soft, fresh wine is focused on its core of ripe, sweet, currants, tobacco and spice. Not very weighty, but it makes up for that with its elegance and finesse. Drink from 2024-2037.

2,668 Views

Tasted

Mar 29, 2022

Herbs, tobacco, red berries and cedar in the nose bring you to a medium-bodied, fresh, bright, lifted, sweet and tart, floral red plum and cassis-packed finish. 89-91 Pts

5,315 Views

Tasted

Jun 8, 2020

2018
Château Chasse-Spleen (Moulis en Médoc)

Cedar and tobacco lead off the perfume before you get to the spicy, cranberry, red currants and herbs. Bright, crisp, chewy, medium-bodied, classic, and crunchy, give this at least 5 or more years in the cellar before pulling a cork. The wine blends 45% Cabernet sauvignon, 40% Merlot, 10% Petit Verdot and 5% Cabernet Franc.

3,078 Views

Tasted

Mar 9, 2021

Cranberry and cassis in a bright, medium-bodied, lean format with a dried red berry finish. 87-89 Pts

3,216 Views

Tasted

Apr 19, 2019

2017
Château Chasse-Spleen (Moulis en Médoc)

Crisp and peppery, the cassis has a juicy quality that carries through to the classically styled finish.

3,814 Views

Tasted

Apr 26, 2018

2016
Château Chasse-Spleen (Moulis en Médoc)

Quite bright, this medium/full bodied, fresh, sharp, crisp, cassis and cranberry filled wine is made for lovers of older, classically styled Bordeaux. The wine leans to the cedar, tobacco leaf and piquant red fruit oriented side of the style range.

3,653 Views

Tasted

Feb 11, 2019

At its medium/full bodied core, you find, juicy, black and red fruits, tobacco, and cherries with a note of espresso bean. Give this a few more years to develop and it will be even better. This is probably the best wine here since 1989!

4,640 Views

Tasted

Apr 29, 2017

2015
Château Chasse-Spleen (Moulis en Médoc)

Light, bright and tight, with crispness to the cassis and tartness in the cranberry, the wine is lean and with more freshness than fruit.

3,125 Views

Tasted

Mar 12, 2018

Medium bodied, classically styled with salty tannins, light, bright, red fruits and a crisp finish. 87-89 Pts

5,634 Views

Tasted

Apr 26, 2016

2014
Château Chasse-Spleen (Moulis en Médoc)

Forward, soft and fresh, this wine has a bright center of black cherry and cassis, which is complicated by hints of dark, bitter chocolate and a red fruit–filled finish. 87-89 Pts

4,027 Views

Tasted

Apr 21, 2015

2013
Château Chasse-Spleen (Moulis en Médoc)

Light and lean, with tart red fruits with an acidic, tart finish. The wine was made from a blend of 60% Cabernet Sauvignon, 33% Merlot, and 7% Petit Verdot.

2,912 Views

Tasted

Feb 7, 2016

2012
Château Chasse-Spleen (Moulis en Médoc)

Classic, medium bodied, oaky, firm wine, with a crisp, spicy, blackberry oriented finish.

2,778 Views

Tasted

May 7, 2015

Medium bodied, with a core of black cherries and earth, the wine finishes with dusty tannins and red fruits.

2,444 Views

Tasted

Mar 11, 2015

2010
Château Chasse-Spleen (Moulis en Médoc)

Bright black and red berries, spice box, herb and wood in the nose, the wine is on the fresh side of the sweet and tart side of the style range.

8,317 Views

Tasted

Feb 6, 2013

2009
Château Chasse-Spleen (Moulis en Médoc)

Spice, herbs, earth and tart cherry scents lead to a tight, tannic wine, with drying sensations in the red fruit, dominated finish. Perhaps time will soften the tannins.

9,619 Views

Tasted

Feb 6, 2012

2008
Château Chasse-Spleen (Moulis en Médoc)

Medium bodied, soft textured and serving up a lot of freshness in its melange of dark, red fruits, this can easily age for a few more years, allowing all its components to come further together as its a bit tight and simple at the moment.

4,129 Views

Tasted

Sep 23, 2016

2006
Château Chasse-Spleen (Moulis en Médoc)

Firm, stoic, austere, old-school, crunchy red berry-packed wine with a strong touch of green peppery herbs and tobacco leaf on the nose and palate.

2,205 Views

Tasted

Dec 14, 2021

2005
Château Chasse-Spleen (Moulis en Médoc)

Tannic, firm, classically styled, with an austere, herb or leaf tinged personality is dominated by crisp red berries and spice. This clearly needs another 5 or more years to come around.

6,076 Views

Tasted

Jan 30, 2016

Dark in color, but light in flavor. This medium bodied, red fruit dominated, bright, earthy, tannic wine is still tight at the moment. Give it at least another 5-7 years.

10,114 Views

Tasted

Aug 7, 2011

2004
Château Chasse-Spleen (Moulis en Médoc)

Masculine, firm and tannic, this old school, classic wine serves up tobacco, cedar, leaf, cassis and cranberry characteristics.

4,267 Views

Tasted

Jan 4, 2015

2003
Château Chasse-Spleen (Moulis en Médoc)

Easy drinking charmer, without any of the excess you often find in this vintage. The wine is round, accessible and with a soft, red berry, earth and tobacco character. This is drinking at what is probably its peak today.

5,172 Views

Tasted

Aug 26, 2017

2000
Château Chasse-Spleen (Moulis en Médoc)

With a nose packed with earth, black plums, tobacco and cassis, this powerful, tannic, deep wine could easily pass for a Classified Growth.If you're going to open it now, leave it in the decanter for an hour or more. Else, give it a few more years to allow the firm tannins to soften. As the 1989 is still going strong, this should continue to age for a long time.

7,272 Views

Tasted

Jan 11, 2012

1989
Château Chasse-Spleen (Moulis en Médoc)

At age 20, this wine nonetheless tasted several years younger tan that. Filled with layers of deep, ripe black fruit, herbs, earth, and tobacco scents, this full bodied wine has come together nicely. Still young, this wine will offer pleasure for at least another 20 more years. The wine will fool a lot of people in a blind tasting.

6,078 Views

Tasted

Jun 18, 2009