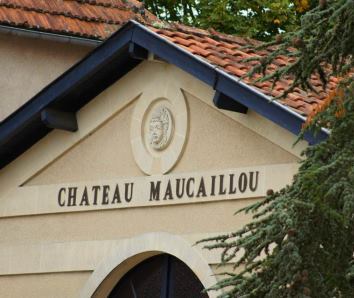 Learn everything about Chateau Maucaillou Moulis with wine tasting notes and wine with food pairing tips. Learn the best vintages, the history of the property, and information on the vineyards and winemaking. If you want to read about other important, Bordeaux Chateaux: Links to all Bordeaux Wine Producer Profiles
Chateau Maucaillou History, Overview
Chateau Maucaillou dates back to at least 1871 when the estate was developed by the Petit Laroche family. The name of Maucaillou can be translated into bad stones. The name was perfect for the estate because of the poor, rocky soils which were too harsh for planting anything except grapevines.
The Petit Laroche family were successful negociants at the time. They chose the location, due to its close proximity to the local railroads in Moulis, which made shipping their wines easier. They built the chateau in 1875.
However, the modern era for Chateau Maucaillou starts in the depths of the great depression, when the property was sold to the well-known Dourthe group, which already was an established negociant company by that time. Dourthe owns several estates in the Medoc, Pessac Leognan, and St. Emilion, as well as the large negociant house, CVGB.
Chateau Maucaillou Vineyards, Terroir, Grapes, Winemaking
The large 86-hectare Left Bank vineyard of Chateau Maucaillou has a terroir of gravel-based soils. The vineyard is planted to 55% Cabernet Sauvignon, 40% Merlot, and 5% Petit Verdot. This shows a small increase of Cabernet in the vineyard The vines are harvested using a combination of machine harvesting and pickers.
Their best terroir is located on gravel soils close to the chateau. All the work in the vines is self-sustaining.
The wines are vinified in temperature-controlled, stainless steel vats. Malolactic fermentation takes place in tanks. The wines are aged in about 60%, new, French oak barrels for an average of 16 – 18 months prior to bottling. There is a second wine, Le No 2 de Maucaillou. There is also a 3rd wine, Le Haut Medoc de Maucaillou Haut Medoc, which as the name suggests comes from vines planted outside of Moulis, in the Haut Medoc appellation.
In addition, the estate produces a white Bordeaux wine from Sauvignon Blanc, Le B Par Maucaillou Brut which is sold as an AOC Bordeaux Blanc, and sparkling wine, Tentation par Maucaillou, making them one of the few Left Bank chateaux making a Cremant de Bordeaux.
The production of Chateau Maucaillou is large as they make close to 40,000 cases of wine per vintage.
Aside from a chateau, vineyard, and winery, there is another reason to visit Chateau Maucaillou. They have a wine museum and a gallery of wine-related artworks.
The owners of Chateau Maucaillou also produce Chateau Duplessis Fabre, Chateau Cap de Haut Maucaillou and Chateau Maucaillou Felletin from 26 hectares of vines that are also planted in the Haut Medoc appellation.
The best vintages of Chateau Maucaillou are: 2022, 2021, 2020, 2019, 2018, 2017, 2016, 2015, 2014, 2010, and 2009.
When to Drink Chateau Maucaillou, Anticipated Maturity, Decanting Time
Chateau Maucaillou is better young with 1 hour or so of decanting. This allows the wine to soften and open its perfume. Older vintages might need very little decanting, just enough to remove the sediment. Chateau Maucaillou is usually better with at least 2-4 years of bottle age.
Of course, that can vary slightly, depending on the vintage character. Chateau Maucaillou offers its best drinking and should reach peak maturity between 3-12 years of age after the vintage.
Serving and Decanting Chateau Maucaillou with Wine, Food, Pairing Tips
Chateau Maucaillou is best served at 15.5 degrees Celsius, 60 degrees Fahrenheit. The cool, almost cellar temperature gives the wine more freshness and lift. The wine of Chateau Maucaillou is best served with all types of classic meat dishes, veal, pork, beef, lamb, duck, game, roast chicken, roasted, braised, and grilled dishes.
Chateau Maucaillou Barton is a perfect match with Asian dishes, hearty fish courses like tuna, mushrooms, and pasta as well as cheese.
Château Maucaillou Wine Tasting Notes
16 Vintages 45,469 Views Sort by Vintage-Rating
2022
Château Maucaillou (Moulis en Médoc)

Forward, round, sweet, and fruity, with a core of black plums, espresso, cocoa, and tobacco from start to finish. The medium-bodied wine is round, soft, and ready for prime time drinking on release. Drink from 2025-2037. 89-91 Pts.

608 Views

Tasted

May 8, 2023

2021
Château Maucaillou (Moulis en Médoc)

Light, forward, soft and fruity, you can enjoy this brighter-styled, leafy, red currant and cranberry filled wine with ease on release. Drink from 2023-2030. 84-86

1,338 Views

Tasted

May 20, 2022

2020
Château Maucaillou (Moulis en Médoc)

Earthy, with a floral touch to the plums, herbs, tobacco and espresso on the nose and palate. The finish is focused on its core of sweet, red cherries and spice, which comes in with the endnote. Drink from 2023-2034.

690 Views

Tasted

Mar 21, 2023

With a touch of smoke, licorice, espresso and bright red berries, the wine is medium-bodied, forward, chewy, crisp, fresh and classic in style. 87-89 Pts

1,521 Views

Tasted

May 20, 2021

2019
Château Maucaillou (Moulis en Médoc)

Medium-bodied, spicy, fresh, soft, forward, fruity wine that will offer nice, early drinking, uncomplicated pleasure. Drink from 2022-2029.

1,307 Views

Tasted

Mar 29, 2022

Medium-bodied, four-square, correct, easy drinking, fresh, bright, red berry filled wine that will deliver pleasure on release. 88-89 Pts

2,539 Views

Tasted

Jun 8, 2020

2018
Château Maucaillou (Moulis en Médoc)

Round, creamy, sweet, red fruits with hints of cocoa, tobacco and earth, the wine offers freshness, fruit and charm at a value price. And it will drink well in its youth.

1,125 Views

Tasted

Mar 9, 2021

Ripe, round, forward, fresh and fun, the wine is soft, on the sweet side with licorice, earth, tobacco and spice to flesh things out. This is a solid example of a Bordeaux value wine from the Medoc. 88-90 Pts

2,056 Views

Tasted

Apr 19, 2019

2017
Château Maucaillou (Moulis en Médoc)

Forward, medium-bodied, early-drinking pleasure is found here, with a nice, fresh, juicy red fruit character.

1,852 Views

Tasted

May 14, 2020

2016
Château Maucaillou (Moulis en Médoc)

Forward in style, showing a big shot of espresso with layers of ripe, juicy blackberries, smoke, licorice and tobacco all wrapped up in a round, fruity finish.

2,721 Views

Tasted

Feb 11, 2019

Forward in style, with loads of ripe, sweet, blackberries, cedar, oak and tobacco to keep you busy.

2,056 Views

Tasted

Apr 29, 2017

2015
Château Maucaillou (Moulis en Médoc)

Simple, medium bodied, wine that delivers a light, cherry, cranberry and herbal profile for early quaffing consumption.

2,699 Views

Tasted

Mar 12, 2018

Showing a forward, easy drinking, black cherry, earth and cassis, medium bodied, forward character for early consumption. 85 - 87 Pts

2,703 Views

Tasted

Apr 26, 2016

2014
Château Maucaillou (Moulis en Médoc)

Forward, medium bodied, soft, polished fresh, easy drinking, red fruits, earth, tobacco and spice. Round tannins and a fruity finish polish this off nicely.

2,331 Views

Tasted

Jun 23, 2017

2013
Château Maucaillou (Moulis en Médoc)

Medium bodied with a bright red berry character with espresso bean and cranberry notes, this crisp wine is made for early drinking consumption.

2,455 Views

Tasted

Feb 7, 2016

2012
Château Maucaillou (Moulis en Médoc)

A perfect example of a nice, Left Bank charmer, with soft tannins, ripe, dark red fruits, and a bit of earth and thyme. Forward in style, this medium bodied, early drinking, not overly complicated wine, is already nice in the glass.

3,100 Views

Tasted

Oct 20, 2017

2011
Château Maucaillou (Moulis en Médoc)

Slightly past fully mature, the wine is on the bright, crisp, red berry side with strong green herb, cedar and peppery accents. This needs drinking sooner than later.

2,002 Views

Tasted

Oct 22, 2021

2010
Château Maucaillou (Moulis en Médoc)

Forward, medium bodied, easy drinking wine, with a crisp, red and dark fruit with tobacco character.

3,913 Views

Tasted

Sep 13, 2015

2009
Château Maucaillou (Moulis en Médoc)

Fully mature, round, fruity, earthy, ripe red fruits and black cherries with earth and thyme notes make this a charming, easy drinking pleaser at its peak. I would not hold out for more on this.

2,430 Views

Tasted

Feb 11, 2019

2005
Château Maucaillou (Moulis en Médoc)

Fully mature, with a sweet core of fresh black cherries, made even better with the essence of forest floor and thyme notes, leaves you with a round, cherry finish.

3,466 Views

Tasted

Oct 23, 2016

2000
Château Maucaillou (Moulis en Médoc)

Not much left in the tank here, with more tart, than sweet fruits to accompany the tobacco, cedar, and leafy notes.

2,557 Views

Tasted

Sep 20, 2021