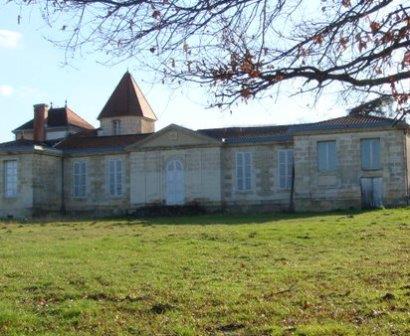 Learn everything about Chateau Rabaud Promis Sauternes, Premiers Crus with wine tasting notes, wine, and food pairing tips, best vintages, a history of the property, information on the vineyards, and winemaking. If you want to read about other important, Bordeaux Chateaux: Links to all Bordeaux Wine Producer Profiles
Chateau Rabaud Promis History, Overview
Located in the Bommes sector of Sauternes, this estate was known as the "field of Rabeaud" in the seventeenth century due to the fact that one of the early owners was the Rabeaud family. The first part of the estates comes from a modernization of the Rabeaud family name, changing it to what we know of today as Rabaud.
At that time, during the 1700's and 1800s, what we know of as Chateau Rabaud Promis was actually part of the much larger Bordeaux vineyard belonging to Chateau Sigalas Rabaud.
This all changed in 1903 when Gaston Drouilhet de Sigalas separated the massive Sauternes estate when he sold a portion of Chateau Sigalas Rabaud to Adrien Promis. Adrien Promis renamed his new estate, using the custom of the day by adding his name to the property, and thus, Chateau Rabaud Promis, a new Bordeaux wine producer in Sauternes was born.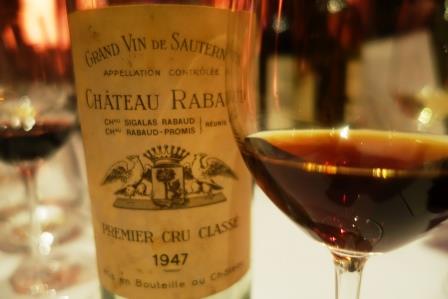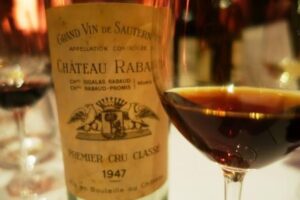 The Dejean family-owned and managed Chateau Rabaud Promis, bringing it into the modern era. Chateau Rabaud Promis had fallen into a dilapidated state by 1972 when Philippe Dejean started working at the property. The wine did not see any new oak during the aging process. Instead, it was aged in concrete vats.
Once Philippe Dejean took over Chateau Rabaud Promis, they began a slow, but steady renovation of the winemaking facilities, cellars, and the vineyards. All these costly efforts helped improve the wine and restore the reputation of the winery to its previous level of status.
In early 2020, Chateau Rabaud Promis was purchased by Jacques Merlaut, who already owned Chateau Gruaud Larose and numerous other Bordeaux vineyards under the Taillan Group. Most of their investments are in the Left Bank.
Chateau Rabaud Promis Vineyards, Terroir, Grapes, Winemaking
The 33 hectare Sauternes vineyard of Chateau Rabaud Promis is planted to 80% Semillon, 18% Sauvignon Blanc and 2% Muscadelle. On average the vines are close to 40 years of age. The vineyard, located close to the chateau is planted to a vine density of 6,666 vines per hectare. The terroir is mostly gravel with clay soil on a sloping, gravel hillside.
There are so many rocks and stones in the vineyard here in a few of their parcels, that it can remind you of the terroir you find in some Chateauneuf du Pape vineyards!
To produce the wine of Chateau Rabaud Promis, after pneumatic pressing, the wine is vinified in a combination of stainless steel and French oak barrels. The wine is aged in 30% new, French oak barrels for an average of 12 to 14 months before bottling.
The best vintages of Chateau Rabaud Promis are: 2022, 2021, 2020, 2019, 2018, 2017, 2016, 2015, 2014, 2013, 2011, 2010, 2009, 2007, 2005, 2003, 2001, 1990, 1989 and 1988.
There is a second wine, which interestingly was sold under two different names, Domaine de l'Estremade, and Chateau Bequet. Today, the second wine is Promesse de Rabaud-Promis. The estate also produces Raymond Louis, named after one of the previous owners of the vineyard, Raymond Louis Lanneluc. The production of Chateau Rabaud Promis averages about 3,000 cases of Sauternes per vintage.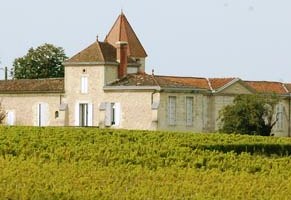 When to Drink Chateau Rabaud Promis, Anticipated Maturity, Decanting Time
Chateau Rabaud Promis can be enjoyed on the young side with no decanting. In fact, it is delicious and quite a treat young, even on release! However, like all great wines, Chateau Rabaud Promis is much better with age and does not reach full maturity until it's between 12-25 years of age, or in some years, perhaps even longer in the best vintages!
But that is unrealistic for 99% of the world's wine drinkers. So, enjoy it on any special occasion that calls for it.
Of course, the wine is sweet, but there is so much, incredible, racy acidity, the wine always feels fresh, and never cloying, which makes it quite fun to enjoy young. With Chateau Rabaud Promis and frankly, all Sauternes, the temperature is more important than decanting.
Serving Chateau Rabaud Promis with Wine and Food Pairings
Chateau Rabaud Promis is best served at 14 degrees Celsius, 57 degrees Fahrenheit. The cool, almost cellar temperature gives the wine more freshness and lift. The wine will naturally warm in the glass, while it develops more aromatic complexities and fleshes out. Chateau Rabaud Promis can be served with seafood dishes, especially shellfish, lobster, crab, and oysters on the half shell.
Foie gras is a perfect pairing with its natural sweet, salty and savory characteristics. Chateau Rabaud Promis can also be paired with roasted chicken, veal, and pork dishes that are either spicy or prepared with a touch of sweetness.
Spicy Asian cuisine, raw fish, like sushi or sashimi, and cheese, both hard and soft also make great pairings with Chateau Rabaud Promis.
Château Rabaud-Promis Wine Tasting Notes
14 Vintages 40,977 Views Sort by Vintage-Rating
2018
Château Rabaud-Promis (Sauternes)

Sweet, honeyed Meyer lemon, candied orange rind, pineapple and floral notes. Medium bodied, round and sweet, with a nice spicy touch in the finish. You can enjoy this on release. Also, it should be noted that the special bottle used is absolutely gorgeous.

1,205 Views

Tasted

Mar 9, 2021

2017
Château Rabaud-Promis (Sauternes)

Perfectly balanced between honeyed, tropical fruits, candied citrus rind and fresh, racy acidity. Freshness, sweetness, length and pleasure all wrapped up quite nicely. Drink now, or wait a decade.

1,614 Views

Tasted

Aug 26, 2021

2016
Château Rabaud-Promis (Sauternes)

On the candied orange and honeyed tangerine side of the style range, this is a bright, fresh, floral, spicy, sweet wine with a touch of vanilla bean, pineapple and apricot in the finish. The wine is precocious. So if you like your sweets on the young side, this is for you.

2,126 Views

Tasted

Apr 5, 2020

2015
Château Rabaud-Promis (Sauternes)

Medium-bodied, forward, early-drinking, fresh, light, orange, apricot, honey, vanilla and floral-scented wine that can be enjoyed as an aperitif or with savory courses, due to its food-friendly style.

2,185 Views

Tasted

Nov 8, 2019

2013
Château Rabaud-Promis (Sauternes)

On the orange, apricot and sweet, candied citrus side of the style range, there is a tangy, bright, crisp, sweetness to the honeyed fruit here. Personally, while this is a good wine, I prefer the fruit that hits the tropical side, but others that love a hit of marmalade with like this even more than I did.

2,813 Views

Tasted

Nov 21, 2017

2011
Château Rabaud-Promis (Sauternes)

Nice vintage for Rabaud Promis here starting with its apricot, pineapple, orange, green apple and floral nose. Concentrated, sweet, but not overblown, due to the refreshing jolt of acidity, the finish is all about the apricot custard sensation. This is so good now, and it's going to be even better with a decade or so of bottle age.

3,808 Views

Tasted

Nov 1, 2016

2010
Château Rabaud-Promis (Sauternes)

Sweet, citrus peel, complicated by honeyed Meyer lemon, candied orange, pineapple and floral notes. Medium bodied, fresh and vibrant, a few more years should add to the apricot, orange, tropical fruit and honey finish.

2,308 Views

Tasted

Nov 8, 2014

2009
Château Rabaud-Promis (Sauternes)

With a nose that sings with its honey coated, tropical fruits, coconut, apricot, orange, floral and vanilla perfume, the wine is exactly what the doctor ordered. Sweet, lush, fat, spicy and fresh in character, the wine ends with fresh, juicy pineapple and honey.

3,994 Views

Tasted

Feb 14, 2014

2007
Château Rabaud-Promis (Sauternes)

Pineapple soaked in honey, with nuts, apricot, orange rind and floral scents, rich opulent textures and a long, sweet, tropical, pear and honeyed, fresh finish are found in this delicious Sauternes.

4,435 Views

Tasted

May 9, 2012

2005
Château Rabaud-Promis (Sauternes)

On the fresh, bright, floral side of the style range, with a lean to orange and apricots over tropical notes, there is plenty of honey drizzled on the fruit. But it lacks the weight and density you find in the better wines from the vintage.

4,796 Views

Tasted

Sep 30, 2017

2003
Château Rabaud-Promis (Sauternes)

A nice Sauternes, but lacking the concentration found in many wines from the vintage. There is ample apricot, orange rind, pineapple and honey in the nose and on the palate.

2,667 Views

Tasted

Jun 7, 2013

2001
Château Rabaud-Promis (Sauternes)

Lots of honeyed apricots, pineapple, coconut and poached pears are in the nose and sweet finish. Not the most concentrated wine, but it's contender for one of the best values in sweet wine from the now legendary 2001 vintage. And with a decade of bottle age under its belt, this is drinking great today.

4,791 Views

Tasted

May 10, 2013

1989
Château Rabaud-Promis (Sauternes)

An orphan bottle found in my cellar was a nice discovery. Fully mature, with caramel, butterscotch, orange, spice and honeyed tropical notes. There is freshness and a nice mix of secondary sensations, coupled with sweet, tropical notes. I suspect there is no reason to age this any longer.

2,454 Views

Tasted

Sep 23, 2018

1947
Château Rabaud-Promis (Sauternes)

Deep caramel in color, with some sweet, honeyed pineapple, orange and apricot remaining, along with stronger sensations of secondary notes or caramel, butterscotch and spice.

1,781 Views

Tasted

May 8, 2014