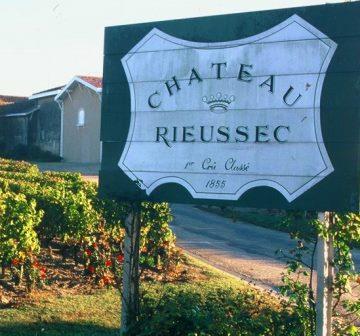 Learn everything about Chateau Rieussec Sauternes, Premiers Crus with wine tasting notes, and wine with food pairing tips. Learn all the best vintages, a history of the property, information on the vineyards, and winemaking. If you want to read about other important, Bordeaux Chateaux: Links to all Bordeaux Wine Producer Profiles
Chateau Rieussec History, Overview
Chateau Rieussec got its start when it was founded by an order of Carmelite monks. Like many Bordeaux wine properties, the estate was confiscated during the French Revolution. This led to an auction around 1790 when it was sold to the Marheilhac family.
At the time, they owned Chateau La Louviere, located in Pessac Leognan. Interestingly. Chateau La Louviere was also confiscated during the French Revolution from an order of Monks.
Following the 1855 Classification, Rieussec passed through numerous owners including the Gasqueton family. The Gasqueton family also owned Chateau Calon Segur in St. Estephe. This was followed by numerous changes in ownership until it was purchased by Alain Vuillier.
In 1984, Alain Vuillier was running out of money and he sold Chateau Rieussec to the owners of Chateau Lafite Rothschild, Domaines Barons de Rothschild. They bought the property in a partnership with Albert Frere.
Albert Frere was quite familiar with Bordeaux as he already owned a portion of Chateau Cheval Blanc in St. Emilion. The following year, in 1985, Charles Chevallier was placed in charge of managing Chateau Rieussec.
Aside from a modernization of the estate since Lafite Rothschild took over, the estate has almost doubled in size. At the time of the purchase, at most, 40 hectares were under vine.
30 years later, Rieussec had almost 90 hectares under vine. However, everything did not go as planned for the new owners. When Lafite Rothschild became the world's most collectible brand, due to the excessive buying in the Asian markets, Domaines Barons de Rothschild began selling their wines as a bundle, meaning, the Negociants were forced to buy Rieussec, Duhart Milon, and Carruades to be able to buy Lafite Rothschild.
That practice devalued the wine of Rieussec as Negociants began to balk at the bundling practice. Eventually, that marketing plan was discontinued in the 2013 campaign.
Starting with the 2022 vintage, Chateau Rieussec introduced a new bottle for Bordeaux. Made from PCR. "Post Consuming Recycled" glass, the bottle focuses on a new shape, as well as a non-see-through bottle that focuses on its designer elements and logo. Even more interesting, the bottle no longer states Sauternes, or even Bordeaux, just the simple name of "Rieussec".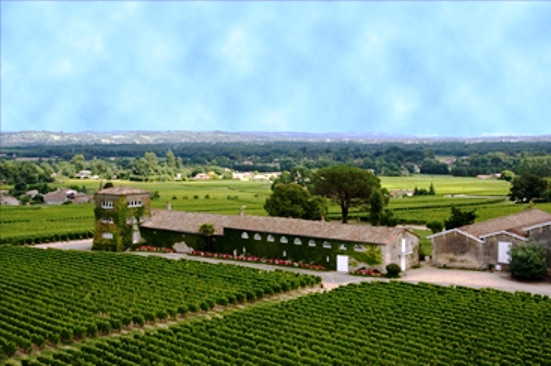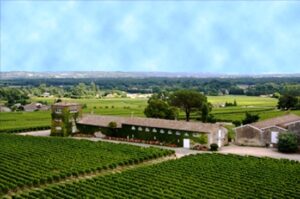 Chateau Rieussec Vineyards, Terroir, Grapes, Winemaking
The large, 85 hectare Chateau Rieussec vineyard is planted to 85% Semillon 13% Sauvignon Blanc and 2% Muscadelle. The vineyard has a terroir of gravel, sand, clay, and limestone soil. The slopes place Rieussec at one of the highest elevations in the appellation, reaching 78 meters at its peak.
Only Chateau d'Yquem has elevations higher than that. The vineyard of Chateau Rieussec On average, the vines are 25 years of age. The vineyard is planted to a vine density of 7,500 vines per hectare.
The Sauternes vineyard of Chateau Rieussec is one of the largest in the Sauternes appellation. The property has great terroir. It sits next to Chateau dYquem on the east and Chateau de Fargues is also their neighbor. The vineyards of Rieussec extend all the way to the borders of both Fargues and Sauternes, giving them vines in both communes.
Perhaps it is that they have a more complex terroir, as they are located in 2 communes, that gives the wine the extra level of depth and concentration.
Like all the top Bordeaux wine producers in Sauternes, the harvests are done in passes. This length of the harvest and amount of passes is determined by the ripeness of the fruit and more importantly, the level of botrytis found on the grapes.
The harvest could last for as long as 6 to 8 weeks. In extremely difficult vintages, Rieussec did not produce any wine, declassifying their entire crop. So far, this has happened 3 times, 1977, 1993 and 2012.
The best vintages of Chateau Rieussec are: 2022, 2021, 2020, 2019, 2018, 2017, 2016, 2015, 2014, 2013, 2011, 2010, 2009, 2007, 2005, 2003, 2001, 1997, 1990, 1989, 1988, 1986, 1983, 1976 and 1975. Well stored older vintages could also be quite good.
To produce the wine of Chateau Rieussec, sorting takes place in the vineyard during the harvest, not at the winery. Vinification takes place in a combination of new, French oak barrels and used barrels. Prior to 1996, the wine was vinified partially in the tank, but that is no longer the case.
Starting with the 1997 vintage, the entire vinification process is conducted in French oak barrels. The used barrels come from Chateau Lafite Rothschild. The wine of Chateau Rieussec is aged in an average of 50% new, French oak barrels for 18 to 24 months, depending on the character of the vintage.
Chateau Rieussec has clearly benefited from being owned by the Rothschilds. Numerous technical improvements in the vineyards and the winemaking facilities have helped vastly improve the wines of Chateau Rieussec. The wines are vinified in small lots which allow for vinification on a level that is even more precise than a parcel by parcel basis. The wines are aged in 50% new, French oak barrels for 30 months.
Chateau Rieussec also produces a dry white name, marketed under the name, R de Rieussec, the wine is usually produced from a blend of 50% Sauvignon Blanc and 50% Semillon.
There is a second wine, which is available under three names, Carmes de Rieussec, de Cosse, and Clos Labere. Carmes de Rieussec takes its name from the founder of the estate, the Carmelite Monks. second wine has been in production since 1975. Overall, the annual production of Rieussec is close to 12,500 cases of wine per year.
Style and Character of Chateau Rieussec
Rieussec is close to the top of the Sauternes pyramid. With the concentration of flavors, thick textures, sensations of honey-drenched pineapple, orange, apricot, mango, and nectarines with vanilla and caramel notes are easy to find. This is a stunning wine that can age for decades.
One thing consumers should be aware of when it comes to aging Chateau Rieussec, the wine usually develops a darker color than other Sauternes. With 20-30 years, the wine can appear to look more like amber or copper in color. This is normal for Rieussec.
When to Drink Chateau Rieussec, Anticipated Maturity, Decanting Time
Chateau Rieussec can be enjoyed on the young side with no decanting. In fact, it is delicious and quite a treat young, even on release! However, like all great wines, Chateau Rieussec is much better with age and does not reach full maturity until it's between 15-35 years of age, or in some years, perhaps even longer in the best vintages! That is when the magic happens!
But that is unrealistic for 99% of the world's wine drinkers. So, enjoy it on any special occasion that calls for it.
Of course, the wine is sweet, but there is so much, incredible, racy acidity, the wine always feels fresh, and never cloying, which makes it quite fun to enjoy young. With Chateau Rieussec and frankly, all Sauternes, the temperature is more important than decanting.
Serving Chateau Rieussec with Wine and Food Pairings
Chateau Rieussec is best served at 14 degrees Celsius, 57 degrees Fahrenheit. The cool, almost cellar temperature gives the wine more freshness and lift. The wine will naturally warm in the glass, while it develops more aromatic complexities and fleshes out.
Chateau Rieussec can be served with seafood dishes, especially shellfish, lobster, crab, and oysters on the half shell. Foie gras is a perfect pairing with its natural sweet, salty and savory characteristics. Chateau Rieussec can also be paired with roasted chicken, veal, and pork dishes that are either spicy or prepared with a touch of sweetness.
Spicy Asian cuisine, raw fish, like sushi or sashimi, and cheese, both hard and soft also make great pairings with Chateau Rieussec.
Château Rieussec Wine Tasting Notes
24 Vintages 211,381 Views Sort by Vintage-Rating
2018
Château Rieussec (Sauternes)
Pineapples, vanilla, honeysuckle and apricots fill the nose. The wine is sweet, almost unctuous, with an orange and sugary tropical laced finish. The wine was made from blending 58% Semillon and 42% Sauvignon Blanc.
6,019 Views
Tasted

Apr 19, 2019
2017
Château Rieussec (Sauternes)
Concentrated with good depth of flavor allowing you to explore all the honey slathered orange and yellow tropical fruits, caramel and butterscotch. Rich and full, but with that necessary pop of acidity, this is a sweet treat.
4,701 Views
Tasted

May 17, 2020
Roasted nuts, pineapples, vanilla custard and apricots come on strong. The wine is perfectly balanced between sweetness and racy acidity, with a melange of over-ripe, spicy, sweet, tropical fruit and honey. The wine was made from blending 54% Semillon and 46% Sauvignon Blanc.
4,788 Views
Tasted

Apr 26, 2018
2016
Château Rieussec (Sauternes)
Luscious, honeyed, yellow and orange tropical fruits, flowers, roasted nuts and apricots pop the moment the wine hits your glass. Plush, sweet and racy, so everything is on the up-side, the blast of honey-coated apricots, vanilla and candied orange rind in the finish hits all the right notes. This should age effortlessly for 25-30 years or more.
4,636 Views
Tasted

Jun 26, 2020
2015
Château Rieussec (Sauternes)
Rich, lush, fat, sweet and juicy, there is fabulous intensity in the luscious honey-coated, tropical fruit, apricot and white peach filled wine. The acidity is there awarding this sweet treat lift and energy, making this just a pleasure to taste young. But the rewards come with aging, so give it at least anther decade more age if you can.
7,081 Views
Tasted

Oct 21, 2019
2014
Château Rieussec (Sauternes)
Fresh, vibrant, and floral, the honey-coated apricots, roasted pineapple, candied orange rind, lemon curd, caramel, and vanilla nuances already shine through in the nose and on the rich, lusciously, sweet, vivacious, racy palate. With another decade of age, this should really begin to shine.
5,239 Views
Tasted

Oct 18, 2021
2013
Château Rieussec (Sauternes)
Filled with nutty and fruity notes of orange, pineapple, honey, and citrus, this rich, dense wine is lively and long with the right balance of freshness, sugar and acidity. 94-96 Pts
8,261 Views
Tasted

Apr 22, 2014
2011
Château Rieussec (Sauternes)
Fat, powerful, intense and concentrated with sweet, lush, honey coated tropical fruits, apricot and peach, complicated by vanilla and spice notes is primary, yet already delicious. Give it time to develop and evolve and this should be even better.
5,075 Views
Tasted

Jul 6, 2015
2010
Château Rieussec (Sauternes)
Sweet apricots, peach, orange and pineapple with honey, freshness and a generous finish are on full display with this wine. It lacks the depth found in the best vintages however. Drink this young if you like your Sauternes on the primary side. Age it for a decade or two, if you want more caramel and crème brulee sensations.
6,109 Views
Tasted

Oct 10, 2013
2009
Château Rieussec (Sauternes)
Thick layers of ripe, over ripe and extremely ripe tropical fruit, peach and apricot drenched in honey, nuts and vanilla custard with the right, refreshing zip to keep it lively and fresh. Of course this is very young, but it[s so tasty, it's hard not to pop a cork on this now. I imagine it's going to get better and my score will look chintzy in the years to come.
8,372 Views
Tasted

Aug 8, 2013
2007
Château Rieussec (Sauternes)
Big, bold, rich, thick, concentrated and filled with honey drenched, tropical fruit, citrus rind, apricot, orange blossom and vanilla, the wine is still primary and wants more time. If you cannot keep your hands off it, enjoy it for its fresh fruit, honey, spice, creme brulee and nutty personality. At maturity, I imagine it'll deserve another point or two.
6,972 Views
Tasted

Sep 23, 2012
2006
Château Rieussec (Sauternes)
Fresh, spicy and floral, the wine is on the orange, tangerine and apricot side of the style range, instead of tropical fruits. There is ample honey and acidity, but the wine lacks the richness, fat and depth found in the best vintages here.
4,423 Views
Tasted

Jul 5, 2017
2005
Château Rieussec (Sauternes)
Vanilla bean, honey coated tropical fruit, apricot and macadamia nut aromas move you into a lush, fat, sweet, dense wine with lots of sweetness, yet enough, much needed freshening acidity. Still young as expected, it's a lot of fun tasting these wines in their youth.
8,041 Views
Tasted

Aug 20, 2013
2003
Château Rieussec (Sauternes)
Thick, rich, intense and packed with layers of perfectly, ripe tropical fruit slathered in honey, vanilla and nuts, this is a beautiful, sweet Bordeaux that offers a lot of pleasure today, and in the future.
9,661 Views
Tasted

Dec 3, 2012
Thick, rich, intense and filled with sweet, tropical fruit, spice, vanilla, orange blossoms and buckets of honey. The wine feels a bit heavy in the mouth. Very sweet. I wish it had a bit more acidity to give it life. Still young, the jury will continue to deliberate. Give it another 5 years and see how it develops.
11,498 Views
Tasted

Jan 6, 2012
2001
Château Rieussec (Sauternes)
Fat, rich, sweet, dense and packed with ripe and overripe apricots, pineapple, vanilla and candied orange, all slathered in honey, vanilla and spice. Quite primary and sweet at the moment, the acidity seemed to hold back, while the sugars were in the forefront. I'd wait another 5 or more years to pop a bottle.
9,079 Views
Tasted

Jan 1, 2017
Clearly, this is a rock star in the making! Fresh, ripe, honeyed pineapple, orange, nectarine, toasted nuts, vanilla and coconut aromatics are a treat to swirl and sniff. Full bodied, concentrated and packed with deep, perfectly ripe fruit, this attention grabbing Sauternes is worth having in the cellar.
14,358 Views
Tasted

Aug 6, 2010
The wine sports a deep orange hue. This is so concentrated it seems like liquefied, honey-drenched fruit, but there's enough acidity to keep it fresh and lively
9,027 Views
Tasted

Feb 5, 2007
1997
Château Rieussec (Sauternes)
This is surprisingly light for such a successful vintage in Sauternes. Perhaps that is due in part to the higher than usual percentage of Semillon in the blend. On the palate the wine displays honeysuckle, orange, citrus, vanilla and honey scents. Medium bodied, fresh and open for business, this is a nice sweet, white Bordeaux wine that lacks the same depth found in the top vintages of Rieussec.
4,177 Views
Tasted

Nov 18, 2013
1996
Château Rieussec (Sauternes)
Caramel, marzipan, butterscotch, candied mango, orange rind, pineapple, and apricots all coated with honey make this lusciously textured, sweet, fresh, long, rich wine a delectable treat.
4,164 Views
Tasted

Sep 4, 2021
1990
Château Rieussec (Sauternes)
I'm never sure I'm spelling this Chateau correctly. Orange, copper tinted in color shows off a beautiful, orange marmalade, honey, nectarine and orangesicle nose. Rich, fat and sweet. The wine easily flows across your palate with honey drenched pineapple, peach, nectarine and apricot.
4,940 Views
Tasted

Feb 11, 2009
1989
Château Rieussec (Sauternes)
Tropical and orange fruits combine to produce a complex, fresh, honeyed wine with more than enough creme de caramel, custard, apricot tart, vanilla bean and butterscotch to please any sweet wine lover. The wine is concentrated, lusciously textured and ready for its prime time drinking window.
4,473 Views
Tasted

Dec 19, 2017
1988
Château Rieussec (Sauternes)
Orange, copper in color, the wine is fully mature. Still you find caramel, butterscotch, roasted pineapple, butter, apricot, macadamia nut and honey aromas. Some of the sweetness is starting to find, so now, the wine is slowly taking on more orange and mango with burnt caramel, instead of ripe tropical fruit. It is time to drink this before the fruit continues fading.
4,108 Views
Tasted

Dec 22, 2020
With the typical copper, orange hue that comes with the patina of age to Rieussec, the wine offers caramel, pineapple, peach, candied apple, apricot and orange rind topped with honey. This is close to fully mature. There is no reasons to hold this wine for much longer. Pop it and enjoy.
5,432 Views
Tasted

May 9, 2012
1986
Château Rieussec (Sauternes)
Taking on a golden, coppery hue, the wine is all about its caramel, molasses, honeyed apricot, pineapple, creme brulee, and burnt sugar profile. Rich, sweet and fruity, there is ample freshness that keeps all that luscious textured, honeyed tropical fruit in check.
4,128 Views
Tasted

Feb 2, 2020
1983
Château Rieussec (Sauternes)
This bottle was in outstanding condition. Coppery, orange in color, the perfume showed off its apricot, creme de caramel, butterscotch, candied orange and honeyed apricot profile easily. Lifted, energetic, yellow and orange honeyed fruits and molasses with caramel notes finished this sweet treat off. This is not a wine to hold for more development. If you are sitting on any, you should drink these sooner than later before the sweetness and fruits fade.
4,239 Views
Tasted

Oct 20, 2020
Deep in color, with an orange, copper, caramel color, the nose caught you with its orange marmalade, apricot, pine, flower. honey and caramel aromas. Fully mature, if not slightly past that point, the sweetness is starting to fade and the secondary orange, creme brulee and butterscotch notes are becoming more apparent.
5,385 Views
Tasted

Dec 15, 2015
With more attention focused on burnt caramel, petrol and creme brulee than fresh honeyed fruits, this is on the slow, downward side of life. Still a treat, with its honeyed orange marmalade and tropical fruit finish, this is not a wine I'm going to continue to hold.
5,165 Views
Tasted

May 11, 2013
Filled with caramel, crème brulee, tropical fruit, spice, apricot and honey, this Sauternes is fully mature and could be starting to fade. I'd opt for drinking this sooner than later.
6,413 Views
Tasted

May 9, 2012
1978
Château Rieussec (Sauternes)
With more than enough acid to make Timothy Leary happy, the fruit is really fading. If you have bottle, pop it as it's definitely in a state of declining.
6,042 Views
Tasted

Oct 22, 2015
1976
Château Rieussec (Sauternes)
Orange and copper in color, this fully mature Sauternes offers complex aromas of honey, nuts, nectarines, crème brulee, caramel and orange rind. The fruit is gently fading while more brunt aromas are appearing. Even though this was the best showing of this wine in a few years, there is no reason to cellar it any longer. Drink up.
3,534 Views
Tasted

Jul 31, 2011
Showing burnt orange and copper colors. This bottle seemed dull, tired and lacking in sweetness compared to other examples I've tasted over the past few years. The wine is dropping its fruit. Drink up.
3,940 Views
Tasted

Jul 1, 2008
This fully mature, cooper hued Sauternes is a showcase for sweet, ripe, tropical fruit soaked in honey with layers of caramel dripping from the sides. This is not a dessert wine, it's a dessert
3,290 Views
Tasted

Feb 10, 2006
Deep orange, honey colored hue. Oranges, apricots, burnt sugar were easy to find in the nose. Very sweet with good depth, balance and length
2,906 Views
Tasted

Feb 9, 2005
The wine was the color of molasses with a texture almost as thick. It's luscious style offered aromas of peaches, apricots, vanilla and coffee. The palate consisted of burnt orange, vanilla ice cream, chocolate and caramel dipped in honey. This was just as good on day two! This is not a dessert wine, it is dessert!
2,563 Views
Tasted

Aug 17, 2003
1964
Château Rieussec (Sauternes)
This is the first Sauternes I've ever tasted from this vintage. This was tasted from a perfectly stored magnum, which definitely added to the quality. Better on the nose than the palate with its light, tropical, apricot and tinge of honey in the nose. Medium bodied, without a lot of sweetness, this needs to be consumed sooner than later, if you are lucky enough to have a bottle.
3,142 Views
Tasted

Jul 11, 2013