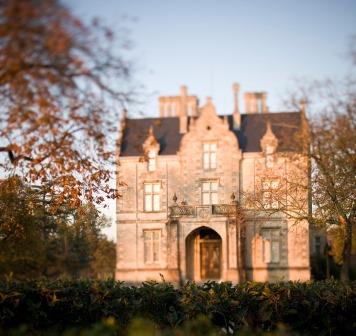 Learn everything about Chateau Lanessan, Haut Medoc with wine tasting notes, and wine with food pairing tips. Learn the best vintages, the history of the property, and information on the vineyards and winemaking. If you want to read about other important, Bordeaux Chateaux: Links to all Bordeaux Wine Producer Profiles
Chateau Lanessan History, Overview
The birth of Chateau Lanessan dates all the way back to 1793 when it was founded by Jean Delbos. Initially, the vineyard and estate were much smaller, as the property started out with 24 hectares. The impressive, classic chateau, with its Tudor, inspired influences was constructed in 1878.
Eight generations later, Chateau Lanessan remains in the hands of the Bouteiller family, which are direct descendants of the founder. This is quite a feat for a Chateau located in the Medoc, as most vineyards have changed hands several times.
Aside from their obvious passion for wine, equestrian activities have always been a part of the makeup of Chateau Lanessan. They have numerous stables, which were constructed at the same time as the chateau in the shape of a horseshoe. As horses and carriages played an important part in the history of Lanessan, the estate also maintains a museum devoted to historical carriages.
Chateau Lanessan has remained popular with wine lovers for its traditionally styled wine, which has always sold for a very consumer-friendly price. In an effort to increase quality, starting with the 2015 vintage, the owners of Lanessan brought in Hubert de Bouard, the owner of Chateau Angelus as their consultant.
In August 2022, Chateau Lanessan was sold to Treasury Wine Estates which added to its growing portfolio of Bordeaux vineyards as they already own Chateau Cambon La Pelouse and Chateau de Gironville in the Haut-Medoc appellation along with Chateau Bolaire, Bordeaux Superieur. Treasury Estates is clearly intense on growing their vineyard holdings as they have investments in Australia, Napa Valley and other appellations.
Chateau Lanessan Vineyards, Terroir, Grapes, Winemaking
The 80-hectare vineyard of Chateau Lanessan is planted with 52% Cabernet Sauvignon, 37 Merlot, 8.5% Petit Verdot, and 2.5% Cabernet Franc. Out of its 80 hectares, 45 hectares are cultivated with vines. The vineyard is close to the St. Julien appellation. In fact, it's just a bit south, as you drive up the D2, the Route de Medoc.
The terroir is mostly gravel-based soil. On average, the vines are 30 years of age. The vineyard is planted to a vine density of 10,000 vines per hectare. As we mentioned close to half of the land owned here is not used for vines. Instead, it's reserved for natural forests, greenery, parkland, and horse riding trails.
While there are 45 hectares planted to grapevines, the remainder of the property features 20 hectares of parkland. Here you also find beautifully manicured gardens and even a large space for growing vegetables.
To produce the wine of Chateau Lanessan, vinification takes place in traditional, concrete vats. Malolactic fermentation takes place in vat. The wine is aged in a combination of 33% new, French barrels, 33% one-year-old, French oak barrels, and 33% two years old, French oak barrels for an average of 12 months.
The production of Chateau Lanessan is large, making the wine quite easy to find in the marketplace. On average, close to 18,000 cases of wine per vintage are produced by Chateau Lanessan.
There is a second wine, Les Caleches de Lanessan which made its debut in 1999. They also own Chateau de Sainte Gemme, an estate that is also situated in the Haut Medoc appellation.
The best vintages of Chateau Lanessan are: 2022, 2021, 2020, 2019, 2018, 2017, 2016, 2015, 2010, 2009 and 2005.
Chateau Lanessan remains a popular Left Bank wine with consumers, due to its traditional, Bordeaux-styled wine, low price, and ability to age for decades.
When to Drink Chateau Lanessan, Anticipated Maturity, Decanting Time
Chateau Lanessan needs some time before it can be enjoyed. Young vintages can be decanted for an average of 90 minutes to 2 hours. This allows the wine to soften and open its perfume. Older vintages might need very little decanting, just enough to remove the sediment.
Chateau Lanessan is usually better with at least 7-8 years of bottle age. Of course, that can vary slightly, depending on the vintage character. Chateau Lanessan offers its best drinking and should reach peak maturity between 7-20 years of age after the vintage.
Serving and Decanting Chateau Lanessan with Wine, Food, Pairing Tips
Chateau Lanessan is best served at 15.5 degrees Celsius, 60 degrees Fahrenheit. The cool, almost cellar temperature gives the wine more freshness and lift. The wine of Chateau Lanessan is best served with all types of classic meat dishes, veal, pork, beef, lamb, duck, game, roast chicken, roasted, braised, and grilled dishes.
Chateau Lanessan is a perfect match with Asian dishes, hearty fish courses like tuna, mushrooms, and pasta as well as cheese.
Château Lanessan Wine Tasting Notes
19 Vintages 110,011 Views Sort by Vintage-Rating
2022
Château Lanessan (Haut-Médoc)

Blackberries, currants, tobacco leaf, underbrush, and fennel on the nose let you know the wine is going to be good. And with the first sip, you are not disappointed due to all the currants, roundness, and ripe, sweet, blackberries with freshness on display. Drink from 2026-2047. 91-93 Pts.

829 Views

Tasted

May 8, 2023

2021
Château Lanessan (Haut-Médoc)

Underbrush, tobacco leaf, peppery spice, red currants and crisp red plums form the core of the wine. Medium-bodied, bright, chewy and peppery, this is quite classic in style, with a nice sweetness to the bite in the red fruits found in the endnote. Drink from 2024-2040. 88-90

1,686 Views

Tasted

May 20, 2022

2020
Château Lanessan (Haut-Médoc)

Flowers, cigar wrapper, mint, black, and red currants, and a hint of toasty oak create the perfume. On the palate, the wine is round, supple, fresh, and fruity with layers of sweet, ripe, clean, juicy currants with a touch of peppery spice in the finish. Drink it within a year or two of age, and enjoy it for at least 15 or more years after that Drink from 2024-2040.

817 Views

Tasted

Mar 21, 2023

Toasty oak, dark red and black fruit, camphor and espresso come through on the nose. On the palate the wine is round, supple and structured. You find loads of sweet, ripe, fleshy fruits with a trace of cocoa in the finish. This should age quite nicely. 90-92 Pts

2,003 Views

Tasted

May 20, 2021

2019
Château Lanessan (Haut-Médoc)

Bright, fresh and vivid, with smoke, dried flowers, spice, tobacco and cassis on the nose, the wine is full of ripe, sweet, red and black fruits, espresso and herbs on the palate that offer staying power that keeps on going, right through to the finish. This should age quite nicely. Drink from 2024-2037.

3,388 Views

Tasted

Mar 29, 2022

With a dark hue, the wine combines wet earth, forest leaf, cocoa, dark red fruits and tobacco to create the nose. On the palate, the wine is round, full-bodied and loaded with sweet, dark red fruits and freshness. This should age quite nicely. 90-92 Pts

4,492 Views

Tasted

Jun 8, 2020

2018
Château Lanessan (Haut-Médoc)

With a nice depth of color, you find smoke, grilled meat, spice, currant and tobacco notes on the nose before moving to all the round, rich, supple textured red fruits and ripe, chewy tannins. Give it 5-7 years in the bottle before pulling a cork and you will have a much better wine.

3,206 Views

Tasted

Mar 9, 2021

Smoky, dark red fruits, tobacco and black currants on the nose and you also find the same on the medium-full/bodied palate as it hits the right notes. The wine is bright, crisp and fruity, with loads of juicy currants in the finish. The wine was made from 60% Cabernet Sauvignon, 35% Merlot and 5% Petit Verdot. 91-93 Pts

4,415 Views

Tasted

Apr 19, 2019

2017
Château Lanessan (Haut-Médoc)

Sharp red fruits with espresso and tobacco nuances bring you to a piquant layer of cassis with soft, gentle tannins and a medium-bodied finish. The wine was made from 52% Cabernet Sauvignon, 38% Merlot and 10% Petit Verdot.

3,981 Views

Tasted

Apr 26, 2018

2016
Château Lanessan (Haut-Médoc)

Medium/full bodied with a touch of oak, you also find black currant, cedar and tobacco notes. On the palate, the wine is round, juicy and fresh with a sweet, red fruit core of fruit from start to finish. There is some tannin giving this structure, so while it offers charm, it is going to need some cellaring before it hits its peak..

6,881 Views

Tasted

Sep 21, 2019

Made from a blend of 50% Cabernet Sauvignon, 35% Merlot, 10% Petit Verdot and 5% Cabernet Franc, this medium/full-bodied wine is full of luscious fruits with silky tannins, juicy cassis, plums and tobacco. The wine has richness, length and sweet fruits that make it the best vintage of Lanessan I have ever tasted.

8,782 Views

Tasted

Apr 29, 2017

2015
Château Lanessan (Haut-Médoc)

Medium-bodied, fresh, and vibrant with a core of ripe, smoky currants, espresso, herbs, tobacco leaf, and red plums, Round and almost fleshy, the red fruits in the finish are soft and sweet, but a bit short. Drink from 2022-2035.

3,473 Views

Tasted

Sep 6, 2022

Earthy, tobacco driven, dark red fruits with a rustic type of charm, although the wine seems cleaner, fresher and a bit softer than in previous vintages. Much of that credit for the improvement in the wine belongs to bringing in Hubert de Bouard as their consultant starting with the 2015 vintage. 88 - 90 Pts

6,675 Views

Tasted

Apr 26, 2016

2014
Château Lanessan (Haut-Médoc)

Medium bodied, bright, crisp, fresh, with a focus on its red fruit character, spice and earth notes. This should drink well early.

3,605 Views

Tasted

Jun 18, 2017

2012
Château Lanessan (Haut-Médoc)

Bright rustic, austere and on the lean, crisp, cherry side, the nose, with its earthy, tobacco and cassis leaning, was much better than the palate.

3,220 Views

Tasted

May 7, 2015

2011
Château Lanessan (Haut-Médoc)

From 60% Cabernet Sauvignon, 36% Merlot and 4% Petit Verdot, the wine will be aged in 33% new oak. This wine is lightly colored, medium bodied, and ends with fresh cranberry flavors. 86-88 Pts

6,764 Views

Tasted

Apr 8, 2012

2010
Château Lanessan (Haut-Médoc)

Rustic tannins, dark cherries, herbs and cassis are found in this medium bodied, classic styled wine.

5,347 Views

Tasted

May 8, 2013

2009
Château Lanessan (Haut-Médoc)

Sporting a new label, that will probably have older fans up in arms, this lightly colored, medium bodied wine offers earth, red/black fruit and cedar wood aromas, ending with a tangy, sharp, dark berry finish.

8,842 Views

Tasted

Feb 21, 2012

2008
Château Lanessan (Haut-Médoc)

Firm, bright, crisp and tannic, this is not much fun to drink today. Perhaps time will soften the strict tannins and add more to the very, fresh fruit and tobacco character.

4,682 Views

Tasted

Oct 19, 2017

2006
Château Lanessan (Haut-Médoc)

With a blackberry, herb and green leafy scented perfume, this young, wine is rustic and angular in nature.

2,859 Views

Tasted

Dec 16, 2011

2005
Château Lanessan (Haut-Médoc)

Cassis, tobacco, ash, blackberry and wet earth aromas are easy to locate. Medium/full bodied with some rustic tannin remaining, this represents good value from the Medoc for fans of traditional Bordeaux wine.

9,507 Views

Tasted

Aug 1, 2011

2004
Château Lanessan (Haut-Médoc)

Medium bodied, rustic, more on the spicy, peppery, red fruit side of the style range, with green herbs and some dryness in the finish.

3,487 Views

Tasted

Jan 27, 2014

2000
Château Lanessan (Haut-Médoc)

Tobacco, old wood, cassis, green herbs, medium bodied with a rustic hard texture that ends with tart cherry and cranberry. I suspect this will age and continue to evolve in the same direction.

8,280 Views

Tasted

Feb 21, 2012

1953
Château Lanessan (Haut-Médoc)

Wines like this prove why all of us should drink wines blind more often. While not the best old wine I've ever had, I was blown away by how good this small property was at close to 50 years of age. Still some structure and depth to the old girl, even if the wine was a little tart and slightly thin in the finish. Lots of barnyard in the nose along with wet forest notes

2,790 Views

Tasted

Dec 1, 2008