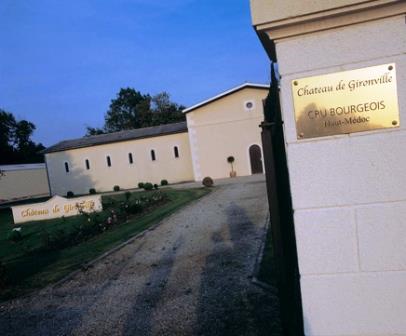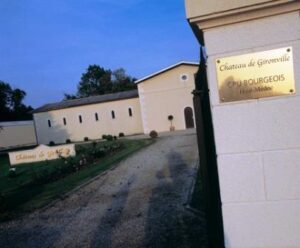 Learn everything about Chateau de Gironville Haut Medoc with wine tasting notes and wine with food pairing tips. Learn the best vintages, a history of the property, information on the vineyards, and winemaking. If you want to read about other important, Bordeaux Chateaux:Links to all Bordeaux Wine Producer Profiles
Chateau de Gironville History, Overview
The creation of Chateau de Gironville dates back to the very late 1800s. At the time of its creation, it was a large 155-hectare estate with 35 hectares of vines. The vineyard is located in the commune of Macau in the Haut Medoc appellation, not far from the southern tip of Margaux.
In the estate's formative years, the property was owned by Mr. Duffour-Dubergier who also owned Chateau Smith Haut Lafitte. During the early 1900s, the vineyard belonged to the mayor of Bordeaux. In the late 1920s, at the height of the great depression, the estate fell into a state of disrepair.
In fact, most of the vines were removed in 1929, so other trees and crops would be more profitable than making wine.
1987 marked the rebirth of Chateau de Gironville which took place when it was purchased and renovated by the Mercier brothers, and Remy Fouin. The Mercier brothers and Remy Fouin planted the vineyard and returned Chateau de Gironville to a working vineyard and chateau.
Chateau de Gironville was purchased by Vincent Mulliez in 2004 from the Mercier family. Mulliez who earned his fortune while working at JP Morgan investments in London renovated the estate and the vineyards after buying the property. At the time, Vincent Mulliez also purchased Chateau Belle-Vue, which is also located in the Haut Medic appellation, and the well-known Bordeaux Superieur property, Chateau Bolaire.
Sadly, Vincent Mulliez passed away at the age of 44 in 2010. Making his early death even worse was the fact that his efforts began paying off by that point in time as 2009 and 2010 were the best vintages Chateau de Gironville had produced yet. The good news for fans of the estate is, that 2015, 2016, 2018, and 2019 are even better!
In November 2021, Chateau de Gironville was sold to the massive wine conglomerate, Treasury Wine Estates which owns various vineyards in Napa Valley and Australia, most prominently Penfolds. This is not their only purchase in Bordeaux, as they also own Chateau Cambon La Pelouse and Chateau Belle-Vue in the Haut-Medoc appellation and Chateau Bolaire, Bordeaux Superieur. Less than one year later, in August 2022, Treasury Estates added to their holdings in Bordeaux with the purchase of Chateau Lanessan.
Chateau de Gironville Vineyards, Terroir, Grapes, Winemaking
The 10-hectare, Left Bank vineyard of Chateau de Gironville is planted to 45% Merlot, 45% Cabernet Sauvignon and 10% Petit Verdot. The vines are on average 28 years of age. The vineyard is planted to a vine density similar to what you would find in the Right Bank at 6,600 vines per hectare. The terroir is mostly gravel-based soil.
The best vintages of Chateau de Gironville are: 2022, 2021, 2020, 2019, 2018, 2017, 2016, 2015, 2010 and 2009 and 2005.
The wine of Chateau de Gironville is vinified in stainless steel vats. Malolactic fermentation takes place in French oak barrels. The wine is aged in 25% new, French oak barrels for 12-14 months. The production of Chateau de Gironville is on average close to 5,000 cases per vintage.
When to Drink Chateau de Gironville, Anticipated Maturity, Decanting Time
Chateau de Gironville can be decanted for an average of 1 hour or so. This allows the wine to soften and open its perfume. Older vintages might need very little decanting, just enough to remove the sediment.
Chateau de Gironville is usually better with at least 3-6 years of bottle age. Of course, that can vary slightly, depending on the vintage character. Chateau de Gironville offers its best drinking and should reach peak maturity between 4-10 years of age after the vintage.
Serving and Decanting Chateau de Gironville with Wine, Food, Pairing Tips
Chateau de Gironville is best served at 15.5 degrees Celsius, 60 degrees Fahrenheit. The cool, almost cellar temperature gives the wine more freshness and lift. The wine of Chateau de Gironville is best served with all types of classic meat dishes, veal, pork, beef, lamb, duck, game, roast chicken, roasted, braised, and grilled dishes.
Chateau de Gironville is a perfect match with Asian dishes, hearty fish courses like tuna, mushrooms, and pasta as well as cheese.
Château de Gironville Wine Tasting Notes
12 Vintages 29,715 Views Sort by Vintage-Rating
2020
Château de Gironville (Haut-Médoc)

Roasted red fruits, plums and flowers create the perfume. On the palate, the wine is medium-bodied, fresh and savory with loads of sweet, ripe, salty, currants and fresh, spicy plums with a nice hit of spearmint on the backend. Drink from 2023-2040.

385 Views

Tasted

Mar 21, 2023

Medium-bodied, fresh and savory with a solid core of ripe, soft, polished, supple fruits on the mid-palate and in the savory, spearmint and spice-toned finish. This will be just great to taste on release and over the next decade. 89-91 Pts

1,103 Views

Tasted

May 20, 2021

2019
Château de Gironville (Haut-Médoc)

Espresso, smoke, chocolate, raspberries and flowers create the nose. On the palate the wine is soft, polished, fruity and should be just great to enjoy with only a year or two in the cellar.

673 Views

Tasted

Mar 29, 2022

Deeply-colored, with dark red fruits, licorice, tobacco, earth and herbs on the nose, the wine is lush, round, soft and fruity with a hint of cocoa and licorice to accompany the juicy berries in the finish.

2,731 Views

Tasted

Jun 8, 2020

2018
Château de Gironville (Haut-Médoc)

Smoke, flowers, licorice and spicy red fruits on the nose work perfectly with the elegant, fresh, polished, sweet, red fruit interior. The finish is soft, round and loaded with sweet red fruits.

586 Views

Tasted

Mar 9, 2021

Medium-bodied, juicy, sweet black cherry and plum filled wine, in a forward, soft, round, open style, finishing with dark red fruits and cocoa in the finish. 89-91 Pts

1,355 Views

Tasted

Apr 19, 2019

2016
Château de Gironville (Haut-Médoc)

Flowers, black cherry and plum with supple, soft textures and a polished finish that leaves you with even more juicy, dark plum and cocoa.

2,154 Views

Tasted

Apr 29, 2017

2015
Château de Gironville (Haut-Médoc)

Round, forward, polished and just a bit oaky on the nose. The medium-bodied, already open wine offers its ripe dark cherries licorice, coffee and cocoa with little effort. You can enjoy this easily over the next decade.

2,375 Views

Tasted

Sep 23, 2019

2014
Château de Gironville (Haut-Médoc)

On the nose, sweet, ripe aromas of red and black fruits meet gentle accents of licorice and espresso bean. The finish delivers ample fresh berries and dark chocolate in a forward style. 88-90 Pts

2,275 Views

Tasted

May 12, 2015

2012
Château de Gironville (Haut-Médoc)

Medium bodied, easy drinking, forward, round textured, black cherry and licorice centered wine with an oaky finish.

1,676 Views

Tasted

May 7, 2015

2011
Château de Gironville (Haut-Médoc)

From a blend of 45% Merlot, 45% Cabernet Sauvignon and 10% Petit Verdot, the wine reached 13% ABV. Fermented in stainless steel and aged in 20% new oak, licorice and cherry, medium body and a dry cherry finish. 86-88 Pts

2,753 Views

Tasted

Apr 8, 2012

2010
Château de Gironville (Haut-Médoc)

Chateau de Gironville 50% Merlot, 40% Cabernet Sauvignon and 10% Petit Verdot produce a crowd pleasing wine filled with cassis, earth and spice that ends with fresh, black cherry and cassis. 87-90 Pts

3,198 Views

Tasted

Apr 21, 2011

2009
Château de Gironville (Haut-Médoc)

Lots of plum black cherries, licorice, coffee bean and lush textures in this already fun wine. Drink this Bordeaux value wine on the young side.

3,811 Views

Tasted

Aug 8, 2013

2008
Château de Gironville (Haut-Médoc)

Ready to go, medium bodied wine, with a ripe, licorice, smoke, espresso bean and dark, red fruit nose, round textures and a soft, fruity, finish. The wine was made from a blend of 45% Merlot, 45% Cabernet Sauvignon and 10% Petit Verdot.

2,545 Views

Tasted

Oct 16, 2017

2005
Château de Gironville (Haut-Médoc)

At peak, and probably just a but past full maturity, as there is already an equal amount of secondary, earth, tobacco, spice and forest notes, as red fruits, this requires drinking sooner than later, before it fades away.

2,095 Views

Tasted

Aug 26, 2017