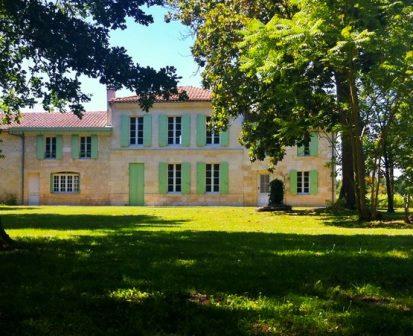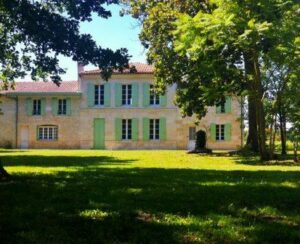 Learn everything about Chateau Belle-Vue Haut Medoc with wine tasting notes and wine with food pairing tips. Learn the best vintages, a history of the property, information on the vineyards, and winemaking. If you want to read about other important, Bordeaux Chateaux: Links to all Bordeaux Wine Producer Profiles
Chateau Belle-Vue History, Overview
The modern era for Chateau Belle-Vue starts when the estate was purchased by Vincent Mulliez in 2004. Vincent Mulliez, who earned his fortune while working at JP Morgan investments in London, made considerable improvements to the estate and its wines before his untimely death at the age of 44 in 2010.
Making his early death even worse was the fact that his efforts began paying off by that point in time as Chateau Belle-Vue has been producing better and better wines in vintage after vintage.
Today, Chateau Belle-Vue is still the property of the Mulliez family who is more renowned for owning the massive Auchan supermarket chain in France.
Chateau Belle-Vue, which is not to be confused with the Chateau Bellevue in St. Emilion, is located in the Haut Medoc appellation of Bordeaux is situated just slightly south of one of the original drainage ditches (built by the Dutch) separating Chateau Belle-Vue from Chateau Giscours in Margaux.
Chateau Belle-Vue is a young estate. The first vintage was 1996, when the owner at the time, Remy Fouin took his plots from his other estate, Chateau de Gironville, and sought to make a wine worthy of the Margaux appellation.
Starting with the 2016 vintage, Chateau Belle-Vue began producing a small amount of wine made from 100%, old vine Petit Verdot. In fact, their Petit Verdot vines are some of the oldest in Bordeaux, dating back as far as 1936. The wine is aged in a combination of new and used, French oak barrels, Austrian oak barrels, and Amphora. The wine is sold as a generic AOC Bordeaux.
In November 2021, Chateau Belle-Vue was sold to the massive wine conglomerate, Treasury Wine Estates which own various vineyards in Napa Valley and Australia, most prominently Penfolds. This is not their only purchase in Bordeaux, as they also own Chateau Cambon La Pelouse and Chateau de Gironville in the Haut-Medoc appellation as well as Chateau Bolaire, Bordeaux Superieur.
Chateau Belle-Vue Vineyards, Terroir, Grapes, Winemaking
The 15-hectare vineyard of Chateau Belle-Vue is planted to 50% Cabernet Sauvignon, 35% Merlot, and 15% Petit Verdot. The Carmenere has been removed from the vineyard. The vines are planted to a vine density of 6,700 vines per hectare and are on average, 30 years of age. Located in the southern part of the appellation, the vineyards are well placed in the commune of Macau. The terroir is mostly gravel soils.
A lot of work goes into producing this Left Bank wine. At Belle-Vue the work starts in the vineyard where they practice debudding, deleafing, crop-thinning, and hand harvesting.
The fruit is table-sorted and, after a 20-day cold soak at 5 degrees Celsius, the wine is fermented in stainless steel vats with a long, 45-day maceration with frequent, gravity-driven, delestages. Malolactic fermentation takes place in barrels.
During the first three months in the barrel, the wine is regularly stirred on its post-malo lees. The wine of Chateau Belle-Vue is aged in 40% new French oak barrels for about 14 months, depending on the power and character of the vintage. On average, the production of Chateau Belle-Vue is close to 6,000 cases of Bordeaux wine per vintage.
The best vintages of Chateau Belle-Vue are: 2022, 2021, 2020, 2019, 2018, 2016, 2015, 2010 and 2009 and 2005.
Today, the owner of Chateau Belle-Vue also controls two other Bordeaux estates that have earned a strong reputation for producing good quality Bordeaux wine that offers quality, character, and even better, they sell at a fair price; Chateau Bolarie located in the Bordeaux Superieur appellation and Chateau de Gironville.
When to Drink Chateau Belle-Vue, Anticipated Maturity, Decanting Time
Chateau Belle-Vue needs some time before it can be enjoyed. Young vintages can be decanted for an average of 1 hour or so. This allows the wine to soften and open its perfume. Older vintages might need very little decanting, just enough to remove the sediment.
Chateau Belle-Vue is usually better with at least 3-7 years of bottle age. Of course, that can vary slightly, depending on the vintage character. Chateau Belle-Vue offers its best drinking and should reach peak maturity between 4-14 years of age after the vintage.
Serving and Decanting Chateau Belle-Vue, with Wine, Food, Pairing Tips
Chateau Belle-Vue is best served at 15.5 degrees Celsius, 60 degrees Fahrenheit. The cool, almost cellar temperature gives the wine more freshness and lift. The red wine of Chateau Belle-Vue is best served with all types of classic meat dishes, veal, pork, beef, lamb, duck, game, roast chicken, roasted, braised, and grilled dishes.
Chateau Belle-Vue is a perfect match with Asian dishes, hearty fish courses like tuna, mushrooms, and pasta as well as cheese.
Château Belle-Vue (Haut-Médoc) Wine Tasting Notes
20 Vintages 80,020 Views Sort by Vintage-Rating
2020
Château Belle-Vue (Haut-Médoc) (Haut-Médoc)

The nose with its flowers, cherries and herbs gets things going. The palate is medium-bodied, with ample fruit, along with a strong, savory, herbal and chalky, green olive character in the finish. It is interesting to note that Belle-Vue is one of the few Bordeaux wines produced using 5 allowable grape varieties. Drink from 2024-2038.

822 Views

Tasted

Mar 21, 2023

Spicy black raspberries, tobacco, cedar and flowers work on the nose, while on the palate the wine is bright, chewy, crisp and fresh with endnotes of savory kirsch and peppery currants. Belle-Vue is one of the few Bordeaux wines produced using 5 allowable grape varieties. 89-91 Pts

1,956 Views

Tasted

May 20, 2021

2020
Château Belle-Vue (Haut-Médoc) Petit Verdot (Bordeaux)

Inky in color with purple accents, the wine offers a jammy, peppery, savory core of dark red and blue fruits. Full-bodied, spicy, intense, dark and rich, with a palate staining, and peppery, crisp, dense, black and blue fruit finish, it is an interesting wine. In fact, it is one of the few 100% Petit Verdot wines produced in Bordeaux today. 89-91 Pts

965 Views

Tasted

May 20, 2021

2019
Château Belle-Vue (Haut-Médoc) (Haut-Médoc)

Already expressive with notes of flowers, savory herbs. cedar, dark red fruits and tobacco leaf. The wine is medium-bodied, soft, fresh and polished with a round, fruit packed finish. Belle-Vue (Haut-Médoc) is one of the few Bordeaux produced using 5 allowable grape varieties. Drink from 2023-2038.

1,405 Views

Tasted

Mar 29, 2022

One of the few Bordeaux produced using 5 allowable grape varieties, the wine is medium-bodied, floral and fresh, with a fruity character, soft tannins and a tangy, sweet and tart, red fruit with a citrus-overtone finish. 89-91 Pts

3,220 Views

Tasted

Jun 8, 2020

2019
Château Belle-Vue (Haut-Médoc) Petit Verdot (Bordeaux)

Inky dark in color, the wine pops with notes of black raspberries, flowers, spice, blackberries and green leafy herbs. The wine is creamy, fresh and fruity, with a round, spicy, fruit packed finish. This is a rarity in Bordeaux as it is one of the few wines made from 100% Petit Verdot. This is a bit tannic, so give it a few years of cellaring before pulling the cork. Drink from 2022-2034.

671 Views

Tasted

Mar 29, 2022

Jammy, juicy, spicy and fresh, as well as full-bodied and concentrated, you experience a strong, powerful tart-mouth presence from start to finish here. Some tasters are going to like this more than others. This is a rarity in Bordeaux as it is one of the few wines made from 100% Petit Verdot. 86-88 Pts

1,709 Views

Tasted

Jun 8, 2020

2018
Château Belle-Vue (Haut-Médoc) (Haut-Médoc)

The melange of flowers, spice-box, cherries, wet earth and cocoa smells just great. On the palate, things get even better with all the sweet, fresh, energetic, juicy, ripe, soft, textured, red fruits, spice and herbs in the finish. One of the few Bordeaux produced using all 5 allowable grape varieties, the wine was made blending 48% Cabernet Sauvignon, 30% Merlot and 20% Petit Verdot, 1% Cabernet Franc and 1% Carmenere.

2,361 Views

Tasted

Mar 9, 2021

Floral, polished, sweet and spicy, the wine is elegant, juicy, medium-bodied and lusty on the palate. One of the few Bordeaux produced using all 5 allowable grape varieties, the wine was made blending 48% Cabernet Sauvignon, 30% Merlot and 20% Petit Verdot, 1% Cabernet Franc and 1% Carmenere. 90-92 Pts

2,620 Views

Tasted

Apr 19, 2019

2018
Château Belle-Vue (Haut-Médoc) Petit Verdot (Bordeaux)

Dark and intense in color, the wine is equally deep and intense with its blast of spicy, peppery, black and blue fruit core of fruits. Full-bodied and concentrated, the wine is a peppery, palate-staining blast of fruit that coats your taste receptors with black and blue peppery berries and a touch of bitter espresso. Some tasters are going to like this more than others. This is a rarity in Bordeaux as it is one of the few wines made from 100% Petit Verdot.

1,387 Views

Tasted

Mar 9, 2021

Don't plan a trip to the dentist after tasting this wine. It's inky, it's going to stain your teeth. Massive, powerful, rich, fleshy, dark and spicy, it reminds me of a Napa wine. Some tasters are going to like this more than others. This is a rarity in Bordeaux as it is one of the few wines made from 100% Petit Verdot. 87-89 Pts

2,154 Views

Tasted

Apr 19, 2019

2017
Château Belle-Vue (Haut-Médoc) Petit Verdot (Bordeaux)

Dark in color, the wine is fresh, spicy and crisp with a lean to dark fruits. This is a rarity in Bordeaux as it is one of the few wines made from 100% Petit Verdot.

2,039 Views

Tasted

Apr 26, 2018

2017
Château Belle-Vue (Haut-Médoc) (Haut-Médoc)

Juicy, fresh, spicy black raspberries with a crunchy, bright character, soft tannins and a forward approach are found here. The wine was made from a blend of 50% Cabernet Sauvignon, 30% Merlot and 20% Petit Verdot, reaching 13.5% ABV.

2,305 Views

Tasted

Apr 26, 2018

2016
Château Belle-Vue (Haut-Médoc) (Haut-Médoc)

Quite spicy, fresh, floral and full-bodied, with a ripe, round blast of fruit and spice, good concentration and lush textures.

3,035 Views

Tasted

Sep 21, 2019

Soft tannins, juicy, spicy, fruits with a bite of crisp, crunchy berries and licorice in the finish. The wine was made from a blend of 45% Cabernet Sauvignon, 35% Merlot and 20% Petit Verdot and reached 13.5% ABV.

5,455 Views

Tasted

Apr 29, 2017

2016
Château Belle-Vue (Haut-Médoc) Petit Verdot (Bordeaux)

Opaque, deep in color, with purple accents, this is quite a rarity in Bordeaux, being made from 100% Petit Verdot. The wine is massive, dense, mouth filling, long, spicy and crisp.

3,286 Views

Tasted

Apr 29, 2017

2015
Château Belle-Vue (Haut-Médoc) (Haut-Médoc)

With a deep, rich, color along with boysenberry, cocoa, soft tannins and a spicy, floral ripe nose, you also enjoy round, smoky, black cherries in the finish. The wine was made from a blend of 45% Cabernet Sauvignon, 40% Merlot and 15% Petit Verdot, reaching 13.5% ABV. 90 - 92 Pts

5,136 Views

Tasted

Apr 26, 2016

2014
Château Belle-Vue (Haut-Médoc) (Haut-Médoc)

Soft tannins and a spicy, floral and ripe nose are coupled with fresh, smoky black cherries in the finish. This should be quite tasty on release. The wine was made from a blend of 47% Cabernet Sauvignon, 31% Merlot and 22% Petit Verdot and reached 13.5% ABV. 89-91 Pts

3,889 Views

Tasted

Apr 21, 2015

2013
Château Belle-Vue (Haut-Médoc) (Haut-Médoc)

The wine is floral and spicy, serving up dark raspberries and a medium-bodied, bold style. From a blend of is 52% Cabernet Sauvignon, 24% Merlot, and 24% Petit Verdot, the wine reached 13% ABV. 86-88 Pts

3,356 Views

Tasted

Apr 23, 2014

2012
Château Belle-Vue (Haut-Médoc) (Haut-Médoc)

With oak, licorice and dark berries, this wine is spicy, fresh and lively, offering good character. 88-90 Pts

2,661 Views

Tasted

Apr 23, 2013

2011
Château Belle-Vue (Haut-Médoc) (Haut-Médoc)

From an assemblage of 46 % Cabernet Sauvignon, 31% Merlot and one of the larger percentages of Petit Verdot at 23%, the wine reached 13% ABV and will be aged in 40% new oak. Cassis and licorice, medium bodied and a soft, red berry finish. 87-89 Pts

3,023 Views

Tasted

Apr 8, 2012

2010
Château Belle-Vue (Haut-Médoc) (Haut-Médoc)

Chateau Belle-Vue From a blend of 50% Cabernet Sauvignon, 30% Merlot and 20% Petit Verdot, oak, vanilla, forest floor, floral and cassis aromas open to a medium bodied, soft textured wine offering ample fresh cassis and dark cherry. 88-90 Pts

7,538 Views

Tasted

Apr 21, 2011

2009
Château Belle-Vue (Haut-Médoc) (Haut-Médoc)

From a blend of 50% Cabernet Sauvignon, 30% Merlot and a large percentage Petit Verdot that clocks in at 20%, the wine is packed with sweet, jammy black cherries, coffee, licorice, blackberry and earth, Soft, round and forward, this is already fun to drink. It should be available for about $20. This is an outstanding Bordeaux value wine.

5,804 Views

Tasted

Jul 12, 2012

2008
Château Belle-Vue (Haut-Médoc) (Haut-Médoc)

Medium bodied, with red and black plums, spice, olive and floral scents, this is already drinking well. This Haut Medoc wine was produced from a blend of 50% Cabernet Sauvignon, 30% Merlot, and 20% Petit Verdot representing the highest percentage of Petit Verdot planted in Bordeaux! Later vintages show a marked increase in style, quality and depth.

5,710 Views

Tasted

Oct 31, 2011

2006
Château Belle-Vue (Haut-Médoc) (Haut-Médoc)

Deeply colored, this Haut Medoc has developed nicely. From a unique blend of 50% Cabernet Sauvignon, 30% Merlot and 20% Petit Verdot, the wine offers licorice, olives, blackberries, floral and earthy scents. Round and lush, this elegant wine remains one of the better priced, Bordeaux wine values. This won't make old bones. Who cares? It drinks well now and it runs a little over $20.

2,931 Views

Tasted

Dec 18, 2011

2005
Château Belle-Vue (Haut-Médoc) (Haut-Médoc)

Fully mature, and slightly on the rustic side, there is still plenty of spicy, dark red fruits and licorice on the nose and palate to enjoy. The wine was made from a blend of 50% Cabernet Sauvignon, 27% Merlot, 20% Petit Verdot and 3% Carmenere.

4,582 Views

Tasted

Oct 6, 2017