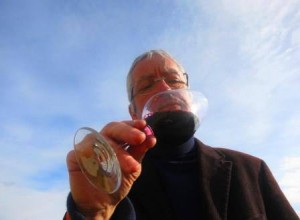 Learn everything about Saintayme St. Emilion with wine tasting notes and wine with food pairing tips. Learn the best vintages, the history of the property, and information on the vineyards and winemaking. If you want to read about other important, Bordeaux Chateaux: Links to all Bordeaux Wine Producer Profiles
Saintayme History, Overview
Saintayme in Saint Emilion is the property of Denis Durantou. Denis Durantou is best known for producing one of the best wines in the Pomerol appellation with Chateau LEglise Clinet.
Denis Durantou has continued expanding his holdings in the Right Bank over the past few years as he has acquired not only Saintayme, but vineyards in the Lalande de Pomerol appellation that produce Chateau Les Cruzelles and Chateau Chenade as well as Chateau Montlandrie in the Cotes de Bordeaux.
With Saintayme, the vines are not owned by the Durantou family. The vineyard is on a long-term leasing arrangement.
Saintayme Vineyards, Terroir, Grapes, Winemaking
The 9-hectare vineyard of Saintayme is planted to almost 100% Merlot. There is also a small percentage of Cabernet Franc planted here. Located in the increasingly popular commune of Saint Etienne de Lisse, here you find the cooler soils of that sector are also the home for Valandraud and Chateau Fleur Cardinale. The vineyard of Saintayme is in 1 single parcel.
The terroir is limestone, clay, and gravel soils, similar to what you find at many top Saint Emilion vineyards. On average, the vineyard is planted to a vine density of 6,000 vines per hectare. The vines are old at close to 35 years of age.
The wine of Saintayme is produced by the same technical team that makes all the wines for Denis Durantou. The wine is vinified in small, temperature-controlled, stainless steel vats.
Malolactic fermentation takes place in stainless steel vats. According to Denis Durantou, the reason is for better control of yeast and bacteria. aged in 30% new, French oak, barrels for an average of 14 months.
The Best Vintages of Chateau Saintayme are: 2022, 2021, 2020, 2019, 2018, 2017, 2016, 2015, 2014, and 2012.
The production here averages close to 3,500 cases per vintage. Saintayme is a new project for Denis Durantou. Currently, the wine sells for a song, making it one of the better value Right Bank wines from this increasingly expensive region.
When to Drink Chateau Saintayme, Anticipated Maturity, Decanting Time
Chateau Saintayme is better with at least 3-5 years of bottle age. Of course, that can vary slightly, depending on the vintage.
Chateau Saintayme is best enjoyed in the first 4-12 years of life. Young vintages can be decanted for about 1 hour, give or take. This allows the wine to soften and open its perfume. Older vintages might need very little decanting, just enough to remove the sediment.
Serving Saintayme, with Wine and Food Pairings
Saintayme is best served at 15.5 degrees Celsius, 60 degrees Fahrenheit. The cool, almost cellar temperature gives the wine more freshness and lift.
Saintayme is best paired with all types of classic meat dishes, veal, pork, beef, lamb, duck, game, roast chicken, roasted, braised, and grilled dishes. Saintayme is also good when matched with Asian dishes, rich fish courses like tuna, mushrooms, and pasta.
Saintayme Wine Tasting Notes
12 Vintages 51,355 Views Sort by Vintage-Rating
2022
Saintayme (St. Émilion Grand Cru)

Black cherries, and flowers, with licorice and cocoa nuances are found on the nose, and palate. Medium-bodied, with a core of lusciously-textured, plums and chocolate, here, the vibrancy and elegance in the fruits really stand out, giving you a nice freshness to the sweet fruits from the mid-palate through to the finish. This will be ready-to-go on release. Made from 100% Merlot, 14.4% ABV, 3.7 pH. Drink from 2025-2038. 91-93 Pts.

2,962 Views

Tasted

May 8, 2023

2021
Saintayme (St. Émilion Grand Cru)

Flowers and cherries with wet-earthy nuances are all over the place here. Medium-bodied, and fresh with bright, red berries and touches of spice on the mid-palate and in the finish. This will be ready-to-go on release. Made from 100% Merlot, 13.5% ABV. Drink from 2023-2035. 89-91

2,690 Views

Tasted

May 20, 2022

2020
Saintayme (St. Émilion Grand Cru)

This is the finest vintage of Saintayme I have ever tasted. Medium-bodied, finesse styled, elegant, fresh and vibrant, produced from 100% Merlot, the wine is all about showing off its sweet, red, earthy pit fruits, flowers, smoke, truffle and plums in the nose, palate and elegant finish. Drink from 2023-2038.

2,163 Views

Tasted

Mar 21, 2023

Medium-bodied, focusing on its freshness, approachability and ripe, sweet fruits, the wine offers wet earth, flowers, red berries, oak and a soft, sweet, silky, fresh, palate presence. Made from 100% Merlot, there is a lot of charm and early drinking character here. 90-92 Pts

3,885 Views

Tasted

May 20, 2021

2019
Saintayme (St. Émilion Grand Cru)

Flowers, vanilla, cherries, plums and earth show up easily on the nose. Soft and silky, fresh and forward, this is going to offer beautiful drinking on release. Drink from 2022-2032.

2,444 Views

Tasted

Mar 29, 2022

Floral, earthy and smoky, with the addition of licorice and vanilla, the wine is medium-bodied, fresh, sweet and juicy, with layers of ripe, dark plums, cherries and cocoa. Soft and silky, with richness and approachability, this 100% Merlot wine lingers with all its freshness and fruit in the finish. 90-92 Pts

6,028 Views

Tasted

Jun 8, 2020

2018
Saintayme (St. Émilion Grand Cru)

Medium-bodied, elegant, fresh and floral, with brightness and lift to the sweet red pit fruits on the nose and palate. The red fruits carry through to the finish with tobacco leaf and spice tones. The wine is always made from 100% Merlot. Give it a few years of age and it will be even better.

3,050 Views

Tasted

Mar 9, 2021

Luscious plum and licorice form the core of the wine. It is medium bodied, fresh, ripe, forward and easy to like with all its elegant, red cherry and plum charms. The wine is always made from 100% Merlot. Give it a few years of age and it will be even better. 89-91 Pts

3,868 Views

Tasted

Apr 19, 2019

2017
Saintayme (St. Émilion Grand Cru)

Red fruits with a hint of earth and citrus on the front end. In the middle, you have a medium-bodied palate that offers spicy, red fruits, cocoa and another dash of that entertaining citrus in the finish. This forward wine was produced with 100% Merlot. You can enjoy this early in life.

3,091 Views

Tasted

Apr 26, 2018

2016
Saintayme (St. Émilion Grand Cru)

Much better from the bottle than in barrel, the wine is round, soft, fruity and fresh an earthy, truffle, licorice, cocoa, smoke and plum character. This is quite nice and it sells for a song.

2,664 Views

Tasted

Sep 17, 2020

Made by Denis Durantou and produced from 100% Merlot, the wine offers a sweet, juicy, straight ahead plum and licorice nose. An early drinker with more depth and sweetness than normally found at Saintayme, there is a dusty, easy to like finish.

3,602 Views

Tasted

Apr 29, 2017

2015
Saintayme (St. Émilion Grand Cru)

Produced from 100% Merlot, this Denis Durantou wine delivers licorice and black cherry notes with round textures and a supple, forward, medium-bodied, charming quality. This will provide nice, early drinking pleasure.

4,858 Views

Tasted

Apr 29, 2016

2014
Saintayme (St. Émilion Grand Cru)

Produced from 100% Merlot, this wine, made by Denis Durantou, offers an easy drinking, soft, round, open style with black cherry, licorice and chocolate in the end note. Drinkable on release. 87-89 Pts

2,851 Views

Tasted

Apr 27, 2015

2013
Saintayme (St. Émilion Grand Cru)

From 100% Merlot, the medium-bodied, spicy, red berry wine is an early-drinking, well-priced quaffer that is perfect for restaurants. 84-86 pts.

2,453 Views

Tasted

Apr 29, 2014

2012
Saintayme (St. Émilion Grand Cru)

From 100% Merlot, aged in 30% new French oak, the wine is focused on cherries, black raspberry, stone and spice, ending with sweet, dark red berries and black cherry notes. 87-89 Pts

2,305 Views

Tasted

Apr 26, 2013

2011
Saintayme (St. Émilion Grand Cru)

From 100% Merlot planted on limestone and gravel soils and managed by Denis Durantou, this medium-bodied, round-textured wine ends with spicy, bright cherries. 85-87 Pts

2,441 Views

Tasted

Apr 24, 2012