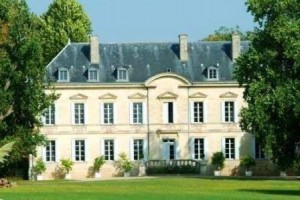 Learn everything about Chateau Siaurac Lalande de Pomerol with wine tasting notes and wine with food pairing tips. Learn the best vintages, the history of the property, and information on the vineyards and winemaking. If you want to read about other important, Bordeaux Chateaux: Links to all Bordeaux Wine Producer Profiles
Chateau Siaurac History, Overview
Chateau Siaurac has a long family history in the region. In fact, ownership of the property dates all the way back to 1832 for the Guichard family. Chateau Siaurac could win an award for the most beautiful estate in the Lalande de Pomerol appellation, with its stunning chateau and manicured grounds, gardens, and parkland, which were designed in 1850.
Chateau Siaurac was most recently managed by Paul Goldschmidt and Aline Goldschmidt. It was their idea to bring in the team of Stephane Derenoncourt as their consultant.
Following the departure of Stephane Derenoncourt, they brought in Dr. Alain Raynaud as their consultant. However, that all changed in March 2014 when the Goldschmidt family sold a large percentage of their holdings to the owner of Chateau Latour, Francois Pinault, and the Artemis group.
By late, 2017, Paul Goldschmidt retired from the estate and the Artemis group took full control of the property. 3 years later in September 2020, Suravenir Insurance, the owners of Chateau Calon Segur in St. Estephe purchased Chateau Siaurac along Chateau Vray Croix de Gay in Pomerol and Chateau Le Pireurie in St. Emilion.
Chateau Siaurac Vineyards, Terroir, Grapes, Winemaking
The large, 46-hectare Chateau Siaurac vineyard is planted to 75% Merlot, 20% Cabernet Franc and 5% Malbec. The vineyard is in one single block of vines, which is further subdivided into 40 separate parcels. Chateau Siaurac and is one of the largest vineyards in Lalande de Pomerol.
The terroir is gravel and clay soils that come from 2 parts of the vineyard. Although their parcels are contiguous, they each have different terroirs. You have a bit more gravel in the parcels located in Neac and more clay in the vineyard in their other blocks.
The vineyard of Chateau Siaurac is planted to a high, vine density of 7,100 vines per hectare. Since 2008, the vineyard has practiced only sustainable farming management. Starting with the 2016 vintage, Chateau Siaurac moved to use only 100% organic and biodynamic farming techniques. They were officially certified as organic starting with the 2020 vintage.
The vinification of Chateau Siaurac takes place in a combination of concrete and stainless steel vats. The wine is aged in 25%, new, French oak barrels for an average of 14 months before bottling
There is a second wine, Plaisir de Siaurac, which is usually made from 100% Merlot. The production for Chateau Siaurac is on average close to 18,000 cases of wine per vintage. However, a special bottling with no sulfur was produced in 2018 and perhaps in subsequent vintages as well.
The best vintages of Chateau Siaurac are: 2022, 2021, 2020, 2019, 2018, 2017, 2016, 2015, 2014, 2012, 2010, 2009 and 2005.
When to Drink Chateau Siaurac, Anticipated Maturity, Decanting Time
Chateau Siaurac is much better with at least 3-6 years of aging in good vintages. Young vintages can be decanted for 1 hour to 90 minutes. This allows the wine to soften and open its perfume.
Older vintages might need very little decanting, just enough to remove the sediment. Chateau Siaurac offers its best drinking and should reach peak maturity between 5-15 years of age after the vintage.
Serving Chateau Siaurac with Wine, Food, Pairing Tips
Chateau Siaurac is best served at 15.5 degrees Celsius, 60 degrees Fahrenheit. The cool, almost cellar temperature gives the wine more freshness and lift.
Chateau Siaurac is best paired with all types of classic meat dishes, veal, pork, beef, lamb, duck, game, roast chicken, roasted, braised, and grilled dishes. Chateau Siaurac is also good when matched with Asian dishes, and rich fish courses like tuna, mushrooms, and pasta.
The wine of Vray Croix de Gay has been produced in the cellars of Chateau Siaurac for almost 100 years. However, appellation laws in Pomerol will change that in 2020. From that point forward, only the wine of Chateau Siaurac will be allowed to be made in their cellars.
Château Siaurac Wine Tasting Notes
15 Vintages 59,689 Views Sort by Vintage-Rating
2022
Château Siaurac (Lalande de Pomerol)

Spicy, floral meaty, earthy, red fruits show in the nose and on the palate. The wine is medium-bodied, and spicy in the mouth, with lift, and energy in the firm-textured finish. The wine is a blend of 75% Merlot, 15% Cabernet Franc and 10% Malbec. Drink from 2026-2035. 90-92 Pts.

1,678 Views

Tasted

May 8, 2023

2021
Château Siaurac (Lalande de Pomerol)

Fresh, bright, earthy, medium-bodied, red berry, and forest floor profile that will be ready to drink on release. Drink from 2023-2030. 87-89

870 Views

Tasted

May 15, 2022

2020
Château Siaurac (Lalande de Pomerol)

Smoke, truffles, black cherries, licorice, spice and a hint of chocolate create the character here. Supple, creamy and fresh, with sweetness and scorched earth nuances on the palate that work perfectly with all the sweet, fresh cherries and a touch of spearmint in the finish. You can enjoy this young, as well as age it for more secondary nuances. Drink from 2023-2040.

1,184 Views

Tasted

Mar 21, 2023

Showing a deep, rich color, the wine exudes spicy plums, truffle, smoke and herbs on the nose. Medium-bodied, soft and polished on the palate, the finish shows ripe cherry, licorice, earth, powdered cocoa and herbs. 89-91 Pts

2,333 Views

Tasted

May 20, 2021

2019
Château Siaurac (Lalande de Pomerol)

Silky, lush and soft with juicy fruits, energy, freshness and earthy, dark chocolate and plummy palate presence, this is going to be just great with a few years in the cellar. 90-92 Pts

3,542 Views

Tasted

Jun 8, 2020

2018
Château Siaurac (Lalande de Pomerol)

Chocolate mint and ripe plums are in the nose and on the silky soft, medium-bodied, forward palate. Give this just a few years in the cellar for more softness and complexity. 90-92 Pts

2,327 Views

Tasted

Apr 19, 2019

2016
Château Siaurac (Lalande de Pomerol)

Flowers, chocolate mint and a splash of ripe cherries works here. The wine is medium-bodied, with a touch of smoke, espresso and plums in the soft, silky finish. Give this just a few years in the cellar and enjoy it over the next 12-25 years.

3,215 Views

Tasted

Sep 21, 2019

A bouquet of flowers, a box of Valrhona, silky tannins and soft, ripe, plummy fruit create a nice character that will only get better with a few years of age. The wine blends 73% Merlot, 20% Cabernet Franc and 7% Malbec.

4,441 Views

Tasted

Apr 29, 2017

2015
Château Siaurac (Lalande de Pomerol)

The best Siaurac ever produced. This wine delivers soft, polished textures, ripe, black raspberries, cocoa, licorice and an earthy component. Having more weight and density than usual, it finishes with sweet, polished black raspberries and dark cocoa. 90 - 92 Pts

2,584 Views

Tasted

Apr 29, 2016

2014
Château Siaurac (Lalande de Pomerol)

Approachable and medium-bodied, centered on sweet black raspberries with a cherry finish, this wine is drinkable upon release. 87-88 Pts

2,186 Views

Tasted

Apr 24, 2015

2013
Château Siaurac (Lalande de Pomerol)

With tangy red fruit and citrus, this medium-bodied wine is earthy in the simple finish. 84-86 Pts

3,692 Views

Tasted

Apr 26, 2014

2012
Château Siaurac (Lalande de Pomerol)

Herbal, earth and cherry tones, the wine is forward, medium bodied and will be best enjoyed on the young side.

3,590 Views

Tasted

May 16, 2015

Medium bodied, slightly rustic on the palate, the wine focuses you on its crisp, sharp red berry character. Drink this young.

3,118 Views

Tasted

May 7, 2015

2011
Château Siaurac (Lalande de Pomerol)

Medium bodied, and ready to go, with its forward, soft textured, open, round, dark red berries, licorice and espresso character. This is already delicious, but it is not a wine I'd lay down, hoping to grow old with it. It is already close to peak.

2,843 Views

Tasted

Dec 18, 2017

2010
Château Siaurac (Lalande de Pomerol)

Siaurac Blending 80% Merlot and 20% Cabernet Franc, this is a solid, easy drinking plummy wine. 85-87 Pts

4,778 Views

Tasted

Apr 22, 2011

2009
Château Siaurac (Lalande de Pomerol)

Medium bodied, classically styled wine that is better on the truffle, thyme and black cherry nose, than on the fruity, but slightly rustic palate. This is a wine to drink in its youth.

3,089 Views

Tasted

May 16, 2015

Blending 85% Merlot with 15% Cabernet Sauvignon produced a wine with red and black plums with earthy scents. Medium bodied with a hint of dryness in the light, cherry dominated finish.

5,266 Views

Tasted

Mar 12, 2012

2008
Château Siaurac (Lalande de Pomerol)

Fully mature, medium-bodied, red cherry, leaf, and earthy wine that is already starting to fade and lose its fruit.

1,823 Views

Tasted

Sep 1, 2021

2005
Château Siaurac (Lalande de Pomerol)

Medium bodied, simple, dominated by red berries and earth, this easy going, soft wine requires drinking.

7,130 Views

Tasted

Aug 6, 2013