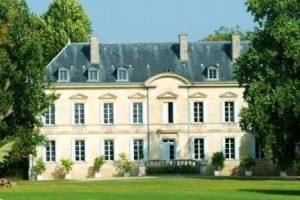 Learn everything about Chateau Vray Croix de Gay Pomerol with wine tasting notes and wine with food pairing tips. Learn about the best vintages, history of the property, information on their vineyards, and winemaking. If you want to read about other important, Bordeaux Chateaux: Links to all Bordeaux Wine Producer Profiles
Chateau Vray Croix de Gay History, Overview
Chateau Vray Croix de Gay dates back to the end of the 19th century when it was formed by Joseph Brisson. The first parcel purchased by Brisson was the plot known as Domaine des Grands Champs.
During the estate's formative years, the chateau used a different spelling for their wine labels, selling the wine under the name Vraye Croix de Gay. Note the extra "e" in Vraye, which was later changed to just Vray by the 1970s.
For a period of time, the sales and winemaking of Chateau Vray Croix de Gay were handled by Ets. Moueix under an arrangement that ended in 2005. Since then, his descendants Aline and Paul Goldschmidt took over managing the Right Bank property.
Once Paul Goldschmidt and Aline Goldschmidt began managing Chateau Vray Croix de Gay, one of the first things he did was replant more than half of their Pomerol vineyards.
Their next step was to hire Stephane Derenoncourt as their consultant. Following the departure of Derenoncourt, they brought in Dr. Alain Raynaud as their consultant. Since 2014, Alain Raynaud was also no longer working with the estate. Stephane Derenoncourt departed a few years later.
The Goldschmidt family owned two other properties, Chateau Siaurac, which is located in Lalande de Pomerol, and Chateau Le Prieure in the St. Emilion appellation. However, that all changed in March 2014 when the Goldschmidt family sold a large percentage of their holdings to the owner of Chateau Latour, Francois Pinault, and the Artemis group.
In 2017, Artemis assumed total control of all three vineyards. 3 years later in September 2020, Suravenir Insurance, the owners of Chateau Calon Segur in St. Estephe purchased Chateau Vray Croix de Gay along with Chateau Le Pireurie in St. Emilion and Chateau Siaurac in Lalande de Pomerol.
Chateau Vray Croix de Gay Vineyards, Terroir, Grapes, Winemaking
The 3.67 hectare Pomerol vineyard of Chateau Vray Croix de Gay is planted to 80% Merlot, with 20% Cabernet Franc. At one point, some Cabernet Sauvignon was planted, but those vines were ripped out. It is the goal of Chateau Vray Croix de Gay to increase the percentage of Cabernet Franc in the vineyards.
The terroir gravel and clay with deposits of iron in the soil. The vines are old, at an average age of 43 years. Since 2008, the vineyard has practiced only sustainable farming management. Starting with the 2016 vintage, Chateau Vray Croix de Gaye began using only 100% organic and biodynamic farming techniques.
The vineyard is basically two main blocks that is split into 8 parcels. They have vines planted close to Chateau La Fleur Petrus and Chateau Le Gay with the other section planted not far from Trotanoy. They have slopes that rise to 36 meters at their peak.
Vinification of Chateau Vray Croix de Gay has historically taken place at Chateau Siaurac, their estate in Lalande de Pomerol, on the border of Pomerol. However, that is expected to change in 2020, due to the appellation laws of Pomerol. The wines are vinified in a combination of 3, 50 hectoliter concrete vats and 2, 50 hectoliter stainless steel vats. Malolactic fermentation takes in barrel and vat, evenly split.
The wine is aged in 50% new, French oak for between 14 and 18 months. The length of barrel aging varies on the character and style of the vintage. There is a second wine, L'Enchanteur Vray Croix de Gay. The average annual production of Chateau Vray Croix de Gay is about 1,100 cases.
The best vintages of Chateau Vray Croix de Gay are: 2022, 2021, 2020, 2019, 2018, 2017, 2016, 2015, 2014, 2012, 2010, 2009, 2005 and 2000.
Pomerol, due to its small size, high quality, and unique style is prized by wine lovers all over the world, and for that reason, they are always expensive.
Chateau Vray Croix de Gay represents one of the best values in the Pomerol appellation. It offers quality at a fair price and it's drinkable at a young age. Since 2005, this early drinking Pomerol has shown improvement. 2009 Chateau Vray Croix de Gay is the best wine made by the estate yet.
When to Drink Chateau Vray Croix de Gay, Anticipated Maturity, Decanting Time
Chateau Vray Croix de Gay can be enjoyed on the young side with an hour or so of decanting. However, the wine is usually better at 5-10 years of bottle age.
Of course, that can vary slightly, depending on the vintage character. In the best years, the wine will best between 10-18 years of age after the vintage. Young vintages of Vray Croix de Gay can be decanted for an average of 1-2 hours or so. This allows the wine to soften and open its perfume. Older vintages might need very little decanting, just enough to remove the sediment.
Serving Chateau Vray Croix de Gay with Wine, Food, Pairing Tips
Chateau Vray Croix de Gay is best served at 15.5 degrees Celsius, 60 degrees Fahrenheit. The cool, almost cellar temperature gives the wine more freshness and lift.
Chateau Vray Croix de Gay is best served with all types of classic meat dishes, veal, pork, beef, lamb, duck, game, roast chicken, roasted braised, and grilled dishes. Chateau Vray Croix de Gay is also good with Asian dishes, hearty fish courses like tuna, mushrooms, and pasta.
Château Vray Croix de Gay Wine Tasting Notes
19 Vintages 61,266 Views Sort by Vintage-Rating
2022
Château Vray Croix de Gay (Pomerol)

Deeply colored, the wine opens with flowers, black raspberries, herbs, cocoa, and plums in the nose. The palate is fresh, vibrant, and most importantly, silky, with its layers of sweet, ripe, soft, cherries, plums, and wet earth. There is a nice touch of powdered cocoa that comes in on the end-note. The wine blends 90% Merlot with 10% Cabernet Franc, 14.5% ABV. This is the first vintage produced entirely by the team that also own Calon Segur. Drink from 2025-2042. 92-94 Pts.

1,724 Views

Tasted

May 8, 2023

2021
Château Vray Croix de Gay (Pomerol)

Soft-textured, chocolate-covered plums, licorice and sweet, black cherries show quite well on the nose and in the lush, polished, silky, dark-edged, plummy palate with a touch of chocolate that comes in on the endnote. The wine blends 80% Merlot with 20% Cabernet Franc. Drink from 2024-2042. 91-93

1,583 Views

Tasted

May 20, 2022

2020
Château Vray Croix de Gay (Pomerol)

Another 2020 gem that has vastly improved during its barrel aging, the wine already expresses its flowers, licorice, cocoa, plums and espresso nose. On the palate, the wine is silky, plush, elegant and fresh, with layers of supple, creamy fruits with an exotic touch of citrus that comes in at the back of the finish. Drink from 2024-2045.

1,216 Views

Tasted

Mar 21, 2023

Holding a lot in reserve, the wine is ripe, round, plummy and fresh, yet reserved. Medium bodied, soft and with chocolate overtones, you can drink this young, or age it for more complexity. 89-91 Pts

2,419 Views

Tasted

May 20, 2021

2019
Château Vray Croix de Gay (Pomerol)

Quite floral, with red pit fruits, spice, earth and assorted forest leaves. Elegant, silky, soft and polished. Medium-bodied, fresh and focused on the sweetness and purity in the fruits, the wine leaves you with freshness, and energy in the silky, cherry, plum, cocoa and espresso filled finish. 92-94 Pts

2,594 Views

Tasted

Jun 8, 2020

2018
Château Vray Croix de Gay (Pomerol)

Truffle, cocoa, cherry and juicy plums start the show. Soft and silky with a nice polish to the tannins and freshness to the fruit, the wine finishes with chocolate covered cherries and earthy, dark pit fruits. 92-94 Pts

2,009 Views

Tasted

Apr 19, 2019

2017
Château Vray Croix de Gay (Pomerol)

Silky, soft and smooth with chocolate dusted, black cherries on the nose and palate, you'll also find licorice and floral notes adding complexity to the medium bodied, earthy, juicy character.

2,197 Views

Tasted

Apr 26, 2018

2016
Château Vray Croix de Gay (Pomerol)

Medium bodied, silky, elegant and earthy, with just enough cocoa and roses to make it sing Pomerol, the wine hits the spot when you are seeking a sensuous experience in a glass

2,894 Views

Tasted

Sep 21, 2019

Luxurious textures, fresh, sweet black plum, earth, cocoa and licorice are all over the place. Rich and with silky tannins, this is the best wine I've tasted from Vray Croix de Gay.

3,749 Views

Tasted

Apr 29, 2017

2015
Château Vray Croix de Gay (Pomerol)

Plush, polished and loaded with sweet ripe, dark, red cherries, plums, espresso, dark chocolate and licorice, the tannins are silky, the fruit is ripe and the finish serves up black cherry, plum and bitter chocolate. This is the best wine ever produced from the estate.

2,750 Views

Tasted

Mar 12, 2018

Medium/full bodied, plush soft and forward, the wine offers ripe, dark, red cherries, plums, bitter chocolate, licorice and earthy complexities. There is richness and round textured, ripe, dark red fruits and cocoa in the finish.

2,604 Views

Tasted

Feb 17, 2018

2014
Château Vray Croix de Gay (Pomerol)

Plumy, medium-bodied, soft and fresh with a ripe, plum, earth and smooth, chocolate dusted, black cherry finish. 89-91 Pts

2,297 Views

Tasted

Apr 24, 2015

2013
Château Vray Croix de Gay (Pomerol)

This medium-bodied wine has a light black cherry, oak and earthy personality with sandy tannins in the cherry finish. 87-89 Pts

2,277 Views

Tasted

Apr 26, 2014

2012
Château Vray Croix de Gay (Pomerol)

Medium bodied, soft textured and showing a sweet and tart, olive, licorice and red and black plum finish.

3,827 Views

Tasted

May 16, 2015

Rich aromas of chocolate-covered blackberries and flowers, silky tannins and a supple, ripe, fruit-filled finish make this the best vintage of Vray Crox de Croix produced yet! 91-93 Pts

3,184 Views

Tasted

Apr 26, 2013

2011
Château Vray Croix de Gay (Pomerol)

Earth, chocolate and dark cherry with supple textures and good concentration on ripe, sweet black plums in the finish. 89-90 Pts

3,153 Views

Tasted

Apr 21, 2012

2010
Château Vray Croix de Gay (Pomerol)

Vray Croix de Gay The property increased the percentage of Cabernet Franc in the wine to 25% from 10% starting with the 2010 vintage. The remainder is Merlot. Showing deep color, floral, chocolate, jammy black raspberry and earthy scents open to a medium/full bodied wine that's filled with round, supple blackberry and ripe plums. 90-91 Pts

2,734 Views

Tasted

Apr 21, 2011

2009
Château Vray Croix de Gay (Pomerol)

From a blend of 85% Merlot and 15% Cabernet Franc, aromas of tobacco, black plum and earth are easy to find. This medium bodied Pomerol wine feels soft and round on the palate ending in a cocoa and spicy plum finish. This will drink well young.

3,761 Views

Tasted

Mar 12, 2012

2008
Château Vray Croix de Gay (Pomerol)

08 Château Vrai Croix de Gay is medium bodied and shows some red and black fruit on the nose. The finish is slightly marred by a hint of unripe flavors at the end. 86-89 Pts

3,768 Views

Tasted

Jul 30, 2009

2006
Château Vray Croix de Gay (Pomerol)

Fully developed, round, plummy, earthy, dark cherry-filled, soft-textured wine with good freshness and fruit in the finish that is ready for its prime time consumption. The finish is a bit strict, which stops my score from going higher.

2,001 Views

Tasted

Sep 10, 2020

2005
Château Vray Croix de Gay (Pomerol)

Medium bodied, fully mature, this old school Pomerol shows black cherries and earthy qualities, but it lacks supple qualities and complexities.

3,732 Views

Tasted

Nov 29, 2014

2001
Château Vray Croix de Gay (Pomerol)

Medium bodied, fully mature, with an earthy, fresh, red plum, cherry and espresso core. The wine requires drinking over the next 5 years or so, to get the most from its soft, textured fruits.

2,702 Views

Tasted

Oct 25, 2016

2000
Château Vray Croix de Gay (Pomerol)

Fully mature, it seems like this is just about ready to begin its slow decline, yet, you can still find ample, soft, earthy, sweet, fresh plums, cherry, cocoa and truffle, leaf and herbal notes with a gentle, elegantly textured, medium-bodied finish.

2,091 Views

Tasted

Aug 24, 2021