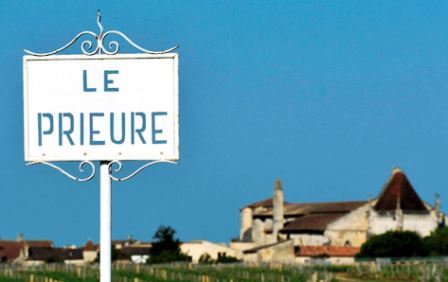 Learn everything about Chateau Le Prieure St. Emilion with wine tasting notes and wine-with-food pairing tips. Learn all the best vintages, a history of the property, and information on the vineyards and winemaking. If you want to read about other important, Bordeaux Chateaux: Links to all Bordeaux Wine Producer Profiles
Chateau Le Prieure History, Overview
Chateau Le Prieure dates all the way back to 1696 when it went under the name of Cru des Cordeliers. The more modern era begins when what we know of as Chateau Le Prieure was purchased in 1897 by Joseph Brisson. Once that purchase was completed, he altered the name of the Bordeaux estate to Chateau Le Prieure.
In 1998, the owners of Chateau Le Prieure conducted a complete renovation of the St. Emilion estate. This included rebuilding the wine-making facilities and replanting about 50% of their Right Bank vineyard. During the replanting, the amount of Cabernet Franc was increased to 25%, while the Merlot was reduced to 75%.
They purchased nine, new, thermoregulated, stainless steel vats and sorting tables. The addition of these nine, new vats allowed Chateau Le Prieure to vinify on a parcel-by-parcel basis, which helped improve the quality of their wine.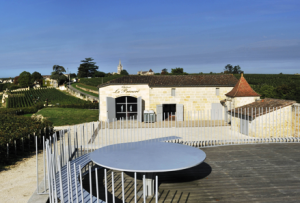 In 2004, the owner, Olivier Guichard passed away. His daughter Aline Guichard and her husband Paul Goldschmidt took over the responsibility of managing Chateau Le Prieure on a full-time basis. They also counted Chateau Vray Croix de Gay in Pomerol and Chateau Siaurac, which is located in the Lalande de Pomerol appellation among their Right Bank holdings.
However, that all changed in March 2014 when the Goldschmidt family sold a large percentage of their vineyards to the owner of Chateau Latour, Francois Pinault through his Artemis group. By late 2017, the Artemis group purchased the remaining shares of Le Prieure.
3 years later in September 2020, Suravenir Insurance, the owners of Chateau Calon Segur in St. Estephe purchased Chateau Le Prieure along with the other 2 Right Bank vineyards, Chateau Vray Croix de Gay in Pomerol, Chateau Le Pireurie in St. Emilion and Chateau Siaurac in Lalande de Pomerol.
Chateau Le Prieure Vineyards, Terroir, Grapes, Winemaking
The 6.25-hectare Right Bank vineyard of Chateau Le Prieure is planted to 75% Merlot and 25% Cabernet Franc. The vineyards are a bit spread out. In fact, you can separate the vineyard into 19 different parcels.
They have parcels located not far from Chateau Trottevieille, while other parcels are closer to Chateau Troplong Mondot, Chateau Pavie-Macquin, and Chateau La Clotte. There are also parcels on the border between Saint Emilion and Pomerol.
The terroir consists of thin layers of clay over limestone soils. However, the level of quality in the vineyards varies, because the parcels are not contiguous. At their peak, the vineyards rise to 89 meters, giving them one of the highest elevations in Saint Emilion. On average the vines are kept at an average of 41 years of age.
The vine density is 7,100 vines per hectare. Since 2008, the vineyard has practiced only sustainable farming management. Starting with the 2016 vintage, the estate moved to use only 100% organic and biodynamic farming techniques.
To produce the wine of Chateau Le Prieure, vinification takes place in 9 stainless steel vats of various sizes. Malolactic fermentation takes place in barrels. The wine is then aged in 50% new, French oak barrels for between 12 to 16 months. The amount of new wood used depends on the style and character of the vintage.
The best vintages of Chateau Le Prieure are: 2022, 2021, 2020, 2019, 2018, 2017, 2016, 2015, 2014, 2012, 2010, 2009, and 2005.
The winery was consulted by Stephane Derenoncourt from 2006 to 2009 and since 2010, by Alain Raynaud who remained with Chateau Le Prieure until 2014. Close to 1,800 cases of wine are produced each vintage. There is a second wine, Delice du Prieure.
When to Drink Chateau Le Prieure, Anticipated Maturity, Decanting Time
Chateau Le Prieure needs some time before it can be enjoyed. Young vintages can be decanted for an average of 1 – 2 hours. This allows the wine to soften and open its perfume.
Older vintages might need very little decanting, just enough to remove the sediment. Chateau Le Prieure is usually better with at least 4-6 years of bottle age. Of course, that can vary slightly, depending on the vintage character. Chateau Le Prieure offers its best drinking and should reach peak maturity between 5-20 years of age after the vintage.
Serving Chateau Le Prieure with Wine, Food, Pairing Tips
Chateau Le Prieure is best served at 15.5 degrees Celsius, 60 degrees Fahrenheit. The cool, almost cellar temperature gives the wine more freshness and lift.
Chateau Le Prieure is best paired with all types of classic meat dishes, veal, pork, beef, lamb, duck, game, roast chicken, roasted, braised, and grilled dishes. Chateau Le Prieure is also good when matched with Asian dishes, and hearty fish courses like tuna, mushrooms, and pasta.
Château Le Prieure Wine Tasting Notes
14 Vintages 49,491 Views Sort by Vintage-Rating
2019
Château Le Prieure (St. Émilion Grand Cru)

Dark garnet in color, the wine offers flowers, spice, licorice, stones and plum in the nose, Soft, silky and seductive, with a medium-bodied palate, the finish carries on with freshness and purity in the fruits as well as a saline quality in the finish. 91-93 Pts

2,347 Views

Tasted

Jun 8, 2020

2018
Château Le Prieure (St. Émilion Grand Cru)

Silky, refined and soft in texture, the wine focuses on its unadulterated fruit and elegant, medium-bodied character. The addition of spring flowers, crushed rock, licorice and smoke adds to the experience. 92-94 Pts

2,245 Views

Tasted

Apr 19, 2019

2017
Château Le Prieure (St. Émilion Grand Cru)

Lushly textured, deep red fruits, licorice, cocoa, flowers and stone create the maquillage. The tannins are soft, polished and round, the garden-fresh fruit is quick to exhibit a sweetness. And in the finish, there is an interesting touch of salt in the tannins that compliments the ripe, red berries.

1,854 Views

Tasted

Apr 26, 2018

2016
Château Le Prieure (St. Émilion Grand Cru)

Silky, vibrant, fresh and showing a beautiful assemblage of flowers, cherries, rocks and licorice, the wine is sweet, pure and lively. For the time being, this is still a hidden gem, I suspect that will change with time.

3,737 Views

Tasted

Sep 21, 2019

Better than 2015, the sensuous textures and all the same fabulous attributes -- but better. Darker, riper, sweeter, fresher and juicier with more refined stone, a sort of crushed gemstone. This wine shows well this year!

5,443 Views

Tasted

Apr 29, 2017

2015
Château Le Prieure (St. Émilion Grand Cru)

Lush, sexy and supple, this offers sensuality, fresh, ripe, vibrant fruits and a finish loaded with black cherry, dark plums, licorice and mocha. This will only get better with age.

2,374 Views

Tasted

Mar 12, 2018

Another wine that is better in bottle than in barrel. The wine is lush, round, and sensuous in texture. The fruits are ripe, sweet and fresh, with a nice sense of purity in the dark plums, cherries, black licorice and dark cocoa that are present on the nose and palate. This should age quite nicely.

2,241 Views

Tasted

Nov 22, 2017

Easily the best vintage of Le Prieure ever produced, this wine shows a silky charm, freshness in its plum and black cherry core and soft tannins in the finish.

1,533 Views

Tasted

Apr 29, 2016

2014
Château Le Prieure (St. Émilion Grand Cru)

Medium-bodied with a touch of oak among the fresh plum notes, this wine is soft, forward and easy to drink. The new partnership with the owners of Chateau Latour certainly made a difference as this is one of the best vintages from this estate in years. 89-91 Pts

1,805 Views

Tasted

Apr 27, 2015

2013
Château Le Prieure (St. Émilion Grand Cru)

Licorice, red plum and oak are found in this easy-drinking, medium-bodied wine. 85-87 Pts

2,937 Views

Tasted

Apr 29, 2014

2012
Château Le Prieure (St. Émilion Grand Cru)

Medium bodied, ripe, sweet, fresh and packed with juicy fruits, stone and licorice, this soft textured wine will drink well young.

2,153 Views

Tasted

May 15, 2015

Medium-bodied with black and red fruit and a soft, dry finish. 87-89 Pts

1,981 Views

Tasted

Apr 26, 2013

2011
Château Le Prieure (St. Émilion Grand Cru)

Earth, underbrush, espresso bean and cherry tones open to a short, medium bodied, red berry filled wine for youthful drinking.

2,148 Views

Tasted

Nov 17, 2013

2010
Château Le Prieure (St. Émilion Grand Cru)

Le Prieure Using 80% Merlot and 20% Cabernet Franc, this licorice and jammy blackberry wine is soft, and uncomplicated. 86-89 Pts

3,317 Views

Tasted

Apr 22, 2011

2009
Château Le Prieure (St. Émilion Grand Cru)

Sweet ripe, black cherries, licorice and minerality open up the wine. Soft textures and an open personality make this a fun Bordeaux wine to enjoy in its youth.

3,934 Views

Tasted

Mar 12, 2012

2009 Le Prieure is filled with minerals, anise, spicy dark berries, and smoke. Soft, round, fleshy, and flashy, this opulent wine should deliver pleasure early. 89-91 Pts

1,565 Views

Tasted

Jun 29, 2010

2008
Château Le Prieure (St. Émilion Grand Cru)

Deep in color, with licorice, blackberry, herbs and coffee notes, round tannins, medium body and a black cherry, vanilla, herb tinged finish.

2,662 Views

Tasted

Jul 14, 2012

2005
Château Le Prieure (St. Émilion Grand Cru)

Fully mature, medium bodied, with more secondary notes than fruit, this is starting to fade and requires consumption.

3,283 Views

Tasted

Nov 28, 2014

2001
Château Le Prieure (St. Émilion Grand Cru)

Medium bodied, fully mature and on the fresh, bright, red berry side of the style range, with a red plum, raspberry, leaf and earthy red cherry character. I liked the earthy, spicy accents. But the wine is a bit too bright and the fruit is not going to hold from here.

1,932 Views

Tasted

Nov 15, 2016