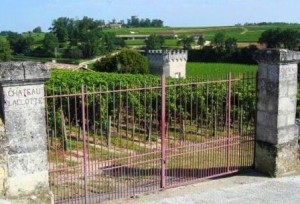 Learn everything about Chateau La Clotte St. Emilion with wine tasting notes and wine with food pairing tips. Learn the best vintages, a history of the property, information on the vineyards, and winemaking. If you want to read about other important, Bordeaux Chateaux: Links to all Bordeaux Wine Producer Profiles
Chateau La Clotte History, Overview
Chateau La Clotte is one of the oldest Bordeaux vineyards in the Right Bank. The estate has been a working vineyard since the late 14th century. Before the French Revolution, the vineyard was used as a home for the Cordelier order of Monks.
What we now know of today as Chateau La Clotte did not earn fame as a vineyard until it was purchased by the Grailly family in 1886. As was the custom of the day they changed the name of the vineyard to reflect their ownership. The Grailly family are related to the Becot family, who own Chateau Beau-Sejour Becot.
In 1913, the Chailleau family bought the last remaining parcels of what was then known as Chateau La Clotte de Grailly. After the sale, the name of the estate was eventually changed to Chateau La Clotte.
Nelly Moulierac was in charge of managing Chateau La Clotte with the help of her two cousins, Dominique Tord and Odile Plantade. However, that changed in 2014 when Alain Vauthier of Chateau Ausone purchased La Clotte from the Grailly family.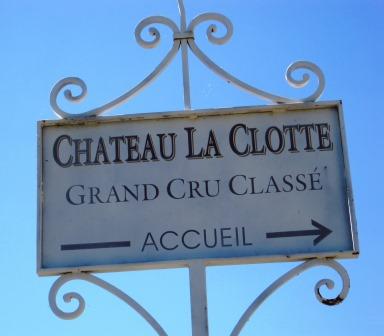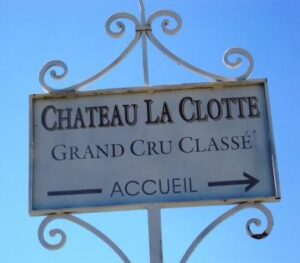 Chateau La Clotte remains a true, Saint Emilion insider's secret wine. Due to its high quality, fair price, and mineral-driven, opulent style, this is a wine many of the local Saint Emilion winery owners purchase for their own cellars. The jump in quality is now well-established.
Things started turning around for Chateau La Clotte after their contract with Ets. Moueix, who was responsible for managing and farming the property expired in 1999. From that point forward, Nelly Moulierac quickly improved the quality and the presence of Chateau La Clotte in the marketplace.
Chateau La Clotte Vineyards, Terroir, Grapes, Winemaking
The small, 4-hectare vineyard of Chateau La Clotte is planted to 80% Merlot, 15% Cabernet Franc and 5% Cabernet Sauvignon. Located just behind the St. Emilion village, due east, not far from Chateau Ausone, the vineyard is on the limestone plateau of Saint Emilion. They occupy one of the higher elevations in the appellation, reaching up to 75 meters at its peak.
They also have a small parcel of vines placed just behind the small house. The terroir is clay with limestone soils.
The vines are old. On average, they are over 55 years of age. The vines are planted to a density of 6,500 plants per hectare. The hillside vineyard can be easily divided into 12 separate parcels.
To produce the wine of Chateau La Clotte, after cold pre-fermentation maceration, the grapes are fermented in temperature-controlled stainless steel vats.
There are enough vats to allow for a parcel by parcel vinification of Chateau La Clotte. In 2012, Chateau La Clotte purchased a new thermoregulation system for the vats, which allows the estate for the first time the ability to truly vinify on a more precise basis.
During the alcoholic fermentation, the wine of Chateau La Clotte receives 4 pump-overs per day, punching down and delestage, which is the process of racking and returning. Malolactic fermentation takes place in 50% new, French oak barrels.
Chateau La Clotte is then aged in 50% new, French oak barrels for close to 15 months, depending on the quality and character of the vintage.
The best vintages of Chateau La Clotte are: 2022, 2021, 2020, 2019, 2018, 2017, 2016, 2015, 2014, 2010, 2009, 2008, 2005 and 2000.
On average, Chateau La Clotte produces 1,500 cases of wine per year.
When to Drink Chateau La Clotte, Anticipated Maturity, Decanting Time
Chateau La Clotte is much better with at least 5 – 7 years of aging in good vintages. Young vintages can be decanted for 1-2 hours. This allows the wine to soften and open its perfume.
Older vintages might need very little decanting, just enough to remove the sediment. Chateau La Clotte offers its best drinking and should reach peak maturity between 8-20 years of age after the vintage.
Serving Chateau La Clotte with Wine, Food, Pairing Tips
Chateau La Clotte is best served at 15.5 degrees Celsius, 60 degrees Fahrenheit. The cool, almost cellar temperature gives the wine more freshness and lift.
Chateau La Clotte is best paired with all types of classic meat dishes, veal, pork, beef, lamb, duck, game, roast chicken, roasted, braised, and grilled dishes. Chateau La Clotte is also good when matched with Asian dishes, hearty fish courses like tuna, mushrooms, and pasta.
The best vintages of Chateau La Clotte are: 2022, 2021, 2020, 2019, 2018, 2017, 2016, 2015, 2012, 2010, 2009, 2008, 2005, 2001 and 2000. However, 2015 is a big step in quality from the previous vintages of La Clotte, which is clearly due to the influence and direction coming from Alain Vauthier. And fortunately for fans of the wine, 2016 is even better!
www.chateau-ausone-saint-emilion.com
Château La Clotte Wine Tasting Notes
21 Vintages 90,652 Views Sort by Vintage-Rating
2022
Château La Clotte (St. Émilion Grand Cru)

Black plums, black cherries, licorice, and black raspberries with a floral edge lead to a richly-textured wine loaded with supple, creamy, soft, dark red fruits, licorice, spice, and salty chocolate that comes in at the backend of the finish. The wine blends 85% Merlot, with 15% Cabernet Franc. 15% ABV, 3.73 pH. Drink from 2025-2040. 93-95 Pts.

1,430 Views

Tasted

May 8, 2023

2021
Château La Clotte (St. Émilion Grand Cru)

Flowers, black raspberries, cocoa and plum notes open the perfume. Silky, soft and fresh, with an earthy, dark cherry and chocolate core of energetic fruits on the mid-palate and in the vibrant finish. The wine was produced from 85% Merlot, 10% Cabernet Sauvignon and 5% Cabernet Franc. 12.5% ABV. Drink from 2025-2039. 91-93

1,202 Views

Tasted

May 20, 2022

2020
Château La Clotte (St. Émilion Grand Cru)

Licorice, flowers, chocolate, black and blue fruits with crushed stones create the aromatic profile. The wine is fresh, lifted and packed with layers of perfectly ripe salty plums. The ocean-influenced theme continues all the way through to the long, expansive, leafy, spice-tinged finish. With its concentration, balance and elegance, this is the best vintage of La Clotte ever made. Prices have not yet caught up to the level of quality produced here. Drink from 2024-2050.

749 Views

Tasted

Mar 21, 2023

2018
Château La Clotte (St. Émilion Grand Cru)

Aromatically, the wine grabs you with notes of flowers, thyme, licorice, kirsch, espresso and cherries. Medium/full-bodied, silky, fresh and pure, you find depth of flavor, minerality, lush palate textures, vibrancy, length and loads of crushed rocks in the finish.

1,410 Views

Tasted

Mar 9, 2021

Medium/full-bodied, silky, fresh and pure, the wine has richness, depth, minerality, lush palate texture, length and a luxurious finish. This is a step up in quality for Chateau La Clotte. There is a real depth of flavor and opulence here in this vintage. 93-95 Pts

3,097 Views

Tasted

Apr 19, 2019

2017
Château La Clotte (St. Émilion Grand Cru)

Black raspberry, plum and vanilla scents open the perfume. Soft, silky and filled with juicy, ripe plums, licorice and dark cherries, there is freshness and flesh here. The wine was produced from 85% Merlot, 10% Cabernet Sauvignon and 5% Cabernet Franc.

2,309 Views

Tasted

Apr 26, 2018

2016
Château La Clotte (St. Émilion Grand Cru)

Deep red cherry and plums pop once the wine hits the glass. The wine is silky, polished, sweet and fresh. There is more purity of fruit than usual, which really lets the sweetness in the red fruits stand out. Medium-bodied, with a soft, inviting character, the freshness and sweet red berries in the finish really pop this year.

3,463 Views

Tasted

Sep 21, 2019

Succulent fruits, stone, fresh red plum and licorice start the show. Medium/full bodied with ample fruits, spice, herbs and earth, the tannins are smooth and the fruit offers character and charm. The wine was made from a blend of 85% Merlot, 10% Cabernet Sauvignon and 5% Cabernet Franc. The harvest took place October 12 to October 17. I had thought the 2015 was going to remain their best wine ever, but with the 2016, this is a new level of quality here.

4,025 Views

Tasted

Apr 29, 2017

2015
Château La Clotte (St. Émilion Grand Cru)

If you're looking for a wine with real, character, minerality, depth of flavor and the ability to age at a fair price, look no further. This insider wine is loaded with earthy, stony, fresh, ripe fruits, silky tannins and layers of ripe, dark, dark red fruits in the finish. There is a real depth of flavor here. Drink it young or age it.

3,682 Views

Tasted

Sep 17, 2018

This could be one of the steals of the vintage. There is more density and sweetness in the fruits than I have ever seen at this estate. The texture is fat and plush, the wine has purity and finesse coupled with weight, intensity and character. There is a real depth of flavor here.

4,278 Views

Tasted

Apr 29, 2016

2014
Château La Clotte (St. Émilion Grand Cru)

The first vintage from the new owners – the Vauthier family – this wine sports a mineral-driven, black raspberry and cherry personality with a sweet, soft, slightly dusty finish. 89-91 Pts

2,193 Views

Tasted

Apr 27, 2015

2013
Château La Clotte (St. Émilion Grand Cru)

Fresh, open, soft, and vinified for early drinking, this has an easy-to-like, plush character with dark cherries and cocoa. 88-90 Pts

1,766 Views

Tasted

Apr 28, 2014

2012
Château La Clotte (St. Émilion Grand Cru)

A nice perfume of licorice, cocoa, flowers and cherries opens to a medium-bodied, fresh wine with a focus on peppy, dark, red berries. 88-90 Pts

2,229 Views

Tasted

Apr 26, 2013

2011
Château La Clotte (St. Émilion Grand Cru)

From limestone, sand and clay terroir, this round-textured wine has notes of mineral and black raspberry with some dryness in the finish. 88-90 Pts

2,709 Views

Tasted

Apr 24, 2012

2010
Château La Clotte (St. Émilion Grand Cru)

Earthy, mineral scents with truffles and plums, soft tannins and a polished, stone and fresh berry finish, create this stylish, easy to like, well priced St. Emilion.

1,975 Views

Tasted

May 8, 2013

La Clotte from limestone, sand and clay terroir, this is the first vintage that the owner included Cabernet Sauvignon in the blend which consists of 85% Merlot, 10% Cabernet Franc and the remainder, Cabernet Sauvignon. Licorice, minerality, chocolate mint and plum aromas with soft textures, medium/full bodied and a fresh black cherry finish. Due to its high quality, great style and low price, this wine is often purchased by many of St. Emilion's most famous wine makers. 91-93 Pts

2,164 Views

Tasted

Apr 22, 2011

2009
Château La Clotte (St. Émilion Grand Cru)

With minerality, blackberry, black cherry and licorice, this ripe, round, open style of St. Emilion offers a lot of pleasure and remains one of the top values for St. Emilion

3,500 Views

Tasted

May 1, 2012

2009 La Clotte, from limestone, sand, and clay terroir, offers dark fruit, minerality, and freshness along with opulent textures. This wine remains one of the insider's secrets of St. Emilion. Because of its high quality, great style, and low price, this insiders wine is often purchased by many of St. Emilion's most famous wine makers. 91-93 Pts

3,585 Views

Tasted

Jun 28, 2010

2008
Château La Clotte (St. Émilion Grand Cru)

08 Château La Clotte. This château, which takes its name from ancient caves and the troglodytes who used to inhabit them, is only a stone's throw from Ausone. It shares the same as Ausone's elevation, and has similar, limestone packed soils. The vineyards are planted with 80% merlot, 17% cabernet franc, and 3% cabernet franc. The wine is deep ruby with mineral and black fruit aromatics. Aged 18 months in 50% new oak, the wine offers suave sensations of black fruit, licorice, coffee, and minerals in the long finish. Slightly more than 1,000 cases of this insiders' wine were produced in 2008. 91-93 Pts

3,807 Views

Tasted

Jul 1, 2009

2006
Château La Clotte (St. Émilion Grand Cru)

Medium ruby in color. With a tight nose that needed swirling to display aromas of jammy black fruits, minerals and fennel. The wine offers a plush entry and ends with a berry and mineral infused finish.

4,049 Views

Tasted

Jun 14, 2008

2005
Château La Clotte (St. Émilion Grand Cru)

At its peak of maturity, the wine is medium-bodied, soft, elegant and filled with tobacco leaf, crushed rock, red fruits, smoke and herbs. There is no reason to age this longer. It should remain at this high level until at least 2025-2030 before it begins to slowly decline.

3,451 Views

Tasted

Apr 8, 2020

Mineral drive, soft, fresh and sweet, there is ample complexities and ripe fruits to keep you busy. This is drinking well today.

4,272 Views

Tasted

Jun 28, 2016

Popped and poured, it cook 20-30 minutes to soften and for the floral, earthy, black raspberry and licorice character to come out. Another few years could help add more softness, but this is drinking at a nice place today.

3,619 Views

Tasted

Feb 17, 2015

This bottle is the perfect place for pleasure. Lots of dark cherries, blackberry, chocolate and licorice. Soft, silky and supple, the wine was popped and poured and got better and better in the glass.

3,387 Views

Tasted

May 17, 2014

If licorice, blackberries, fresh cut herbs and earth, round textures and an open, round, soft, ripe black cherry finish is your thing, you came to the right place. This showing nice now and should drink well for at least another decade.

3,466 Views

Tasted

Jan 4, 2014

Licorice, blackberry, blueberry, minerality, coffee, smoked herbs make up the perfume. Supple, rich and opulent in texture, the wine finishes with spicy chocolate covered, black cherries. Still young, 3-5 years in the bottle will add a lot to the wine.

3,627 Views

Tasted

Aug 20, 2011

If you are seeking a flashy, fleshy, rich textured Bordeaux wine that flows from the glass like lava from a volcano, you came to the right place. While offering great concentration and a decadent mouthfeel, the wine is not ponderous or heavy. Everything is in perfect balance. The oak, mineral, coffee and blackberry infused aromatics make the wine a pleasure to sniff, swirl and sip. The best thing is, this wine sells for a song in America. This is well worth buying by the case.

3,753 Views

Tasted

Jun 24, 2007

2003
Château La Clotte (St. Émilion Grand Cru)

Fully mature, ripe, but not overripe, the wine is round, soft, silky, sweet, and fruity with sweet, dark, red pit fruits, licorice, salt, and earth on the nose and in the finish. No decanting is needed, just pop, pour and enjoy.

1,791 Views

Tasted

Aug 30, 2021

2001
Château La Clotte (St. Émilion Grand Cru)

Mature and definitely ready to go, this charmer kicks in with its sweet, ripe, red plums, black cherries, crushed rock, truffle and tobacco leaf profile. Soft, refined, medium-bodied and with a nice dose of earthy red fruits and mushrooms in the finish, no decanting is needed, Just pop, pour and enjoy.

1,380 Views

Tasted

Sep 13, 2020

2000
Château La Clotte (St. Émilion Grand Cru)

Fully mature, this medium bodied, earthy, mineral driven, silky wine serves up fresh, sweet, ripe black and red cherries, truffle and stone notes.

4,488 Views

Tasted

Aug 8, 2013

1999
Château La Clotte (St. Émilion Grand Cru)

This mediumn bodied, pleasant but simple wine is fully mature and should be drunk up.

2,060 Views

Tasted

Jun 14, 2008

1966
Château La Clotte (St. Émilion Grand Cru)

Much better on the nose, with its earthy, tobacco, truffle, cherry and cigar aromas, than on the fading, starting to enter the tart stage of life palate.

1,736 Views

Tasted

Feb 4, 2015