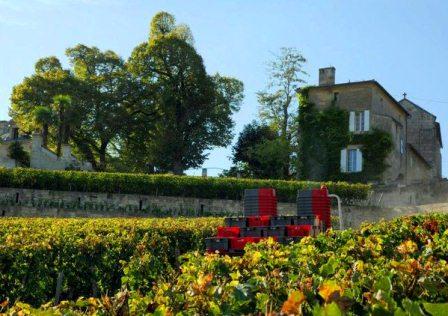 Learn everything about Chateau Ausone St. Emilion with wine tasting notes and wine with food pairings. Learn all the best vintages, the history of the property, and information on the vineyards and winemaking. If you want to read about other important, Bordeaux Chateaux: Links to all Bordeaux Wine Producer Profiles
Chateau Ausone History, Overview
There is no way to verify if the property we know as Chateau Ausone, was truly the original Lucaniac villa dating back to the 4th century belonging to the famed Roman poet Ausonius. What we do know is, if you go to the lower portion of the estate, you find numerous archaeological remains of an ancient Roman villa.
Among the ruins, you'll find mosaics showing the property was known as "La Villa du Palat." Regardless of where the poet planted his vineyards, Ausone has been produced for close to 4 centuries under the name honoring Ausonius from their hillside vineyards.
Chateau Ausone is one of the few famed Bordeaux estates that has remained a family vineyard. In fact, only 3 different families have owned the vineyard since it was originally created. This is quite a feat when considering the number of musical chairs taking place with all the buying and selling of Bordeaux chateaux.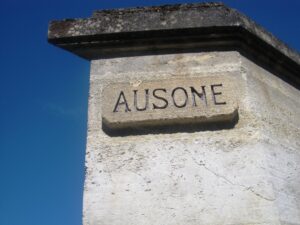 In order, the 3 family owners of Ausone are; the Lescours family from the 13th to the 16th centuries. This was followed by Jacques de Lescure and his heirs in the 17th century. At the close of the 17th century, The Chatonnet-Cantenat family along with the Dubois-Challon-Vauthier family took over.
Alain Vauthier who manages Chateau Ausone with his daughter Pauline Vauthier today is a direct descendant of the 17th-century owners.
Chateau Ausone The Modern Age
In the pre Vauthier era, the estate management was handled by Patrick Delbeck, who was assisted by Alain Vauthier. But it was Delbeck who called the shots at the time.
Tasting those wines shows how much progress has been made since the Vauthier era began. The Delbeck wines are frankly technically well made but lack excitement. There was no second wine, very little selection was employed and grapes were picked far too early.
And let's not forget effective yields. In those days, the average annual production of Ausone was close to 2,500 cases per year or more. Today, under Alain Vauthier, perhaps 1,500 cases are produced in a great year. Less wine is produced in a more difficult vintage. Tasting the wines today is all anyone needs to see the difference.
Alain Vauthier managed to take over the estate after a long and heated court battle with the other half of the family. Alain Vauthier was more than well versed with everything about Ausone by that time, as he was working as their winemaker since 1976.
It was rumored that a takeover bid was placed by Francois Pinault in 1997. The bid was reported to be the equivalent of 17 million Euros per hectare. As a point of reference, Chateau Cheval Blanc was sold at the equivalent of 15 million Euros per hectare at close to the same time.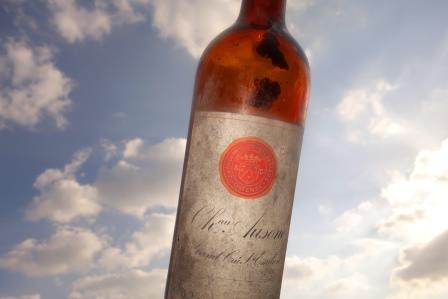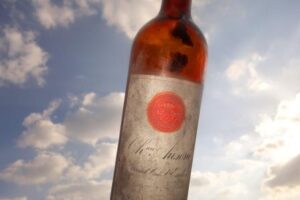 When you ask almost any chateau owner or vigneron to name the best terroir in Bordeaux, the overwhelming majority say it belongs to Chateau Ausone. That terroir, along with the skills of Alain Vauthier has turned Chateau Ausone into one of the best producers in the world!
With the 1999 vintage, Chateau Ausone began producing compelling Bordeaux wine of a singular quality that every taster should experience. At least once. One of the early decisions made by Alain Vauthier was to bring in Michel Rolland to aid in the blending.
In 2013, Ausone decided not to renew their contract with Michel Rolland. The blending is now done in-house by Alain Vauthier, Pauline Vauthier, and the long-time cellar master Philippe Baillarguet. Pauline Vauthier, who is a competitive horse rider continues taking a larger role in managing the estate and producing the wines at Chateau Ausone.
It is expected that Pauline Vauthier will eventually become fully in charge of the property in the years to come.
Another change implemented by Alain Vauthier was to install a new drainage system. The terraces and retaining walls were rebuilt. The vineyard sections with missing vines were replanted, and Ausone began a program of increasing their vine density. The multi-year restoration of the chateau and the tiny, old chapel on the property was completed in 2017.
In 2021, Chateau Ausone made a surprise announcement that from this point forward they would no longer participate in subsequent classifications. While the decision will not hurt Chateau Ausone in the eyes of the consumer, it did set back the classification to some degree. Chateau Cheval Blanc also declined to participate in future classifications on the same day. Shortly after that, Chateau Angelus also declined to participate. Starting with the 2022 vintage, Chateau Ausone will no longer state Premier Cru Classe A on the label.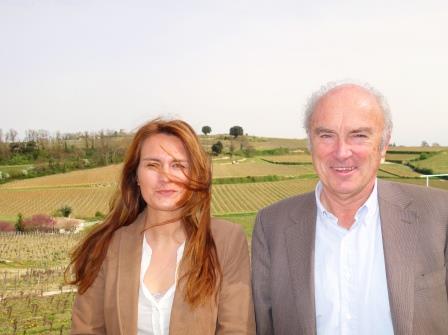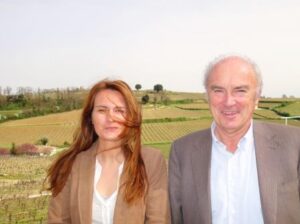 Chateau Ausone Style and Characteristics
The style of wine at Chateau Ausone is unlike most other wines. Minerality, from the massive limestone deposits in the soil, is what most tasters notice. The fruit retains a beautiful purity.
The wine is rich, full-bodied, and concentrated, yet it is not heavy. There is a lot of tannins, but the tannins are ripe. The wine offers powerful aromatics, filled with ripe black, blue and dark red fruits, accompanied by licorice, floral and crushed rock scents. Ausone
is built to age. Millionaires with the funds to buy these wines will need an equal amount of patience before the wines are mature.
The best vintages of Chateau Ausone are: 2022, 2021, 2020, 2019, 2018, 2017, 2016, 2015, 2014, 2012, 2010, 2009, 2008, 2006, 2005, 2004, 2003, 2001, 2000 and 1998. Most years of Ausone produced between 1965 and 1994 are often disappointing.
I seldom have the opportunity to taste vintages from 1964 or older. I've enjoyed the few bottles I've been honored to taste. I hear the really old vintages can be sublime. I was fortunate to be able to enjoy a thrilling 1934 and a very good 1952. But due to its tiny production, I seldom see very old bottles.
Located just outside of the St. Emilion village, there are only 2 ways to get to Ausone. A short hike up the steep hill. Or drive up its windy, twisting, small road. There is always the potential for problems going to Ausone during the busy En Primeur tastings because there is no way, 2 cars can travel in opposite directions at the same time.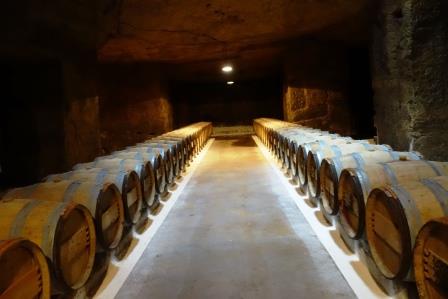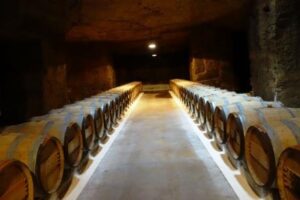 Chateau Ausone Vineyards, Terroir, Grapes, Winemaking
The 7-hectare vineyard is planted to 55% Cabernet Franc, 40% Merlot, 45 Cabernet Sauvignon, and 1% Petit Verdot. This marks a slow change in the vineyard over the years with the planting of more Cabernet Franc and reductions in the Merlot.
Cabernet Sauvignon is only included in the second wine. The vine density ranges from 6,500 to 12,000 vines per hectare for most of the vineyard.
However, today, over 15% of their vineyard is now planted with 12,600 plants per hectare. The newer plantings are at all the higher levels of density. It remains a distinct possibility that eventually the vine density of Chateau Ausone will be at the 12,600 plants per hectare level.
However, this is only being done a few vines at a time. The entire process is expected to take several decades. Vineyard management practices are done with an eye to organic and biodynamic farming techniques.
The steep, hillside terroir with its grades of 15% to 20% is clay with limestone and limestone over Asteria limestone in the soil. This is what gives the wine of Chateau Ausone its intense mineral character. As you move further down the steep slopes, you find more clay and limestone soils.
The vineyard sits in a natural amphitheater, with both sun and shade for the vines. Much of the vineyard enjoys southeast exposure. At its peak, the plateau reaches up to 85 meters in elevation.
The vines are old, in fact, the average age of the vines is 50 years. However, Chateau Ausone also has some of the oldest vines in St. Emilion. There are Cabernet Franc vines that are more than 100 years of age. The oldest vines were planted in 1906. Their oldest vines are planted next to their cellars. In fact, those old vines are considered to be the parcel in the vineyard.
Yields are low at Chateau Ausone. On average, they are close to 33 hectoliters per hectare. Low yields are the goal here. This is accomplished in part by early de-leafing and green harvesting and high levels of vine density, as we mentioned earlier.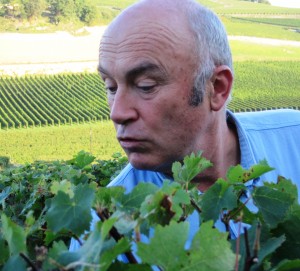 Changes in the cellars of Chateau Ausone took place in 2009. Alain Vauthier acquired a number of small, 6-hectoliter, refrigerated, stainless steel tanks that are used as holding tanks until they have enough fruit from a given vineyard block to fill a single wooden vat.
Keeping the fruit in these stainless steel tanks allows him to control the temperature and sanitary conditions. The vats can be readily moved with a forklift, once there is enough fruit ready to be gently poured into — and to fill one of the oak fermenters.
To produce the wine of Chateau Ausone, following a cold maceration, the vinification takes place in traditional, 54 hectoliter oak vats. Malolactic fermentation has taken place in French oak barrels since the 1995 vintage. The Grand Vin is aged in 100% new, French oak barrels up to 24 months, depending on the character and richness of the vintage.
There is a second wine, La Chapelle d'Ausone, which made its debut in 1995. La Chapelle d'Ausone is on average a blend of 50% Merlot and 50% Cabernet Franc. Although a very minor portion of Cabernet Sauvignon can be added as well in select vintages. On average, close to 1,500 cases of Chateau Ausone are produced each vintage. About 600 cases are made of La Chapelle d'Ausone every year.
The Vauther family owns other properties in Saint Emilion, Chateau Moulin St. Georges, Chateau Fonbel, Simard and Haut Simard. In 2014, the Vauthier family added another chateau to their growing portfolio of vineyards with the purchase of the neighboring vineyard, Chateau La Clotte.
Alain Vauthier also consults with other estates in Saint Emilion on their vineyard management and winemaking techniques.
When to Drink Chateau Ausone, Anticipated Maturity, Decanting Time
Chateau Ausone is much better with at least 15 – 20 years of aging in good vintages. Young vintages can be decanted for 4 hours or more. This allows the wine to soften and open its perfume.
Older vintages might need very little decanting, just enough to remove the sediment. Chateau Ausone offers its best drinking and should reach peak maturity between 20-50 years of age after the vintage.
Serving Chateau Ausone with Wine and Food Pairings
Chateau Ausone is best served at 15.5 degrees Celsius, 60 degrees Fahrenheit. The cool, almost cellar temperature gives the wine more freshness and lift.
Chateau Ausone is best served with all types of classic meat dishes, veal, pork, beef, lamb, duck, game, roast chicken, roasted, braised, and grilled dishes. Chateau Ausone is a perfect match with Asian dishes, hearty fish courses like tuna, mushrooms, and pasta as well as cheese.
www.chateau-ausone-saint-emilion.com
Château Ausone Wine Tasting Notes
55 Vintages 500,158 Views Sort by Vintage-Rating
2022
Château Ausone (St. Émilion Grand Cru)

Mint, licorice, spice, incense, blackberries, black cherries, espresso, flowers, crushed stones, spice and cocoa create the attention seeking nose. There is intensity, richness, depth, and energy on the palate. The influence of crushed rocks, stones, and chalk is strong on the palate. The peppery edge to the powerful layers of fruit provide additional complexity, and lift to the dark fruits. The resilient finish coats your palate with layers of salty, dark, sweet, black, red and blue fruits that linger. The wine blends 50% Cabernet Franc with 50% Merlot.15% ABV, 3.57 pH. Harvesting took place September 5-9 for the Merlot and September 21-27 for the Cabernet Franc. Yields were 38 hectoliters per hectare. 1,600 cases were produced. Drink from 2030-2065. 97-99 Pts.

1,903 Views

Tasted

May 8, 2023

2022
Chapelle d'Ausone (St. Émilion Grand Cru)

Deeply colored, the nose shows off its wild flowers, black raspberries, incense, and licorice nuanced perfume without asking. Medium-bodied, creamy, lush, fresh, and with a strong sense of minerality, the wine fills your palate with chocolate, mint, spice, licorice, and black cherries before you find all the salty, crushed rocks, and stones on the back end. Once again, it is difficult to believe this is a second wine. The wine blends 60% Cabernet Franc, 35% Merlot and 5% Cabernet Sauvignon, 15% ABV, 3.52 pH. Drink from 2027-2048. 93-95 Pts.

1,037 Views

Tasted

May 8, 2023

2021
Château Ausone (St. Émilion Grand Cru)

Underbrush, smoke, cigar wrapper, espresso, spice, dark cocoa, flowers, and the strong sensation of crushed rocks and stones tossed into the Atlantic ocean create the enticing bouquet. On the palate, the wine is medium/full-bodied, elegant, polished, and chalky with layers of sweet, ripe, earthy, red pit fruits, salty tannins, herbs dark chocolate. There is length, minerality, and complexity on the mid-palate and a vibrancy to the red fruits with a strong crushed rock influence in the finish. This is a serious candidate for the wine of the vintage. Made from a blend of 65% Cabernet Franc and 35% Merlot,12.8% ABV, pH 3.6. The harvest took place from September 30 - October 6. The yields were 30 hectoliters per hectare. Only 1,200 cases were produced this year. Drink from 2028-2065. 96-98

1,723 Views

Tasted

May 20, 2022

2021
Chapelle d'Ausone (St. Émilion Grand Cru)

Ruby in color, you find an intriguing cedar, leafy herb, tobacco leaf, coffee bean, red plum and black raspberry nose with a touch of cinnamon in the background. On the palate, the wine is medium-bodied, lively, fresh and vibrant, with a crisp edge to the red fruits on the palate. The wine blends 75% Cabernet Franc with 25% Cabernet Sauvignon, 12.6% ABV. This is the first vintage of Chapelle d'Ausone without any Merlot in the blend. Drink from 2026-2037. 91-93

882 Views

Tasted

May 20, 2022

2020
Château Ausone (St. Émilion Grand Cru)

The captivates your focus with its showy display of flowers, crushed rocks, black, red and blue fruit, espresso and thyme. It takes a bit of coaxing and patience, but there is an incredible level of depth, purity, refinement, and vibrancy at play here on the palate as the wine gently coats your palate with its layers of salt-infused, black and dark red fruits. The deep seamless finish crosses the 60 second mark and keeps on going as it continues showing off its essence of minerals of fresh berries. This could be the longest lived wine of the vintage. Drink from 2030-2075.

1,417 Views

Tasted

Mar 21, 2023

2020
Chapelle d'Ausone (St. Émilion Grand Cru)

Flowers, leafy herbs, mint, espresso, cherries, plums and a hint of blueberries come alive in the aromatic profile. But, the best is yet to come with its array of minerals, rocks, stones and salt-tinted red and black fruits that cross your palate with length, lift, precision, purity and soft, smooth-textures. It is difficult to believe that this is their second wine. Drink from 2025-2040.

456 Views

Tasted

Mar 21, 2023

2018
Château Ausone (St. Émilion Grand Cru)

With a depth of flavor that feels like they managed to pack a magnum into a single bottle, this wine is all about its intensity and incredible sense of minerality and purity. Rich, fabulously concentrated and deep, the seamless finish which surpasses 60 seconds is loaded velvet drenched black, blue and red fruit, spice, smoke, earth, licorice, crushed rocks, stones and oyster shells. The cashmere tannins, and vibrancy is awe inspiring. The wine blends 60% Cabernet Franc and 40% Merlot, 14.5% ABV. If you have the money, there are few wines at this level of quality produced from any vineyard in the world.

4,267 Views

Tasted

Mar 9, 2021

The color of purple ink, this wine displays an incredible level of density. It is hard to understand how they place so much fruit in a glass of wine and yet it is light on its feet! There is a purity here that resembles eating fruit off the vine seconds before it was picked. The finish is packed with minerals, red, black and blue fruit, flowers, spice, earth, rocks and stones and it has a 60 second impact. The cashmere tannins, freshness on the palate, density, length and purity are remarkable. The wine is made from a blend of 60% Cabernet Franc and 40% Merlot, reaching 14.5% ABV with pH 3.65 and is aging in 100% new, French oak for 20 months. The Merlot was harvested on two days, September 25 and September 27 and the Cabernet Franc was picked October 3, 8 and 9. The wine was made from low yields of 32 hectoliters per hectare. If you have the money there are few wines at this level of quality produced from any vineyard in the world. 98-100 Pts

5,841 Views

Tasted

Apr 19, 2019

2018
Chapelle d'Ausone (St. Émilion Grand Cru)

Fresh, bright, stony, mineral driven black and red fruits with precision, length, purity, lush, soft textures and finish packed with ripe, sweet, plums, cherries, licorice, smoke and espresso. It is difficult to believe that this is their second wine.

1,208 Views

Tasted

Mar 9, 2021

Deeply colored, the wine is rich, lush, round and concentrated. There is focus, precision, length and purity with notes of ripe, sweet, fresh, black cherries, plum, licorice, smoke and crushed stones on the nose and palate. It is difficult to believe that this is their second wine. 93-95 Pts

4,820 Views

Tasted

Apr 19, 2019

2017
Château Ausone (St. Émilion Grand Cru)

Dark ruby with purple accents on the rim, the wine is luxuriant, full bodied, lusciously textured, sensuous and with all that going on, this is also quite refined. The mineral driven, sweet dark red fruits offer an impressive sense of purity. There is persistency and vibrancy on the palate. Made from a blend of 55% Cabernet Franc and 45% Merlot, the wine reached 14% ABV with a pH of 3.5 and represents 80% of the crop. The harvest took place from September 23 to September 29.

3,742 Views

Tasted

Apr 26, 2018

2017
Chapelle d'Ausone (St. Émilion Grand Cru)

Licorice, crushed stone, espresso, flowers and black cherry liqueur initiate the encounter. From there you'll progress to a finesse styled, supple textured wine with scrumptious red berries that deliver lift and sweetness.

2,232 Views

Tasted

Apr 26, 2018

2016
Château Ausone (St. Émilion Grand Cru)

Deep, dark garnet in color, you are instantly hit with a unique note of flowers and crushed rocks as you first nose the wine. On the palate, it tastes and feels liquefied essences of rocks and perfectly ripe, dark pit fruit and blackberries. The wine has symmetry. Everything is in balance between the fruit, tannins and acidity. The seamless finish, with its non-stop waves of fruit coats your palate in all the right ways. The wine remains with you for over 60 seconds! From a blend of 50% Cabernet Franc and 50% Merlot, this is one of the wines of the vintage. If you have cash, and the time to wait for maturity, this is a future legend in the making!

5,333 Views

Tasted

Sep 21, 2019

Flowers, blackberry, boysenberry, licorice and blue fruit are complicated by smoke and crushed rocks to conjure up the aura and the essence. On the palate, the wine is full bodied, intense and nearly bottomless in depth. The character evokes molten minerals blended with the perfect fruits. There is a sense of purity in the red, blue and black fruits, which revolves in the racy finish. Using an even split of 50% Cabernet Franc with 50% Merlot, the wine reached 14% ABV with a pH of 3.5 and is aging in 100% new French oak barrels. This represents 75% of the crop, the yields being 40 hectoliters per hectare.

7,443 Views

Tasted

Apr 29, 2017

2016
Chapelle d'Ausone (St. Émilion Grand Cru)

With a rich, ruby hue, the wine is floral, smoky, spicy and shows a touch of oak, along with ripe, red black raspberries and plums. Lusciously textured, with silky tannins and a wealth of sweet, ripe, pure, red fruits, the tastes as good as it feels on the palate. Give it 6-8 years to spread out, for the oak to integrate and the tannins to meld into the wine. Enjoy it for the next decade after that. It is interesting to note the blend as it was made 56% Cabernet Franc, 22% Merlot and 22% Cabernet Sauvignon. This is unique as it is the first vintage with such a high percentage of Cabernet Sauvignon in the blend.

2,480 Views

Tasted

Sep 21, 2019

Deep in color and blending 56% Cabernet Franc, 22% Merlot and 22% Cabernet Sauvignon, the wine is rich, structured, full bodied and tannic, offering dark red and black fruits with equally dark chocolate. The wine is concentrated, fat and really dense this year. It's important to note the blend, because it is the highest percentage of the Cabernet's ever used in this wine. The vines are young and not quite ready to include in the Grand Vin but they are close.

2,211 Views

Tasted

Apr 29, 2017

2015
Château Ausone (St. Émilion Grand Cru)

Is there a more consistent wine in Saint Emilion? Perhaps, but it is hard for me to think of any wine that produces wine at this high level of quality, vintage after vintage. 2015 continues that streak. This is what intensity is all about, on the nose and palate. Picture a bucket of insanely ripe black cherries, black plums and licorice squeezed over rocks and stones before it's placed into your glass, and well you get the idea. The purity of fruit, incredible level of concentration, silky tannins and a finish that stays on target for at least 60 seconds or longer is what you'll find here. The only issue is, you need to buy this for your kids, as it's going to take 20years or more to start showing its stuff. But, if you have the money and the time...

7,325 Views

Tasted

Sep 17, 2018

A luminous hue of ruby ink with a wink of purple, this wine is refined and intense. There is a wealth of sensuous fruits, fresh flowers and the essence of crushed stone. The texture is pure velvet. The finish stays with you like a fragrance in the air, long after she's left the room. If you cannot afford this stunning wine (and I am in your boat as well) seek out prosperous friends so you can drink their wine. 2015 is a unique expression of Ausone that needs to be tasted at least once. Made from a blend of 50% Cabernet Franc and 50% Merlot, the wine reached 14% ABV with a pH of 3.6 and represents 70% of the crop. The harvest took place from September 29 to October 10.

6,103 Views

Tasted

Apr 29, 2016

2015
Chapelle d'Ausone (St. Émilion Grand Cru)

It is hard to believe this is a second wine with all that is going on here. The black and red fruits are ripe, intense, fresh and sweet. The tannins are soft and ripe, giving you soft, polished, elegant textures, volume and complexity.

2,462 Views

Tasted

Sep 17, 2018

With 45% Merlot, 45% Cabernet Franc and 10% Cabernet Sauvignon in the blend, it is easy to find floral notes, licorice, black cherry, vanilla and spicy tones. Richly textured with density in the mouth, silky tannins and a sweet blast of ripe, polished fruits that show up in the end note.

3,031 Views

Tasted

Apr 29, 2016

2014
Château Ausone (St. Émilion Grand Cru)

Showing an espresso, earthy minerals, flowers and dark fruit nose, this wine has lush, sensuous tannins and there is a serious sense of purity to the fruit. The long finish is silky, giving you a posh texture in the mouth and finishing with a suave, black cherry and licorice note. Using 60% Cabernet Franc and 40% Merlot, the wine reached 14% ABV with a pH of 3.5 and represents 67% of the crop. The yields were only 27 hectoliters per hectare. 96-97 Pts

4,187 Views

Tasted

Apr 27, 2015

2014
Chapelle d'Ausone (St. Émilion Grand Cru)

With 50% Merlot, 40% Cabernet Franc and 10% Cabernet Sauvignon, this wine offers tobacco, black raspberry, vanilla, cocoa and earthy character in its perfume. Medium bodied, with fresh, ripe, polished, elegant red fruits, this is a charming vintage for Chapelle d'Ausone. 90-92 Pts

2,469 Views

Tasted

Apr 27, 2015

2013
Château Ausone (St. Émilion Grand Cru)

Deep garnet in color with crushed rock, black raspberry liqueur and flowers on the nose. Sweet, luxurious, sensuous and velvety, this wine pleases the palate with a burst of ripe plums. The oak is completely integrated. Finally, an Ausone that does not demand decades to come around! With a blend of 55% Cabernet Franc and 45% Merlot, the yields were only 22 hectoliters per hectare. That means that only 750 cases will be produced in this vintage. The wine is aging in 85% new French oak barrels. The Grand Vin represents 67% percent of the harvest. 93-95 Pts

5,889 Views

Tasted

Apr 28, 2014

2013
Chapelle d'Ausone (St. Émilion Grand Cru)

With crushed stone and black raspberry on the nose, this petite and pretty wine showcases finesse, freshness and delicate, ripe cherries. Blending 60% Cabernet Franc, 25% Merlot and 10% Cabernet Sauvignon, the wine is aging in 85% new French oak. 88-90 Pts

2,614 Views

Tasted

Apr 28, 2014

2012
Château Ausone (St. Émilion Grand Cru)

The Merlot was harvested on October 9, 11 and 12, while the Cabernet Franc was picked October 13, 15 and 17, with yields of 32 hectoliters per hectare. The assemblage is 55% Cabernet Franc and 45% Merlot and will be aged in 85% new French oak for 18 months. Floral, stone, licorice and black cherries create the aromatics. Supple, rich, mineral-driven and polished black cherry and raspberries end with the one of the richest, most opulent finishes of the vintage. 95-97 Pts

6,468 Views

Tasted

Apr 26, 2013

2012
Chapelle d'Ausone (St. Émilion Grand Cru)

From a blend of 60% Cabernet Franc, 25% Merlot and 15% Cabernet Sauvignon (Cabernet Sauvignon is never included in the Grand Vin), the wine will be aged in 85% new French oak for 20 months. Oak, fennel and plummy notes, soft tannins, and a long and fresh black raspberry finish are what you'll find in this wine. It's hard to believe this is the product of a second wine. 90-92 Pts

3,279 Views

Tasted

Apr 26, 2013

2011
Château Ausone (St. Émilion Grand Cru)

From a blend of 55% Cabernet Franc and 45% Merlot, the wine goes through fermentation and maceration in thermoregulated wood vats and is aged in 100% new oak for about 20 months. Inky, dark and opaque with blue and purple accents in the color, this wine shows intense mineral, blackberry liqueur, blueberry, smoke, truffle and ripe, sweet essence of black cherry. Rich, concentrated, lush and mouth filling, the wine is graceful, elegant and balanced. This is a definite candidate for wine of the vintage. 96-98 Pts

4,877 Views

Tasted

Apr 24, 2012

2011
Chapelle d'Ausone (St. Émilion Grand Cru)

Blending 60% Merlot, 30% Cabernet Franc and 10% Cabernet Sauvignon, the wine opens with crushed stone, smoke, floral and cherries. Supple and sweet, the wine feels like polished black cherry. This is definitely the best second wine in Bordeaux today. 90-92 Pts

4,849 Views

Tasted

Apr 24, 2012

2010
Château Ausone (St. Émilion Grand Cru)

Ausone From a blend of 55% Cabernet Franc, 45% Merlot, the wine will be aged in 100% new oak for about 20 months. 67% of the yields were placed into Ausone, the remainder will become Chapelle d'Ausone . The nose offers aromas of broken rocks, sweet, ripe, dark berries, licorice, flowers, spice, minerality and smoke. Full bodied, rich, and concentrated, this supple, polished wine is filled with fresh berries, freshness, spice, jam, fennel, minerality and black cherry in the finish. 95-97 Pts

9,812 Views

Tasted

Apr 21, 2011

2010
Chapelle d'Ausone (St. Émilion Grand Cru)

Chapelle d'Ausone 65% Merlot, 25% Cabernet Franc and 10% Cabernet Sauvignon produce the blend. Like its big brother, the wine will be aged in 100% new oak for about 20 months. This is the debut vintage for Chapelle d'Ausone to feature a large percentage of Cabernet Sauvignon in the assemblage. Smoke, cassis, stone and fresh blackberry aromas pair with a medium full bodied, sweet, round, tannic, blackberry and chocolate finish 92-93 Pts

5,873 Views

Tasted

Apr 22, 2011

2009
Château Ausone (St. Émilion Grand Cru)

2009 Ausone offers crushed stone, smoke, fennel, and black with blue fruits in the nose. Full bodied and supple, this rich, silky, voluptuous wine, produced from 55% cabernet franc and 45% merlot, ends with sweet plums, minerals, and dark berries. 96-98 Pts

9,505 Views

Tasted

Jul 28, 2010

2009
Chapelle d'Ausone (St. Émilion Grand Cru)

2009 Chapelle d'Ausone, with its mineral, smoke, and mixed berry nose, comes across as a mini version of its big brother, Ausone. 91-93 Pts

6,510 Views

Tasted

Jul 28, 2010

2008
Château Ausone (St. Émilion Grand Cru)

2008 Ausone smells like you just stepped into a rock quarry that is in full production. This intense sensation of minerality is enhanced with scents of fresh, ripe, blackberry, coffee, oak, spice and violets. Full bodied and intense, this opulent, concentrated, deep, suave polished wine is long, fresh, intense and pure. It really fills your mouth and palate, ending with a finish that lasts close to sixty seconds! 98 Pts

6,501 Views

Tasted

Jul 18, 2010

08 Château Ausone contends for wine of the vintage. The wine is densely concentrated with stunning levels of rich, ripe, opulent fruit. Great purity of flavors emerge in the long, elegant, mouth filling finish that leaves your palate coated with black and red fruits, spice, and chocolate. Proprietor Alain Vauthier continues slowly but steadily to increase the levels of cabernet franc planted on the property at the measured pace of about ¼ HA every three or four years. 96-99 Pts

6,324 Views

Tasted

Aug 1, 2009

2007
Château Ausone (St. Émilion Grand Cru)

Charming, polished, fresh, elegant and offering pleasure today, the sweet black cherries, black raspberries and plums and complicated with earthy, floral notes. Unlike most vintages of Ausone, this is not a wine that requires more aging.

5,257 Views

Tasted

Oct 6, 2014

2006
Château Ausone (St. Émilion Grand Cru)

Clearly a contender for wine of the vintage. In a year of masculine styled wine, this is soft, refined and elegant. The ripe tannins are buried under a wealth of ripe fruit, stone, floral and earthy charms. Not close to mature, but offering a beautiful, velvet, focused tasting experience today. If I owned a bottle, I would wait at least 10-15 or 20 years. But if you own a case and you're curious.... why not?

2,636 Views

Tasted

Oct 6, 2014

2005
Château Ausone (St. Émilion Grand Cru)

With a wall of crushed rocks, mint, flowers, juicy, sweet, plums, cherry and blackberry, this inky colored wine is clearly massive, intense, and concentrated. Powerful, yet refined, this is quite tight at the moment and not fun to taste. Give it at least another decade and a few hours of air, and the magic should happen.

8,475 Views

Tasted

Feb 5, 2017

A few hours in the decanter was not enough. With a few hours of additional air in the glass, the wine expanded, opened its perfumed, mineral drive, floral nose, filled out in the body and began to display an incredible level of finesse, elegance, length and purity of fruit. Nowhere near ready to drink, this is all about potential, something this wine has in spades.

6,964 Views

Tasted

Mar 19, 2016

Like Archie Bell and the Drells, this wine has started to tighten up. It was hard to get a read on the wine. Deep colors with beautiful, mineral laden perfume. But the wine was not fully open and the finish was held in reserve. With ample coaxing, I was able to catch a glimpse of the wines purity, ripeness, complexities and charm. The wine is shutting down for a long sleep. Having had this multiple times since late 05, I have no doubt this wine will be a legend on maturity.

8,442 Views

Tasted

Jul 21, 2008

The deep, almost opaque color catches your eye before your nose experiences a wealth of mineral, infused fruit. Then... boom! A huge mouthful of delicious ripe, Cab Franc and Merlot takes over every one of your senses. The finish which fills your palate and every nook and cranny of your mouth with fat, sexy, rich and absolutely seamless. Not a thing was out of place, everything was in balance.

10,320 Views

Tasted

Nov 9, 2007

This Bordeaux elixir tasted like a boysenberry volcano erupted and they bottled the lava. It is that thick and intense. Minerals, chocolate, insane levels of concentration, intense purity and a finish lasting over a minute are the hallmarks of the wine.

10,087 Views

Tasted

Jun 22, 2007

2005
Chapelle d'Ausone (St. Émilion Grand Cru)

There is no better second wine being made in Bordeaux today than Chapelle d'Ausone and Alain Vautheir has never produced a better Chapelle d'Ausone than he did in the 2005 Bordeaux vintage. This wine will beat several big names in a blind tasting. Licorice, minerals, stone, black raspberry liqueur and fresh boysenberries make up the perfume. On your palate, this rich, full bodied, intense wine ends with an intense, deep, spicy, ripe, sweet, black and red fruit filled finish. This is still young today, but it can be enjoyed with an hour of air. Else, if you can wait, give it another 3-5 years and drink it over the next 2 decades. Savvy buyers who picked this up as a future scored a really nice St. Emilion wine.

7,088 Views

Tasted

Oct 17, 2011

2004
Château Ausone (St. Émilion Grand Cru)

A candidate for the longest lived wine of the vintage, the powerful, rich, deep wine is youthful, complex and full bodied. Air and coaxing were needed to find the floral, licorice, stone, black fruit, earth, smoke and spicy character. This needs at least another decade before it's ready to drink.

8,051 Views

Tasted

Nov 30, 2014

2003
Château Ausone (St. Émilion Grand Cru)

The wine of the vintage from the Right Bank is relatively youthful, concentrated, and rich, with a serious depth of raw materials, ripe fruits and minerality. The exotic textures are perfectly matched by the complex earthy, licorice, floral, plum, black cherry and crushed rock filled nose. The incredibly long, expansive, mineral drive finish must last for close to 60 seconds on your palate.

7,520 Views

Tasted

Feb 18, 2015

Showing some signs of aging in the color, the wine pops with stone, truffle, flowers, licorice, cassis and black raspberry scents. Rich, deep, concentrated, lush and pure, the finish is long, intense and focused, with sensations of minerality. Power, purity and finesse. Based on the track for aging found in Ausone, this will only get better with time. Now, if only I could afford it!

6,346 Views

Tasted

Oct 23, 2013

With effort, licorice, caramel, intense minerality, floral, boysenberry, blueberry, plum, espresso bean and spice scents start to come alive. There is incredible levels of concentration in this wine. It's packed and stacked with all the right stuff to age and develop for decades. However, it's not a lot of fun to drink today. The sensation of quality is there, but it's like taking a Ferrari for a spin in a parking lot. Smells good, sounds good and feels even better. But it needs to open up. Currently, it's tight and primary. 2003 Ausone demands air, coaxing and time to come But if you have the money and want an example of the best Right Bank of the vintage, this is the wine to buy!

9,369 Views

Tasted

Dec 13, 2012

This Bordeaux wine is pitch black! Like a black hole in space, light does not pass through. On the nose, an incredible smell of blackberry liqueur, intense levels of minerals, spice, herbs and earth takes over your nose, makes you sit up straight and pay attention. Incredibly concentrated with so much rich, deep, ripe fruit, the best way to imbibe this massive wine might be with a spoon. It is that unctuous! The wine should been decanted all day instead of 3 hours as it only teased us with what it will deliver when fully mature.

9,136 Views

Tasted

Jul 20, 2007

2003
Chapelle d'Ausone (St. Émilion Grand Cru)

A little oaky, but the texture is silky. The wine is concentrated, the fruit is fresh, sweet, clean and pure, with an herbal accent in the finish. With about 45 minutes of air, this shows quite well. It's a nice wine, but it does not really resemble its more famous, big brother.

3,550 Views

Tasted

Oct 17, 2016

2002
Château Ausone (St. Émilion Grand Cru)

Caramel, smoke, stone, blackberry, plum and cherry notes lead to a primary wine that offers all the right stuff. But it's a long way from maturity and demands time in the cellar.

7,319 Views

Tasted

Dec 13, 2012

2001
Château Ausone (St. Émilion Grand Cru)

The display of minerality notes, with all its crushed rock, salt, and oceanic nuances is all over the place here. Still young, but slowly coming into its own, the wine is full-bodied, concentrated and fresh, with notes of flowers, cherries, leaf, and a myriad of dark red berries come through on the nose. The palate is rich, focused, complex and energetic with great tension, and did I mention the pallet of crushed rocks and limestone that come along all that fruit. As a guess, another 5 years will add more delicacy and comeplxity bringing this to right place for consumption.

4,101 Views

Tasted

Oct 22, 2021

OK, this is still primary, but its impossible not to be seduced by the melted rocks, pure black cherries, licorice and earthy perfume. The wine is intense, concentrated, fresh and pure. The tannins are ripe and silky, ending with a finish that goes on and on and continues from there. OK, you are at least a decade from maturity. But I can safely say, this is going to be stunning when it enters into the mature stage of life.

7,187 Views

Tasted

Jul 10, 2015

The level of truffle, crushed stone, floral, boysenberry, gunpowder, smoke and fennel is close to being off the charts. Thick, rich, intense and concentrated with sweet, ripe fruit and lush tannins that are perfected by a finish that continues to linger, this is a stunning St. Emilion and the of wine of the vintage.

7,250 Views

Tasted

Dec 13, 2012

OMFG! Those 4 letters should say it all. This magic Bordeaux elixir is a mind blowing tasting experience! The perfume might get you started with its blend of deep, dark, fruits, minerals and spices, but the endless waves of perfectly ripe fruit, power, glycerin, elegance and balance that lasts close to :90 are going to keep you interested in the wine. Still young, no make that still very young, this is an amazing tasting experience that is a reference point wine. 01 Ausone truly expresses an amazing purity of fruit that is seldom found in any wine.

5,901 Views

Tasted

Jun 6, 2008

Inky black with shiny deep purple accents. The aromatics come out to play with coaxing. Flowers, black and blue fruits, spices and minerals already show themselves. On the palate, your mouth and senses are treated to a focused display few wines show. The riveting palate presence, with layer after layer of some of the sexiest, ripest, most opulent fruit you'll ever taste is out of this world! Very tannic backbone. This will age for decades. But, there is so much fresh, perfectly ripe fruit, it's already easy to discern how good this is, and even better, how amazing it's going to be!

5,396 Views

Tasted

Dec 27, 2006

2000
Château Ausone (St. Émilion Grand Cru)

If your thing is ripe, red fruits poured over rocks, stones and salty minerals with the weight and density of motor oil, a perfume that packs flowers, wet earth, truffle, herbs, oceanic brine and a basket of red and black pit fruits, with a finish that coats your palate, teeth and gums for over 60 seconds, this could be your wine. Still young, but with a long future, and by long, I mean 60-80 years, this is what great wine is all about. If you are planning on popping a bottle, give it 2-3 hours in the decanter, else wait a decade for it to evolve, soften and add even more complexity.

3,922 Views

Tasted

Dec 8, 2021

There is so much concentration of this unique blend of black and blue fruit, flowers, licorice and crushed rocks, you might be tempted to eat it with a spoon! The wine fills your palate and really fleshes out with air. Nuance and complexity, length and purity of fruit, with the essence of crushed stone, 3 hours of decanting clearly helped. 15-20 more years of cellaring will help even more! This is a future legend of Bordeaux.

6,528 Views

Tasted

Nov 12, 2017

Off the charts in every sense of the word. Decanted 4-5 hours before serving helped open the mineral, floral, dark red fruit, smoke and earthy nose. But the palate was where the real action took place. Thick, dense and incredibly concentrated, yet light on its feet, due to its natural freshness. The purity of fruit was right there, as was the 60 second finish. Still young, 6 hours of air might have been a slightly better choice. Else, give it at least 5-10 years before popping a cork.

6,197 Views

Tasted

Sep 10, 2016

Now, this is wine you seldom get to taste these days. With only a splash decanting the exotic aromatics popped with licorice, spice box, flowers, black raspberry, dark cherry, stone and hints of wet earth. Full bodied, concentrated, long and rich, yet light on its feet with supple, smooth tannins and a long expansive finish that builds and expands. There is a beautiful purity of fruit that is seldom found in most wines. Shockingly expensive, but if you bought this early as a future, or if you're part of the one percent crowd, this youthful wine really delivers the goods.

7,220 Views

Tasted

Dec 7, 2013

Violets, smoke, raspberries, flowers, coffee and minerals are to die for! Keep in mind, this is all from a 6 year old wine! This has so much glycerin, tannin and rich, amazingly ripe fruit, it's hard to believe. The over sixty second finish is completely seamless. The 2000 Ausone has to be experienced because words do not do it justice. Petrus strives to be this good and distinctive

12,037 Views

Tasted

Mar 14, 2006

This wine combines levels concentrated fruit with a viscosity that has to be tasted to be believed! It combines the thickness of motor oil with pure silk and velvet! While insanely ripe, it's not over the top and maintains a balance and sophistication I've never previously encountered in any wine. Take perfectly ripe black fruit, crushed rocks plus exotic spice and find a way to place a magnum worth of wine into a single bottle and you get an idea of what this beauty will taste like.

10,198 Views

Tasted

Nov 7, 2004

1999
Château Ausone (St. Émilion Grand Cru)

A clear candidate for wine of the vintage, this stunner is concentrated, full-bodied, deep, long, and intense Multi-faceted and multi-layered, the wine finishes with ample freshness and crushed stones with a touch of thyme that builds and lingers. Drink from 2025-2055.

3,600 Views

Tasted

Jul 16, 2022

This is a gem. The essence of rocks and stones is all over the nose and palate which is accompanied by layers of ripe plums, cherries, licorice, earth and flowers. On the palate, the wine shines with its length, purity and elegant hedonism. The wine of the vintage. This is probably the best-priced example of Ausone that is showing well in the market today.

2,925 Views

Tasted

Sep 12, 2020

Crushed rocks, flowers, dark red fruits, blue fruit and even juicy black fruits are out in full force. Intensely concentrated, powerful, yet refined and elegant, the finish really sticks with you. Another 5-10 years will add even more to the wine. The bottle was doubled 3 hours before serving.

4,803 Views

Tasted

Nov 8, 2017

When first offered, this vintage of Chateau Ausone was a bargain at not much over $100. Those days are gone. At prices that make Lafite Rothschild look like a bargain, it's always a treat to taste Ausone. Broken stone, licorice, flowers, boysenberry, smoke, coffee and spice open the aromatics. Tannic, intense, pure, concentrated and mouth filling, the wine coats your tongue with pleasure ending with layers of fresh, ripe, pure, juicy plums and stone. Still young, give it another decade before the fireworks explode. Having tasted this several times over the years, this is the best showing yet for the 1999 Ausone.

6,851 Views

Tasted

Feb 21, 2012

Minerality, smoke, blackberry, herbs, forrest scents and stone make up the complex perfume that is found with ample coaxing. Full bodied and filled with soft, ripe, dark fruit, this wine will drink younger than most Vauthier era Ausone wines.

5,165 Views

Tasted

May 22, 2010

It's a study in texture, concentration and minerality. Still young, this stellar wine offers a unique profile for St. Emilion. From a cool year, this wine is a major accomplishment. Liqueur of black fruit and plums pour over your mouth and linger. Still young, assuming you can use the words value and Ausone together in the same sentence, this is the wine to buy if you want to drink it young.

5,055 Views

Tasted

Jun 6, 2008

1998
Château Ausone (St. Émilion Grand Cru)

Packed with salt-edged rocks and stones, the wine is fresh, vibrant, bright and on the deep, red fruit side of the style range. Full-bodied, with a crisp, mineral-driven palate presence and finish, this is starting to show quite well.

2,983 Views

Tasted

Apr 5, 2022

Very mineral driven, with loads of crushed rocks, stones and floral notes to accompany all the ripe, dark, juicy, vibrant energetic plums. This is starting to drink well, but give this concentrated, full-bodied wine at least 2 hours of air, before imbibing.

4,240 Views

Tasted

Sep 8, 2018

The best showing yet for this wine. With a few hours of air, the wine offers a mineral driven, plum, licorice, black cherry and wet earth character. Full bodied, concentrated, elegant, regal and complex, this is only starting to wake up and get noticed. Another 5 years will add a lot more softness and complexity to the wine.

7,908 Views

Tasted

Aug 16, 2015

Still youthful in appearance, the wine offers minerality, floral, earth, licorice and smoky blackberries in the perfume. Concentrated and tannic, the wine is a bit firm and requires at least another decade to soften and come together.

5,517 Views

Tasted

Dec 12, 2012

With its high proportion of Cabernet Franc, (almost 50%), remains tight at ten years of age. With decanting, black fruits, herbs, minerals and spices can be coaxed from the glass. Good concentration of raw materials. In character, the wine is slightly rustic in nature, especially when compared to Ausone produced at the Chateau in 1999 and later. This bottle indicates that 10-15 more years are needed before truly beginning to fully express its qualities.

7,249 Views

Tasted

Oct 10, 2008

1997
Château Ausone (St. Émilion Grand Cru)

In a state of decline, the fruit has moved to the cranberry side, with a tart core of red berries. Drink up, as this is not going to improve.

5,097 Views

Tasted

Nov 25, 2017

1996
Château Ausone (St. Émilion Grand Cru)

Austere in nature, there is an herbal, leafy edge to the fresh, red fruits crushed stone and earthy character. There is concentration and an almost Medocian nature to the fruit and tannins. Time should help, but fully soften and flesh out the wine. Lovers of classic Bordeaux that miss this style will like this more than I did.

6,151 Views

Tasted

Nov 25, 2017

96 Ausone showed a nice expression of ripe black and red fruits with an interesting mineral component. Very fragrant. Good texture. This is close to mature, but a few more years will help soften the wine and offer additional palate complexities. Tasted recently, I preferred the 95 Ausone. For a 96 Right Bank, this is a major success for the region.

6,394 Views

Tasted

Sep 22, 2010

Still young, this voluptuously styled wine is rich in character. Very sophisticated and lush. Dark berries, plums, spice and striking minerality are the hallmarks of this wine. Still young, this tannic wine needs another decade or two to flesh out.

4,413 Views

Tasted

Nov 1, 2005

1995
Château Ausone (St. Émilion Grand Cru)

Time has been nice to this wine. While there is a firmness to the tannins, with age, this full bodied, concentrated, fresh, berry and stone filled wine has filled out and softened considerably. That being said, another decade of age would help even more.

5,809 Views

Tasted

Mar 6, 2017

Quite nice, with air. Mineral driven, plum, earth, tobacco and spicy red and black fruits were in abundance. Other bottles have felt softer. A little more air would have probably made a difference. There was depth, flavor and character, but this specific bottle was not quite as good as the previous bottle I last tasted. Once again, there are only great bottles, not great wines after 15 years of age.

5,970 Views

Tasted

Jan 12, 2016

The first vintage with Alain Vauthier fully in charge offers aromatics of crushed stone, black raspberry, smoke, cherry, tobacco, floral elements and hints of leafy herbs. The palate straddles the fence between the firmness of the vintage and softer, rounder textures. Young, but offering secondary characteristics, drink now, or wait a decade for more flesh to develop.

3,389 Views

Tasted

May 24, 2014

1990
Château Ausone (St. Émilion Grand Cru)

On the sharp, bright, red berry side of the style range, with crushed stone, thyme and forest leaf edge, the wine is medium bodied, fresh, and ready to go. You find a sharp, semi sweet, red berry note dominating the finish.

4,277 Views

Tasted

Nov 18, 2017

1989
Château Ausone (St. Émilion Grand Cru)

The warm summer growing season added a lot to this wine. On the nose you find a blend of oyster shell, black cherries, plums, licorice, herbs and wet earth. The medium-bodied wine continues its theme on the soft, round textured palate, leaving you with sensations of ripe fruits, chalky tannins, earthy, herb, leaf and cherries. This is in a great place today for current consumption.

2,698 Views

Tasted

Sep 13, 2020

1985
Château Ausone (St. Émilion Grand Cru)

Light, bright, and fully developed, the wine is much more interesting on the crushed rock, tobacco, earth, spice and red plum nose than on the medium-bodied, stony, earthy, bright red berry palate.

3,058 Views

Tasted

Oct 22, 2021

1983
Château Ausone (St. Émilion Grand Cru)

Aromatically, it offered an interesting, spicy, mineral characteristic along with bright fruit tones, black raspberries and plums. Fully mature, rich and elegant, this will not improve.

4,472 Views

Tasted

Feb 17, 2005

1982
Château Ausone (St. Émilion Grand Cru)

Fully mature, medium-bodied, bright, crisp, fresh, crunchy red fruits mesh well with all the secondary notes of wet earth, spice, herbs, red plums, tobacco leaf, and cigar box aromas. This is fully developed, no decanting needed.

3,256 Views

Tasted

Dec 8, 2021

Fully mature, and on the lean, firm, bright side, you find wet earth, smoke, tobacco, flowers and cherries on the nose. The perfume is more interesting than the medium bodied, firm, palate. The red fruit is firm and there is a distinct, green edge in the finish. There is a lot to like here, but not a lot to love.

4,379 Views

Tasted

Dec 16, 2017

Smoke, tobacco, cassis, stone, red plum, spice and black raspberry and floral scents create the perfume. Medium/full bodied and soft in texture, the wine finishes with red and black, spice coated berries. This is a nice, fully mature St. Emilion. It lacks the depth and levels of concentration found in the wines being made at the estate today.

5,588 Views

Tasted

Nov 28, 2011

1967
Château Ausone (St. Émilion Grand Cru)

This could easily be the red wine of the vintage. The earthy, spicy, mineral driven, plum and cherry profile still offers interest, as does the soft palate, and bright, kirsch, cherries and spice in the finish. If you need a 1967 and you do not want to spring for d'Yquem, this is the wine to buy.

3,470 Views

Tasted

Apr 16, 2016

1964
Château Ausone (St. Émilion Grand Cru)

1964 Ausone was deep ruby with bricking in color. Spice, minerals, plums, truffles, dark cherries, cassis, forest floor and tobacco notes are in abundance. The silky, rich, thick mouth feel expresses the patina of age. The finish could have been longer, but I really liked the wine. While I do not get to taste enough Right Bank wines from 1964, the wines I have tasted continue to be impressive. 64 is the mature version of 1998.

5,761 Views

Tasted

Oct 27, 2010

1961
Château Ausone (St. Émilion Grand Cru)

A dramatically better bottle than my last tasting experience, this hit all the right notes with its cedar, mint, dried flower, cherry, red plum, and cigar wrapper nose. Concentrated, refined, long, and harmonious, this was simply thrilling to taste. Drink from 2023-2030.

165 Views

Tasted

Sep 25, 2023

Firm, austere, herbal and peppery, the tannins are tough and the bright fruits are crisp with a tart edge. The wine requires drinking.

2,410 Views

Tasted

Apr 6, 2022

Charming, in an old-school rustic way, the wine is earthy, mineral driven, leafy and crisp, with cocoa and bright red fruits. A bit stern on the palate, the wine is full bodied, but short, with a strong, metallic tone that runs underneath the red fruits.

3,565 Views

Tasted

May 31, 2018

1959
Château Ausone (St. Émilion Grand Cru)

Light ruby with bricking and tea in color, the nose offers sweet strawberries, tobacco, truffle, smoke, earth, spice box, cherry and stone aromas. Medium bodied, soft and silky in texture, this is more than fully mature and requires consumption.

3,493 Views

Tasted

Jul 13, 2012

1958
Château Ausone (St. Émilion Grand Cru)

Fading into oblivion, there is more earth, tobacco, herbs and olives, than fruit, in this rustically textured wine.

2,364 Views

Tasted

Jun 5, 2018

1955
Château Ausone (St. Émilion Grand Cru)

Now we're talking. Served double blind, this beauty displayed a mineral driven nose, complicated by cherry pipe tobacco, cedar wood, cigar box and hints of cherry blossoms in the nose. Full bodied, spicy sensuous, there is a lot to like about this wine

3,707 Views

Tasted

May 7, 2015

WOW! What a treat and a surprise to taste. Served blind, I was sure this was decades younger due to its fresh fruit, aromatics and palate presence. Packed with ripe, jamy berries, minerality and smoky, tobacco scents, the wine was rich, plush, long and silky.

5,433 Views

Tasted

Oct 16, 2012

1952
Château Ausone (St. Émilion Grand Cru)

Young wines should never taste old. And old wines, when they are great, should retain some youthful characteristics. At close to 70, this light red, bricky hued beauty showed all the best aspects of tertiary and olfactory development/ Yet, there was still a fabulous array of earth, tobacco, and stony red fruits to enjoy. The tannins have melted away with age. The remaining fruits offered lift, freshness and sweetness in the finish. We were lucky this bottle was so good, as that's not always the case with wines of this age. But when old wines hit, that's when the magic happens!

3,227 Views

Tasted

Nov 20, 2019

Perhaps the reason most folks do not understand Ausone is that they have not enjoyed the wine at 60 years of age. Holding on to its opulent texture, stone sensations and fruit, the wine served up a salty blast of cherries, rocks, stones and herbs. Just a super bottle from a seldom-seen vintage.

2,106 Views

Tasted

Oct 22, 2018

With a stone, fresh cherry and tobacco profile, the wine offered good character in its delicate, red berry profile. Do not decant this, except to remove sediment as it's hanging on by a high quality, but thin thread of life.

3,871 Views

Tasted

May 8, 2014

1934
Château Ausone (St. Émilion Grand Cru)

Wow! This bottle was majestic with its complex array of aromatics, silky textures, sweet, fresh fruits and earthy, delicate, elegant, long finish.

2,469 Views

Tasted

Oct 5, 2014

It's hard to believe I have able to taste this sublime wine twice. Soft, silky textures, sweet, spicy red fruits, stone and earth, with a long, fresh, fruit filled finish are what you will find, if the bottle has the right provenance.

2,412 Views

Tasted

May 8, 2014

Served blind, I was sure this was decades younger due to its freshness, vivacity and fruit. The fruit was clean, fresh, pure, spicy and long. The more wines I taste from 1934, the more I like the vintage Sadly, that does not happen often enough.

2,888 Views

Tasted

Jul 11, 2013