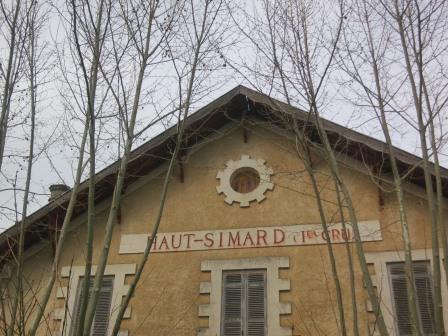 Learn everything about Chateau Haut Simard St. Emilion with wine tasting notes and wine with food pairing tips. Learn the best vintages, a history of the property, information on the vineyards, and winemaking. If you want to read about other important, Bordeaux Chateaux: Links to all Bordeaux Wine Producer Profiles
Chateau Simard History, Overview
Chateau Simard is owned by the Vauthier family, who are well-known for the legendary Saint Emilion estate, Chateau Ausone, as well as counting Chateau Fonbel and Chateau Moulin St. Georges and Chateau La Clotte as part of their holdings.
Chateau Simard has a long history in the region that dates back to at least the 1700's The actual chateau was built in the 18th century. The property takes its name from one of its previous owners, Count Simard.
Stepping back to 1870, in those days, Chateau Simard was a much larger vineyard. In an effort to expand the wine trade in St. Emilion, to help in the shipping of their wine, a railroad was established that runs through the bottom of the Saint Emilion appellation.
However, the tracks were placed right in the middle of the Simard vineyard, cutting it in half. At that time, it was thought that the best idea was to make lemonade out of lemons, so a new wine was created out of the now, split vineyard, Chateau Haut Simard.
Chateau Simard was purchased by the Maziere family in the 1920s. Today, the estate is owned by Alain Vautheir, a direct descendant of Claude Maziere, who managed Chateau Simard since 1954. Alain Vauthier manages Chateau Simard and Chateau Haut Simard with the able assistance of his daughter, Pauline Vauthier.
Chateau Simard Vineyards, Terroir, Grapes, Winemaking
The 48 hectare, Right Bank vineyard of Chateau Haut Simard is in reality two separate parcels. The larger 40-hectare parcel used for Simard is planted to 65% Merlot and 35% Cabernet Franc. The remaining 8 hectares are reserved for Chateau Haut Simard, which is planted to 80% Merlot and 20% Cabernet Franc.
Both terroirs have clay, sand, and gravel soils. On average, the vines are 20 years of age. The vines are planted to an average vine density that ranges from 5,500 vines per hectare to 12,600 vines per hectare.
The plantings with higher levels of vine density are found in the most recent plantings. The wines are vinified in traditional concrete vats. Malolactic fermentation takes place in French oak barrels.
Chateau Haut Simard is aged in 50% new, French oak barrels for an average of 12 months before bottling.
Chateau Simard has a completely different aging process as the wine does not see any new oak for the aging. Instead, the wine of Chateau Simard is aged in concrete vats.
The best vintages of Chateau Simard are: 2022, 2021, 2020, 2019, 2018, 2017, 2016, 2015, 2010, 2009 and 2005.
On average, the production of Chateau Simard is close to 12,000 cases per year. Chateau Haut Simard is a much smaller production with an average annual release of only 2,500 cases of wine per vintage.
When to Drink Chateau Simard, Anticipated Maturity, Decanting Time
Chateau Simard is better with at least 2-4 years of bottle age. Of course, that can vary slightly, depending on the vintage.
Chateau Simard is best enjoyed in the first 3-12 years of life. Young vintages can be decanted for about 1 hour. This allows the wine to soften and open its perfume. Older vintages might need very little decanting, just enough to remove the sediment.
Serving Chateau Simard with Wine, Food, and Pairing Tips
Chateau Simard is best served at 15.5 degrees Celsius, 60 degrees Fahrenheit. The cool, almost cellar temperature gives the wine more freshness and lift.
Chateau Simard is best served with all types of classic meat dishes, veal, pork, beef, lamb, duck, game, roast chicken, roasted, braised, and grilled dishes. Chateau Simard is a perfect match with Asian dishes, hearty fish courses like tuna, mushrooms, and pasta as well as cheese.
www.chateau-ausone-saint-emilion.com
Château Haut-Simard Wine Tasting Notes
19 Vintages 60,420 Views Sort by Vintage-Rating
2022
Château Simard (St. Émilion)

Flowers, leafy herbs, tobacco, cherries, and spicy currants combine to produce a medium-bodied, soft, forward wine with freshness, and lift on the mid-palate, ending with supple-textured, fruity finish. You can drink this now, or age it for a few years. The wine blends 65% Merlot, 20% Cabernet Sauvignon, 10% Cabernet Franc and 5% Petit Verdot. Drink from 2025-2037. 91-93 Pts.

679 Views

Tasted

May 8, 2023

2022
Château Haut-Simard (St. Émilion)

Blending a record setting 70% Cabernet Franc with 30% Merlot, you find a wine loaded with black fruits, flowers, and wild herbs. On the palate, the wine is fresh, vibrant, bright, and crisp, with a core of ripe, black, and red fruits, and vibrant, chalky tannins on the backend. Give it a year or so in the cellar and it promises to be even better. Drink from 2025-2040. 91-93 Pts.

538 Views

Tasted

May 8, 2023

2020
Château Simard (St. Émilion)

Kirsch, cherries, flowers, spice and plums open the perfume. Medium-bodied, the wine is soft, fresh, fruity and forward with sweetness and lift in the almost, crisp finish. You can enjoy this on release, or age it a bit for more complexity. Drink from 2023-2032.

906 Views

Tasted

Mar 21, 2023

2018
Château Haut-Simard (St. Émilion)

Black raspberry, vanilla, plum and licorice notes are instantly accessible in the nose. From there you'll find round, lush, soft, silky textured, dark red berries. This probably the finest vintage of Haut Simard ever produced. The wine blends 70% Merlot and 30% Cabernet Franc.

710 Views

Tasted

Mar 9, 2021

Licorice, vanilla and dark plums make up the nose. From there you'll find a round, soft, juicy, fresh, open wine that will serve up a lot of pleasure in its youth. Made from a blend of 70% Merlot and 30% Cabernet Franc, the wine is aging in 20% new, French oak barrels. 90-92 Pts

1,357 Views

Tasted

Apr 19, 2019

2018
Château Simard (St. Émilion)

Earthy black raspberries and wet forest notes mingle perfectly with all the silky, fresh, sweet, ripe fruits. Medium-bodied, with a soft, inviting, fruit and earth finish, this will be even better with a year or two of cellaring. The wine is a blend of 70% Merlot, 25% Cabernet Franc and 5% Cabernet Sauvignon.

1,374 Views

Tasted

Mar 9, 2021

Flowers and black raspberry are found in the nose and on the palate. The wine is medium bodied, forward and fresh with juicy, black cherries and licorice in the finish. The wine is a blend of 70% Merlot, 25% Cabernet Franc and 5% Cabernet Sauvignon. 89-91 Pts

1,983 Views

Tasted

Apr 19, 2019

2016
Château Haut-Simard (St. Émilion)

Blending 60% Merlot and 40% Cabernet Franc, the combination of underbrush and ripe, smoky plums hits the spot. The wine has lushly textured, ripe fruit and ample sweetness in the mouth, giving it more weight and depth than usual. This is quite nice to drink today, and it can age for a few years as well.

2,678 Views

Tasted

Sep 21, 2019

Licorice, black raspberry and fresh, red and white cherries pop with no effort. Juicy, fresh and lively, the wine is medium bodied with loads of fruit and freshness in a bright finish. Made from a blend of 65% Merlot and 35% Cabernet Franc, the wine is aging in 20% new French oak barrels.

2,053 Views

Tasted

Apr 29, 2017

2016
Château Simard (St. Émilion)

With a short of spice, fresh herbs, thyme and plums in the nose, you also find ripe, fresh cherry and plums with a hint of bottle chocolate in the fresh finish. You can drink this now, or age it for a few years. The wine is a blend of 75% Merlot and 25% Cabernet Franc.

1,622 Views

Tasted

Sep 21, 2019

2015
Château Simard (St. Émilion)

The first thing you notice is the sweet, kirsch, smoke and thyme in the nose before moving on to the soft, fresh, ripe cherries with their hint of tartness and lift in the finish.

3,027 Views

Tasted

Sep 17, 2018

Smoke, licorice, flowers and plums make an appearance in the nose. On the palate, the wine is fresh, sweet, bright and forward, leaving you with juicy, red berries and plums in the medium bodied, finish. Blending 75% Merlot and 25% Cabernet Franc, this wine is aging in 30% new, French oak barrels.

3,942 Views

Tasted

Apr 5, 2017

Plummy with crisp berries, fresh, bright cherries, licorice and cocoa with a splash more cherry in an olive tapenade-tinged finish.

2,306 Views

Tasted

Apr 29, 2016

2014
Château Haut-Simard (St. Émilion)

Earthy, black raspberries and leafy notes in the nose with a sweet, black cherry center in the finish. Produced with a blend of 70% Merlot and 30% Cabernet Franc, the wine is aging in 20% new, French oak barrels. 88-90 Pts

1,955 Views

Tasted

Apr 27, 2015

2014
Château Simard (St. Émilion)

Licorice, plum and chocolate on the nose, soft, medium bodied and easy drinking with a sweet, red berry finish. Blending 80% Merlot with 20% Cabernet Franc, this wine is aging in 30% new, French oak barrels. 86-88 Pts

2,822 Views

Tasted

Apr 27, 2015

2013
Château Simard (St. Émilion)

Light in color and style, the spicy red cherry and strawberry character will be best enjoyed in its youth. Blending 65% Merlot with 35% Cabernet Franc, the wine is aging in 30% new French oak. 84-86 Pts

3,604 Views

Tasted

Apr 29, 2014

2012
Château Haut-Simard (St. Émilion)

From a typical Right Bank blend of 80% Merlot and 20% Merlot, the wine will be aged in 50% new French oak for 12 months. Spicy black raspberries, coffee bean and earth lead to a soft, medium-bodied wine that ends with sharp cassis and cherry notes. 87-89 Pts

2,260 Views

Tasted

Apr 26, 2013

2012
Château Simard (St. Émilion)

65% Merlot and 35% Cabernet Franc produced a wine with earth and raspberry notes with medium body and a light, sweet and tart red cherry finish. 84-86 Pts

3,267 Views

Tasted

Apr 26, 2013

2011
Château Haut-Simard (St. Émilion)

With 70% Merlot and 30% Cabernet Franc, the wine will be aged in 50% new oak. This wine shows herb, black cherry, stone and spice with a round, dark cherry finish. 88-89 Pts

1,913 Views

Tasted

Apr 24, 2012

2011
Château Simard (St. Émilion)

80% Merlot and 20% Cabernet Franc was aged in concrete vats to create a wine offering ripe strawberry, earth and cherry notes with a soft red berry finish. 87-88 Pts

4,642 Views

Tasted

Apr 24, 2012

2010
Château Haut-Simard (St. Émilion)

2010 Haut Simard from the team at Chateau Ausone, this 60% Merlot and 40% Cabernet Franc blend is not to be confused with Simard. Haut Simard comes from a different terroir and is aged in 50% new oak. Licorice, oak, jammy black raspberry and floral aromas work well with the suave texture and ripe, chocolate and blackberry finish. 89-91 Pts

3,366 Views

Tasted

Apr 22, 2011

2010
Château Simard (St. Émilion)

2010 Simard 80% Merlot and 20% Cabernet Franc offers jammy black raspberries, licorice and earthy scents, medium body and a kirsch finish that will allow this soft wine to drink well early. 88-90 Pts

6,001 Views

Tasted

Apr 22, 2011

2009
Château Haut-Simard (St. Émilion)

Fresh, bright and firm in character, the nose shows off a crisp, red berry stone, espresso and leaf character. There is an austerity to the palate presence that was not expected with a 2009.

3,392 Views

Tasted

Sep 28, 2016

2009
Château Simard (St. Émilion)

Medium bodied, dominated by red cherries and cocoa, this soft textured, forward wine will be best enjoyed in its youth as it lack the stuffing to age for more than a few years.

4,023 Views

Tasted

Jul 22, 2013