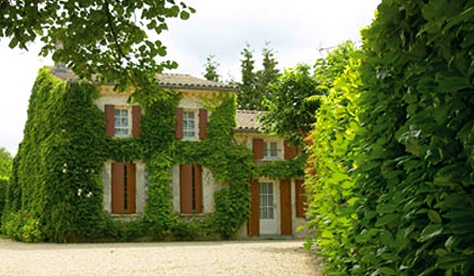 Learn everything about Chateau de Chambrun Lalande de Pomerol with wine tasting notes, wine, and food pairing tips, best vintages, a history of the property, information on the vineyards and winemaking. If you want to read about other important, Bordeaux Chateaux: Links to all Bordeaux Wine Producer Profiles
Chateau de Chambrun History, Overview
Chateau de Chambrun dates to the mid 1800's. At the time, the wines were sold as being from Clos de Chambrun. The estate was purchased by Jean-Philippe Janoueix in 1994.
Jean-Philippe Janoueix is known for owning several estates in Pomerol and St. Emilion. It was Jean-Philippe Janoueix who decided to change the name of the estate to Chateau de Chambrun.
Silvio Denz, who owns several high-profile estates in Saint Emilion, including Chateau Faugeres and Peby Faugeres, became the owner of Chateau de Chambrun in 2007, after purchasing the vineyards from Janoueix.
Following the purchase of Chateau de Chambrun in 2007, Silvio Denz continued buying additional parcels increasing the vineyards. In 2015 the estate was sold to Patrick Javanaud and Sylvie Javanaud.
Chateau de Chambrun Vineyards, Terroir, Grapes, Winemaking
The 33.3-hectare vineyard of Chateau de Chambrun is planted to 60% Merlot, 38% Cabernet Franc and 2% Cabernet Sauvignon. Although you also find a bit of Malbec planted here as well. The vineyard has a terroir of clay, gravel, and limestone soils, which is typical of some of the better vineyards found in that part of the Right Bank.
Located in the Neac sector of Lalande de Pomerol, not far from Pomerol, the vines average 25 years of age. The vineyard can be divided into 53 separate parcels which is planted to a vine density of 6,500 vines per hectare. The vineyard is farmed using only sustainable viticulture techniques.
The vinification for the main wine of Chateau de Chambrun takes place a combination of 40 hectoliter French, oak vats and small, French barrels. The wine is aged in 75% new, French oak barrels today 15 months before bottling.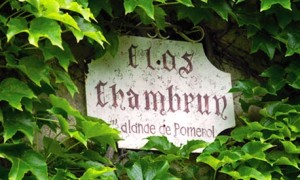 Two wines are produced at the Lalande de Pomerol estate of Chateau de Chambrun. Aside from their regular wine, they also produce a special, high-end Cuvee from their best parcels, Chateau Chambrun Le Bourg.
This specific parcel of vines is only .7 hectares. The vines in this low-yielding section of the vineyard are more than 50 years of age. Chateau de Chambrun Le Bourg manages to produce an average of only 175 cases per vintage and is aged in 100% new, French oak barrels for an average of 15 months, depending on the strength and character of the vintage. Michel Rolland is the consultant.
The best vintages of Chateau Chambrun are: 2022, 2021, 2020, 2019, 2018, 2017, 2016, 2015, 2014, 2012, 2010, 2009 and 2005.
When to Drink Chateau Chambrun, Anticipated Maturity, Decanting Time
Chateau Chambrun is better with at least 2-4 years of aging in good vintages. Young vintages can be decanted for up to 1 hour or so if desired. Older vintages might need very little decanting, just enough to remove the sediment. Chateau Chambrun offers its best drinking and should reach peak maturity between 3-12 years of age after the vintage.
Serving and Decanting Chateau de Chambrun with Wine, Food, Pairing Tips
Chateau de Chambrun is best served at 15.5 degrees Celsius, 60 degrees Fahrenheit. The cool, almost cellar temperature gives the wine more freshness and lift.
Chateau de Chambrun is best paired with all types of classic meat dishes, veal, pork, beef, lamb, duck, game, roast chicken, roasted, braised, and grilled dishes. Chateau Chambrun is also good when matched with Asian dishes, hearty fish courses like tuna, mushrooms, and pasta.
Château de Chambrun Wine Tasting Notes
18 Vintages 35,712 Views Sort by Vintage-Rating
2022
Château de Chambrun (Lalande de Pomerol)

Plummy, floral and fruity, the wine is loaded with chocolate-coated plums, black cherries and black raspberries in the mid-palate and in the lush, creamy finish. Drink from 2025-2037. 91-93 Pts.

1,045 Views

Tasted

May 8, 2023

2021
Château de Chambrun (Lalande de Pomerol)

Damage from the frost reduced the yields by close to 90%! What's left opens with black raspberries and espresso nuances. Medium-bodied, round, and forward, and starts off well but the finish is on the `firm side of the style range. Drink from 2023-2029. 87-89

933 Views

Tasted

May 20, 2022

2020
Château de Chambrun (Lalande de Pomerol)

Dark chocolate and even darker red, pit fruits with a strong floral backdrop show in the perfume. Soft, supple and creamy, with sweet, fresh, elegant, earthy, black cherries in the mid-palate that hang through to the silky finish. Drink from 2023-2040.

426 Views

Tasted

Mar 21, 2023

Flowers, wet earth, black raspberries and cherries open the nose with ease. Medium-bodied, soft, silky and fresh, the wine is polished, sweet, elegant and creamy. Give this just a few years and it is going to be even better. 90-92 Pts

1,050 Views

Tasted

May 20, 2021

2019
Château de Chambrun (Lalande de Pomerol)

Flowers, roasted cherries, Asian spice and wet earth aromas get your attention. The wine is medium-bodied, soft, refined and already a pleasure to drink, finishing with loads of sweet, ripe, pure, fresh, polished plums. Drink from 2022-2032.

950 Views

Tasted

Mar 29, 2022

Soft, silky, fresh and medium-bodied, the wine serves up an elegant layer of ripe plums, dark chocolate and espresso, leaving with a refined, plummy finish. 90-92 Pts

2,404 Views

Tasted

Jun 28, 2020

2018
Château de Chambrun (Lalande de Pomerol)

Espresso, cocoa, mint, black cherry and touches of flowers hit our nose. Lushly textured with round, plummy fruits, give ut a few years to develop.

884 Views

Tasted

Mar 9, 2021

If you are looking for an early drinking, lush Pomerol look-alike, you found it. Ripe, juicy plums, plush textures and the right amount of chocolate and licorice to round everything out. 88-90 Pts

1,454 Views

Tasted

Apr 19, 2019

2017
Château de Chambrun (Lalande de Pomerol)

Soft and fruity, medium bodied, forward, light and fresh with an earthy, cherry character, this is a wine you can enjoy on the young side.

1,342 Views

Tasted

Apr 26, 2018

2016
Château de Chambrun (Lalande de Pomerol)

Medium bodied, soft and plummy with a forward personality but lacking in depth. Probably best to drink young.

2,103 Views

Tasted

Apr 29, 2017

2015
Château de Chambrun Le Bourg (Lalande de Pomerol)

Flowers, black raspberry, cherry, licorice and smoke open the nose. This medium bodied Pomerol look alike is soft, silky fresh and polished, The fruit feels great from start to finish with its smooth textures and sweetness in the finish.

1,674 Views

Tasted

May 21, 2018

2015
Château de Chambrun (Lalande de Pomerol)

Smoke, licorice and mouthwatering plums with dusty tannins and a fresh, clean palate presence of cherries in the finish. 89 - 91 Pts

2,195 Views

Tasted

Apr 29, 2016

2014
Château de Chambrun (Lalande de Pomerol)

Licorice, black cherry and earth with soft plumy notes and chocolate in a round finish. 89-90 Pts

2,329 Views

Tasted

Apr 24, 2015

2013
Château de Chambrun (Lalande de Pomerol)

With smoke, fennel, coffee bean and black raspberry notes, the wine is light, clean and focused on the fresh, red cherry finish. 86-88 Pts

1,781 Views

Tasted

Apr 26, 2014

2012
Château de Chambrun Le Bourg (Lalande de Pomerol)

Forward, with lots of licorice, cocoa, sweet black cherries and round textures, you can enjoy it young, or give it a few more years.

1,446 Views

Tasted

Jul 6, 2015

2012
Château de Chambrun (Lalande de Pomerol)

Medium bodied with fresh cherries, licorice and spice, the wine is soft, forward and should offer pleasure on release. 88-90 Pts

2,625 Views

Tasted

Apr 26, 2013

2011
Château de Chambrun Le Bourg (Lalande de Pomerol)

2011 De Chambrun Le Bourg Lalande de Pomerol – Owned by Silvo Denzo, who counts Chateau Faugeres and Lalique amongst his holdings, this Bordeaux wine comes from a tiny.7 hectare vineyard. The wine is produced from 100% Merlot from vines averaging 35 year of age. Aged in 100% new oak, the wine is filled with smoke, black cherry, earth and plum. Rich and fleshy, the wine finishes with ripe plums and chocolate. 90-92 Pts

1,769 Views

Tasted

Apr 19, 2012

2011
Château de Chambrun (Lalande de Pomerol)

2011 De Chambrun Lalande de Pomerol From vineyards planted in quartz, gravel, clay and limestone. This blend of 94% Merlot and 6% Cabernet Franc has an earthy black cherry and cocoa perfume with medium body and a red plum finish. 87-90 Pts

2,607 Views

Tasted

Apr 19, 2012

2010
Château de Chambrun Le Bourg (Lalande de Pomerol)

De Chambrun Le Bourg – Owned by Silvo Denzo, who counts Faugeres amongst his holdings produces this wine from a .7 hectare parcel of 35 year old vines planted to 70% Merlot and 30% Cabernet Franc. Yields were impressively low at 19 hls/ha. The wine will be aged in 100% new oak. Deep purple colored with plum, licorice, floral and truffle aromas, the wine offers rich textures, round, sweet, plum and chocolate flavors and a long black and red fruit finish. 90-93 Pts

2,101 Views

Tasted

Apr 21, 2011

2010
Château de Chambrun (Lalande de Pomerol)

de Chambrun 94% Merlot and 6% Cabernet Franc are combined to produce a wine filled with licorice and plum, aromas. Suave, plush and easy to like, this medium bodied wine ends with a chocolate covered plum finish. This is a crowd pleasing Pomerol styled wine. 87-89 Pts

2,744 Views

Tasted

Apr 21, 2011

2009
Château de Chambrun Le Bourg (Lalande de Pomerol)

Fully mature, the wine is lush, round, earthy and loaded with plums, espresso, dark cocoa and earthy nuances. There is no need to wait on this, as it is fully developed and ready to go.

1,850 Views

Tasted

Aug 27, 2021