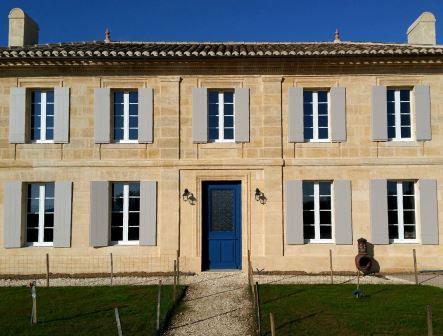 Learn everything about Chateau La Voute St. Emilion with wine tasting notes and wine with food pairing tips. Learn the best vintages, a history of the property, information on the vineyards, and winemaking. If you want to read about other important, Bordeaux Chateaux: Links to all Bordeaux Wine Producer Profiles
Chateau La Voute History, Overview
The modern era for Chateau La Voute starts in 1993 when the Right Bank estate was purchased by
Gaetan Moreau. 10 years after getting his feet wet as a vigneron, the estate underwent a multi-year, complete renovation of the property, cellars, and chateau, modernizing the chateau. They also brought in the team of Michel Rolland.
Chateau La Voute Vineyards, Terroir, Grapes, Winemaking
The diminutive 2.27-hectare vineyard of Chateau La Voute is planted to 100% Merlot. Located due east of the Saint Emilion village, in the commune of Saint-Etienne-de-Lisse, the vineyard is situated not far from Chateau Fleur Cardinale, Chateau Fombrauge, and Valandraud. The terroir is clay and limestone soils. They have old vines. On average, the vines are maintained at 45 years of age.
To produce the wine of Chateau La Voute, vinification takes place in the tank. Malolactic fermentation takes place in new, French oak barrels. The wine is then aged in 100% new, French oak barrels for between 14 to 16 months. The amount of aging varies due to the style and character of the vintage.
The best vintages of Chateau La Voute are: 2022, 2021, 2020, 2019, 2018, 2017, 2016 and 2015.
The production of Chateau La Voute is quite small, averaging just about 600 cases of wine per vintage. There is a second wine, The Keystone.
When to Drink Chateau La Voute, Anticipated Maturity, Decanting Time
Chateau La Voute is better with at least 2-4 years of bottle age. Of course, that can vary slightly, depending on the vintage.
Chateau La Voute is best enjoyed in the first 5-17 years of life. Young vintages can be decanted for about 1 hour. This allows the wine to soften and open its perfume. Older vintages might need very little decanting, just enough to remove the sediment.
Serving Chateau La Voute with Wine, Food, and Pairing Tips
Chateau La Voute is best served at 15.5 degrees Celsius, 60 degrees Fahrenheit. The cool, almost cellar temperature gives the wine more freshness and lift.
Chateau La Voute is best served with all types of classic meat dishes, veal, pork, beef, lamb, duck, game, roast chicken, roasted, braised, and grilled dishes. Chateau La Voute is a perfect match with Asian dishes, hearty fish courses like tuna, mushrooms, and pasta as well as cheese.
Château La Voute Wine Tasting Notes
8 Vintages 17,529 Views Sort by Vintage-Rating
2022
Château La Voute (St. Émilion Grand Cru)

Smoke, licorice, spice, and dark, ripe, red, black, and blue fruits with chocolate form the character of this wine. The wine is rich, lush, polished, fresh, and creamy, with layers of licorice, espresso, and chocolate-coated plums in the finish. Drink from 2025-2042. 93-95 Pts.

587 Views

Tasted

May 8, 2023

2021
Château La Voute (St. Émilion Grand Cru)

Deeply colored, the wine is plush, polished, round, fresh and fruity, with lifted, silky tannins and loads of fresh, sweet, dark plums, licorice and black cherries in the chocolaty, fruit-filled finish. Drink from 2024-2039. 91-93

1,197 Views

Tasted

May 20, 2022

2020
Château La Voute (St. Émilion Grand Cru)

Dark in color, the wine already expresses its floral nature with blueberries, plums, spice, espresso and chocolate in the nose. The wine is full-bodied, rich, round and deep, with layers of lusciously-textured, silky, earthy, rich, ripe, fleshy fruits with loads of chocolate-tinted espresso that comes in at the end of the long finish. Drink from 2024-2045.

661 Views

Tasted

Mar 21, 2023

Almost opaque in color, the wine is equally dark on the palate. With a nose that starts off with liqueur scents of blackberry, plum, licorice, cocoa and cherry, the wine hits your palate with layers of lush, ripe, deep, vibrant fruits, silky tannins and waves of sweet, dark berries in the finish. 92-94 Pts

1,850 Views

Tasted

May 20, 2021

2019
Château La Voute (St. Émilion Grand Cru)

Smoke, espresso, Indian spices, licorice and dark, black cherry aromas create the perfume. On the palate, the wine is even better with all of its plush, polished rich layers of opulent, plums, cherries and chocolate. Sweet, lush and rich, this is already a treat to taste and it is going to be even better with a few years of age. Drink from 2023-2036.

1,068 Views

Tasted

Mar 29, 2022

Dark in hue, with a swirl or two, you run into smoke, licorice, coffee bean, vanilla and black cherries. The wine is forward, hedonistic and juicy, with a big blast of licorice and black cherries in the plush finish. 92-94 Pts

3,432 Views

Tasted

Jun 8, 2020

2018
Château La Voute (St. Émilion Grand Cru)

Deep and dark in color and in fruit, the wine loads you up with licorice, espresso bean, smoke, chocolate and black cherries. Lush, opulent and silky, with layers of sweet, ripe plums, cherries and blackberries, with plenty of chocolate in the finish, this is so good to drink now, yet it will be even better with a few years of age.

1,019 Views

Tasted

Mar 9, 2021

Deep, dark, ripe and fleshy, with loads of ripe black cherries, licorice, smoke, plums and chocolate. Lushly textured and rich, the plush textured finish serves up ripe fruits and cocoa. 92-94 Pts

3,217 Views

Tasted

Apr 19, 2019

2017
Château La Voute (St. Émilion Grand Cru)

Sweet and round with an interest-piquing blend of chocolate, plum, licorice and dark cherries, the wine is soft, sweet and forward. There is an agreeable texture and sweetness to the fruit. Another new discover for me this year, Michel rolland is the consultant. The vineyards are located close to Valandraud and Fleur Cardinale. It will be interesting to see who the wine and subsequent vintages develop.

1,478 Views

Tasted

Apr 26, 2018

2016
Château La Voute (St. Émilion Grand Cru)

Flowers, black cherries, plum, licorice and chocolate, dark cherries and a very supple, plush texture is what you will find here. Good concentration, silky textures and freshness in the fruit stands out here. Another new discover for me this year, Michel Rolland is the consultant. The vineyards are located close to Valandraud and Fleur Cardinale.

1,511 Views

Tasted

Sep 21, 2019

2015
Château La Voute (St. Émilion Grand Cru)

Forward, close to developed, medium-bodied, earthy chunky, red plum focused wine for current drinking. Subsequent vintages are markedly better.

1,509 Views

Tasted

Aug 28, 2021