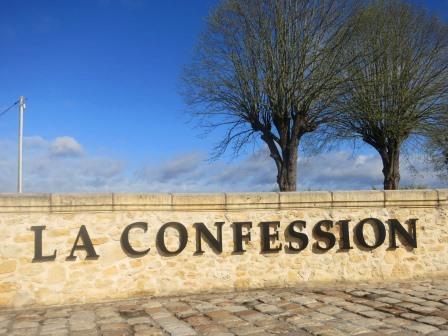 Learn everything about Chateau La Confession St. Emilion with wine tasting notes and wine with food pairing tips. Learn the best vintages, the history of the property, and information on the vineyards and winemaking. If you want to read about other important, Bordeaux Chateaux: Links to all Bordeaux Wine Producer Profiles
Chateau La Confession History, Overview
2001 was the debut vintage for Chateau La Confession for the new, young owner, Jean-Philippe Janoueix. It only took a few years until Chateau La Confession started showing what it was capable of. 2005 was the first vintage expressing the true quality of wine that could be made at Chateau La Confession.
Some of this has to do with the novel ideas Janoueix began experimenting with. This was the first vintage where Janoueix warmed the barrels before placing the wine in them. According to Janoueix, this technique allows for a more gentle extraction with no shock to the Bordeaux grapes, which helps to produce a softer, more natural wine.
Chateau La Confession Vineyards, Terroir, Grapes, Winemaking
The 7.5 hectare Saint Emilion vineyard of Chateau La Confession is planted to 70% Merlot, 28% Cabernet Franc and 2% Cabernet Sauvignon. On average the vines are maintained at 40 years of age. The vineyard is situated right off the main road to Libourne, just outside the Saint Emilion village.
In fact, the property is well placed, not too far from Chateau Beau-Sejour Becot. The terroir is clay, chalk, and siliceous soils. However, it is important to note that they also have old vines. Some of their Cabernet Franc vines are more than 70 years of age. The vineyard is planted to a vine density of 6,666 vines per hectare.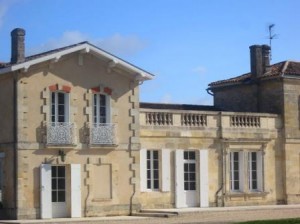 To produce the wine of Chateau La Confession, vinification takes place in open wood tanks that range in size from 55 hectoliters up to 70 hectoliters per vat. The malolactic fermentation occurs in new, French, oak barrels.
At Chateau La Confession, for the aging, Jean Philippe Janoueix uses a combination of different shaped, oak barrels. 50% of the barrels are in the traditional shape and the other 50% are in the shape of a cigar.
Janoueix likes the cigar-shaped barrels because they offer better digestion of the lees by the wine, owing to a wider surface of exchange brought by their shape. The wine is aged in 100% new, French oak barrels for between 15 and 19 months, depending on the vintage.
The best vintages of Chateau La Confession are: 2022, 2021, 2020, 2019, 2018, 2017, 2016, 2015, 2014, 2012, 2010, 2009 and 2005.
There is a second wine, Chateau Haut Pontet. The wine was previously sold under the name of Chateau Barreau. On average, the production of Chateau La Confession is 2,500 cases per year.
When to Drink Chateau La Confession, Anticipated Maturity, Decanting Time
Chateau La Confession is much better with at least 7-9 years of aging in good vintages. Young vintages can be decanted for 1-2 hours or more. This allows the wine to soften and open its perfume.
Older vintages might need very little decanting, just enough to remove the sediment. Chateau La Confession offers its best drinking and should reach peak maturity between 8-22 years of age after the vintage.
Serving Chateau La Confession with Wine, Food, Pairing Tips
Chateau La Confession is best served at 15.5 degrees Celsius, 60 degrees Fahrenheit. The cool, almost cellar temperature gives the wine more freshness and lift.
Chateau La Confession is best paired with all types of classic meat dishes, veal, pork, beef, lamb, duck, game, roast chicken, roasted, braised, and grilled dishes. Chateau La Confession is also good when matched with Asian dishes, hearty fish courses like tuna, mushrooms, and pasta.
Jean Philippe Janoueix owns several wines from vineyards in the Right Bank including Chateau La Croix St. Georges and Sacre Coeur in Pomerol, Croix Mouton, and 20 Mille as well as Cap St. George from St. Georges St. Emilion.
Château La Confession Wine Tasting Notes
21 Vintages 121,976 Views Sort by Vintage-Rating
2022
Château La Confession (St. Émilion Grand Cru)

Flowers, tobacco leaf, mint, licorice, and red berries open the nose. On the palate, the wine is silky, polished, fresh, and energetic. The fruits are clean, pure, and lively, with sweetness, lift, and delicacy, as well as purity in the finish. The wine blends 70% Merlot, 27% Cabernet Franc and 3% Malbec. 14.5% ABV, 3.63 pH. Drink from 2025-2045. 93-95 Pts.

1,303 Views

Tasted

May 8, 2023

2021
Château La Confession (St. Émilion Grand Cru)

Plummy, with chocolate, espresso, black cherries, smoke and flowers in the perfume, the wine is silky, fresh, soft, and sweet, with loads of supple-textured red fruits in the vibrant finish. The wine blends 74% Merlot and 26% Cabernet Franc. 13.5% ABV. Drink from 2023-2038. 91-93

1,259 Views

Tasted

May 20, 2022

2020
Château La Confession (St. Émilion Grand Cru)

Savory plums, crushed rocks, licorice, black cherry, smoke, and, and flowers come through in the nose with little effort. Round, plush, and polished, the finish is focused on its silky textures, sweet red fruits, chocolate, and the array of spices that show up in the mildly chalky endnote. This is already delicious, but it will be even better with a few years of age. Drink from 2024-2045.

753 Views

Tasted

Mar 21, 2023

Dark in color, the wine shows off its licorice, black cherry, wet earth, flower and spearmint centric nose with little effort. Lush, round and polished, with silky tannins and sweet, ripe, soft, pure fruits, licorice and toasty oak on the palate and in the finish. This will be even better with 5 years of age. 93-95 Pts

2,249 Views

Tasted

May 20, 2021

2019
Château La Confession (St. Émilion Grand Cru)

Flowers, smoke, licorice, espresso and red cherries create the nose and palate. Round, soft, polished and fresh, with freshness, length and loads of sweet fruits on the palate and in the mineralistic finish, you can enjoy with just a few years of bottle age. Drink from 2024-2036.

1,219 Views

Tasted

Mar 29, 2022

With good color, the wine opens with a nose filled with smoke, espresso, plum liqueur and raspberries. Medium-bodied, fresh and vibrant, with a finish packed with juicy red fruits and toasty oak, give this some time in the cellar, at least 5 years or more, to get the most of it. 92-94 Pts

3,781 Views

Tasted

Jun 8, 2020

2018
Château La Confession (St. Émilion Grand Cru)

Quite floral in nature, from there you find espresso, smoke, licorice, stone and dark red fruits. Supple, plush and polished with richness to the ripe fruits and crushed stone in the finish, wait a few years and it is really going to show well. The wine was made from a blend of 73% Merlot and 27% Cabernet Franc.

1,113 Views

Tasted

Mar 9, 2021

Round and with aromas of just picked fruits, you'll also find flowers, licorice and a touch of smoke. On the palate, the lush cherries feel great with round tannins and supple textures. The wine was made from a blend of 73% Merlot and 27% Cabernet Franc. 92-94 Pts

2,369 Views

Tasted

Apr 19, 2019

2017
Château La Confession (St. Émilion Grand Cru)

Licorice, wet earth, espresso bean and dark, smoky cherries are front and center. It is a touch oaky on the mouth but redeemed with loads of ripe, red fruits, licorice and salty tannins. Allow a few years for the oak to further integrate and this beauty will come together nicely. The wine was made from a blend of 75% Merlot and 25% Cabernet Franc. Due to the frost and a more stringent selection of fruit, close to 70% of the harvest was lost this year.

2,189 Views

Tasted

Apr 26, 2018

2016
Château La Confession (St. Émilion Grand Cru)

Flowers, licorice, smoke and espresso notes are in the nose. On the palate, the wine is soft, lush, sweet, opulently textured and full bodied. The polished tannins, ripe fruits, spice and earth mingle well on your palate. The wine was made with 72% Merlot and 28% Cabernet Franc.

2,505 Views

Tasted

Sep 21, 2019

Espresso, smoke, licorice and ripe black fruits create the nose. The wine is lush, sweet, opulently textured and full bodied. The polished tannins, ripe fruits, spice and earth mingle well on your palate. The wine was made with 72% Merlot and 28% Cabernet Franc.

2,615 Views

Tasted

Apr 29, 2017

2015
Château La Confession (St. Émilion Grand Cru)

Wet earth, smoke, espresso, herbs and red berries are perfectly matched with the round, soft textured, sweet, red fruits that hit your palate. Silky, round and polished, give it at least 5 years in the cellar before popping a cork.

4,444 Views

Tasted

May 21, 2018

Close to the 2005 in quality, the wine is silky, sensuous and polished, with round tannins and ripe berries. Once the oak further integrates, this will be a beauty!

3,563 Views

Tasted

Jul 12, 2017

Silky, round and polished with a sweetness to the dark red fruits, licorice, espresso and spring flowers, coupled with velvety tannins, this a quite a charmer. 92 - 94 Pts

3,388 Views

Tasted

Apr 29, 2016

2014
Château La Confession (St. Émilion Grand Cru)

Blackberry and vanilla on the nose, supple textures in the mouth with a soft, sweet, fleshy, low acid, licorice and plum finish. Blending 69% Merlot with 31% Cabernet Franc, the wine reached 13.6% ABV. 91-93 Pts

4,793 Views

Tasted

Apr 27, 2015

2013
Château La Confession (St. Émilion Grand Cru)

Licorice, cherry griotte and vanilla aromas open to a soft, medium-bodied, red berry-filled wine with a fresh, ready-to-drink character and chalky tannins. From a blend of 62% Merlot and 38% Cabernet Franc, the wine reached 13.65% ABV from yields of 30 hectoliters per hectare. The wine is aging in 60% new oak barrels. 88-91 Pts

2,900 Views

Tasted

Apr 28, 2014

2012
Château La Confession (St. Émilion Grand Cru)

Ruby in color, with licorice, black cherry, earth and herbs on the nose, the wine is supple, lush and forward, with a sweet, cherry core in the finish.

2,416 Views

Tasted

May 15, 2015

76% Merlot with 24% Cabernet Franc produced a wine packed with jammy plums, earth and spice with and lush textures with a bit of chalk in the finish. 88-91 Pts

3,178 Views

Tasted

Apr 26, 2013

2011
Château La Confession (St. Émilion Grand Cru)

Smooth, soft, forward and approachable, the chocolate and espresso scents pair well the fresh black raspberry fruit. Round in texture and forward, this is going to drink well on release.

2,161 Views

Tasted

May 20, 2014

From 69% Merlot and 31% Cabernet Franc, the wine offers coffee, licorice, cherry and oak. Supple and round, ripe black raspberry, vanilla, licorice and coffee can be found in the finish. 90-91 Pts

3,113 Views

Tasted

Apr 24, 2012

2010
Château La Confession (St. Émilion Grand Cru)

Smoke, licorice, chocolate and black cherry notes make up the perfume. On the palate the wine is lush, forward and fleshy, ending with round, polished, sweet black fruits and cocoa.

5,572 Views

Tasted

May 7, 2013

La Confession 71% Merlot and 29% Cabernet Franc form the assemblage that came in at 14.7% ABV that will be aged in 40% cigar shaped barrels. Deep ruby in color, the wine offers oak, blackberry, licorice and stone aromas. Fleshy in texture, this soft, ripe wine is filled with licorice, black cherry, spice and mocha. 91-93 Pts

7,735 Views

Tasted

Apr 22, 2011

2009
Château La Confession (St. Émilion Grand Cru)

Showing secondary notes of tobacco, spice, espresso and smoky, red fruits, the wine is round textured, soft and plush. This is a good time to start opening this plummy charmer

2,968 Views

Tasted

Sep 20, 2019

Smoke, coffee, licorice, stone, blackberry and earth, ripe, round, modern in style, this needs a few more years before it's ready to enjoy.

6,380 Views

Tasted

May 1, 2012

2009 La Confession, 68% merlot and 32% cabernet franc, is dense, rich, fat, and mouth filling. The wine finishes with licorice coated plums and blackberries. 91-93 Pts

6,168 Views

Tasted

Jun 28, 2010

2008
Château La Confession (St. Émilion Grand Cru)

Showing secondary notes of tobacco, wet earth, licorice and forest floor on the nose, the wine delivers a sense of minerality along with sweet, ripe, red fruits, soft textures and a touch of oak in the finish. You can drink this now, as it is in its prime-time drinking window.

2,525 Views

Tasted

Sep 17, 2018

Deep ruby in color, with lightening around the edges, licorice, black cherry, truffle, coffee and smoke aromas are easy to find. Soft, voluptuous textures and a sweet, candied, black cherry and plum liqueur finish distinguish the wine. It should drink well young.

4,979 Views

Tasted

Oct 23, 2011

08 Château La Confession could end up being better than their 2005. From limestone, clay, and sandy soils, the large amount of cabernet franc, 34%, with the rest merlot, makes a stylish, rich, complex wine. Licorice, black fruit, minerals, and oak bring on the perfume. Fleshy in the mouth, full bodied and filled with fruit, this complex wine finishes with a big load of ripe, round black fruits. 92-94 Pts

5,633 Views

Tasted

Jul 1, 2009

2006
Château La Confession (St. Émilion Grand Cru)

Showing a mature color; the wine offers a developed secondary nose, and a medium/full bodied, silky, round, cocoa, licorice and black cherry finish.

3,284 Views

Tasted

May 25, 2016

2005
Château La Confession (St. Émilion Grand Cru)

Truffle, smoke, tobacco, plum, vanilla bean, coffee and wild strawberry on the nose. The wine is soft, round and ready to drink, with a soft, supple textured, fresh, sweet cherry finish. This is ready to drink.

4,012 Views

Tasted

Jun 28, 2015

This was the first vintage where Jean-Philippe Janoueix warmed the barrels before placing the wine in them, allowing for a more gentle extraction with no shock to the grapes. That technique paid off as this is a stellar bottle of Bordeaux wine. Great color, a rich palate, ample concentration, elegance and complex aromatics make up the recipe for this wine. The wine ends with a long silky, dark berry finish

6,917 Views

Tasted

Jun 9, 2010

2004
Château La Confession (St. Émilion Grand Cru)

Lush, round and packed with sweet, black cherries, truffles, licorice and floral notes, this is ready to drink.

3,434 Views

Tasted

Nov 30, 2014

This offers ripe fruit, freshness and an array of plum, licorice and dark berry flavors. The elegant finish makes this wine a pleasure to drink. I would probably enjoy this on the young side to preserve the freshness.

3,022 Views

Tasted

Jun 9, 2008

2003
Château La Confession (St. Émilion Grand Cru)

The roasted, smoky flavors, herbs, black fruit, stone are licorice get you wanting to know more about this elegant, round wine that is drinking great today. There is no need to wait to try it, if you own any.

2,214 Views

Tasted

Jun 9, 2008

2002
Château La Confession (St. Émilion Grand Cru)

Already fully mature, this medium bodied wine lacks the levels of ripeness and depth found in later vintages

2,906 Views

Tasted

Jun 9, 2008

2001
Château La Confession (St. Émilion Grand Cru)

This is the debut vintage for the new owner, Jean-Philippe Janoueix. Already showing signs of full maturity with developed aromatics. Herbs, spice, earth and red fruit are the characteristics of this wine. This property did not start producing outstanding wines until the sublime 2005. Drink up as it's not going to improve.

2,916 Views

Tasted

Jun 9, 2008