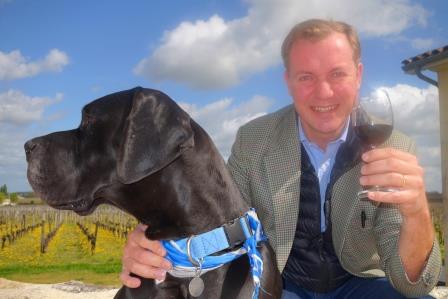 Learn everything about Chateau Croix-Mouton, Bordeaux Superieur, wine tasting notes, and wine with food pairing tips. Learn the best vintages, a history of the property, information on the vineyards, and winemaking. If you want to read about other important, Bordeaux Chateaux: Links to all Bordeaux Wine Producer Profiles
Chateau Croix Mouton History, Overview
Previously known as Chateau Mouton, Croix Mouton has a long history in the Bordeaux region. The property was written about in the 1881 Ferret edition, next to many well-known Bordeaux wine producers of the time.
However, the estate has a much longer history dating back to the ancient Romans who planted vines on the property thousands of years ago. The Gallo-Romains remains found in their vineyards are proof of an ancient Bordeaux wine-producing past.
Chateau Croix Mouton was purchased by Jean-Philippe Janoueix in 1997. At the time of the purchase, the estate and vineyards were in poor condition, as the previous owner had abandoned the vineyards. At first, Jean Philippe Janoueix wanted to sell the wines under the original name of Chateau Mouton.
A lawsuit was filed by Chateau Mouton Rothschild and the property changed its name to Croix Mouton. Starting in 1998, extensive renovations on all the winemaking facilities and work in the vineyards began taking place.
Chateau Croix-Mouton is a serious candidate for one of the best Bordeaux wine value producers today. The Chateau is located not far from the Fronsac appellation, close to the Dordogne river, next to Lugon. The special architecture of the buildings at Croix Mouton is a unique feature of the estate, with its 17th century style.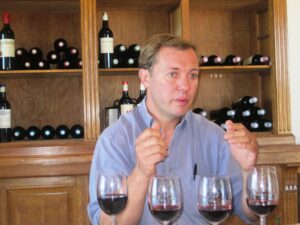 Chateau Croix Mouton Vineyards, Terroir, Grapes, Winemaking
The large 78-hectare Bordeaux Superieur vineyard is planted to 97% Merlot, 2.5% Cabernet Sauvignon and 5% Petit Verdot. This shows an increase in Merlot over the past several years. On average, usually, 70 hectares are under vine. The vineyard has a terroir of clay, alluvial, and limestone soils. Over the years, the estate has expanded to almost 4 times its original size.
Located just north and west of Fronsac, the vineyard has old vines. On average, the vines are a surprising 43 years of age! Those old vines add a lot of concentration and complexity to the wine. When you factor how labor-intensive this wine is to produce, it's easy to see why this is such a good Bordeaux value wine.
To produce the wine of Croix Mouton, the grapes are whole berry fermented in oak vats. Malolactic fermentation takes place in 50% new, French barrels. The wine of Croix Mouton is aged in 50% new, French oak barrels for 9 months before bottling.
On average, close to 32,000 cases are produced each year. There is a second wine, Reserve du Croix Mouton.
The best vintages of Chateau Croix Mouton are: 2022, 2021, 2020, 2019, 2018, 2017, 2016, 2015, 2014, 2012, 2010, 2009 and 2005.
Starting in 2005, a high-end Cuvee, from 1.4 hectares of vines planted at 20,000 vines per hectare was produced by Jean Philippe Janoueix from the vineyards of Croix Mouton, 20 Mille.
When to Drink Chateau Croix Mouton, Anticipated Maturity, Decanting Time
Chateau Croix Mouton is much better with at least 1-3 years of aging in good vintages. Young vintages can be decanted for about 1 hour. This allows the wine to soften and open its perfume. Older vintages might need very little decanting, just enough to remove the sediment. Chateau Croix Mouton offers its best drinking and should reach peak maturity between 2-7 years of age after the vintage.
Serving Chateau Croix Mouton with Wine, Food, Pairing Tips
Chateau Croix Mouton is best served at 15.5 degrees Celsius, 60 degrees Fahrenheit. The cool, almost cellar temperature gives the wine more freshness and lift. Chateau Croix Mouton is best paired with all types of classic meat dishes, veal, pork, beef, lamb, duck, game, roast chicken, roasted, braised, and grilled dishes.
Chateau Croix Mouton is also good when matched with Asian dishes, hearty fish courses like tuna, mushrooms, and pasta.
Chateau Croix Mouton is the perfect example of a forward-styled, easy to like, crowd-pleasing Bordeaux wine that is best enjoyed in its first few years of life to get the most from its ripe fruit and charm. In this price category, Croix Mouton is an outstanding buy in the Bordeaux value wine arena.
Jean Philippe Janoueix owns several wines from vineyards in the Right Bank including Chateau La Croix St. Georges and Sacre Coeur in Pomerol, La Confession in St. Emilion, as well as Cap St. George from St. Georges, St. Emilion, and 20 Mille, a Bordeaux Superieur.
Château Croix Mouton (Jean-Philippe Janoueix) Wine Tasting Notes
25 Vintages 95,508 Views Sort by Vintage-Rating
2021
Château Croix Mouton (Jean-Philippe Janoueix) (Bordeaux Supérieur)

Medium-bodied, light, fresh, refreshing and forward, right off the bat, all the ripe, juicy red plums and cherries come through with a touch of chocolate and licorice on the back end. Drink this on the young side for the maximum amount of fruit. Drink from 2023-2028. 87-89

1,000 Views

Tasted

May 20, 2022

2020
Château Croix Mouton (Jean-Philippe Janoueix) 20 mille (Bordeaux Supérieur)

Dark in color, the wine is lush, plush, polished and loaded with dark cocoa, cherries, plums, oak, smoke and espresso in every sniff and sip. Produced from 100% Merlot and planted to a density of 20,000 vines per hectare, hence the name, this is going to be delicious with just a year or two of age. 90-92 Pts

1,073 Views

Tasted

May 20, 2021

2020
Château Croix Mouton (Jean-Philippe Janoueix) (Bordeaux Supérieur)

Medium-bodied, fresh, bright and fruity, with soft texture and sweet, vibrant berries on the nose and palate. The wine is completed with a juicy, licorice, spice and earthy, cherry-tinged finish. This remains a contender for the best value wine in all of Bordeaux. Drink it on release and purchase it by the case. 87-89 Pts

1,823 Views

Tasted

May 20, 2021

2019
Château Croix Mouton (Jean-Philippe Janoueix) 20 mille (Bordeaux Supérieur)

Deeply-colored, with layers of dark cocoa and cherries in every sniff and sip, the wine has concentration, round textures and a dark, fruity finish. The wine was produced from 100% old vine Merlot. 89-91 Pts

2,646 Views

Tasted

Jun 8, 2020

2019
Château Croix Mouton (Jean-Philippe Janoueix) (Bordeaux Supérieur)

It is hard to find a better value in Bordeaux today, The wine is soft, round, ripe, plummy, earthy and elegant. Already open and accessible, the wine is medium-bodied, fresh, fruity and plummy and a nice sweetness and hint of cocoa that comes with all those juicy plums in the finish. You can enjoy this on release. Drink from 2022-2029.

1,742 Views

Tasted

Mar 29, 2022

Already accessible, this delicious, medium-bodied crowd-pleaser is going to be great on release. All its soft, round, fruity, earthy, ripe fruits surrounded by licorice, smoke, cocoa with light floral notes will be just perfect for near-term drinking. It is hard to find a better Bordeaux value wine these days. 88-90 Pts

3,531 Views

Tasted

Jul 8, 2020

2018
Château Croix Mouton (Jean-Philippe Janoueix) (Bordeaux Supérieur)

Medium bodied, forward, easy drinking and already quite charming, the fruit is ripe, sweet and delicious. One of the top value plays in Bordeaux, enjoy this on release.

1,694 Views

Tasted

Mar 9, 2021

It is going to be hard to find a better value wine in Bordeaux than this. The wine is forward, round and fruity with black plum and floral notes. Drink this young for the fruit as well as for the pleasure. Produced from 97% Merlot and 3% Cabernet Franc. 87-89 Pts

2,710 Views

Tasted

Apr 19, 2019

2017
Château Croix Mouton (Jean-Philippe Janoueix) (Bordeaux Supérieur)

Made for simple pleasure, this wine is harmonious and soft -- perfect for straightforward, early drinking. Produced from 97% Merlot and 3% Cabernet Franc, this is the 20th vintage for the estate, commemorated with a special label for the 2017 bottling.

2,255 Views

Tasted

Apr 26, 2018

2016
Château Croix Mouton (Jean-Philippe Janoueix) 20 mille (Bordeaux Supérieur)

Opaque in color, the wine focuses on its rich, core of ripe, fat, dark red berries. The wine provides a big gulp of dark red, juicy, ripe, fleshy fruits. A year or two after release, it will be even better.

1,689 Views

Tasted

Sep 21, 2019

Dark in color, the wine is round, sweet, juicy and forward. There is a lot of fruit here that goes well the licorice, smoke and black cherry accents. This should be a charmer on release.

1,466 Views

Tasted

Apr 29, 2017

2016
Château Croix Mouton (Jean-Philippe Janoueix) (Bordeaux Supérieur)

Medium bodied, with a forward, bright, strawberry and black raspberry nose. Sweet, juicy and open, this is a wine to drink in its youth.

6,273 Views

Tasted

Apr 29, 2017

2015
Château Croix Mouton (Jean-Philippe Janoueix) 20 mille (Bordeaux Supérieur)

Produced from 100% Merlot, the wine reached 14.4% ABV with a spicy edge to its round textured, espresso, cocoa plum and licorice personality. Fresh; sweet and with a touch of oak in the round finish, this is the best vintage yet for 20 Mille.

1,331 Views

Tasted

Apr 29, 2016

2015
Château Croix Mouton (Jean-Philippe Janoueix) (Bordeaux Supérieur)

If there is a better value in Bordeaux wine today, buy it! I've looked and it is going to be hard to find. In 2015, you find better levels of fruit, sweetness and softer textures than before. The fruits are clean, ripe and fresh with a forward character.

3,002 Views

Tasted

Apr 29, 2016

2014
Château Croix Mouton (Jean-Philippe Janoueix) 20 mille (Bordeaux Supérieur)

Produced from 100% Merlot, the wine is 13.8% ABV. Cherries and dark chocolate on the nose, with an open, round character, and sweet, black cherry finish. 88-90 Pts

1,607 Views

Tasted

May 1, 2015

2014
Château Croix Mouton (Jean-Philippe Janoueix) (Bordeaux Supérieur)

Peppery black raspberries on the nose, the wine is soft and approachable with a nice, easy drinking, black cherry note in the finish. Blending 95% Merlot and 5% Cabernet Franc, the wine reached 13.7% ABV. This remains one of the most consistent value driven wines in all of Bordeaux. 84-86 Pts

3,731 Views

Tasted

May 1, 2015

2013
Château Croix Mouton (Jean-Philippe Janoueix) 20 mille (Bordeaux Supérieur)

Produced from 100% Merlot, the wine is all about the open, black cherry and espresso personality, plush textures, and forward, chocolate character. 87-89 Pts

1,522 Views

Tasted

May 1, 2014

2013
Château Croix Mouton (Jean-Philippe Janoueix) (Bordeaux Supérieur)

With sweet black cherries, a forward personality, and a hint of chocolate in the finish. From a blend of 95% Merlot and 5% Cabernet Franc, the wine reached 13.4% ABV. This remains a serious contender the most consistent, value Bordeaux wine produced. 84-85 Pts

4,494 Views

Tasted

May 1, 2014

2012
Château Croix Mouton (Jean-Philippe Janoueix) 20 mille (Bordeaux Supérieur)

With a lush, approachable, black cherry and chocolate character, the wine is in the right place for current consumption.

1,493 Views

Tasted

May 15, 2015

From 100% Merlot, the wine is soft, fleshy, filled with dark cherries, forward and open. 87-89 Pts

1,650 Views

Tasted

Apr 26, 2013

2012
Château Croix Mouton (Jean-Philippe Janoueix) (Bordeaux Supérieur)

Showing secondary characteristics, this soft, supple, medium bodied, easy to like, crowd pleaser will be best over the next 2-4 years.

2,663 Views

Tasted

May 15, 2015

From 94% Merlot and 6% Cabernet Franc, this forward, sweet and oaky wine will be best in its first few years of life. This crowd pleaser is a steal at this price. 86-88 Pts

3,893 Views

Tasted

Apr 26, 2013

2011
Château Croix Mouton (Jean-Philippe Janoueix) 20 mille (Bordeaux Supérieur)

Produced from a 1.4-hectare section of the Croix Mouton vineyard planted to 100% Merlot, the wine takes its name from the fact that it's planted to 20,000 vines per hectare. Mineral and blackberry with a bright, cherry, red berry finish. 87-89 Pts

2,000 Views

Tasted

Apr 20, 2012

2011
Château Croix Mouton (Jean-Philippe Janoueix) (Bordeaux Supérieur)

From Jean Philippe Janoueix, this wine remains one of the top value Bordeaux wines from the region. Cocoa and cherry with a light strawberry finish. 85-86 Pts

4,930 Views

Tasted

Apr 20, 2012

2010
Château Croix Mouton (Jean-Philippe Janoueix) 20 mille (Bordeaux Supérieur)

20 Mille is produced from a 1.4-hectare section of the Croix Mouton vineyard planted to 100% Merlot. The wine reached 14.9% ABV in this vintage. The wine takes its name from the fact it's planted to 20,000 vines per ha. According to the owner, Jean-Philippe Janoueix, the purpose of this density of planting, is to show quality Bordeaux can be produced from terroir that is not only found in the top appellations. Black cherry, chocolate and licorice aromas couple with sweet, round textures, concentration and depth. As the vineyards continue aging, the wine keeps getting better. 89-91 Pts

4,252 Views

Tasted

Apr 22, 2011

2010
Château Croix Mouton (Jean-Philippe Janoueix) (Bordeaux Supérieur)

Croix Mouton from Jean Philippe Janoueix remains one of the top value Bordeaux wines from the region. From a blend of 87% Merlot, 12% Cabernet Franc and a drop of Petit Verdot. Oak, black raspberries, medium bodied, round, mocha and cherry finish. Will drink well on release. 87-88 Pts

6,605 Views

Tasted

Apr 22, 2011

2009
Château Croix Mouton (Jean-Philippe Janoueix) 20 mille (Bordeaux Supérieur)

2009 20 Mille is produced from a 1.4-hectare section of the Croix Mouton vineyard. The chateau takes its name from the fact it's planted 20,000 vines per ha. Produced from 100% merlot, this round textured wine shows aromas of accented, dark jammy fruit, licorice, and chocolate. 50% of the wine is aged in the cigar shaped barrels. With vines planted this closely, work in the vineyards can be exacting. According to the owner, Jean-Philippe Janoueix, the purpose of this density of planting is to show that quality Bordeaux can be produced from terroir outside the finest regions.

3,397 Views

Tasted

Aug 26, 2010

2009
Château Croix Mouton (Jean-Philippe Janoueix) (Bordeaux Supérieur)

Earth, spice and cherry in the nose, for the money, there is a nice, sweet, plummy richness to the wine. This will be perfect for drinking at a young age, if you're looking for value in Bordeaux wine.

4,552 Views

Tasted

May 1, 2012

2009 Croix Mouton is 87% merlot, 12% cabernet franc, and 1% petit verdot. The wine will age for nine months in 33% new and 67% one-wine old barrels, 45% of which are cigar shaped barrels. This medium bodied wine offers licorice and jammy black raspberry notes, ending in black raspberry and kirsch flavors. 84-87 Pts.

6,176 Views

Tasted

Aug 26, 2010

2005
Château Croix Mouton (Jean-Philippe Janoueix) (Bordeaux Supérieur)

Slightly past its peak, with tobacco and olive tapenade notes in the finish, the wine requires consumption before the remaining fruit fades.

3,421 Views

Tasted

Jun 28, 2015

This is a serious contender for the best value Bordeaux wine from this legendary vintage! This is very easy to like, drink and afford wine is a true crowd pleaser. it's not going to make old bones and should be consumed in the the first 3- 5 years. But at this price, it's a steal as it runs about $12!

3,531 Views

Tasted

Jul 15, 2008

2005
Château Croix Mouton (Jean-Philippe Janoueix) 20 mille (Bordeaux Supérieur)

Soft, smooth and fully mature, the wine has retained its round texture and sweetness. There is no reason to age it any longer. If you have any bottles, pop a cork!

3,356 Views

Tasted

Jun 27, 2015