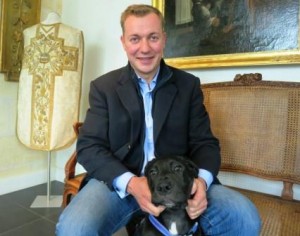 Learn everything about Sacre Coeur Pomerol with wine tasting notes, wine, and food pairing tips. Learn the best vintages, the history of the property, and information on the vineyard and winemaking. If you want to read about other important, Bordeaux Chateaux: Links to all Bordeaux Wine Producer Profiles
Chateau Sacre Coeur History, Overview
Chateau Sacre Coeur was produced from a vineyard owned by the Feytout family for three years with the winemaking and vineyard management handled by Jean Philippe Janoueix.
This arrangement between Janoueix and the Feutout family came to an end in 2012. From that point forward, the wine was produced from vines owned by the Janoueix family. In addition, Jean Philippe Janoueix owns numerous Right Bank estates including; Chateau La Croix St. Georges in Pomerol and La Confession in St. Emilion.
Chateau Sacre Coeur Vineyards, Terroir, Grapes, Winemaking
The small, 1.5-hectare vineyard of Sacre Coeur is planted to 100% old vine, Merlot. The vineyard is well situated, not far from Chateau Beauregard and Clos du Clocher.
The vineyard has a terroir of gravel and sand in the soils. The vineyard is planted to a vine density of 6,666 vines per hectare. On average the vines are maintained at close to 35 years of age. All vineyard management is done using 100%, organic, farming techniques.
The best vintages of Sacre Coeur are: 2022, 2021, 2020, 2019, 2018, 2017, 2016, 2015, 2012 and 2010.
When to Drink Chateau Sacre Coeur, Anticipated Maturity, Decanting Time
Chateau Sacre Coeur can be enjoyed on the young side with 1 hour or so of decanting. This allows the wine to soften and open its perfume. Older vintages might need very little decanting, just enough to remove the sediment.
However, I find the wine is usually better with 3-6 years of bottle age. Of course, that can vary slightly, depending on the vintage character. In the best years, Chateau Sacre Coeur will best between 4 to 15 years of age after the vintage.
To produce the wine of Sacre Coeur, as no cellars exist, vinification takes place in cement vats at Chateau La Croix in Pomerol. Malolactic fermentation takes place in French, oak barrels.
The wine is aged in 100%, new, French oak barrels for 17 to 18 months, depending on the character and quality of the vintages. For the first 6 months of its elevage, the wine is aged in its fine lees to add more richness and texture to the wine.
Serving Chateau Sacre Coeur with Wine, Food, Pairing Tips
Chateau Sacre Coeur is best served at 15.5 degrees Celsius, 60 degrees Fahrenheit. The cool, almost cellar temperature gives the wine more freshness and lift. Chateau Sacre Coeur is best paired with all types of classic meat dishes, veal, pork, beef, lamb, duck, game, roast chicken, roasted, braised and grilled dishes.
Chateau Sacre Coeur is also good when matched with Asian dishes, hearty fish courses like tuna, mushrooms, and pasta.
Jean Philippe Janoueix owns several chateaux and vineyards in the Right Bank including Chateau La Confession in St. Emilion, Chateau La Croix St. Georges in Pomerol, Chateau Croix Mouton, 20 Mille in Bordeaux Superieur as well as Chateau Cap St. George from St. Georges, St. Emilion.
Château Sacre Coeur Wine Tasting Notes
10 Vintages 23,439 Views Sort by Vintage-Rating
2022
Château Sacre Coeur (Pomerol)

Violets, and roses along with plums and chocolate are all over the place on the nose, and round, soft, cocoa-infused, plummy palate. The wine is produced from 100% Merlot. Drink from 2025-2037. 91-93 Pts.

680 Views

Tasted

May 8, 2023

2021
Château Sacre Coeur (Pomerol)

Earthy, plummy, fresh, bright, clean and with a floral, leafy edge, the wine is soft, medium-bodied, forward and already quite easy to enjoy for its elegant, refined nature and ripe, red plums on the palate and in the finish. The wine is produced from 100% Merlot. Drink from 2024-2033. 91-90

1,512 Views

Tasted

May 20, 2022

2019
Château Sacre Coeur (Pomerol)

From 100% Merlot, the wine is fresh, fruity, soft, elegant, sweet, and offers ripe, plums with a touch of chocolate, licorice, and cherries on the nose, palate, and finish. This is perfect for drinking today and over the near future. Drink from 2022-2032.

1,655 Views

Tasted

Jul 8, 2022

The plum, rose and chocolate nose is on point. Medium-bodied, silky and lush in texture, the palate picks up on all of that great, chocolate-covered plummy character from the nose. This is clearly a big step up for this 100% Merlot wine! 90-92 Pts

3,032 Views

Tasted

Jun 8, 2020

2018
Château Sacre Coeur (Pomerol)

Bright and fresh, with sweetness to the fruits, earthy accents, soft tannins and good lift, this should be ready to drink shortly after release. The wine is produced from 100% Merlot.

1,006 Views

Tasted

Mar 9, 2021

Forward with lots of ripe, round fruits with freshness, herbs and peppery spice, this should be ready to drink shortly after release. The wine is produced from 100% Merlot. 87-89 Pts

1,530 Views

Tasted

Apr 19, 2019

2017
Château Sacre Coeur (Pomerol)

Medium-bodied with ripe, red fruits, earthy, black raspberries and soft textures, this wine has an overly oaky mouth feel which undermines the fruit and limits the potential for finesse.

1,366 Views

Tasted

Apr 26, 2018

2016
Château Sacre Coeur (Pomerol)

Truffle, black raspberry, espresso bean and earth are already showing their colors. Round, forward, lush with a juicy, dark cherry, oaky profile, a few years of age will add a lot to this wine.

1,493 Views

Tasted

Apr 29, 2017

2015
Château Sacre Coeur (Pomerol)

From 100% Merlot, you'll find a medium-bodied, soft, silky, forward Pomerol with a supple-textured, plummy, dusty finish that should drink well on release. 88 - 90 Pts

1,553 Views

Tasted

Apr 27, 2016

2013
Château Sacre Coeur (Pomerol)

This 100% Merlot-comprised wine expresses coffee bean, cherry and licorice with gentle, plush textures and an oaky, bright red berry-filled finish. 86-88 Pts

1,142 Views

Tasted

Apr 26, 2014

2012
Château Sacre Coeur (Pomerol)

This 100% Merlot wine is filled with jammy dark berries, oak and dark chocolate. 88-90 Pts

1,163 Views

Tasted

Apr 26, 2013

2010
Château Sacre Coeur (Pomerol)

Truffle smoke and juicy black plums open to a jammy, cherry cocoa filled wine with a soft, forward finish. Give it a few years for the oak to better integrate.

3,570 Views

Tasted

May 8, 2013

Sacre Coeur makes it debut in 2010. This small .6 hectare estate owned by Jean-Philippe Janoueix sits on sandy clay soils. Janoueix plans to focus on organic farming for this Pomerol wine. Produced from 100% Merlot, the wine reached 14.4% ABV and will be aged in 100% new oak. Oak, floral, earth and raspberry notes are found in the perfume. Medium bodied, with round textures, the wine finishes with chocolate, spicy plum, jam and blackberry. 89-91 Pts

3,737 Views

Tasted

Apr 21, 2011