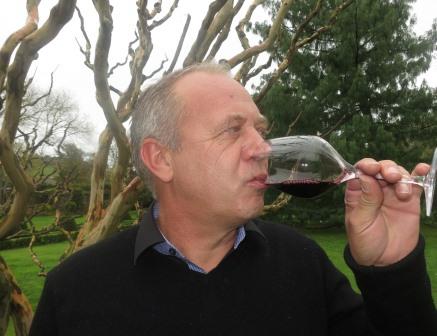 Learn everything about Domaine de l'A Cotes de Castillon with wine tasting notes, wine with food pairing tips, best vintages, a history of the property, and information on the vineyards and winemaking. If you want to read about other important, Bordeaux Chateaux: Links to all Bordeaux Wine Producer Profiles
Domaine de l'A History, Overview
Domaine de l'A is owned by Stephane Derenoncourt and Christine Derenoncourt. The Cotes de Bordeaux estate was founded in 1999. Their first purchase was small. The original vineyard was only 2.5 hectares when they first purchased the land.
Even though it was a relatively small parcel of vines, at this point in his career, Stephane Derenoncourt did not have the funds to buy his vineyard. To raise capital, he put together a group of 200 friends and associates that each put up about $1,000. In return, every investor was given 7 cases of wine and Domaine de l'A was born!
In time, two additional purchases helped Stephane Derenoncourt and Christine Derenoncourt bring the estate to its current 10-hectare size.
Domaine de l'A is located in the commune of Sainte-Colombe in the Cotes de Castillon appellation, just due east of St. Emilion. In fact, the estate of Domaine de l'A is close to some very good St. Emilion estates. For example, Valandraud, Faugeres, and Fleur Cardinale are just down the road.
Doamine de l'A Vineyards, Terroir, Grapes, Winemaking
The 12 hectare Right Bank vineyard of Domaine de l'A is planted to 70% Merlot, 30% Cabernet Franc. The Cabernet Sauvignon vines have been removed. It is interesting to note that the goal of the estate is to slowly continue increasing the amount of Cabernet Franc planted in the vineyard.
There is also a small parcel of vines planted to Chardonnay.
Located on terroir with deep clay and limestone soils, it was the limestone that first attracted Stephane Derenoncourt to the land. All of the farming here is 100% organic.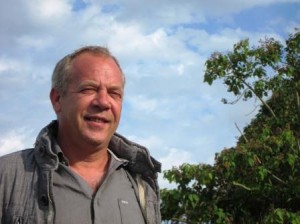 The vineyard has a south-facing exposure that is planted to a vine density of 7,000 vines per hectare. The density has increased dramatically since it was first purchased by Derenoncourt. At the time of the purchase in 1999, the vineyard was planted to a density of 3,000 vines per hectare, or even less in some parts.
To increase the density, Derenoncourt began planting new rows of vines and placed them inside the already planted vines. The average age of the vines is close to 35 years of age, although the vineyard has some very old vines that are between 60 and 70 years of age!
Domaine de l'A strives to do as much biodynamic farming as possible. Sustainable farming is a practice the owner, Stephane Derenoncourt believes deeply in for his own vineyards, and in many of the vineyards, he consults for.
Low yields are something that Domaine de l'A is known for. It is not uncommon for the estate to produce wine from yields of only 15 hectoliters per hectare.
To produce the wine of Domaine de l'A, for the first 6 years, the wines were vinified in a cellar that was less than modern. Most of it was simply cobbled together from various sources. By 2005, they saved enough money to create their own cellar. The grapes are whole berry fermented in open-top, oak tank tanks for a 30-day maceration.
The use of open-top tanks provides a view of the cap, which they keep submerged and allows for the ability to decide the number and intensity of cap punching's on a vat by vat basis. Malolactic fermentation takes place in barrels. The wine is aged in 50% new, French oak barrels. On average, close to 2,500 cases of wine are produced of Domaine de l'A each year.
Domaine de l'A Blanc is produced from 100% Chardonnay. The wine is sold as a Vin de France. The wine is produced entirely in barrels. This is a very small production wine with about 75 cases produced each year.
The best vintages of Domaine de l'A are: 2022, 2021, 2020, 2019, 2018, 2017, 2016, 2015, 2014, 2012, 2010, 2009 and 2005.
When to Drink Domaine de l'A, Anticipated Maturity, Decanting Time
Domaine de l'A is much better with at least 2-4 years of aging in good vintages. Young vintages can be decanted for 1 hour to 90 minutes. This allows the wine to soften and open its perfume.
Older vintages might need very little decanting, just enough to remove the sediment. Domaine de l'A offers its best drinking and should reach peak maturity between 4-15 years of age after the vintage.
Serving and Decanting Domaine de l'A with Wine, Food, Pairing Tips
Domaine de l'A is best served at 15.5 degrees Celsius, 60 degrees Fahrenheit. The cool, almost cellar temperature gives the wine more freshness and lift.
Domaine de l'A is best paired with all types of classic meat dishes, veal, pork, beef, lamb, duck, game, roast chicken, roasted, braised, and grilled dishes. Domaine de l'A is also good when matched with Asian dishes, hearty fish courses like tuna, mushrooms, pasta, and hard or soft cheeses.
http://derenoncourtconsultants.com
Domaine de l'A Wine Tasting Notes
15 Vintages 92,732 Views Sort by Vintage-Rating
2022
Domaine de l'A (Castillon Côtes de Bordeaux)

Deeply colored, the perfume is packed with flowers, black plums, black cherries, blue fruit and chocolate. Supple, creamy, fresh and polished, the finish carries on the wines theme of ripe, silky, dark red fruits, cocoa and espresso. This is from the home property of Stephane Derenoncourt. Drink from 2025-2038. 92-94 Pts.

991 Views

Tasted

May 8, 2023

2020
Domaine de l'A (Castillon Côtes de Bordeaux)

Another success for the wine, sporting a glossy, dark color. On the palate, dark red pit fruits, espresso, blueberry, spice box and wild cherries hit all the right notes. Velvety in texture, with a beautiful sweetness and purity to the fruits, the finish perfectly balances elegance and opulence. 93-95 Pts

6,366 Views

Tasted

May 20, 2021

2019
Domaine de l'A (Castillon Côtes de Bordeaux)

Lush, round, sweet and fresh, the vibrant, juicy fruit make a good impression on the nose and palate. The lift, classic style, energy and length are all in proportion here. This is the wine from the home property of Stephane Derenoncourt. 92-94 Pts

6,751 Views

Tasted

Jun 8, 2020

2018
Domaine de l'A (Castillon Côtes de Bordeaux)

Full-bodied, rich, lush and silky, with layers of ripe, sweet, juicy red and black fruits, this is already a pleasure to taste. The layers of black cherries and plums offer purity, length, freshness and serious persistence in the finish. This is the best wine from the home property of Stephane Derenoncourt yet.

3,501 Views

Tasted

Mar 9, 2021

Deep in color, the dark red fruits combine sweetness, freshness and opulent textures. The wine has volume, lift, character and most importantly, a lingering, fruity, plushly textured finish. This is the best wine from the home property of Stephane Derenoncourt yet. 93-95 Pts

3,412 Views

Tasted

Apr 19, 2019

2017
Domaine de l'A (Castillon Côtes de Bordeaux)

Showing a respectable color, the nose kicks off with coffee bean, flowers, vanilla and sweet red fruits. Medium bodied with soft tannins and the ideal black raspberry finish, you can drink this young or age it for up to a decade.

4,632 Views

Tasted

Apr 26, 2018

2016
Domaine de l'A (Castillon Côtes de Bordeaux)

Hitting the top range of my barrel score, this beauty is packed with wet earth, licorice, truffle, black cherry and plums. Full-bodied, luscious and rich, there is polish, freshness and life in the ripe, juicy, supple textured finish. This is already gorgeous and with 3-5 years, will be a markedly better wine.

4,150 Views

Tasted

Sep 21, 2019

Flowers, spice, licorice and juicy plums dominate the nose. On the palate, the wine is silky, soft, refined and fresh. This is an elegant styling and ripe, supple fruits that is really dynamite this vintage.

4,606 Views

Tasted

Apr 29, 2017

2015
Domaine de l'A (Castillon Côtes de Bordeaux)

Distinctly floral with sweet, fresh, dark red fruits and licorice, this wine has freshness, length, supple textures, concentration of flavor and a bright, agile finish. Made from 75% Merlot and 25% Cabernet Franc, the wine reached 13.8% ABV.

4,252 Views

Tasted

Apr 29, 2016

2014
Domaine de l'A (Castillon Côtes de Bordeaux)

In the nose, you find black raspberries, with an earth and spicy character, the wine is forward and ends with a mineral driven character. 90-91 Pts

6,827 Views

Tasted

May 1, 2015

2012
Domaine de l'A (Castillon Côtes de Bordeaux)

Owned by renowned consultant Stephane Derenoncourt and Christine Derenoncourt. Produced from a blend of 70% Merlot and 30% Cabernet Franc, the wine reached 13.5% ABV and will be aged in 100% new French oak. Spicy red and dark fruits, coffee bean, and earthy notes are in the forefront. On the palate, the wine is medium-bodied, soft and delivers a mineral-driven, plummy finish. 88-90 Pts

3,899 Views

Tasted

Apr 26, 2013

2011
Domaine de l'A (Castillon Côtes de Bordeaux)

Owned by renowned consultant Stephane Derenoncourt and Christine Derenoncourt, this wine is produced from a blend of 80% Merlot and 20% Cabernet Franc and reached 13.7% ABV. Fermented in oak tanks and aged in 40% new oak, there is ample sweet oak, licorice, earth and black raspberry. With soft, round textures, this forward style of wine should drink well on release. 89-91 Pts

6,219 Views

Tasted

Apr 20, 2012

2010
Domaine de l'A (Castillon Côtes de Bordeaux)

Domaine de l'A, owned by renowned consultant Stephane Derenoncourt and Christine Derenoncourt is produced from a blend of 70% Merlot, 25% Cabernet Franc and 5% Cabernet Sauvignon biodynamically farmed vineyards planted in clay and limestone soils. Deeply colored, intense aromas of licorice, blackberry, espresso bean and earth meld with sumptuous textures, round tannins, and a long, fresh, ripe, dark plum, fennel and smoky finish. 91-93 Pts

9,163 Views

Tasted

Apr 22, 2011

2009
Domaine de l'A (Castillon Côtes de Bordeaux)

This beautiful, opulent, ripe, plush, sexy wine from owner, and well-known wine consultant, Stephane Derenoncourt is made from a blend of 70% Merlot, 25% Cabernet Franc and some Cabernet Sauvignon. Licorice, cappuccino, jammy black cherry, earth and cocoa flavors, great concentration and round tannins make this a fun, stylish, Bordeaux wine to drink right now, or to age for 5-10 years.

5,805 Views

Tasted

Mar 18, 2012

Renowned consultants Stephane Derenoncourt and Christine Derenoncourt own this domain. The wine is a blend of 70% merlot, 25% cabernet franc, and 5% cabernet sauvignon from biodynamically farmed vineyards planted in clay and limestone soils. Filled with jammy dark berries, plums, and black pepper, this soft, open, plush wine ends with ample dark fruit in a fleshy and flashy style. 89-91 Pts

5,844 Views

Tasted

Aug 26, 2010

2008
Domaine de l'A (Castillon Côtes de Bordeaux)

08 Domaine de L' A (Cotes de Castillon) was made from mostly merlot. The famed consultant, Stephan Derenoncourt, owns the domaine. This concentrated, ripe wine is produced with one of the lowest yields in Bordeaux. Deep and rich with blue and black fruits along with chocolate covered licorice essence, this wine fills your mouth with pleasure. 90-92 Pts

4,764 Views

Tasted

Aug 31, 2009

2007
Domaine de l'A (Castillon Côtes de Bordeaux)

Medium bodied, fully mature, easy drinking wine with soft textures and a developed nose of tobacco, cherry and truffle.

2,217 Views

Tasted

May 28, 2014

2005
Domaine de l'A (Castillon Côtes de Bordeaux)

Fully mature, finesse in style, the wine is smooth, elegant and lively, with a fresh, sweet, earthy, cherry profile. There is no reason to age this further.

3,087 Views

Tasted

Jun 27, 2015

Domaine de l'A, from Stephane Derenoncourt is a dead ringer for a nice St. Emilion. From 60% Merlot, 20% Cabernet Franc and 20% Cabernet Sauvignon, this sexy, fat, plush wine is filled with licorice, coca powder, black and blue fruit, forest floor and esperesso beans. Already drinking well, this beauty should be consumed over the next decade.

6,246 Views

Tasted

Sep 5, 2010