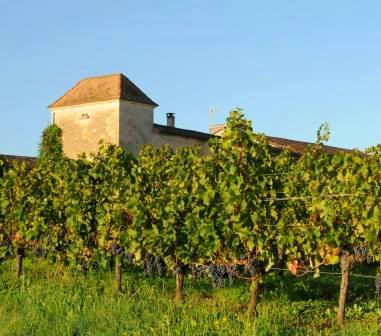 Learn everything about Chateau La Roncheraie Cotes de Castillon wine producer profile with wine tasting notes, wine and food pairing tips, best vintages, a history of the property, and information on winemaking and terroir. If you want to read about other important, Bordeaux Chateaux: Links to all Bordeaux Wine Producer Profiles
Chateau La Roncheraie History, Overview
Chateau La Roncheraie was purchased by its new owner, Jean-Claude Sarrouy, a Parisian businessman just in time to make the 2010 vintage. Two wines are made from this small, but well-situated vineyard in the Cotes de Bordeaux appellation.
Chateau La Roncheraie Vineyards, Terroir, Grapes, Winemaking
The small, 1.4-hectare vineyard of Chateau La Roncheraie is planted to 100% Merlot. This is a parcel selection that is produced from the estate's best terroir. In total, they have 3.84 hectares of vines. But their top wine comes from a 1.4 hectare, hilltop vineyard.
The vineyard is planted to a vine density of 5,000 vines per hectare. The Right Bank terroir is clay over limestone soil, just like you could find in many of the better St. Emilion vineyards.
A lot of attention is taken to farm the vineyards of La Roncheraie. Organic, sustainable farming practices are in use. Yields are purposely maintained at low levels to get the most from the vines. In fact, the yields are often as low as only 18 hectoliters per hectare!
To produce the wine of Chateau La Roncheraie, vinification takes place in temperature-controlled, stainless steel tanks after almost 3 weeks of maceration. Microbullage is performed in the tank under the cap. Malolactic fermentation takes place in 100% new, French oak barrels.
During the aging period, the wine spends an average of months on its post malolactic lees. The wine of Chateau La Roncheraie is aged in 100% new, French oak barrels for 17 months. Not much wine is made as the production hovers at close to 300 cases of wine per vintage.
The property produces a second wine, Chateau La Roncheraie La Paradoxe. The vineyard used to produce La Paradoxe is planted to 80% Merlot, 15% Cabernet Sauvignon and 5% Cabernet Franc. On average, the vines are 25 years of age.
The same vineyard management techniques used to produce Chateau La Roncheraie are also utilized in the making of La Paradoxe. However, the juice is macerated for a shorter period of time and malolactic fermentation, as well as aging, takes place in 80% new, French oak barrels for an average of 12 months.
The best vintages of Chateau Roncheraie are: 2022, 2021, 2020, 2019, 2018, 2017, 2016, 2015, 2014, 2012, 2010, 2009 and 2005.
When to Drink Chateau La Roncheraie, Anticipated Maturity, Decanting Time
Chateau La Roncheraie is much better with at least 1-3 years of aging in good vintages. Young vintages can be decanted for 1 hour, allowing the wine to soften and open its perfume.
Older vintages might need very little decanting, just enough to remove the sediment. Chateau La Roncheraie offers its best drinking and should reach peak maturity between 2-8 years of age after the vintage.
Serving Chateau La Roncheraie with Wine, Food, Pairing Tips
Chateau La Roncheraie is best served at 15.5 degrees Celsius, 60 degrees Fahrenheit. The cool, almost cellar temperature gives the wine more freshness and lift.
Chateau La Roncheraie is best paired with all types of classic meat dishes, veal, pork, beef, lamb, duck, game, roast chicken, roasted braised, and grilled dishes. Chateau La Roncheraie is also good when matched with Asian dishes, rich fish courses like tuna, mushrooms, and pasta.
Previous vintages of Chateau La Roncheraie included two wines which are no longer in production, La Roncheraie Cuvee Prestige and La Roncheraie Cuvee Seriene.
Château la Roncheraie Wine Tasting Notes
7 Vintages 13,097 Views Sort by Vintage-Rating
2014
Château la Roncheraie (Castillon Côtes de Bordeaux)

Dark in color, rich, filled with rich, ripe, lush fruits, jam, freshness and length. Not much is made, and it's worth seeking out for the combination of quality and value. From 100% old vine Merlot, with low yields of only 17 hectoliters per hectare, the wine reached 14% ABV. This wine is a Jeffrey Davies Selection Exclusive. 90-92 Pts

1,509 Views

Tasted

May 1, 2015

2014
Château la Roncheraie Le Paradoxe (Castillon Côtes de Bordeaux)

Soft, forward, easy drinking, ripe Merlot based wine with a blast of licorice and sweet, dark plums in the finish. From low yields of only 24 hectares per hectare, this blend of 80% Merlot, 13% Cabernet Sauvignon, and 7% Cabernet Franc reached 13.5% ABV. 85-87 Pts

1,365 Views

Tasted

May 1, 2015

2013
Château la Roncheraie (Castillon Côtes de Bordeaux)

With a nose of coffee beans, chocolate, fennel and black cherry, the wine is round, full of flavor, easy to like and offers a plush charm for the vintage. Made from 100% Merlot, the wine reached 13.8% ABV. This is going to be hard to find as close to 175 cases is all that was produced. 87-89 Pts

1,400 Views

Tasted

May 1, 2014

2013
Château la Roncheraie Le Paradoxe (Castillon Côtes de Bordeaux)

From tiny yields of just 11 hectoliters per hectare, the wine shows good flesh to its fresh, black raspberry and cocoa character. Produced from a blend of 90% Merlot, 20% Cabernet Sauvignon and 10% Cabernet Franc, the wine reached 13.5% ABV and is aging in 50% new oak. 86-88 Pts

1,230 Views

Tasted

May 2, 2014

2012
Château la Roncheraie (Castillon Côtes de Bordeaux)

This tiny vineyard more than doubled its size recently. It's now a whopping 3.84 hectares! From a blend of 75% Merlot, 20% Cabernet Sauvignon and 5% Cabernet Franc, the vines are planted in a layer of thin clay over serious limestone deposits. Floral, fresh berries, lush pleasures, ripe fruits with a sweet dark berry finish. 89-91 Pts

1,249 Views

Tasted

Apr 26, 2013

2011
Château la Roncheraie (Castillon Côtes de Bordeaux)

This tiny vineyard more than doubled its size. It's now a whopping 3.84 hectares! From a blend of 75% Merlot, 20% Cabernet Sauvignon and 5% Cabernet Franc, the vines are planted in a layer of thin clay over serious limestone deposits. Reaching 14% ABV, the wine is aged in 100% new oak. With licorice, smoke and black cherry, this thick and intense wine is filled with sweet, ripe and round black cherries. This is the second vintage for this Jeffrey Davies Exclusive. 90-91 Pts.

1,044 Views

Tasted

Apr 20, 2012

2010
Château la Roncheraie (Castillon Côtes de Bordeaux)

Open, soft, round and sweet, with licorice, fresh dark cherries and chocolate tones. This easy to like wine is not for cellaring. Drinking over the 5-7 year.

1,789 Views

Tasted

Nov 23, 2014

Deep in color, forward in style, with licorice, smoke, coffee and jammy dark berries, this easy to like, open wine is a lot of fun to drink.

1,869 Views

Tasted

Aug 12, 2012

La Roncheraie From a small 1.4 hectare vineyard, the wine is made from 100% Merlot that average 30 years in age. Inky in color, with an oak, licorice and jammy berry perfume. Dense, thick and mouth coating, this wine exchanges complexity for hedonistic pleasure. Less than 300 cases were produced. 89-91 Pts

1,642 Views

Tasted

Apr 22, 2011