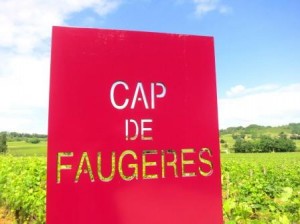 Learn everything about Cap de Faugeres, Cotes de Castillon with wine tasting notes, and wine with food pairing tips. Learn the best vintages, a history of the property, information on the vineyards, and winemaking. If you want to read about other important, Bordeaux Chateaux: Links to all Bordeaux Wine Producer Profiles
Chateau Cap de Faugeres Vineyards, Terroir, Grapes, Winemaking
The 46-hectare vineyard of Chateau Cap de Faugeres is planted to 85% Merlot, 10% Cabernet Franc and 5% Cabernet Sauvignon, typical of that part of the Right Bank. Over the years, Silvio Denz has more than doubled the size of the vineyard.
The vineyard is planted to a vine density of 6,000 vines per hectare. On average, the vines are 30 years of, but some vines are older, at close to 50 years of age. The terroir is limestone and clay soils.
To produce the wine of Chateau Cap de Faugeres requires a lot of labor-intensive efforts. The grapes go through a five-day cold soak before being placed into 30, stainless steel tanks.
Malolactic fermentation takes place in tanks. The wine is aged in mostly, one-year-old, French oak barrels for 12 months. On average, production is close to 10,000 cases per vintage of Chateau Cap de Faugeres.
The estate is owned by Silvio Denz and consulted by Stephan von Neipperg. Always striving to make the best wine possible, in 2009, Silvio Denz introduced a new, high-end wine to his Cotes de Castillon portfolio, Chateau Cap de Faugeres La Mouleyre.
La Mouleyre is produced from the best parcels of old vines that are close to 50 years of age. The wine is vinified in traditional oak vats and aged in 100%, new, French oak for 12 months.
La Mouleyre is made from a blend of 80% Merlot and 20% Cabernet Franc. For the first 3 vintages, production was quite limited, with between 200 and 250 cases produced each year. Starting with the 2014 vintage, the production increased to between 850 and 1,000 cases per year.
The best vintages of Chateau Cap de Faugeres are: 2022, 2021, 2020, 2019, 2018, 2017, 2016, 2015, 2014, 2012, 2010, 2009, and 2005.
When to Drink Chateau Cap de Faugeres, Anticipated Maturity, Decanting Time
Chateau Cap de Faugeres is much better with at least 2-4 years of aging in good vintages. Young vintages can be decanted for 1 hour to 90 minutes. This allows the wine to soften and open its perfume.
Older vintages might need very little decanting, just enough to remove the sediment. Chateau Cap de Faugeres offers its best drinking and should reach peak maturity between 4-15 years of age after the vintage.
Serving Chateau Cap de Faugeres with Wine, Food, Pairing Tips
Chateau Cap de Faugeres is best served at 15.5 degrees Celsius, 60 degrees Fahrenheit. The cool, almost cellar temperature gives the wine more freshness and lift.
Chateau Cap de Faugeres is best paired with all types of classic meat dishes, veal, pork, beef, lamb, duck, game, roast chicken, roasted, braised, and grilled dishes. Chateau Cap de Faugeres is also good when matched with Asian dishes, and hearty fish courses like tuna, mushrooms, and pasta.
Chateau Cap de Faugeres is a plush, lush, forward-styled, modern Bordeaux wine that remains one of the top values from the Cotes de Bordeaux appellation.
https://www.vignobles-silvio-denz.com
Château Cap de Faugères Wine Tasting Notes
24 Vintages 75,046 Views Sort by Vintage-Rating
2022
Château Cap de Faugères (Castillon Côtes de Bordeaux)

Rich, deep, dark and fruity, from start to finish you find layers of chocolate-coated, black fruits, licorice, black cherries, and espresso. The wine is plush, round, polished and forward, with a touch of salt and more dark, plummy fruits on the backend. The wine was blended with 85% Merlot, and15% Cabernet Franc. Drink from 2025-2034. 91-93 Pts.

1,080 Views

Tasted

May 8, 2023

2021
Château Cap de Faugères (Castillon Côtes de Bordeaux)

Blending 85% Merlot, 10% Cabernet Franc and 5% Cabernet Sauvignon, produces a forward, soft, polished, fresh, lush, round, fruit-filled wine with loads of ripe, chocolate-coated, plums and black cherries with a touch of salt on the mid-palate and in the endnote. Drink from 2023-2034. 90-92

1,043 Views

Tasted

May 20, 2022

2020
Château Cap de Faugères (Castillon Côtes de Bordeaux)

Medium-bodied, round, lush and forward, with a dusty-textured, chocolate and plum core of ripe, sweet fruits, polished tannins and a touch of spicy, espresso in the finish. Drink from 2023-2035.

574 Views

Tasted

Mar 21, 2023

Dark in color, the wine offers an array of scents, featuring black cherry liqueur, olives, licorice and coffee bean. Lush, round, rich and fruity, the finish packs in a lot of sweet, ripe, dark red pit fruits and chocolate. 91-93 Pts

1,775 Views

Tasted

May 20, 2021

2019
Château Cap de Faugères (Castillon Côtes de Bordeaux)

Dark in color, the wine exudes licorice, smoke, dark chocolate, black pit fruits and cherries. Full-bodied, lushly textured and with a hedonistic, fruit and chocolate filled finish, this will offer a lot of bang for the buck. The wine was made from blending 80% old vine Merlot and 20% Cabernet Franc. 91-93 Pts

5,140 Views

Tasted

Jul 3, 2020

2019
Château Cap de Faugeres Mouleyre (Castillon Côtes de Bordeaux)

Dark chocolate, truffle, black plums and espresso create the nose. On the palate, the wine is soft, medium-bodied, fresh and fruity, with an earthy, cocoa, licorice and espresso-tinged, plum and cherry finish. Drink from 2023-2034.

767 Views

Tasted

Mar 29, 2022

2018
Château Cap de Faugeres Mouleyre (Castillon Côtes de Bordeaux)

Round, dark, juicy and loaded to the brim with ripe black cherries, licorice, espresso and plums, this is a richly styled lush textured wine. Even better, it will be great early in its life and will be fun to taste for at least a decade or more. The wine was made from blend of 80% old vine Merlot and 20% Cabernet Franc. 91-93 Pts

1,605 Views

Tasted

Apr 19, 2019

2018
Château Cap de Faugères (Castillon Côtes de Bordeaux)

Fresh and juicy, the wine pops with all its ripe, plums, cherries, licorice, coffee bean, cocoa and spice. Lush, opulent and packed with sweet, red and dark red berries, this is good now, but a few more years in the cellar will make it even better. The wine was made from a blend of 85% Merlot, 10% Cabernet Franc and 5% Cabernet Sauvignon.

1,685 Views

Tasted

Mar 9, 2021

2017
Château Cap de Faugères (Castillon Côtes de Bordeaux)

Luxurious and sexy, the wine is loaded with licorice, juicy plums and dark chocolate with an expressive, round finish. This should be quite tasty on release. The wine was made from a blend of 85% Merlot, 10% Cabernet Franc and 5% Cabernet Sauvignon – despite the estate losing 40% of the yield to frost.

2,565 Views

Tasted

Apr 26, 2018

2016
Château Cap de Faugeres Mouleyre (Castillon Côtes de Bordeaux)

Plush, soft and approachable, this, rich, round, plummy wine is concentrated, sweet and lush with licorice, espresso and black cherry on the nose and palate. The wine was made from blend of 80% old vine Merlot and 20% Cabernet Franc.

2,005 Views

Tasted

Sep 21, 2019

Deep in color, with licorice, espresso, black cherry and black raspberry on the nose, the wine is richly textured, fresh, concentrated, sweet and lush. Powerful, with a blast of sweet, juicy black and blue fruits, the sweet berries in the plushy textured, lingers. The wine was made from blend of 80% old vine Merlot and 20% Cabernet Franc.

1,928 Views

Tasted

Apr 29, 2017

2016
Château Cap de Faugères (Castillon Côtes de Bordeaux)

From a blend of 85% Merlot, 10% Cabernet Franc and 5% Cabernet Sauvignon, the wine opens with licorice, ripe, black cherry, vanilla and kirsch. Forward, lush, juicy and fresh, the wine leaves you with sweet, dark chocolate covered cherries and a hint of dust in the tannins.

4,215 Views

Tasted

Apr 29, 2017

2015
Château Cap de Faugeres Mouleyre (Castillon Côtes de Bordeaux)

Luscious textures and an earthy, sweet, dark chocolate, boysenberry, plum and confiture core, the wine finishes with black cherries, cocoa and thyme that feel as rich as it tastes.

2,765 Views

Tasted

Apr 29, 2016

2015
Château Cap de Faugères (Castillon Côtes de Bordeaux)

Sweet, lush fruits with chocolately overtones on top of the black cherry essences. Medium/full bodied, you can drink this young, or age it for a few years.

4,575 Views

Tasted

May 21, 2018

Lush, plush, sweet and packed with licorice, chocolate covered cherries and plums, the wine is sweet, round and easy to drink. This should be quite tasty on release.

3,350 Views

Tasted

Apr 29, 2016

2014
Château Cap de Faugères (Castillon Côtes de Bordeaux)

Round, fat, sweet, ripe, dark, juicy fruits, licorice, espresso and wet earth all wrapped up in an open, easy to drink, open style. Not overtly complex, but there is loads of well-priced, early drinking pleasure here.

3,205 Views

Tasted

Jul 10, 2017

2013
Château Cap de Faugères (Castillon Côtes de Bordeaux)

Licorice, strawberry and plum, medium bodied, in a light style will provide nice drinking at a good price on release. 86-88 Pts

3,130 Views

Tasted

May 1, 2014

2012
Château Cap de Faugères (Castillon Côtes de Bordeaux)

Incense, spice, earth and roasted cherries with supple, soft tannins and a lush, concentrated, cherry filled finish.

2,539 Views

Tasted

May 15, 2015

2011
Château Cap de Faugeres Mouleyre (Castillon Côtes de Bordeaux)

Blending 80% Merlot and 20% Cabernet Franc, produced from low yields of 28 hectoliters per hectare, this wine from Silvo Denz comes from a single 1-hectare parcel of 40 year old vines planted on clay and limestone. Plummy scents, supple textures and a fresh, plush black cherry finish are found in this wine.

1,433 Views

Tasted

May 8, 2016

2011
Château Cap de Faugères (Castillon Côtes de Bordeaux)

Blending 85% Merlot, 10% Cabernet Franc and 5% Cabernet Franc, the wine offers jammy chocolate cherry liqueur aromas with a medium-bodied, red berry finish. 87-88 Pts

3,406 Views

Tasted

Apr 20, 2012

2010
Château Cap de Faugeres Mouleyre (Castillon Côtes de Bordeaux)

This lush, rich, round, sweet, ripe, forward charmer is loaded with black licorice, chocolate covered cherries and fresh plums. Open, polished and ready for pleasure, this is a tasty treat.

1,855 Views

Tasted

May 8, 2016

2010
Château Cap de Faugères (Castillon Côtes de Bordeaux)

2010 Cap de Faugeres From a blend of 85% merlot, 10% cabernet franc and 5% cabernet sauvignon, (which is how the vineyard is planted,) came in at 14.5% ABV. This medium/full bodied wine offers abundant fresh, sweet black cherry and chocolate notes in a lush crowd pleasing style that will drink well on release for a fair price. As 10,000 cases are produced, this will also be easy to find. 89-91 Pts

5,255 Views

Tasted

Apr 22, 2011

2009
Château Cap de Faugeres Mouleyre (Castillon Côtes de Bordeaux)

A top example of the quality that can be hit in the Cotes de Bordeaux today. Dark in color, with a nose of espresso, licorice, truffle, smoke, ripe black cherries and cocoa. The wine is full bodied, plush in texture and delivers a boatload of hedonistic pleasure. The wine was made from a blend of 80% Merlot and 20% Cabernet Franc.

2,064 Views

Tasted

May 8, 2016

2009
Château Cap de Faugères (Castillon Côtes de Bordeaux)

Licorice, coffee bean, boysenberry jam and chocolate scents pop from the glass. Sweet, round, lush and forward, the crowd pleasing wine is already open, fun to drink and fairly priced at $20 or less.

5,186 Views

Tasted

Jan 12, 2013

2008
Château Cap de Faugères (Castillon Côtes de Bordeaux)

In the secondary stage with truffle and earthy nuances. The fruit is just starting to fade, so catch it quick, before the remaining sweet, red fruit fades.

1,411 Views

Tasted

Sep 17, 2018

2006
Château Cap de Faugères (Castillon Côtes de Bordeaux)

On the downward slope, this is starting to fade and drop its fruit. Drink up sooner than later.

3,705 Views

Tasted

Nov 29, 2013

2005
Château Cap de Faugères (Castillon Côtes de Bordeaux)

From a blend of 85% Merlot and 15% Cabernet Franc, this ripe, rich, opulently textured wine is stuffed with licorice, coffee bean and chocolate covered black cherries with a touch of jam. For a wine that offers change for a $20 bill, there is a lot to like. This is drinking about as good as it's going to get, so there is not much upside to be gained with further cellaring.

6,785 Views

Tasted

Aug 27, 2011