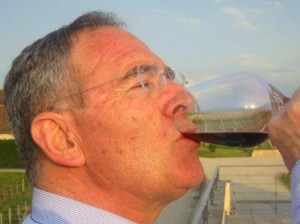 Learn everything about Chateau Alcee Cotes de Castillon with wine tasting notes, wine, and food pairing tips, best vintages, a history of the property, information on the vineyards, and winemaking. If you want to read about other important, Bordeaux Chateaux: Links to all Bordeaux Wine Producer Profiles
Chateau Alcee History, Overview
Nicolas Thienpont began working with Chateau Alcee starting with the 2011 vintage. Once Nicolas Thienpont stepped in, serious attention started to take place in the vineyards of Chateau Alcee. This started with replacing some of the vines on a vine-by-vine basis in an effort to increase the level of the vine density.
Along with their massale, selection replanting program, (which is on the first in the Cotes de Bordeaux appellation) only sustainable, organic farming techniques are now being used. The grapes are picked later, seeking better levels of phenolic ripeness, and yields have been reduced to further concentrate the wine.
Chateau Alcee Vineyards, Terroir, Grapes, Winemaking
The 6.5-hectare vineyard of Chateau Alcee is planted to 86% Merlot and 14% Cabernet Franc. The terroir of red clay and limestone soils is similar to what you will find at some of the best St. Emilion vineyards. The vines are old, with an average age of 40 years. The vineyard is planted to a vine density of 6,500 vines per hectare.
To produce the wine of Chateau Alcee today, things are quite different here at this Right Bank vineyard. Following a stringent selection process in the vineyard and in the cellars, the fruit is whole berry fermented in temperature-controlled, traditional-shaped cement tanks.
The fermentation takes place on a parcel by parcel basis. Malolactic fermentation takes place in 50%, new, French oak barrels. The wine of Chateau Alcee is aged in 50% new, French, oak barrels for an average of 15 months.
To increase the richness of the wine, the first 6 months of aging are spent on its post, malolactic lees. The production of Chateau Alcee is on average, close to 2,400 cases of wine per vintage.
The best vintages of Chateau Alcee are: 2022, 2021, 2020, 2019, 2018, 2017, 2016, 2015, 2014 and 2012.
When to Drink Chateau Alcee, Anticipated Maturity, Decanting Time
Chateau Alcee is better with at least 2-3 years of aging in good vintages. Young vintages can be decanted for up to 1 hour, helping the wine soften to help develop the aromatic character.
Older vintages might need very little decanting, just enough to remove the sediment. Chateau Alcee offers its best drinking and should reach peak maturity between 2-9 years of age after the vintage.
Serving Chateau Alcee with Wine, Food, Pairing Tips
Chateau Alcee is best served at 15.5 degrees Celsius, 60 degrees Fahrenheit. The cool, almost cellar temperature gives the wine more freshness and lift.
Chateau Alcee is best paired with all types of classic meat dishes, veal, pork, beef, lamb, duck, game, roast chicken, roasted, braised, and grilled dishes. Chateau Alcee is also good when matched with Asian dishes, hearty fish courses like tuna, mushrooms, and pasta.
Château Alcée Wine Tasting Notes
10 Vintages 29,032 Views Sort by Vintage-Rating
2021
Château Alcée (Castillon Côtes de Bordeaux)

Creamy, sweet, fresh dark cherries, licorice and chocolate come along with a nice touch minerality that adds a cool salty touch to all the ripe, red fruits on the palate and in the finish. The wine blends 91% Merlot and 9% Cabernet Franc. Drink from 2023-2033. 89-91

1,006 Views

Tasted

May 20, 2022

2020
Château Alcée (Castillon Côtes de Bordeaux)

Deeply colored, the wine shows off its nose of licorice, flowers, red pit fruits and crushed rocks effortlessly. On the palate, the wine is medium-bodied, richly textured, lush and silky, with freshness and loads of mineral-driven, red fruits and chocolate in the finish. If you are not familiar with this beauty, you should be, because this stunner sells for a song for a wine of its quality. This should drink well with just a year or two of aging (If you can wait that long.) Drink from 2024-2037.

149 Views

Tasted

Mar 21, 2023

Dark in color, this hedonistic treat is loaded with all the ripe sweet plums, licorice, crushed rocks, wet earth, spice and cherries you could ask for. Richly textured, lush, silky, velvety, medium-bodied and fresh, with a long, intense finish that just keeps on going with notes of spice, black plums, dark cocoa and herbs. If you are not familiar with this beauty, you should be, because this stunner sells for a song for a wine of its quality. This should drink well with just a year or two of aging (If you can wait that long) and offer pleasure for at least another 12 years after that. 92-94 Pts

1,513 Views

Tasted

May 20, 2021

2019
Château Alcée (Castillon Côtes de Bordeaux)

Flowers, chocolate, cinnamon spice, truffle and red pit fruits are found in the complex aromatic profile. On the palate the wine is all about the dark chocolate coated plums with just a hint of espresso on the palate and in the supple textured finish. This is already so good and it is going to get even better with just a few years of age. Drink from 2022-2034.

1,088 Views

Tasted

Mar 29, 2022

2018
Château Alcée (Castillon Côtes de Bordeaux)

The cornucopia of red and black fruits comes with underbrush, licorice, espresso and black with red cherries, Medium/full-bodied, fresh, supple and long, this is already showing well now and will get better with a bit more aging. Produced from 96% Merlot and 4% Cabernet Franc.

1,275 Views

Tasted

Mar 9, 2021

Fruity, ripe, round and forward, the wine is loaded with sweet, black cherry, cocoa, licorice and espresso. You can enjoy this on release for all its ripe, juicy, round fruit. Produced from 96% Merlot and 4% Cabernet Franc. 90-92 Pts

2,457 Views

Tasted

Apr 19, 2019

2017
Château Alcée (Castillon Côtes de Bordeaux)

Produced from 100% Merlot, the wine is sweet, juicy and already open. If you like the idea of licorice and ripe cherries with silky tannins and lift -- then you came to the right place. Drink this on release for sure.

1,577 Views

Tasted

Apr 26, 2018

2016
Château Alcée (Castillon Côtes de Bordeaux)

Ripe, fleshy, sweet, and packed with juicy plums, black cherries, dark cocoa and licorice, this blend of 92% Merlot and 8% Cabernet Franc hits the spot from start to finish.

4,388 Views

Tasted

Sep 21, 2019

With a strong earthy note kicking things off, the wine is round and forward with sweetness, ripe fruits, soft tannins and juicy plums with licorice in the finish. The wine was made from 92% Merlot and 8% Cabernet Franc.

2,649 Views

Tasted

Apr 29, 2017

2015
Château Alcée (Castillon Côtes de Bordeaux)

Ripe and soft, soft and sweet, the wine offers sweet cherry, licorice and earthy notes. Medium/full bodied with a bright red berry character in the finish.

1,578 Views

Tasted

May 21, 2018

Forward, soft and plummy, with an open, sweet fresh, bright red berry character, the wine has a nice spicy finish.

1,286 Views

Tasted

Apr 29, 2016

2014
Château Alcée (Castillon Côtes de Bordeaux)

A medium bodied effort, with soft, textured, cherry and red plum notes, sweet tannins and an open, easy to like finish with a bit of spice in the end note. You can drink this on release, as it's already showing well.

1,310 Views

Tasted

Mar 24, 2017

Dominated by 95% Merlot, with just 5% Cabernet Franc in the blend, the wine is sweet, medium bodied, fruity and forward and should be best in its youth. 86-88 Pts

1,528 Views

Tasted

May 1, 2015

2012
Château Alcée (Castillon Côtes de Bordeaux)

Medium bodied, sweet and tart, black cherry, licorice and spice filled wine that displays a nice stone element in the smooth finish.

2,634 Views

Tasted

Jul 6, 2015

The second vintage for Nicolas Thienpont was made from 95% Merlot and 5% Caberent Franc, the wine is a step up after the debut vintage. Licorice and dark berries provide a sweet, fleshy, jammy wine with freshness and minerality. 88-90 Pts

1,509 Views

Tasted

Apr 26, 2013

2011
Château Alcée (Castillon Côtes de Bordeaux)

Medium bodied, with bright red fruits, coffee bean, earth and stone notes deliver a wine that will be best on the young side. 87 Pts

1,569 Views

Tasted

May 20, 2014

The debut vintage for this new Cotes de Castillon wine owned by Nicolas Thienpont. Produced from old vines that are on average, more than 50 years of age, the terroir is clay and limestone, similar to what you might find in St. Emilion. The vineyard is tiny. It's only a 2 hectare parcel. The wine is a blend of 95% Merlot and 5% Cabernet Franc. Rich, supple-textured and silky on the palate, there is good sweetness, minerality and intensity to the wine. 89-91 Pts

1,516 Views

Tasted

Apr 20, 2012