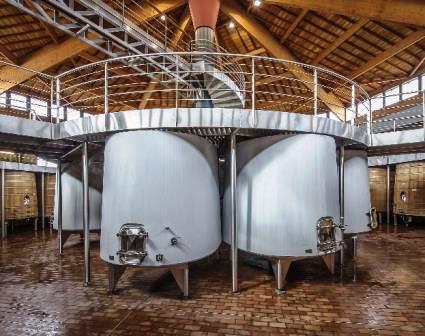 Learn everything about Chateau d'Aiguilhe Cotes de Castillon with wine tasting notes and wine with food pairing tips. Learn all the best vintages, the history of the property, and information on the vineyards and winemaking. If you want to read about other important, Bordeaux Chateaux: Links to all Bordeaux Wine Producer Profiles
Chateau d'Aiguilhe History, Overview
While wine was being produced at Chateau d'Aiguilhe during the 1700s when it was owned by the Leberthon family. In those days, much of the land was used for agriculture and farming.
However, the modern era for the property begins in the late 20th century, when Etienne Martineau purchased the land in 1920 and created the vineyard. The estate came to be known as Chateau La Fleur d'Aiguilhe.
Stephan von Neipperg purchased La Fleur d'Aiguilhe in 1989 and promptly renamed the estate, Chateau d'Aiguilhe. At the time Stephan von Neipperg took over the vineyard, everything was in poor condition and needed renovation.
The vineyards also demanded complete replanting. The winemaking facilities needed to be completely rebuilt and modernized. Part of the modernization was in the cellars where Stephan von Neipperg created a new circular, shaped winery.
Chateau d'Aiguilhe is situated in a unique location. The vineyards are bordered on one side by a plateau. The other side is bordered by a small valley. This overlooks "l'Aiguille", which is a French term meaning "needle."
This is how the chateau found its name. Stephan von Neipperg owns several other Bordeaux wine properties in St. Emilion including Canon La Gaffeliere, La Mondotte, and Clos de l'Oratoire as well as property in Pessac Leognan and Sauternes.
Chateau d'Aiguilhe Vineyards, Terroir, Grapes, Winemaking
The large 90-hectare vineyard of Chateau d'Aiguilhe is planted to 80% Merlot and 20% Cabernet Franc.
The vineyard has a terroir of limestone and clay soils on sloping hillsides that rise to 110 meters at their peak. This is at the plateau of the Cotes de Bordeaux appellation.
At Chateau d'Aiguilhe, the vine density ranges from 5,500 vines per hectare to 9,000 vine per hectare. The higher levels of density continue to increase as the vineyards are replanted.
At the time the property was purchased by Stephan von Neipperg, the vineyard included plantings of Cabernet Sauvignon, which were quickly pulled out and replaced with Merlot. On average the vines are 28 years of age.
Sustainable viticulture and a biodynamic approach characterize vineyard management hereby Stephan Von Neipperg. This means no herbicides, pesticides, or insecticides are used. Harvesting is manual into small plastic crates. The fruit is sorted twice, both before and after destemming.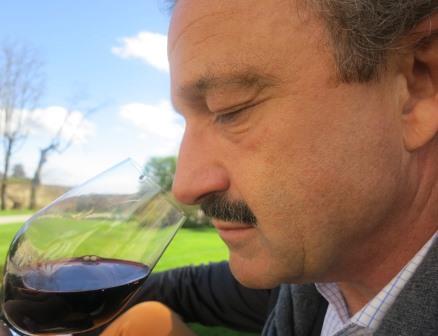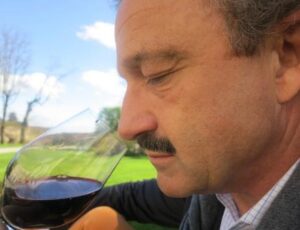 To produce the wine of Chateau d'Aiguilhe, after intense sorting, the fruit is whole berry fermented in a combination of oak vats and cement tanks. In 2015, a complete renovation and modernization of Chateau d'Aiguilhe were completed. They added 9 new, truncated cone-shaped concrete vats giving them a total of 26 vats in all.
Maceration runs for 28 days with regular, pneumatic pigeages. Malolactic fermentation and sur lies aging take place in 50% new, French oak barrels. There is a second wine, Seigneurs d'Aiguilhe. Seigneurs d'Aiguilhe is vinified in stainless steel tanks that were previously used for the first wine. On average, about 20,000 cases of Chateau d'Aiguilhe are produced each vintage.
The best vintages of Chateau d'Aiguilhe are: 2022, 2021, 2020, 2019, 2018, 2017, 2016, 2015, 2014, 2012, 2010, 2009, 2005, 2001 and 2000.
When to Drink Chateau d'Aiguilhe, Anticipated Maturity, Decanting Time
Chateau d'Aiguilhe is much better with at least 3-5 years of aging in good vintages. Young vintages can be decanted for 1 hour to 90 minutes. This allows the wine to soften and open its perfume.
Older vintages might need very little decanting, just enough to remove the sediment. Chateau d'Aiguilhe offers its best drinking and should reach peak maturity between 4-15 years of age after the vintage.
Serving Chateau d'Aiguilhe with Wine, Food, Pairing Tips
Chateau d'Aiguilhe is best served at 15.5 degrees Celsius, 60 degrees Fahrenheit. The cool, almost cellar temperature gives the wine more freshness and lift.
Chateau d'Aiguilhe Querre is best paired with all types of classic meat dishes, veal, pork, beef, lamb, duck, game, roast chicken, roasted, braised, and grilled dishes. Chateau d'Aiguilhe is also good when matched with Asian dishes, rich fish courses like tuna, mushrooms, and pasta.
Chateau d'Aiguilhe Blanc
With the 2014 vintage, Chateau d'Aiguilhe introduced a white Bordeaux wine, d'Aiguilhe Blanc. Made from 100% Sauvignon Blanc, which comes from a tiny, 0.35-hectare parcel of vines planted in the Cotes de Castillon appellation.
The wine is vinified in 5-year-old, French oak barrels. There is no malolactic fermentation or skin contact. The wine is then aged for an average of 8 months in used, French oak barrels before bottling.
You should expect to see an increase in the amount of Sauvignon Blanc planted here in time. There are also plans to plant one hectare of Chardonnay vines outside the appellation.
Château d'Aiguilhe Wine Tasting Notes
33 Vintages 181,547 Views Sort by Vintage-Rating
2022
Château d'Aiguilhe (Castillon Côtes de Bordeaux)

Dark pit fruits, blackberries, flowers, and cocoa create the nose. The wine is medium-bodied, soft, sweet, polished and fresh. On the medium-bodied palate, the fruits are ripe, sweet and long, leaving you with a touch of salty chalk on the back end of the creamy finish. The wine is made from 90% Merlot and 10% Cabernet Franc. 14.3% ABV. Drink from 2025-2038. 93-95 Pts.

1,623 Views

Tasted

May 8, 2023

2022
Château d'Aiguilhe Blanc (Bordeaux)

White flowers, yellow citrus and vanilla are clearly evident on the nose and palate. The wine has lift, sweetness and freshness in its core of yellow citrus and green apples that carries through from the mid-palate to the fruit-filled finish. The wine is produced from 100% Sauvignon Blanc. Drink from 2024-2030 92-92 Pts.

1,026 Views

Tasted

May 8, 2023

2021
Château d'Aiguilhe (Castillon Côtes de Bordeaux)

Black cherries, sea salt, flowers and herbs create the nose. On the palate, the wine is soft, fresh, polished and fruity, with silky tannins, chalk and freshness in the finish. The wine is made from 90% Merlot and 10% Cabernet Franc. 13.3% ABV. Drink from 2023-2036. 91-93

1,364 Views

Tasted

May 20, 2022

2021
Château d'Aiguilhe Blanc (Bordeaux)

Lemon curd, honeysuckle, spice, green apple and a touch of vanilla in the deep background create the perfume. On the palate, the wine is fresh, crisp and packed with pippin apples, pomelo, chalky, yellow citrus with a crisp finish. The wine is produced from 100% Sauvignon Blanc. Drink from 2023-2032. 92-92

968 Views

Tasted

May 20, 2022

2020
Château d'Aiguilhe (Castillon Côtes de Bordeaux)

Round, lush and polished, there is a wealth of fruit and freshness here that is made even better due to the notes of crushed rocks, stones and oceanic influences. On the palate the wine is silky, lifted and fruity, finishing with ample length and a cool salty touch. Drink from 2023-2038.

4,227 Views

Tasted

Mar 21, 2023

2020
Château D'Aiguilhe (Castillon Côtes de Bordeaux)

Quite floral on the nose with earthy red fruits, forest floor and oceanic notes. On the palate the wine is silky, pure, fresh, vibrant and juicy. There is length and complexity with a cool salty touch to the tannins that is there from the mid-palate through to the finish. Blending 90% Merlot with 10% Cabernet Franc. 93-95 Pts

3,526 Views

Tasted

May 20, 2021

2020
Château d'Aiguilhe Blanc (Bordeaux)

Green apples, white peach, honeysuckle, and tangerine come to the surface of the nose. The wine is sweet, round, lush and fresh, with creamy textures and yellow citrus with a background note of honey that comes in at the end of the finish. The wine is produced from 100% Sauvignon Blanc. Drink from 2023-2030.

463 Views

Tasted

Mar 21, 2023

2020
Château D'Aiguilhe Blanc (Bordeaux)

Green apple, lime, flowers, honeysuckle and stone open the wine. Crisp and energetic, the wine shows freshness, sweet, yellow citrus and crisp Granny Smith apples in the juicy, lifted, finish. The wine is produced from 100% Sauvignon Blanc. 92 Pts

1,117 Views

Tasted

May 20, 2021

2019
Château D'Aiguilhe (Castillon Côtes de Bordeaux)

Violets, lilacs, crushed stone, cocoa powder, red pit fruits and licorice in the nose. On the palate, the wine is sweet, silky, fresh and pure. Perhaps this is the most elegant offering yet for this wine. It is refined and polished with purity of fruit in the extended finish. Blending 88% Merlot with 12% Cabernet Franc. 93-95 Pts

8,191 Views

Tasted

Jun 8, 2020

2019
Château d'Aiguilhe (Castillon Côtes de Bordeaux)

Dark red fruits, coffee bean, flowers, licorice and chocolate are found in the nose. Fresh and silky on the palate, with a gorgeous purity to the fruits and silky textures in the cherry packed finish, this is going to take a few years before it starts to deliver its true essence. The wine is made from 88% Merlot and 12% Cabernet Franc. Drink from 2023-2035.

3,489 Views

Tasted

Mar 29, 2022

2019
Château D'Aiguilhe Blanc (Bordeaux)

Bright, fresh, crisp, energetic, citrus filled wine that provides lift, energy along with a beautiful citrus and green apple filled finish with a dollop of honey to sweeten the pot. 92 Pts

1,860 Views

Tasted

Jun 8, 2020

2019
Château d'Aiguilhe Blanc (Bordeaux)

White peach, flowers, pears, spice, lemons and just a hint of roasted almond shine brightly on the nose. The wine is fresh and creamy, finishing with sweet, lemons in the endnote. The grapes come from vines planted in Castillon Cotes de Bordeaux. Drink from 2022-2027.

706 Views

Tasted

Mar 29, 2022

2019
Château d'Aiguilhe Seigneurs d'Aiguilhe (Castillon Côtes de Bordeaux)

Medium-bodied, lighter styled, fresh, red berry filled, floral charmer that is perfect for early drinking pleasure.

1,375 Views

Tasted

Mar 29, 2022

2018
Château D'Aiguilhe (Castillon Côtes de Bordeaux)

Deeply colored, the wine is loaded with licorice, flowers, truffle, blackberry and plum on the nose. On the palate, the wine is rich, supple, round and fleshy, with freshness and density on the palate. There is purity in the fruit and length in the finish which provides you with sensuous red pit fruits, silky tannins, licorice, cherries, cocoa and crushed rock sensations. The harvest took place September 18 to October 5. 93-95 Pts

7,881 Views

Tasted

Apr 19, 2019

2018
Château D'Aiguilhe Blanc (Bordeaux)

Green apple, yellow citrus and pears come through in a forward, bright, fresh, crisp style that you can drink on the young side.

1,145 Views

Tasted

Apr 19, 2019

2017
Château D'Aiguilhe (Castillon Côtes de Bordeaux)

The nose is ripe with licorice, black cherry and plums. There is an honest sweetness to the fruit. The textures are round, the tannins are soft and the finish is fruity with a touch of licorice on the back end. The wine was made from a blend of 90% Merlot and 10% Cabernet Franc. The harvest took place September 21 to October 7. The frost devastated 60% of the vineyard.

5,374 Views

Tasted

Apr 26, 2018

2016
Château D'Aiguilhe (Castillon Côtes de Bordeaux)

Ripe, lush, sweet, dark red fruits, silky textures and a long, earthy, fruit-filled finish, with a blast of licorice, dark cocoa and black cherries in the finish. This could be the best vintage of d'Aiguilhe produced yet!

6,565 Views

Tasted

May 12, 2018

Deep in color, the wine offers dark, black cherry liqueur, espresso, blackberry, and chocolate nuances. There is flesh, freshness and depth of flavor, with supple, sensual textures and a lush, ripe, dark, red fruit filled finish. The wine was produced from blending 85% Merlot and 15% Cabernet Franc.

5,207 Views

Tasted

Apr 29, 2017

2016
Château D'Aiguilhe Blanc (Bordeaux)

Vanilla, pears, green apple and citrus aromatics come together nicely. Medium bodied, sweet, early drinking charmer, that will be fun to enjoy in the hot summer months.

1,471 Views

Tasted

Apr 29, 2017

2015
Château D'Aiguilhe (Castillon Côtes de Bordeaux)

Purity with silky tannins and incredibly sweet, ripe, dark, red fruits to begin, you'll find licorice and just a hint of dark chocolate on the back end. This wine has concentration and energy and gives us insight into the kind of wine that can be realized in the Cotes de Bordeaux.

5,698 Views

Tasted

Apr 29, 2016

2015
Château D'Aiguilhe Blanc (Bordeaux)

The second vintage for the white wine here gets going with Fresh grapefruit, vanilla and sweet lemon chiffon, produced in a forward style.

1,632 Views

Tasted

Apr 29, 2016

2014
Château D'Aiguilhe (Castillon Côtes de Bordeaux)

Fresh, red and black fruits with a spicy, mineral driven, sweet, spicy, plum and cherry finish. 90-91 Pts

3,910 Views

Tasted

May 1, 2015

2014
Château D'Aiguilhe Blanc (Bordeaux)

Fresh grapefruit, vanilla bean and lemon chiffon, made in a fresh, sweet, early drinking style. This is the debut vintage for this wine that was produced from 100% Sauvignon Blanc. 87 Pts

1,292 Views

Tasted

May 1, 2015

2013
Château D'Aiguilhe (Castillon Côtes de Bordeaux)

Smoky cherries, licorice and espresso bean with truffle create the aromas. On the palate, the wine shows ripeness and polish for the vintage, ending with a blast of plum and minerality that carries through. From a blend of 90% Merlot and 10% Cabernet Franc, the wine reached 13.5% ABV. The yields were 10 hectoliters per hectare. The wine is aging in 40% new oak. 89-91 Pts

3,184 Views

Tasted

May 1, 2014

2012
Château D'Aiguilhe (Castillon Côtes de Bordeaux)

Forward, soft, medium bodied wine that delivers a sweet, round, black cherry, thyme, espresso and earthy signature. This is ready to go.

5,242 Views

Tasted

May 15, 2015

From a blend of 80% Merlot and 20% Cabernet Franc, the wine will be aged in 50% new, French oak barrels. Ruby in color, plush, forward, and offering sweet black raspberries with fennel, drink this on the young side. 88-90 Pts

5,518 Views

Tasted

Apr 26, 2013

2011
Château D'Aiguilhe (Castillon Côtes de Bordeaux)

With a dark color, the wine delivers a blast of ripe black raspberries, cherry, espresso and licorice. Forward, medium bodied and already delicious, drink this on the young side.

2,635 Views

Tasted

May 20, 2014

From a blend of 80% Merlot and 20% Cabernet Franc, this wine will be aged in 45% new oak. From limestone soil similar to what is found on the St. Emilion plateau, it shows flowers, minerality, spearmint and plum. This fresh, soft, black raspberry-filled, tannic wine will benefit from a few years of age. 90-92 Pts

2,971 Views

Tasted

Apr 20, 2012

2010
Château D'Aiguilhe (Castillon Côtes de Bordeaux)

With a good deep color, the wine offers truffle, tobacco and sweet black cherries in the nose. Structured, fresh, bright and now tight, the wine is not a lot of fun to taste for the moment. Give it a 3-5 years in the cellar before popping a cork.

7,401 Views

Tasted

May 7, 2013

With a licorice, black cherry, smoke, spice and espresso bean nose, this supple ripe, spicy black raspberry jam filled wine is one of the top wines from the Cotes de Castillon appellation. 91-92 Pts

8,197 Views

Tasted

Jul 30, 2011

d'Aiguilhe – This 50-hectare vineyard produced with a typical blend for the appellation, 80% Merlot and 20% Cabernet Franc is aged in 50% new oak. Dark, purple ruby in color, with a perfume of licorice, jammy dark berries and oak, the wine is round in texture and is filled with delicious ripe black and red fruits, chocolate and spicy, fresh berries. 90-92 Pts

7,309 Views

Tasted

Apr 22, 2011

2009
Château D'Aiguilhe (Castillon Côtes de Bordeaux)

Licorice, jammy berries, coffee and chocolate scents lead to a plush, round, sexy and already approachable wine. Net yields in 2009 were an amazing 8 hls/ha.

7,211 Views

Tasted

Jul 30, 2011

2009 d'Aiguilhe - This 50-hectare vineyard is planted on thin clay on top of limestone. Net yields in 2009 were 8 hls/ha. The wine is aged in 50% new oak. This wine, 80% merlot and 20% cabernet franc, is deeply colored, and shows aromas of spice, oak, dark jammy berries, anise, strawberries, and chocolate. Full bodied and round, this fresh, supple wine finishes with dark cherry, spice, and licorice. 90-92 Pts

7,418 Views

Tasted

Aug 26, 2010

2008
Château D'Aiguilhe (Castillon Côtes de Bordeaux)

2008 D'Aiguilhe offers a perfume of licorice, oak, minerals, blackberry and coffee scents. Full bodied and concentrated, this ripe and round textured wine was bottled in June. 91 Pts

7,157 Views

Tasted

Nov 18, 2010

08 D'Aiguilhe (Cotes de Castillon) is the perfect ringer for a blind tasting of St. Emilions. Coffee, black fruit, and some mineral essences start off this lush wine that has a fresh, ample finish of anise, plums, and black berry fruits. 89-92 Pts

7,233 Views

Tasted

Aug 31, 2009

2005
Château D'Aiguilhe (Castillon Côtes de Bordeaux)

This voluptuous charmer is filled with licorice, black cherry, chocolate and smoke. Round, sensuous and ready, this is drinking great today. It should continue at this level for at least another decade.

7,171 Views

Tasted

Mar 25, 2013

This sexy little wine is coming around and offering a lot of pleasure with its licorce, chocolate, smoke, caramel and roasted coffee bean perfume. Supple in texture, the wine exudes pleasure in its ripe, dark berry, chocolate and mocha finish.

7,834 Views

Tasted

Dec 7, 2012

From a typical blend of 80% Merlot and 20% Cabernet Franc, this delicious, affordable, Cotes de Castillon wine is filled with licorice, black cherry, cocoa, cassis and earthy scents. Richly textured and drinking perfectly today, the wine ends with a fresh, ripe, fennel and spicy plum finish. This is one of the great value wines from the 2005 Bordeaux wine vintage.

7,579 Views

Tasted

Aug 8, 2011

2004
Château D'Aiguilhe (Castillon Côtes de Bordeaux)

Smoky, with mushroom, floral and dark berry aromatics. The wine is medium bodied, round and ends with a fennel and black cherry finish. This is fully mature and requires drinking.

2,405 Views

Tasted

Nov 30, 2014

2003
Château D'Aiguilhe (Castillon Côtes de Bordeaux)

This fully mature wine offers licorice, plum, black cherries, truffle, jam and smoke. From a blend of 80% Merlot and 20% Cabernet Franc, this round, ripe and delicious Right Bank, Bordeaux wine is drinking great today.

6,210 Views

Tasted

Sep 9, 2011

2001
Château D'Aiguilhe (Castillon Côtes de Bordeaux)

Clearly starting its gentle decline as the wine offers more secondary, earthy, tobacco notes than sweet, red berries. Drink up as it is not going to get any better from here.

3,021 Views

Tasted

Nov 3, 2016

2000
Château D'Aiguilhe (Castillon Côtes de Bordeaux)

Fully mature, with licorice, stone, earth, black raspberry, spice, coffee and ripe plum scents, this round, medium bodied, soft textured wine is drinking at the perfect place today. If you have any remaining, I'd drink them over the next 2-4 years to preserve the fruit.

5,741 Views

Tasted

Aug 17, 2011