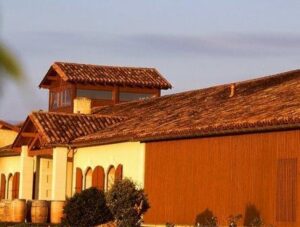 Learn everything about Clos Puy Arnaud Cotes de Castillon with wine tasting notes, wine, and food pairing tips, best vintages, a history of the property, information on the vineyards, and winemaking. If you want to read about other important, Bordeaux Chateaux: Links to all Bordeaux Wine Producer Profiles
Clos Puy Arnaud History, Overview
Clos Puy Arnaud has a history that dates back to at least 1871 in the Cotes de Castillon region. However, the modern era for the estate begins in the year 2000 when Thierry Valette purchased the estate. If the Valette name sounds familiar, it should.
Thierry Valette is related to the Valette family that also owns Chateau Troplong Mondot and previously, Chateau Pavie. In fact, Thierry Valette was one of the owners of Chateau Pavie before the estate was sold to Gerard Perse. He also owned Chateau La Prade, until 2000, before taking over Clos Puy Arnaud.
Clos Puy Arnaud Vineyards, Terroir, Grapes, Winemaking
The 15.5 hectare Right Bank vineyard of Clos Puy Arnaud is planted to 65% Merlot, 25% Cabernet Franc and 5% Cabernet Sauvignon. The vineyard is divided into 32 parcels. It is the goal of Clos Puy Arnaud to increase the amount of Cabernet Franc in the vineyards over time to 40%. They are also planning on adding small amounts of Petit Verdot, Malbec, and interestingly, Mancin and Castet as well.
Small amounts of those ancient Bordeaux grape varieties can already be found in the vineyard as well. Between 1% to 2% of the vines are planted to Castets and Mancin!
On average, the vines are close to 30 years of age. But they also have old vines that are more than 60 years of age. The vineyard has a terroir of limestone and clay soils.
However, because they are located on the top of the Castillon plateau and the limestone in their soil is unique. It is known as Asteries, which is the hardest type of limestone found in nature.
The Cotes de Bordeaux vineyard is managed exclusively by using 100% biodynamic farming techniques since 2008. They tried to become 100% biodynamic in 2004, but the difficult, wet, 2007 vintage set the property back. It took the next 3 vintages before they were certified by Biodyvin as organic. The estate is now also 100% biodynamic.
While Stephane Derenoncourt is no longer the consultant to the estate, it was Derenoncourt who sparked the idea to try new things, first by using first organic farming methods, and then biodynamic techniques to Thierry Valette.
To produce the wine of Clos Puy Arnaud, after the cold, pre-fermentation maceration is completed, the grapes are whole berry vinified in large, oak, wood tanks.
Malolactic fermentation takes place in a combination of vats and French oak barrels. The wines are then aged in 30% new, French oak barrels with a portion of the wine being aged in 500-liter vats and amphora for 12 to 14 months before bottling.
The estate produces two main wines, Clos Puy Arnaud and Les Ormeaux. In addition, there is also a second wine, Clos Puy Arnaud Cuvee Pervenche. The estate also makes a third wine, which is primarily sold to restaurants, La Cuvee Bistrot de Puy Arnaud, which made its debut in 2009. On average, more than 5,000 cases of wine are produced at Clos Puy Arnaud in each vintage.
The best vintages of Clos Puy Arnaud are: 2022, 2021, 2020, 2019, 2018, 2017, 2016, 2015, 2014, 2012, 2010, 2009 and 2005.
In addition, the estate produces small amounts of wine made from 100% Cabernet Franc, Les Acacias, as well as a wine without the use of sulphur, aged entirely in Amphora, Clos Puy Arnaud Anada.
When to Drink Clos Puy Arnaud, Anticipated Maturity, Decanting Time
Clos Puy Arnaud is better with at least 2-3 years of aging in good vintages. Young vintages can be decanted for up to 1 hour, helping the wine soften to help develop the aromatic character.
Older vintages might need very little decanting, just enough to remove the sediment. Clos Puy Arnaud offers its best drinking and should reach peak maturity between 2-9 years of age after the vintage.
Serving Clos Puy Arnaud with Wine, Food, Pairing Tips
Chateau Clos Puy Arnaud is best served at 15.5 degrees Celsius, 60 degrees Fahrenheit. The cool, almost cellar temperature gives the wine more freshness and lift.
Clos Puy Arnaud is best paired with all types of classic meat dishes, veal, pork, beef, lamb, duck, game, roast chicken, roasted, braised, and grilled dishes. Clos Puy Arnaud is also good when matched with Asian dishes, hearty fish courses like tuna, salmon, mushrooms, and pasta.
Clos Puy Arnaud Wine Tasting Notes
14 Vintages 44,189 Views Sort by Vintage-Rating
2021
Clos Puy Arnaud (Castillon Côtes de Bordeaux)

Black raspberries, thyme and spice come through on the nose. Medium-bodied, bright, crisp and juicy, finishing with a dusty savory, herbal edge. The wine blends 50% Cabernet Franc, 45% Merlot and 5% Cabernet Sauvignon. Drink from 2023-2032. 89-87

1,577 Views

Tasted

May 20, 2022

2020
Clos Puy Arnaud (Castillon Côtes de Bordeaux)

Fruity, forward, and fresh, with a core of soft plums, cherries and cocoa that is already accessible. You can drink this fresh, vibrant, plummy, racy wine on release. 88-90 Pts

2,142 Views

Tasted

May 20, 2021

2019
Clos Puy Arnaud (Castillon Côtes de Bordeaux)

A bit reserved, so it will take a few years in the cellar or decanting to bring out its character. When that happens you will find load of fresh, soft, mineral driven red fruits, herbs and licorice to accompany all the sweet red berries. More stoic than showy, give this a few years of aging before popping a cork. Drink from 2022-2033.

1,880 Views

Tasted

Mar 29, 2022

Round, fruity and with a strong limestone essence, offering ample juicy plums with the essence of crushed rocks on the palate, and in the finish. 88-90 Pts

2,493 Views

Tasted

Jun 28, 2020

2018
Clos Puy Arnaud (Castillon Côtes de Bordeaux)

Medium-bodied, bright, crisp, fresh and floral, with a licorice and red cherry twist to top it off. 86-88 Pts

2,071 Views

Tasted

Apr 19, 2019

2017
Clos Puy Arnaud (Castillon Côtes de Bordeaux)

Bright red fruits, licorice and spice lead things off. Medium bodied and vinified for early drinking, the finish is bright and crisp.

2,377 Views

Tasted

Apr 26, 2018

2016
Clos Puy Arnaud (Castillon Côtes de Bordeaux)

Medium-bodied, this is on the fresh, floral, red plum and cherry side of the style range and should be ready to drink on release.

3,738 Views

Tasted

Apr 29, 2017

2015
Clos Puy Arnaud (Castillon Côtes de Bordeaux)

Medium-bodied and on the fresh, bright, strawberry and cherry side of the style range, this wine will be ready to drink on release.

4,072 Views

Tasted

Apr 29, 2016

2014
Clos Puy Arnaud (Castillon Côtes de Bordeaux)

Light color, this bright, red cherry and licorice dominated, fresh, medium bodied wine will be best in its fresh youth. 86-88 Pts

2,803 Views

Tasted

May 1, 2015

2012
Clos Puy Arnaud (Castillon Côtes de Bordeaux)

Licorice and black cherry on the nose, with a forward, medium bodied, bright, sweet and tart, strawberry and cherry character.

2,292 Views

Tasted

May 15, 2015

2011
Clos Puy Arnaud (Castillon Côtes de Bordeaux)

Forward, soft textured, easy to drink, medium bodied, earthy, plum, cherry and thyme focused wine for current consumption.

2,828 Views

Tasted

Jan 6, 2018

2010
Clos Puy Arnaud (Castillon Côtes de Bordeaux)

Ripe spicy berries are led by fresh, black raspberries, jam, earth, licorice and a touch of espresso bean. Deep in color, young and fresh, this blend 70% Merlot, 25% Cabernet Franc and 5% Cabernet Sauvignon should be better with a few years in the bottle.

4,668 Views

Tasted

Jan 24, 2015

2009
Clos Puy Arnaud (Castillon Côtes de Bordeaux)

A nice Bordeaux value wine here, with its forward style, round, soft, polished textures and licorice, ripe black cherry and truffle personality. The wine was made from a blend of 70% Merlot, 25% Cabernet Franc and 5% Cabernet Sauvignon. The wine reached 15% alcohol, yet there is no sensation of heat.

4,475 Views

Tasted

Dec 17, 2014

2008
Clos Puy Arnaud (Castillon Côtes de Bordeaux)

Medium bodied, fully mature, with a floral, earthy, thyme and red plum nose, the wine has soft textures, coupled with a bite from the acidity, that gives this wine a lot of lift. There is no sense in aging this any longer.

2,722 Views

Tasted

Aug 27, 2017

2005
Clos Puy Arnaud (Castillon Côtes de Bordeaux)

Medium bodied, fully mature, with good freshness to the fruit, the wine has a fine, sweet, plum, licorice and black cherry character, with the right amount of earthy, secondary notes. But its lack of density and fruit is also apparent. Popped and poured, the wine was made from a blend of 65% Merlot, 30% Cabernet Franc and 5% Cabernet Sauvignon.

4,051 Views

Tasted

Sep 24, 2016