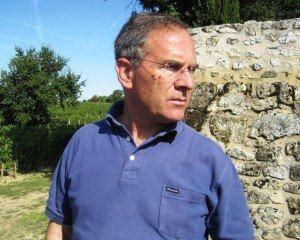 Learn everything about Chateau La Prade Cotes de Francs with wine tasting notes and wine with food pairing tips Learn the best vintages, a history of the property, information on the vineyards and winemaking and terroir. If you want to read about other important, Bordeaux Chateaux: Links to all Bordeaux Wine Producer Profiles
Nicolas Thienpont acquired Chateau La Prade from Thierry Valette in 2000. If the Valette name sounds familiar to you, it should, as the Valette family were the long-time owners of Chateau Troplong Mondot in St. Emilion. Chateau La Prade, located in the Cotes de Francs appellation. The Cotes de Francs, at 450 hectares is the smallest of the recognized Bordeaux appellations.
Chateau La Prade Vineyards, Terroir, Grapes, Winemaking
The 6-hectare vineyard of La Prade is planted to 90% Merlot and 10% Cabernet Franc. The vineyard has a unique terroir riddled with shells of small marine invertebrates that are known as 'astéries' in French.
The asteries limestone found in their terroir is the hardest type of limestone and is often used for building, especially in Saint Emilion, because of its durability and beauty.
Half of the La Prade vineyard is made of that type of limestone, coupled with various different types of clay and iron soils. The asteries limestone found in their vineyard is well placed on the plateau of Cotes de Francs. The remaining portion of the La Prade vineyard is set on the hillsides.
The south-facing slopes are filled with black mica and iron that give the wine that important sense of minerality. The vines are planted to a density of 6,500 vines per hectare. The vineyard is progressively replanted at higher densities.
In fact, Nicolas Thienpont has increased the vine density from 5,500 to 6,500 vines per hectare over the past decade. The vines here are old. On average, they are 40 years of age! Debudding, deleafing, and crop-thinning are all practiced as is mostly organic farming sustainable viticulture. When you think about it, that is a lot of work for a value-priced, Bordeaux wine.
To produce the wine of Chateau La Prade, the grapes are whole berry fermented in traditional cement tanks with regular punching down of the cap. Malolactic fermentation is performed in the barrel.
The wine is aged on its lees for the first six months of the aging, but without stirring to increase the color and depth in the wine. Hopefully, this will give you an idea of how much effort is put into the search for quality in these wines at this Right Bank estate.
The wine of Chateau La Prade is aged in 50% new, French oak barrels for about 15 months before bottling.
The best vintages of Chateau La Prade are: 2022, 2021, 2020, 2019, 2018, 2017, 2016, 2015, 2014, 2012, 2010, 2009 and 2005.
When to Drink Chateau La Prade, Anticipated Maturity, Decanting Time
Chateau La Prade is better with at least 2-3 years of aging in good vintages. Young vintages can be decanted for up to 1 hour, helping the wine soften to help develop the aromatic character. Older vintages might need very little decanting, just enough to remove the sediment. Chateau La Prade offers its best drinking and should reach peak maturity between 2-9 years of age after the vintage.
Serving Chateau La Prade with Wine, Food, Pairing Tips
Chateau La Prade is best served at 15.5 degrees Celsius, 60 degrees Fahrenheit. The cool, almost cellar temperature gives the wine more freshness and lift.
Chateau La Prade is best paired with all types of classic meat dishes, veal, pork, beef, lamb, duck, game, roast chicken, roasted, braised, and grilled dishes. Chateau La Prade is also good when matched with Asian dishes, rich fish courses like tuna, mushrooms, and pasta.
Nicolas Thienpont also owns Chateau Puygueraud and Chateau Les Charmes Godard, both of which are also located in the Cotes de Bordeaux appellation. Chateau Les Charmes Godard is better known for its white Bordeaux wine, made from a blend of 70% Semillon, 15% Sauvignon Blanc and 15% Muscadelle.
Chateau La Prade is a contender for one of the top wines from the Cotes de Francs appellation. The wine of La Prade offers good character coupled with the ability to age and evolve for a fair price. That's a perfect combination for Bordeaux wine and consumers seeking value-priced wines.
Château La Prade Wine Tasting Notes
16 Vintages 57,246 Views Sort by Vintage-Rating
2022
Château La Prade (Pessac-Léognan)

Flowers with an ocean breeze open the nose before you find the black raspberries and touch of spice in the perfume. Medium-bodied, sweet, fresh and fruity, with fresh black plums, black raspberries, licorice and cherries from stat to finish. With all this fruit, you can enjoy this on release. Made from 85% Merlot and 15% Cabernet Franc. Drink from 2025-2036. 91-93 Pts.

674 Views

Tasted

May 8, 2023

2021
Château La Prade (Francs Côtes de Bordeaux)

Black cherries, espresso, dark chocolate, and wet earth already show in the nose. On the palate, the wine is soft, sweet, fruity, leafy and fresh. Medium-bodied with touches of chocolate and plums in the savory finish, you can enjoy this on release. Made from 75% Merlot and 25% Cabernet Franc, drink from 2023-2032. 89-91

1,566 Views

Tasted

May 20, 2022

2019
Château La Prade (Francs Côtes de Bordeaux)

Peppery red fruits, truffles, flowers, cocoa and red berries create the nose. On the palate, the wine is round, rich, full and fleshy with a wealth of ripe, sweet red fruits and dark chocolate with a touch of spice in the finish. If you are seeking value Bordeaux and you're not familiar with La Prade -- get to know this wine, which is made from 88% Merlot and 12% Cabernet Franc.

1,989 Views

Tasted

Mar 29, 2022

2018
Château La Prade (Francs Côtes de Bordeaux)

Cocoa, black raspberries, truffle, herbs and dusty red berries are found on the nose and palate. Soft and stony, with a strong mineral essence, this needs just a couple of years before it is ready to unfurl. If you are seeking value Bordeaux and you're not familiar with La Prade -- get to know this wine, which is made from 88% Merlot and 12% Cabernet Franc.

2,103 Views

Tasted

Mar 9, 2021

A big juicy blast of fresh ripe fruits, rocks and stones comes in every sip. If you are seeking value Bordeaux and you're not familiar with La Prade -- get to know this wine, which is made from 88% Merlot and 12% Cabernet Franc. 90-92 Pts

2,567 Views

Tasted

Apr 19, 2019

2017
Château La Prade (Bordeaux Côtes de Francs)

Fresh with polished tannins and a sweet, fruity quality in the round finish, this wine will be delicious for at least a decade or longer. If you are seeking value Bordeaux and you\'re not familiar with La Prade -- get to know this wine, which is made from 90% Merlot and 10% Cabernet Franc. Sadly, due to the frost, there is 50% less of the normal volume produced here this year.

2,049 Views

Tasted

Apr 26, 2018

2016
Château La Prade (Bordeaux Côtes de Francs)

Darker in hue than usual, the wine offers dark earthy, red fruits, soft and polished tannins with fresh, sweet, juicy fruits that offer volume, freshness and pleasure. The blend comes from , Made from 88% Merlot and 12% Cabernet Franc. This is a step up for one of the best value wines in Bordeaux.

4,577 Views

Tasted

Apr 29, 2017

2015
Château La Prade (Bordeaux Côtes de Francs)

Earthy, with forest floor, tobacco, underbrush and dark, red fruits, the wine has length and the ability to soft and evolve with age.

3,697 Views

Tasted

May 21, 2018

Made from 85% Merlot and 15% Cabernet Franc, the soft, open wine has a stony, licorice, and blackberry personality that finishes with fresh dark red fruits.

2,375 Views

Tasted

Apr 29, 2016

2014
Château La Prade (Bordeaux Côtes de Francs)

From mostly Merlot at 90% of the blend, with the remainder coming from Cabernet Franc, you already find secondary notes of earth, truffle, oak and dark cherries. Medium/full bodied, fleshy, with a blast of tobacco and spicy black cherry in the finish. A few more years will add more softness and complexity here.

2,093 Views

Tasted

Jun 25, 2017

Made from 90% Merlot and 10% Cabernet Franc, the spicy, soft, open wine has a sweet, tart, fresh, licorice, personality that finishes with bright, round, red fruits. 88-90 Pts

1,542 Views

Tasted

May 1, 2015

2012
Château La Prade (Bordeaux Côtes de Francs)

Earth, smoke and licorice with fresh plums on the nose, the wine serves up a tasty, smoky, blackberry and earthy finish.

2,119 Views

Tasted

Jul 6, 2015

90% Merlot and 10% Cabernet Franc – A kiss of oak touches dark red berries with an earthy, easy-to-like personality that will make this easy to drink on release. 87-88 Pts

2,271 Views

Tasted

Apr 26, 2013

2011
Château La Prade (Bordeaux Côtes de Francs)

Fresh black cherry and licorice in an approachable, soft, easy drinking style

1,893 Views

Tasted

May 21, 2014

Blending 90% Merlot with 10% Cabernet Franc, the wine offers smoke, a strong sense of minerality, cherry and earth with chalky tannins. This wine from Nicolas Thienpont should offer pleasure after 2-3 years in the bottle. 88-90 Pts

1,914 Views

Tasted

Apr 20, 2012

2010
Château La Prade (Bordeaux Côtes de Francs)

Already showing truffle and tobacco scents, along with fresh berries, the wine is structured, tannic, beefy and concentrated. Give it a few years to soften and continue its development.

3,474 Views

Tasted

May 8, 2013

Deep color, spice, black plum and spice, this full bodied wine finishes with a blast of ripe, black plum jam and blackberries. 89-91 Pts

2,902 Views

Tasted

Jul 6, 2011

La Prade is filled with cassis, black cherry and licorice. Concentrated, and easy to like, this wine from Nicolas Thienpont should offer pleasure early. 88-90 Pts

2,382 Views

Tasted

Apr 22, 2011

2009
Château La Prade (Bordeaux Côtes de Francs)

Bottled late May and produced from 100% Merlot, the perfume offers scents of oak, licorice, plum and jammy black raspberries. Full bodied, soft textured and packed with sweet, juicy plums, vanilla, black cherry, pepper and cassis, this is a delicious wine.

2,727 Views

Tasted

Jul 16, 2011

2009 La Prade is 100% merlot. This small property used optical laser sorting for the first time. With soft, elegantly round textures coupled with minerals, blackberries, and licorice, the wine ends with a nice display of juicy plums. The best La Prade I've ever tasted. 88-90 Pts

2,150 Views

Tasted

Aug 26, 2010

2008
Château La Prade (Bordeaux Côtes de Francs)

08 La Prade from Nicolas Thienpont, along with help from Stephane Derenoncourt is a steal. Ripe, spicy blackberry fruit is everywhere in this wine. It will offer its charm at a young age. 86-88 Pts

2,357 Views

Tasted

Aug 1, 2009

2006
Château La Prade (Bordeaux Côtes de Francs)

Medium bodied, crisp, slightly rustic, fully developed wine with an earthy, forest slant to the red fruits. This wine requires drinking in the near future.

2,175 Views

Tasted

Jan 5, 2018

2005
Château La Prade (Bordeaux Côtes de Francs)

From a blend 80% Merlot and 20% Cabernet Franc, this delicious wine is showing great! Licorice, earth, jammy blackberries, dark cherry and a hint of vanilla make up the perfume. Lush, round, soft and mouth filling with a licorice, chocolate and plum filled finish, there is no reason to wait on opening this wine. 2005 La Prade represents what great, Bordeaux value wine is all about.

2,614 Views

Tasted

Sep 17, 2011

2003
Château La Prade (Bordeaux Côtes de Francs)

Clearly fading, the nose is better than the palate with its truffle and tobacco scented perfume. I'd drink this sooner than later.

3,036 Views

Tasted

Dec 18, 2013