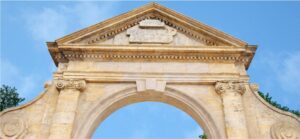 Learn everything about Chateau de Francs Cotes de Francs with wine tasting notes, wine, and food pairing tips, best vintages, a history of the property, and information on the vineyards and winemaking. If you want to read about other important, Bordeaux Chateaux: Links to all Bordeaux Wine Producer Profiles
Chateau de Francs History, Overview
Chateau de Francs is one of the oldest properties in the Bordeaux region, with a history that dates back almost 2,000 years. From the time of its birth, until it became a vineyard, the estate was used as a military fortress.
The remnants of a gate constructed in the 1600s are the first thing you see at Chateau de Francs. Those antique remains clearly point out the long history of Chateau de Francs in the region.
The modern era for Chateau de Francs begins in 1985, when Hubert de Bouard of Chateau Angelus in St. Emilion, along with Dominique Hebrard purchased the property. Dominique Hebrard, like Hubert de Bouard were both well-known and experienced in Bordeaux. As I mentioned, at the time of the purchase, Hubert de Bouard was the owner of Chateau Angelus.
Dominique Hebrard was previously one of the owners of Chateau Cheval Blanc. Today, Dominique Hebrard is also responsible for the winemaking at Chateaux Chadeuil and Graves de Barrau as well as at Chateau Trianon in Saint Emilion.
Once the new owners took over Chateau de Francs, they began a program of extensive renovations to the entire estate that included the cellars, vat rooms, and wine-making facilities, as well as replanting parts of the vineyard at Chateau de Francs.
Chateau de Francs, Vineyards, Terroir, Grapes, Winemaking
The 40-hectare vineyard of Chateau de Francs is planted to 85% Merlot, 10% Cabernet Franc and 5% Cabernet Sauvignon for the red wine. The 2.5 hectares that have been reserved for the production of dry white Bordeaux wine are planted to 50% Sauvignon Blanc and 50% Semillon.
Although the overwhelming majority of the production is dedicated to making red wine. The terroir is clay and limestone soils, which is similar to what you find at many of the better estates in St. Emilion.
For the production of Chateau de Francs, the vinification takes place in temperature-controlled, stainless steel tanks. The wine is aged in a combination of tank and barrel, evenly split, using 50%, new, French oak barrels.
The vinification of Chateau de Francs Blanc takes place in French oak barrels, of which 50% is new. The wine is aged in 3% new, French oak barrels for 12 months.
Chateau de Francs also produces a high end cuvee' from the estates oldest vines, Les Cerisiers. Les Cerisiers is aged in 50% new, French oak barrels for between 12 to 14 months. The blend is usually 90% Merlot and 10% Cabernet Sauvignon.
On average, the production of Chateau de Francs is close to 15,000 cases per year. In 2012, Chateau de Francs introduced a luxury Cuvee, Infinity.
Chateau de Francs Infinity is a selection of the 4 best barrels of old-vine Merlot from their vineyards. The wine is made from 100% Merlot and is aged in 100% new, French oak barrels. This could be the top wine in the entire Cotes de Francs appellation.
The best vintages of Chateau de Francs are: 2022, 2021, 2020, 2019, 2018, 2017, 2016, 2015, 2014, 2012, 2010, 2009 and 2005.
When to Drink Chateau de Francs, Anticipated Maturity, Decanting Time
Chateau de Francs is better with at least 2-3 years of aging in good vintages. Young vintages can be decanted for up to 1 hour, helping the wine soften to help develop the aromatic character
Older vintages might need very little decanting, just enough to remove the sediment. Chateau de Francs offers its best drinking and should reach peak maturity between 2-8 years of age after the vintage.
Serving Chateau de Francs with Wine, Food, Pairing Tips
Chateau de Francs is best served at 15.5 degrees Celsius, 60 degrees Fahrenheit. The cool, almost cellar temperature gives the wine more freshness and lift.
Chateau de Francs is best paired with all types of classic meat dishes, veal, pork, beef, lamb, duck, game, roast chicken, roasted, braised, and grilled dishes. Chateau de Francs is also good when matched with Asian dishes, rich fish courses like tuna, mushrooms, and pasta.
The white wine of Chateau de Francs is best when served with all types of seafood, sashimi, cheese, veal, pork, chicken, and cheese.
Château de Francs Wine Tasting Notes
27 Vintages 65,150 Views Sort by Vintage-Rating
2022
Château de Francs Infinity (Francs Côtes de Bordeaux)

Creamy, lush, fresh ripe, sweet black plums and cherries with chocolate, espresso and a touch of salt to the fruits finishes with freshness, creamy textures and chalk. Produced from 100% Merlot, this is the top wine from Chateau de Francs. Drink from 2025-2038.. 92-94 Pts.

922 Views

Tasted

May 8, 2023

2022
Château de Francs Les Cerisiers (Francs Côtes de Bordeaux)

Soft, round and creamy, the sweet, red berries show a nice, vibrant, freshness with a crushed stone and peppery edge to their character. Drink from 2025 - 2035. 90-92 Pts.

970 Views

Tasted

May 8, 2023

2021
Château de Francs Infinity (Francs Côtes de Bordeaux)

Initially, you notice the oceanic influences before moving on to the flowers, spice, smoke and red berry nuances. Medium/full bodied, bright, crisp, fresh and juicy, this will be quite charming to enjoy over the next decade or longer. Drink from 2023-2035. 89-91

1,086 Views

Tasted

May 20, 2022

2021
Château de Francs Les Cerisiers (Francs Côtes de Bordeaux)

Medium-bodied, round, soft, and forward, all the ripe, spicy plums and cherries with their licorice and espresso accents are already showing quite nicely. You can enjoy this with ease on release. Drink from 2023-2030. 89-91

1,158 Views

Tasted

May 20, 2022

2020
Château de Francs Infinity (Francs Côtes de Bordeaux)

The top wine of the trio from Chateau de Francs is packed with chocolate coated red fruits, crushed rocks, and a hint of espresso. The medium-bodied wine is fresh, vibrant, ripe and sweet, with a mineral-driven finish. Drink from 2023-2037.

390 Views

Tasted

Mar 21, 2023

Deeply colored, the wine is juicy, with a strong essence of crushed rocks and stones, dark red plums, blackberry, savory herbs and smoke. The mineral-driven finish is fresh, fruity and best of all stony, with a cool oceanic character. 91-93 Pts

1,065 Views

Tasted

May 20, 2021

2020
Château de Francs (Francs Côtes de Bordeaux)

Peppery red fruits with touches of flowers, herbs and rocks open the nose and palate of this forward, vibrant, fresh, red plum and spice filled wine. The chalky finish packs in a lot of fruit. Drink from 2023-2031.

407 Views

Tasted

Mar 21, 2023

2020
Château de Francs Les Cerisiers (Francs Côtes de Bordeaux)

Medium-bodied, spicy red fruits with floral accents are all over the place here in this medium-bodied, sweet and savory, chewy red berry filled wine. There is a nice touch of crushed rocks in the finish. Drink from 2023-2034.

425 Views

Tasted

Mar 21, 2023

Meaty, savory, chewy red fruits, with a nice sense of minerality, licorice and wet earth. Fresh juicy and earthy with a touch of crushed rock in the finish, this is going to age nicely. 89-91 Pts

1,260 Views

Tasted

May 20, 2021

2019
Château de Francs Infinity (Francs Côtes de Bordeaux)

Deeply-colored, you find espresso bean, smoke, licorice, incense and spice along with a wealth of red fruits. Round, concentrated and loaded with ripe, salty dark red fruits, this will be a better wine with a few years of bottle age. Allow this at least 3-4 years in the cellar before pulling a cork.

592 Views

Tasted

Mar 29, 2022

Deeply-colored, full-bodied, concentrated with dark, almost meaty fruits, loads of tannins and along with all those dark red berries, along with a quarry of crushed rocks and stones. Allow this at least 5-7 years in the cellar before pulling a cork. 90-92 Pts

2,473 Views

Tasted

Jun 8, 2020

2019
Château de Francs Les Cerisiers (Francs Côtes de Bordeaux)

Dark, meaty, earthy, red fruits with freshness, chewy tannins and a touch of salinity create this complex array of rocks and fruits. This full-bodied wine with its long mineral-driven finish will be better if you award it a few years in the cellar before popping a bottle.

980 Views

Tasted

Mar 29, 2022

Dark, earthy, red fruits, chewy tannins and a mineral-driven, salty, classic finish. Give this a few years in the cellar before popping a bottle. 89-91 Pts

3,115 Views

Tasted

Jun 8, 2020

2019
Château de Francs (Francs Côtes de Bordeaux)

Earthy notes with herbs, tobacco leaf, cedar and salty, chewy red fruits form the core this wine. I like the freshness and mineral edge to the fruit here. 2022-2032.

1,988 Views

Tasted

Apr 10, 2022

2018
Château de Francs Infinity (Bordeaux Côtes de Francs)

Deeply colored, the wine kicks off with espresso, licorice, wet forest and black cherry nuances. Round, fruity, bright and sweet, with earthy overtones and espresso notes coinciding with red plums, cherries and crushed stones in the finish, this will be better with a few years in the cellar.

566 Views

Tasted

Mar 9, 2021

Ripe plums, licorice, black cherry and floral characteristics are easy to find. And the fruity, sweet red fruits with their refined soft tannins hits an even better note in the finish. 91-93 Pts

1,253 Views

Tasted

Apr 19, 2019

2018
Château de Francs Les Cerisiers (Bordeaux Côtes de Francs)

Medium-bodied, with a nice touch of salty minerality on top of the sweet, ripe, red berries. You also find fresh, plums, cocoa, espresso and a juicy, stony, salty finish. Give it a few years in the cellar before pulling a cork.

1,295 Views

Tasted

Mar 9, 2021

Deeply colored, the wine is round, fruity and happy to present its licorice, espresso, floral and mineral-driven, black cherry profile. 89-91 Pts

2,273 Views

Tasted

Apr 19, 2019

2018
Château de Francs (Francs Côtes de Bordeaux)

Medium-bodied, forward and fruity, with a light touch to the soft, easy to like, sweet red berries. You can enjoy this wine on release.

1,234 Views

Tasted

Mar 9, 2021

2017
Château de Francs Infinity (Bordeaux Côtes de Francs)

With a strong mineral character, the wine offers red fruits with salty stone. The tannins are ripe and the red berries are fresh and sweet. You can drink this young.

1,126 Views

Tasted

Apr 26, 2018

2017
Château de Francs Les Cerisiers (Bordeaux Côtes de Francs)

Forward and soft, the wine offers ripe, black cherry, licorice and coffee bean with a touch of mineral essence for a unique profile.

1,681 Views

Tasted

Apr 26, 2018

2016
Château de Francs Infinity (Bordeaux Côtes de Francs)

Medium/full bodied, and loaded with flowers, rocks, red fruit, smoke and thyme, there is a purity and freshness to the fruit that vie for attention on your palate. This will be even better with 3-5 years of age, as clearly, there is more here that is just below the surface.

1,632 Views

Tasted

Sep 21, 2019

Dark in color, medium/full bodied, there is a lushness to the sweet fruits with freshness, that adds to the length and the character found here.

1,318 Views

Tasted

Apr 29, 2017

2016
Château de Francs Les Cerisiers (Bordeaux Côtes de Francs)

Medium-bodied, smoky, floral, fresh and spicy, the red fruits display a nice mineral essence on the palate. The wine is forward, easy to drink and just about ready to go.

2,483 Views

Tasted

Sep 21, 2019

Deeply colored, the wine is medium bodied, fresh, forward and refined, with a character showing off its red and black plum, thyme and round textured finish with ease.

2,770 Views

Tasted

Apr 29, 2017

2015
Château de Francs Infinity (Bordeaux Côtes de Francs)

Dark in color, the tannins are soft, the dark red fruits have sweetness, there is freshness and lift in the dark plummy finish.

1,420 Views

Tasted

May 21, 2018

Dark in color, with smoke, stone, dark red fruits and thyme on the nose, the wine has a fresh, character driven personality.

852 Views

Tasted

Apr 29, 2016

2015
Château de Francs Les Cerisiers (Bordeaux Côtes de Francs)

The minerality adds just the right touch to the soft, silky tannins, and ripe juicy plums found in its fruity finish.

3,214 Views

Tasted

May 21, 2018

Polished and plush, with soft, silky tannins, juicy ripe, chocolate covered plums and a sweet, fruity finish. This is quite nice this year.

2,996 Views

Tasted

Apr 3, 2017

Dark in color, with a medium body, soft, tannins and ripe, elegant, fresh, dark red berries and a hint of cocoa at the end.

2,796 Views

Tasted

Apr 29, 2016

2014
Château de Francs Infinity (Bordeaux Côtes de Francs)

Salty, stony, dark red fruits on the nose, good concentration of flavor and a ripe, jammy, fat, fruit filled finish. 88-90 Pts

1,229 Views

Tasted

May 1, 2015

2014
Château de Francs Les Cerisiers (Bordeaux Côtes de Francs)

Espresso, licorice, black raspberry and earthy scents on the nose is matched with an oaky, red plum center and soft textures. 86-88 Pts

2,436 Views

Tasted

May 1, 2015

2013
Château de Francs Les Cerisiers (Bordeaux Côtes de Francs)

Smoky, soft, mineral and red plum in character, the finish is sweet and tart, with its red berries. 85-88 Pts

2,471 Views

Tasted

May 1, 2014

2012
Château de Francs Infinity (Bordeaux Côtes de Francs)

This is the debut vintage for this 100% Merlot-based wine which is whole berry fermented in barrel and aged in 100% new French oak barrels. The production is small. Only 100 cases were produced. Cherries, minerality, oak and supple textures with medium body are the hallmarks of this wine. 89-91 Pts

1,275 Views

Tasted

Apr 27, 2013

2012
Château de Francs Les Cerisiers (Bordeaux Côtes de Francs)

Medium-bodied with fennel, cherries and herbs, the wine will be ready to enjoy on release. 87-89 Pts

2,005 Views

Tasted

Apr 26, 2013

2011
Château de Francs Les Cerisiers (Bordeaux Côtes de Francs)

Fully mature, easy drinking, medium bodied, fresh, red plum, earth, espresso bean, green herb and thyme centered wine.

2,010 Views

Tasted

Jan 6, 2018

2009
Château de Francs Les Cerisiers (Bordeaux Côtes de Francs)

2009 de Francs Les Cerisiers is 90% merlot with 10% cabernet franc. Hubert de Bouard consults for the property. The wine is filled with ripe, spicy dark berries, earth, plums, cocoa and oak. With round, supple textures and good concentration of fruit, the wine ends with licorice and rich, dark berry flavors. 88-90 Pts

3,515 Views

Tasted

Aug 26, 2010

2008
Château de Francs Les Cerisiers (Bordeaux Côtes de Francs)

08 De Francs les Cerisiers (Cotes de Francs). This producer, located outside of St. Emilion, was a pleasant discovery. Its terroir is similar to that of La Fleur de Bouard. The deep color and ripe black raspberry filled aromatics might easily make you think this wine is a small Pomerol. Medium bodied and filled with soft black cherry and plum flavors. Here is a wine to look for in the high quality, low price category. 88-91

4,469 Views

Tasted

Aug 1, 2009