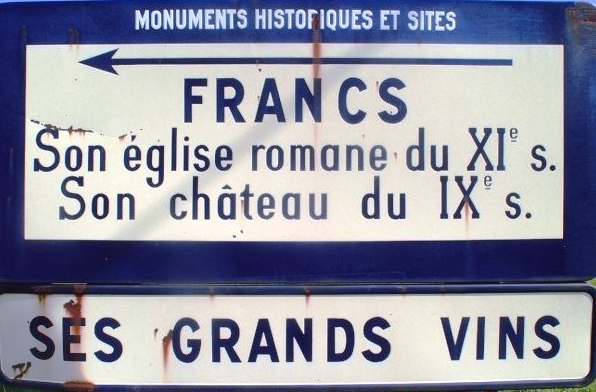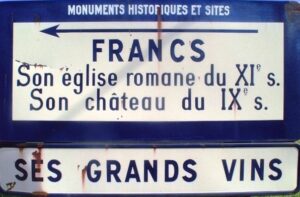 Learn everything about Cotes de Francs wine, with a history of the Cotes de Francs appellation, a look at the style and character of the wines, with detailed profiles on all the best wines, wineries, vineyards, and winemakers, with wine tasting notes, best vintages, histories and buying guides for all the best wines and vintages. For other, important Bordeaux value wine regions: Bordeaux Value Wine Appellation Guide
If you want to read about other Bordeaux wine producers in different Bordeaux appellations or have questions about everything Bordeaux, All About Bordeaux Wine Guide
Cotes de Francs has some good terroir. With some of the higher elevations in Bordeaux at 110 meters at its highest point. The Cotes de Francs appellation has 490 hectares under vine making it the smallest appellation in the Cotes de Bordeaux.
Close to 50 producers are currently making wine in the Cotes de Francs appellation today. There is 1 cooperative.
The production of wine in the Cotes de Francs appellation can be divided as follows, 465 hectares are used to produce 240,000 cases of red Bordeaux wine and 25 hectares are reserved for the production of 8,500 cases of white Bordeaux wine.
You'd think that with an appellation that small the terroir would be mostly homogeneous. That is relatively true, however, one property, Chateau Le Puy did not agree.
Chateau Le Puy thought their terroir was so distinctive, they petitioned the INAO saying that they deserved their own appellation. Their request was denied. Chateau Le Puy, however, earned recognition for being the first Demeter-certified, biodynamic vineyard in the appellation.
The region of Cotes de Francs owes its name to the commune of Francs, which is the most important area of the appellation. The city of Francs took its name after the first King of the Francs victory over the Visigoths.
The Cotes de Francs appellation was created in 1967. In 2009, Cotes de Francs agreed to become part of the larger, new, Cotes de Bordeaux appellation.
Located just east of St. Emilion and not far from Cotes de Castillon, or the St. Emilion Satellite Appellations, the Cotes de Francs appellation consists of just three communes, Francs, Tayac and Saint Cibard.
The best vintages of the wines of Cotes de Francs are: 2022, 2021, 2020, 2019, 2018, 2017, 2016, 2015, 2012, 2010, 2009, 2008, 2005, 2001 and 2000. Older vintages should have been consumed already.
The terroir of Cotes de Francs consists of clay and limestone soil, with a limestone plateau. It's important to note there are vineyards with slopes and elevations, similar to what you can find in St. Emilion.
The region is mostly planted to Merlot. However, vines are also planted to the other major, red wine, Bordeaux varieties as well. Cabernet Sauvignon, Cabernet Franc, Malbec, and Petit Verdot can also be found in the vineyards.
Some growers in the Cotes de Francs appellation also plant grapes for the production of white, Bordeaux wine, most notably, Semillon, Muscadelle, Sauvignon Blanc, and small plantings of Colombard.
While a minor amount of white wine is produced here, more than 95% of all wine from the Cotes de Francs is devoted to the production of red Bordeaux wine.
There are a few notable chateaus in the Cotes de Francs appellation that is owned by some of the most important families in the Right Bank of Bordeaux. The Thienpont family who own estates in Pomerol and St. Emilion own Chateau La Prade and Chateau Puygueraud.
The Thienpont family became established in Cotes de Franc in 1946 when George Thienpont purchased Chateau Puygueraud.
To honor that purchase, a special wine was created, "Cuvee' George," which is produced from a blend that features up to 45% Malbec, which is one of the highest portions of Malbec used in Bordeaux today.
Hubert de Bouard of Chateau Angelus in Saint Emilion owns Chateau de Francs, which is prized for its very, old vines. Chateau de Francs also produces a special wine from the estate's oldest vines, Les Cerisiers. Chateau Marsau is another top vineyard in the appellation.
The Cotes de Francs appellation is a very good name to know, as the region produces quality, stylish, value Bordeaux wine with character at affordable prices, making its wines worth seeking out for savvy wine buyers.
For more on Cotes de Francs www.cotesdefrancs.com