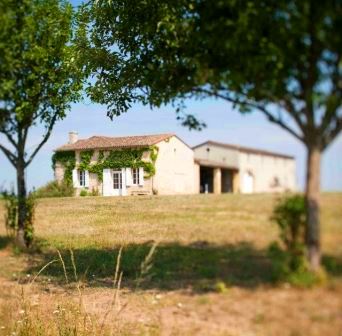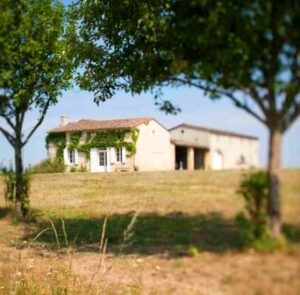 Learn everything about Chateau Marsau Cotes de Francs with wine tasting notes, wine, and food pairing tips, best vintages, a history of the property, and information on the vineyards and winemaking. If you want to read about other important, Bordeaux Chateaux: Links to all Bordeaux Wine Producer Profiles
Chateau Marsau is owned by the Chardonnier family, who are also the principals in the large negociant house CVGB. Through CVGB, and Dourthe, they own numerous vineyards in various Bordeaux appellations in the Left Bank and in the Right Bank, as well as in Pessac Leognan. The Chardonnier family purchased Chateau Marsau in 1994. Later, Mathieu Chardonnier bought the vineyard from his parents in 2017, keeping it in the family.
Chateau Marsau Vineyards, Terroir, Grapes, Winemaking
The 14-hectare vineyard of Chateau Marsau is planted to 100% Merlot. The terroir is mostly deep clay. The vineyard is well situated in the appellation on a slope that is close to the peak of the plateau in the Cotes de Francs appellation with an elevation of close to 100 meters. The vineyard is placed next to forest land, which aids in the estate's microclimate.
The vineyard is located just a bit northeast of the Francs village on the far eastern edge of the appellation. The vines are on average 35 years of age. The vineyard is planted to a density ranging from 5,000-6,5000 vines per hectare. In 2021, Chateau Marsau was certified as being 100% organic in their farming.
To produce the wine, vinification takes place in stainless steel tanks. The wines are aged in a combination of vessels that are on average, 40% in foudres, 25% new, French oak barrels with 5% of the vintage being aged in amphora for 12 months before bottling. However, those percentages are often adjusted to suit the vintage, for example, in 2017, no new oak was used. In most vintages, the annual production is close to 2,500 cases, although that can vary widely, depending on the vintage. There is a second wine, Prelude de Marsau.
The best vintages of Chateau Marsau are: 2022, 2021, 2020, 2019, 2018, 2017, 2016, 2015, 2014, 2012, 2010, 2009 and 2005.
When to Drink Chateau Marsau, Anticipated Maturity, Decanting Time
Chateau Marsau is better with at least 2-3 years of aging in good vintages. Young vintages can be decanted for up to 1 hour, this will help the wine fill out and soften while aiding in the development of the wine's aromatic character.
Older vintages might need very little decanting, just enough to remove the sediment. Chateau Marsau offers its best drinking and should reach peak maturity between 2-8 years of age after the vintage.
Serving Chateau Marsau with Wine, Food, Pairing Tips
Chateau Marsau is best served at 15.5 degrees Celsius, 60 degrees Fahrenheit. The cool, almost cellar temperature gives the wine more freshness and lift.
Chateau Marsau is best paired with all types of classic meat dishes, veal, pork, beef, lamb, duck, game, roast chicken, roasted, braised, and grilled dishes. Chateau Marsau is also good when matched with Asian dishes, rich fish courses like tuna, mushrooms, and pasta.
Château Marsau Wine Tasting Notes
9 Vintages 32,313 Views Sort by Vintage-Rating
2019
Château Marsau (Francs Côtes de Bordeaux)

Medium-bodied, elegant, fresh, soft and floral, with a focus on its core of sweet red fruits, licorice and wisp of smoke, finishing with an intriguing sensation of salty tannins and plums. This will be even better after a few years of bottle age.

2,246 Views

Tasted

Mar 29, 2022

2018
Château Marsau (Francs Côtes de Bordeaux)

With a strong floral character, the perfume also shows hints of cocoa, dark cherry, plum, and licorice notes. Medium-bodied, elegant, lifted, and vibrant, the wine finishes with sweet, fresh cherries along with a serious dose of minerality. Close to 80% of the crop was lost due to issues with mildew during the growing season. But the tiny crop that remained produced a fabulous wine that sells for a song.

2,953 Views

Tasted

Oct 28, 2021

2017
Château Marsau (Francs Côtes de Bordeaux)

Medium-bodied, forward, open and fresh with a core of red fruits, green, leafy herbs and bright, crisp, savory red fruits. You can easily enjoy this on release or age it for a couple of years to add more nuance. The wine was aged with no new oak to maintain the freshness in the fruit.

2,123 Views

Tasted

Oct 28, 2021

Flowers and sweet cassis with licorice and cocoa get this off to a going a good start. Fresh, forward, with salty tannins and round textures with bright red fruits in the finish. The estate lost 70% of their crop due to the frost.

2,776 Views

Tasted

Apr 26, 2018

2016
Château Marsau (Bordeaux Côtes de Francs)

Chocolate, licorice, black cherry, smoke, and herbs come alive in the perfume. The wine has depth, tannin, roundness and plenty of ripe, smoky black cherries and plummy fruit from start to finish. But interestingly, even though it is 100% Merlot, it needs at least a few more years in the cellar. This bottle took 90 minutes of decanting to pop. For the unprincely sum of $15, this is a winner.

4,385 Views

Tasted

Apr 17, 2020

Using 100% Merlot from the Cotes de Francs appellation, the wine shows good color, offering black raspberry, flowers and fennel. The wine is medium bodied, forward and soft, with a lush, round, dark red fruit and minerality based finish. The best wine yet from Chateau Marsau, this should age nicely.

3,857 Views

Tasted

Apr 29, 2017

2015
Château Marsau (Bordeaux Côtes de Francs)

From 100% Merlot, the wine is lush, round, fruity, forward and so easy to like. The dark cherry fruit is ripe, sweet and fresh with the right amount of wet earth, bitter cocoa and espresso bean to keep you interested.

4,045 Views

Tasted

Sep 29, 2019

2014
Château Marsau (Bordeaux Côtes de Francs)

Forward, round, plummy, early drinking, 100% Merlot wine with a nice chocolate accent in the easy to like, plush, black cherry finish.

1,203 Views

Tasted

Feb 10, 2019

2012
Château Marsau (Bordeaux Côtes de Francs)

Already mature, this juicy, sweet, lushly textured, medium bodied, 100% Merlot wine ends with a round, black cherry, mocha and licorice note.

2,963 Views

Tasted

Feb 5, 2018

2010
Château Marsau (Bordeaux Côtes de Francs)

From 100% Merlot, this early drinker delivers spicy, black raspberries and floral notes, with a crisp, slightly herbal finish.

2,873 Views

Tasted

Nov 3, 2014

2009
Château Marsau (Francs Côtes de Bordeaux)

Round, fleshy with an easy to like black cherry, licorice, espresso and cocoa character that is fully developed.

2,889 Views

Tasted

Aug 27, 2020