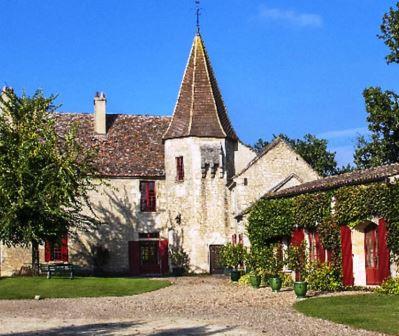 Learn everything about Chateau Puygueraud Cotes de Francs with wine tasting notes and wine with food pairing tips. Learn the best vintages, a history of the property, information on the vineyards, and winemaking. If you want to read about other important, Bordeaux Chateaux: Links to all Bordeaux Wine Producer Profiles
Chateau Puygueraud History, Overview
Chateau Puygueraud was purchased by George Thienpont all the way back in 1946. The Thienpont family was already quite successful in Bordeaux by those days, as they were popular negociants and they owned Chateau Vieux Chateau Certan in Pomerol as well as Chateau Troplong Mondot in St. Emilion at one point as well.
The 27-hectare vineyard of Chateau Puygueraud was in such poor shape by the end of the 1960s, it needed to be almost completely replanted in 1970. This proved to be a good decision because prior to the replanting, a good portion of the vines was devoted to Cabernet Sauvignon.
Those vines were ripped out and replaced with Merlot. The last remaining Cabernet Sauvignon vines were removed in 1984. The first official vintage of Chateau Puygueraud that was produced under the direction of Nicolas Thienpont took place in 1983. The estate has not looked back since.
Chateau Puygueraud Vineyards, Terroir, Grapes, Winemaking
The 49-hectare vineyard of Chateau Puygueraud is planted to 80% Merlot, 15% Cabernet Franc and 5% Malbec. The estate has a terroir of clay and limestone with chalky sub-soils on sloping hillsides.
The Cotes de Bordeaux vineyard is planted with a vine density of 4,500 vines per hectare. Located on the plateau of Cotes de Francs, they are at the peak of the appellation at 117 meters. In fact, they are close to the peak of the entire Right Bank!
The vines are maintained at an average of 30 years of age. Progressive replanting is taking place all the time. This means the individual vines are replaced one at a time.
This is done using the selection massale technique where the budwood is drawn from existing, qualitatively satisfactory, plants from within the vineyard. This helps retain the original expression of the terroir while helping increase vine density. The vineyards are managed using mostly organic farming techniques, while also creating a bio-diverse environment.
To produce the wine of Chateau Puygueraud, during the vinification, Chateau Puygueraud sees a 30 to 35-day cuvaison in stainless steel vats using microbullage under the cap.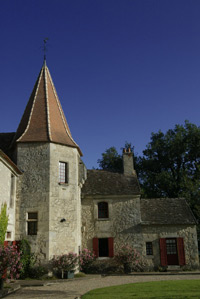 This is followed by aging on the lees for the first six months. The wine sees very little racking and ages in up to 50% new, French oak barrels. On average the annual production of Puygueraud is about 6,500 cases. There is a second wine, Lauriol.
In select vintages, a special wine is produced. Cuvee George, (Named after the father and founder of the estate) is a limited production wine with a unique blend that varies from vintage to vintage, but it always features a large portion of Malbec.
In 2010, the blend consisted of 45% Malbec, 35% Cabernet Franc and 20% Merlot. This is the highest percentage of Malbec used in the blend of any Right Bank Bordeaux wine. Puygueraud Cuvee George made its debut with the 2000 vintage.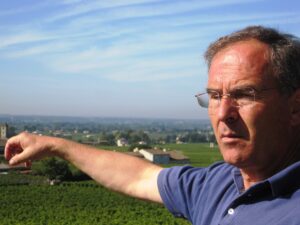 When to Drink Chateau Puygueraud, Anticipated Maturity, Decanting Time
Chateau Puygueraud is much better with at least 2-4 years of aging in good vintages. Young vintages can be decanted for 1 hour. This allows the wine to soften and open its perfume.
Older vintages might need very little decanting, just enough to remove the sediment. Chateau Puygueraud offers its best drinking and should reach peak maturity between 3-12 years of age after the vintage.
Serving Chateau Puygueraud with Wine, Food, Pairing Tips
Chateau Puygueraud is best served at 15.5 degrees Celsius, 60 degrees Fahrenheit. The cool, almost cellar temperature gives the wine more freshness and lift.
Chateau Puygueraud Rouge is best paired with all types of classic meat dishes, veal, pork, beef, lamb, duck, game, roast chicken, roasted braised, and grilled dishes. Chateau Puygueraud is also good when matched with Asian dishes, rich fish courses like tuna, mushrooms, and pasta.
The white Bordeaux wine of Chateau Puygueraud is perfectly served with all types of seafood, shellfish, lobster, crab, sushi, and sashimi, as well as cheese courses.
Chateau Puygueraud Blanc
In 2013, the estate began production of their white Bordeaux wine, Puygueraud Blanc. The wine is produced from a 4-hectare parcel of vines planted in 1997 in a slightly cooler, microclimate.
You also find more limestone in the soil in this part of the vineyard. The white wine grapes are planted to a mix of 55% Sauvignon Gris and 45% Sauvignon Blanc, representing the highest percentage of Sauvignon Gris used in Bordeaux. The wine is barrel fermented. There is no malolactic fermentation or skin contact.
As with many of the properties where the team of Nicolas Thienpont and Stephane Derenoncourt manage the vineyards and the winemaking, they use the Vistalys system of laser optical sorting. This practice started with the 2009 vintage.
Nicolas Thienpont also owns Chateau La Prade and Chateau Les Charmes Godard which are both also located in the Cotes de Francs appellation that is better known for its wine Bordeaux wine, made from a blend of 70% Semillon, 15% Sauvignon Blanc and 15% Muscadelle.
Chateau Puygueraud is an outstanding value-priced Bordeaux wine with character that has the ability to age a develop for a few years.
Château Puygueraud Wine Tasting Notes
28 Vintages 131,947 Views Sort by Vintage-Rating
2022
Château Puygueraud (Francs Côtes de Bordeaux)

Leafy herbs, spices, flowers, wet earth and cherries are at the center of the nose and character of the wine. On the palate, it is the freshness, length and cut stone minerality that stand out, starting from the mid-palate, and carrying through to the finish. The wine blends 88% Merlot and 12% Cabernet Franc. Drink from 2025-2037. 91-93 Pts.

917 Views

Tasted

May 8, 2023

2022
Château Puygueraud Blanc (Francs Côtes de Bordeaux)

Lemon rind, white peach and flowers on the nose get the wine going. The palate is juicy, sweet. and fresh, with loads of yellow and orange citrus along with a bite of green apple in the finish. The wine blends 86% Sauvignon Blanc with 14% Sauvignon Gris. Drink from 2024-2028. 91-91 Pts.

748 Views

Tasted

May 8, 2023

2021
Château Puygueraud Blanc (Francs Côtes de Bordeaux)

Blending 64% Sauvignon Blanc and 36% Sauvignon Gris, you find white peaches, mango, pineapple, and honeysuckle on the nose and in the sweet, juicy, creamy, crisp, tropical edged finish. Drink from 2023-2029. 91-91

1,553 Views

Tasted

May 20, 2022

2021
Château Puygueraud (Francs Côtes de Bordeaux)

All the flowers, plums, spice and thyme on the nose work perfectly with the medium-bodied, soft, forward, early-drinking, charm that you will find in this fresh, plummy, wine. The wine blends 81% Merlot and 19% Cabernet Franc. Drink from 2023-2031. 89-91

2,195 Views

Tasted

May 20, 2022

2020
Château Puygueraud (Francs Côtes de Bordeaux)

Spearmint, tobacco leaf, cedar and red fruits create the perfume. On the palate, the wine offers is core of sweet, ripe, dark red fruits, freshness, minerality and ripe tannins with ease. Drink from 2023-2035.

1,138 Views

Tasted

Mar 21, 2023

Dark red berries with hints of blue fruit, crushed rocks and cocoa define the nose. On the palate, the wine is fresh, earthy, savory and plummy with spicy undertones in the mineral-driven finish. Things keep getting better and better every year. 91-93 Pts

2,488 Views

Tasted

May 20, 2021

2020
Château Puygueraud Blanc (Francs Côtes de Bordeaux)

White flowers, lemons and green apples create the nose. On the palate, the wine offers sweet, juicy lemons with a solid touch of sea salt and mint, that carries from the mid-palate all the way through to the finish. Drink from 2023-2028.

846 Views

Tasted

Mar 21, 2023

Bright, crisp, juicy, sweet lemons and green apple with a touch of honeysuckle and peach hit all the right notes. The finish is fresh and a bit spicy. It is impossible to find a better value in white Bordeaux wine than you have here. 91 Pts

1,684 Views

Tasted

May 20, 2021

2019
Château Puygueraud (Francs Côtes de Bordeaux)

Earthy with truffle accents along with flowers, cocoa and sweet cherries and tobacco leaf, the wine is medium-bodied, salty fresh and vibrant with a sweetness to the spicy red fruits in the finish. This is the finest vintage of Puygueraud I have ever tasted. Drink from 2022-2034.

1,962 Views

Tasted

Mar 29, 2022

2019
Château Puygueraud Blanc (Francs Côtes de Bordeaux)

White peach, orange, rind, pineapple and lemon peel nuances are found in the nose and on the palate here. Fresh, zesty and lively with a creamy touch to the sweet, yellow citrus finish. Drink from 2022-2028.

840 Views

Tasted

Mar 29, 2022

2018
Château Puygueraud (Francs Côtes de Bordeaux)

Flowers, black cherry, cocoa and crushed rocks on the nose. Medium-bodied, soft, fresh and fruity, with a mineral driven dusty, plummy finish. You can enjoy this now, or wait a few years for more softness and complexity to emerge. This is the finest vintage of Puygueraud I have ever tasted.

2,647 Views

Tasted

Mar 9, 2021

Earthy with tobacco leaf, herb, licorice and wild cherry aromatics, the wine has richness, volume and length. The fruit is ripe. There is an earthiness to the fruit and density that is not usually found here. As the finish lingers, you get a sense of the minerality, which adds to the fruit and complexity. The wine was made from a blend of 85% Merlot, 12% Cabernet Franc and 3% Malbec. 91-93 Pts

4,777 Views

Tasted

Apr 19, 2019

2018
Château Puygueraud Blanc (Francs Côtes de Bordeaux)

Juicy, crisp lemons, tropical fruit, honeysuckle and white peach create a solid perfume. The wine is fresh, creamy and lifted, leaving you with sweet, creamy, green apple, lemon and lime sensations. Drink this over the next few years. It is impossible to find a better value in white Bordeaux wine than you have here.

1,002 Views

Tasted

Mar 9, 2021

It is impossible to find a better value in white Bordeaux wine than you have here. Meyer lemon, white peach, pomelo and flowers with a bright, crisp, slightly sweet, fruity character. Drink this over the next few years.

1,970 Views

Tasted

Apr 19, 2019

2017
Château Puygueraud Blanc (Bordeaux)

Yellow citrus and floral notes with hints of orange and white peach are everywhere. Fresh and lively, this is a vibrant white Bordeaux value wine.

1,705 Views

Tasted

Apr 26, 2018

2017
Château Puygueraud (Bordeaux Côtes de Francs)

Quite forward in style, the wine is soft, fresh, sweet ripe and already charming. In the finish it is easy to sense the minerality found in the vineyards .Produced from a blend of 63% Merlot, 30% Cabernet Franc and 7% Malbec. Due to the frost, 70% of the harvest was struck by the frost.

3,242 Views

Tasted

Apr 26, 2018

2016
Château Puygueraud (Bordeaux Côtes de Francs)

Black raspberries and floral notes define the character in the nose, while the ripe, red plums and oak are busy creating the fresh, juicy, fruit and spice filled, earthy finish. The wine was made from a blend of 80% Merlot, 15% Cabernet Franc and 5% Malbec.

4,704 Views

Tasted

Sep 21, 2019

Lots of fresh, sweet, ripe, flowers and black raspberry notes on the nose. On the palate, the wine has sweet fruits, soft tannins and a ripe, fresh, fruity finish. I'm sure this is the best vintage of Puygueraud ever produced! With an earthy, clay and dark, red plum nose, the wine is forward, sweet and round in character. Produced from a blend of 80% Merlot, 15% Cabernet Franc and 5% Malbec.

5,695 Views

Tasted

Apr 29, 2017

2016
Château Puygueraud Blanc (Bordeaux)

Blending 80% Sauvignon Blanc and 20% Sauvignon Gris, the wine hits the spot with its crisp lemon and yellow, tropical fruit tones that are made more interesting with the addition of all that honeysuckle.

3,000 Views

Tasted

Sep 21, 2019

Made from 80% Sauvignon Blanc and 20% Sauvignon Gris, this pops with lemon and pineapple aromas. Sweet, forward and refreshing, this white Bordeaux wine will be delicious for the first few years of life.

2,813 Views

Tasted

Apr 29, 2017

2015
Château Puygueraud (Bordeaux Côtes de Francs)

The wine is forward, sweet and round in character which is perfect for its soft, lush, earthy, spicy juicy red and black fruits. This is already easy to enjoy.

3,893 Views

Tasted

May 21, 2018

With an earthy, clay and dark, red plum nose, the wine is forward, sweet and round in character. Produced from a blend of 80% Merlot, 15% Cabernet Franc and 5% Malbec, the wine has length, character and charm.

4,568 Views

Tasted

Apr 29, 2016

2015
Château Puygueraud Blanc (Bordeaux)

Pineapple and grapefruit on the nose, with a honeysuckle, orange and sweet, fresh citrus peel essence.

2,267 Views

Tasted

Apr 29, 2016

2014
Château Puygueraud (Bordeaux Côtes de Francs)

Medium bodied, forward, blending 75% Merlot, 20% Cabernet Franc and 5% Malbec produced a wine with spicy, earthy, plums and tobacco, fresh fruits and a peppery, earthy, black raspberry finish. You can drink this young with just a bit of air.

3,109 Views

Tasted

Jun 25, 2017

The smoky, licorice and black raspberry nose, with its forward, sweet, round cherry pie, medium bodied, spicy character was created from a blend of 75% Merlot, 20% Cabernet Franc and 5% Malbec. 87-89 Pts

2,826 Views

Tasted

May 1, 2015

2013
Château Puygueraud Blanc (Bordeaux)

Made from 55% Sauvignon Gris and 45% Sauvignon Blanc, this represents the highest percentage of Sauvignon Gris used in Bordeaux. From a 4 hectare parcel of vines planted in 1997, this is the debut vintage. Dominated by grapefruit and lemon peel, the feels lower in acidity, due to the quantity of Sauvignon Gris, however, that is not case as the wine has a pH of 3.1. 86 Pts

1,289 Views

Tasted

May 1, 2014

2013
Château Puygueraud (Bordeaux Côtes de Francs)

Using 75% Merlot, 20% Cabernet Franc and 5% Malbec, the light colored wine serves up fresh raspberry and spearmint, in a ready to drink, forward, red fruited, fresh style. 84-86 Pts

3,078 Views

Tasted

May 1, 2014

2012
Château Puygueraud (Bordeaux Côtes de Francs)

Already showing secondary notes of truffle, licorice and dusty black cherries. The wine is medium bodied and ends with sweet and tart plums in the open finish.

4,472 Views

Tasted

Jul 6, 2015

75% Merlot, 20% Cabernet Franc and 5% Malbec produced a wine with licorice, coffee and dark berries, rustic tannins and a sweet, chocolate-coated raspberry finish. 87-89 Pts

2,878 Views

Tasted

Apr 26, 2013

2011
Château Puygueraud (Bordeaux Côtes de Francs)

Prune, dark cherry jam and coffee bean scents lead to an open, tannic, black raspberry finish.

4,600 Views

Tasted

May 21, 2014

Like La Prade, both of which are made by Nicolas Theinpont, once again utilized optical sorting machines for the harvest. Deep in color with a truffle and black cherry nose, this tannic wine is concentrated and packed with jammy black cherry and stone. 87-89 Pts

4,595 Views

Tasted

Apr 20, 2012

2010
Château Puygueraud (Bordeaux Côtes de Francs)

Truffles, forest floor, sweet, dark berries and fresh cherries are found in the fresh, , earthy, spice filled wine.

3,747 Views

Tasted

May 8, 2013

Deep colored, licorice and jammy blackberry scents, uncomplicated fresh, zesty, blackberry finish. 88-90 Pts

4,166 Views

Tasted

Jul 6, 2011

2010 Puygueraud, like La Prade, both of which are made by Nicolas Theinpont, once again utilized optical sorting machines for the harvest. Produced from a blend of 80% Merlot, 15% Cabernet Franc and 5% Malbec, this full bodied wine is stuffed with licorice, cassis, smoke and dark cherries. 87-89 Pts

4,075 Views

Tasted

Apr 22, 2011

2010
Château Puygueraud Cuvée George (Bordeaux Côtes de Francs)

George is produced by Nicolas Thienpont from the vines of Puygueraud. The wine comes from the same vineyard as Puygueraud, but it is a unique blend that is different from the better known Thienpont wine. George is not made in every vintage. Produced from 45% Malbec, 35% Cabernet Franc and 20% Merlot, the wine offers pepper, flowers and jammy berry scents. Tannic, the wine requires time before its black cherry and pepper profile comes around. 88-90 Pts

1,841 Views

Tasted

Jul 6, 2011

2009
Château Puygueraud (Bordeaux Côtes de Francs)

Bottled June 10, from a blend of 80% Merlot, 15% Cabernet Franc and 5% Malbec, the wine opens with sweet licorice, tobacco, black raspberry and spice scents. Medium bodied, this ends with soft textured, sweet, black raspberry and chocolate in the finish.

4,612 Views

Tasted

Jul 18, 2011

2009 Puygueraud, like La Prade, both of which are made by Nicolas Theinpont, utilized an optical sorting machine for this vintage. From a blend of 80% merlot, 15% cabernet franc, and 5% malbec, this medium bodied wine shows tannins that feel rustic. It ends with a berry filled yet slightly drying finish. 84-86 Pts

4,926 Views

Tasted

Aug 26, 2010

2008
Château Puygueraud (Bordeaux Côtes de Francs)

Medium bodied, earthy, with a citrus accent on top of the tobacco and red fruits. The wine is fully mature, and starting to fade and drop its fruit, this requires drinking over the near future.

2,361 Views

Tasted

Sep 17, 2018

08 Puygueraud from Nicolas Thienpont, along with help from Stephane Derenoncourt offers cassis, forest floor and black cherry aromas. This well price Bordeaux will offer a lot of bang for the buck. 87-89 Pts

2,788 Views

Tasted

Aug 1, 2009

2005
Château Puygueraud (Bordeaux Côtes de Francs)

Licorice, boysenberry, smoke, coffee and chocolate aromas introduce this deeply colored wine. In the mouth, the wine offers concentrated licorice, spice and plush boysenberry jam flavors with a hint of fresh cherries and pepper at the end. This was my last bottle from the case. Each bottle delivered a lot of bang for the buck as it was about $14 as a future!

6,948 Views

Tasted

Dec 13, 2011

Sweet blackberry, licorice, plums and coffee scents make up the perfume. Licorice, coca, espresso and plum flavors are found in the soft, round, slightly rustic, full bodied finish. This might improve a bit, but for my palate, wines like this are best enjoyed in their youth. This was the last bottle from the case. Priced at $15 when it was first offered, this wine truly delivered a lot of bang for the buck.

8,100 Views

Tasted

Jan 30, 2011

2004
Château Puygueraud (Bordeaux Côtes de Francs)

Tea in color, this light, spicy, red plum wine is fading and requires consumption.

2,226 Views

Tasted

Nov 30, 2014

2003
Château Puygueraud (Bordeaux Côtes de Francs)

With bricking to the color, the wine display's cigar box and forest floor notes with hints of berry in the aromatics. While the fruit is starting to fade, some sweetness remains in the short red berry, earth and tobacco finish.

2,656 Views

Tasted

Dec 18, 2013