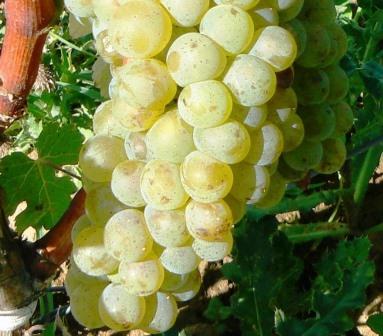 Even though Clairette is one of the oldest grapes used for wine in France, dating back to the mid 1500's, with the passing of time, the grape continues losing market share as a white wine grape for use in the Rhone Valley. Clairette is used not only in the production of white wine, it is also used to produce Vermouth.
The fruit is also known as Clairette Blanche, which is a bit odd when you think about it because Clairette means clear and Blanche sort of repeats the theme as that means white.
The grape is available to produce both white wine and Rose'. For the production of Rose', the grape used is actually Clairette Rose. Clairette, with its ability to deliver both low alcohol and high acidity is used as part of the blend to add acidity.
You also find green apple, lime, peach, licorice, white peach and floral characteristics. Clairette is one of the few white wine grapes that is also used as part of the blend from time to time in the production of red Chateauneuf du Pape wine.
Clairette is used in the Chateauneuf du Pape region as a blending grape in the production of white wine. In fact, it's second most popular white wine grape in Châteauneuf. A few producers make wine from 100% Clairette in Chateauneuf du Pape. The most notable of those wines is Domaine Saint Prefert Chateauneuf du Pape Vieilles Vignes de Clairette Blanc.
Only Grenache has more vines planted. It can also be blended with Grenache in some wines. However, while Clairette plays only a token part in Chateauneuf du Pape Blanc, it is much more popular in other areas of France.
Currently, Clairette takes up close to 2.5% of the vineyards in Chateauneuf du Pape devoted to making white wine. The grape is also grown in South Africa, Algeria, Russia, Israel and Australia.
In France, this is the only allowable grape used in the Clairette de Die appellation which produces sparkling wine. Clairette is also used to produce Sparkling wine in other countries which are most notably South Africa and Australia.
Clairette can be paired many different types of seafood and many vegatable dishes. However, it's a perfect match for shellfish and a myriad of soft and hard cheeses.
Clairette grows best in warm weather and limestone soils. It's an easy grape to grow and it usually ripens early. Wines made from 100% Clairette do not age well as the wines are easily prone to early oxidation. They need to be drunk in their youth for their up front, bright, fruity quality.