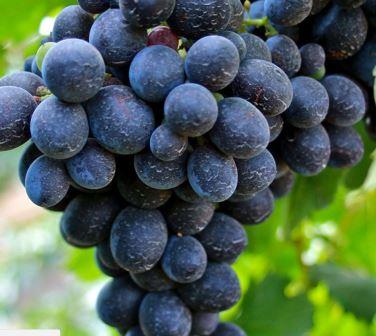 Cinsaut is a perfect grape for the Rhone Valley as it thrives in hot, windy weather. Cinsaut plantings are on the decline in Chateauneuf du Pape. Currently, close to 2.6% of vineyards in the Chateauneuf du Pape appellation are devoted to Cinsaut. Cinsaut is used primarily as a blending grape in the Southern Rhone Valley as it pairs well with Grenache, Syrah, and Mourvedre.
It is not just in the Southern Rhone Valley where Cinsault is in decline, the grape is decreasing in total acreage in vineyards all over the world. In fact, over a ten-year period, between 2000 and 2010, 14% of the grape variety was culled from vineyards all over the world and replaced with other, red wine grapes, which are easier to cultivate.
The dark-skinned grape ripens early and often delivers prolific yields. When growers work with the variety and reduce yields, Cinsaut delivers floral and ripe strawberry notes as well as hints of various dried fruits.
The early ripening grape, due to its natural, low level of tannin and acidity, coupled with the strong aromatic quality is often used in the production of Rose' in Provence.
While Cinsault occupies only a minor portion of Chateauneuf du Pape, it is much more popular in other areas of Southern France including Bandol and the Languedoc. Although, starting with the 2018 vintage, in Chateauneuf du Pape, Isabel Ferrando began producing F601, which is made from 100% old vine Cinsault planted in 1928. Vignobles Mousset-Barrot makes a Cinsault from vines in Chateauneuf as well.
In fact, a few producers make 100% Cinsault wines. In the Languedoc, Domaine Le Boede makes a 100% Cinsault and you can also find a Vin de France from Domaine des Maravilhas using only Cinsault. Cinsault is also quite popular as a blending grape in Gigondas, Tavel, Cotes du Rhone, Costieres de Nimes, Coteaux du Tricastin, Cotes du Ventoux and the Cotes du Luberon appellations.
Outside of the Rhone Valley, Cinsault is also planted in Algeria, Australia, Corsica, Lebanon, Morocco, Tunisia, and South Africa. In fact, in South Africa, the grape was blended with Pinot Noir to create Pinotage during the early 1900s.
Cinsault as a wine and food pairing is often used with sea snails in garlic, better known as Escargot. It also works quite well in pairings with rich foods like stews, braised and roasted meat dishes, and all types of beef, lamb, goat, beef, duck, chicken, and pork.
In America, Cinsault was exported to California all the way back in the 1860s. At the time, it was called Black Malvoisie. The grape was once again used for blending with other varietals.
In California, Cinsault is often blended with Zinfandel or used in other field blends. Today in California, not many growers are using the grape.
A few of the better estates making 100% Cinsault are Turley Wine Cellars, Bonny Doon, Castle Vineyard, Preston Vineyards and Frick. In other countries, there are producers making wines from 100% Cinsault, for example; D'Arenberg in Australia.