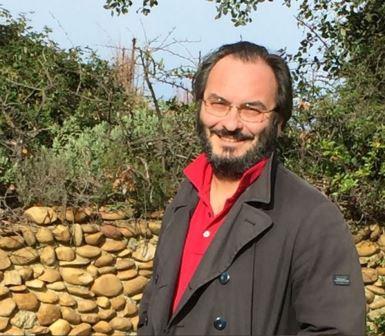 Learn everything about Domaine des Maravilhas with wine tasting notes, wine, and food pairing tips, best vintages, a history of the property, and information on the vineyards and winemaking. If you want to read about other important wineries and winemakers from the Rhone valley: Links to all Rhone Valley Wine Producer Profiles
Domaine des Maravilhas History, Overview
Domaine des Maravilhas is not a young estate. In fact, the Domaine was only born in 2013 when Jean Frederic Bistagne purchased vines and a cellar from Domaine Dusiegneur.
While most of the vines in that initial purchase were located in Lirac, Jean Frederic Bistagne was able to subsequently enlarge the vineyard when he obtained another half a hectare of vines in Chateauneauf. This next purchase took place in 2015 when he was able to buy vines located in the lieu-dit of Fargueirol.
Domaine des Maravilhas produces 1 red Chateauneuf du Pape wine and several other Southern Rhone wines from the Lirac, Cotes du Rhone Villages and Cotes du Rhone appellations, as well as a Vin de France rouge, "Alice" made from 100% Cinsault.
Domaine des Maravilhas Vineyards, Wines, Winemaking
The estate owns .5 hectares of vines in the Fargueirol lieu-dit planted to 100% Syrah. The vines are farmed using 100% biodynamic farming techniques. The vines are more than 40 years old. The terroir is rocks, stones, limestone, and clay. Yields are especially low here because 20% of the vineyard is purposely left unplanted to allow for natural biodiversity.
The grapes are destemmed and vinification takes place in a combination of stainless steel vats and demi-muids. The wine is aged for an average of 16 months in French oak barrels before bottling.
Domaine des Maravilhas Espirito is one of the few Chateauneuf wines made from 100% Syrah. The production is quite small, as only 125 cases are produced each year.
Domaine des Maravilhas Santo is the estates most recent addition to their portfolio. The wine is produced from a blend of Grenache and Syrah.
The best vintages of Domaine des Maravilhas are: 2022, 2021, 2020, 2019, 2018, 2017, 2016 and 2015.
When to Drink Domaine des Maravilhas, Anticipated Maturity, Decanting Time
Domaine des Maravilhas can be enjoyed on the young side. Young vintages can be popped and poured, or decanted for between 1-2 hours allowing the wine to soften and open its perfume. Older vintages might need very little decanting, just enough to remove the sediment.
Domaine des Maravilhas is usually better with 2-5 years of bottle age. Of course, that can vary slightly, depending on the vintage. In the best vintages, the wine should be consumed within 4-12 years after the vintage.
Serving Domaine des Maravilhas with Wine, Food Pairing Tips
Domaine des Maravilhas is best served at 15.5 degrees Celsius, 60 degrees Fahrenheit. The cool, almost cellar temperature gives the wine more freshness and lift.
Domaine des Maravilhas is best served with all types of classic meat dishes, veal, pork, beef, lamb, duck, game, roast chicken, roasted, braised, stewed dishes, sausage, barbecue and cassoulet. Domaine des Maravilhas is also good with Asian dishes, hearty fish courses like tuna, mushrooms, cheese, pasta, eggplant, and tomatoes.
Domaine des Maravilhas Wine Tasting Notes
7 Vintages 9,817 Views Sort by Vintage-Rating
2020
Domaine des Maravilhas Espirito (Châteauneuf-du-Pape)

Produced from 100% Syrah, which is not common in Chateauneuf, the wine is peppery, earthy, mineral-driven, floral and darkly fruited with a light touch of oak, the wine is medium-bodied, fresh, bright and chewy on the palate. Drink from 2023-2035.

483 Views

Tasted

Jan 27, 2023

2020
Domaine des Maravilhas Santo (Châteauneuf-du-Pape)

Flowers, spice and kirsch in the nose, along with a medium-bodied, fresh, bright, red kirsch palate with just a touch of cocoa in the end is going to be just great on release and for close to decade. From a blend of Grenache and Syrah, drink from 2022-2032.

474 Views

Tasted

Jan 27, 2023

2019
Domaine des Maravilhas Espirito (Châteauneuf-du-Pape)

Quite dark in color as you might expect due to its blend, the wine pops with notes of espresso, pepper and dark red berries. Full-bodied, fresh, peppery and bright, the wine is meaty, dense and powerful, as well a tannic so give it a few years before pulling a cork. Espirito is one of the few Chateauneuf du Pape wines made using 100% Syrah. Drink from 2022 - 2034

1,389 Views

Tasted

Jan 9, 2022

2018
Domaine des Maravilhas Espirito (Châteauneuf-du-Pape)

Produced from 100% Syrah, the wine is spicy, brisk and fresh with a grilled meat, herb, leaf, licorice and peppery red berry character. Spicy and lifted, give it some time in the cellar to develop.

864 Views

Tasted

Oct 12, 2020

2017
Domaine des Maravilhas Espirito (Châteauneuf-du-Pape)

Loads of dark, spicy, smoky, sweet and just a bit sharp red fruits here, coupled with earth, pepper and garrigue. One of the few Chateauneuf du Pape wines made from 100% Syrah, give it a few years to soften and develop.

2,138 Views

Tasted

Nov 23, 2019

2016
Domaine des Maravilhas Espirito (Châteauneuf-du-Pape)

With a smoke, spice and ash character, you also find herbs, thyme, earth, barnyard and peppery red fruits. The wine offers freshness, earthy, red fruits and a peppery finish. This should become better with age. The wine is made from 100% Syrah. I'm not normally a big fan of this much Syrah in a Southern Rhone wine, but I am liking this wine once again.

1,211 Views

Tasted

Sep 10, 2018

2015
Domaine des Maravilhas Espirito (Châteauneuf-du-Pape)

Spicy, full bodied and dense, there is a sweet and tart quality to the cherry fruits along with a structured character and tannins to age a bit. The wine displays a nice purity of fruit. This which could become even better with age. The wine is made from 100% Syrah. I'm not normally a big fan of this much Syrah in a Southern Rhone wine, but I am liking this a lot.

1,888 Views

Tasted

Aug 24, 2017