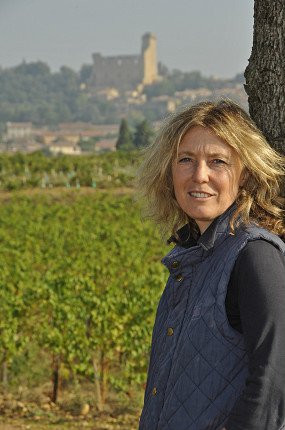 Learn everything about Domaine Isabel Ferrando Chateauneuf du Pape with wine tasting notes, wine and food pairing tips, best vintages, a history of the property and information on the vineyards and winemaking. If you want to read about other important wineries and wine makers from the Rhone valley: Links to all Rhone Valley Wine Producer Profiles
Domaine Isabel Ferrando History, Overview
Domaine Ferrando is one of the newer, really hot properties in the Chateauneuf du Pape appellation. Domaine Ferrando is owned by Isabel Ferrando. Since their debut vintage in 2004, they have been on fire!
Isabel Ferrando did not intend to have a career as a winemaker. In fact, her first career was in the banking industry. Isabel Ferrando changed her life, moving from the financial world to a life in wine. Isabel Ferrando learned about winemaking in the Gigondas appellation, while working for Raspail Ay.
Isabel Ferrando founded the estate in 2004 when she purchased 3.9 hectares of vines in the southern part of the appellation. The goal, according to Isabel Ferrando was to create a wine that was distinct from Domaine Saint Prefert, her other Southern Rhone property.
The difference for her was about the uniqueness of terroir in each location. To help her realize her ambitions, she brought in Philippe Cambie as the consultant.
The best vintages of Domaine Isabel Ferrando are: 2022, 2021, 2020, 2019, 2018, 2017, 2016, 2015, 2012, 2010, 2009, 2007 and 2005.
Domaine Isabel Ferrando Vineyards, Wines, Winemaking
Isabel Ferrando produces 2 red Chateauneuf du Pape wines.
Domaine Isabel Ferrando Colombis is made from 100% old vine Grenache that ranges in age from 65 years to more than 100 years of age. The terroir is mostly sandy soils, as well as clay soil. The vines are in 3 lieu-dits, Cristia, Les Roues and Colombis, which is where the wine takes its name from. Domaine Ferrando Colombis made its official debut with the 2004 vintage.
The percentage of stems included varies, from vintage to vintage. For example, in 2009 and in 2010, two very ripe vintages, Colombis was vinified using only whole cluster fruit, meaning that 100% of the grape stems were included during the fermentation. That has not always the case here. But starting with the 2009 vintages, the berries have not been destemmed.
Domaine Isabel Ferrando Colombis is made from 100% old vine Grenache. The wine is aged in a combination of short, conical shaped oak vats and used French oak barrels.
Not much of this wine is made. Production of Ferrando Colombis is on average, about 550 cases per vintage. This is a great expression of Chateauneuf du Pape and while it can be difficult to find, especially after the wine has been in the marketplace for a few years, it is worth the effort to find a few bottles.
Domaine Saint Prefert Isabel Ferrando F601 is the newest entry in the strong stable of wines from Isabel Ferrando. 2018 is the initial release. Produced from 100% old vine Cinsault planted in 1928.The wine takes its name from the parcel where the vines are planted, which is located on the far south of the estate. The terroir is vert fine sand with quartz and a subsoil of blue clay. The wine is aged completely in demi-muids. F601 is close to impossible to find as only 800 bottles are produced.
Isabel Ferrando also produces not only Saint Prefert, but in addition she produces red and white wine in the Cotes du Rhone appellation.
When to Drink Domaine Isabel Ferrando, Anticipated Maturity, Decanting Time
Domaine Isabel Ferrando can be enjoyed young, with about 1-2 hours of decanting. This allows the wine to soften and open its perfume. Older vintages might need very little decanting, just enough to remove the sediment.
Domaine Isabel Ferrando is usually better with 3-4 years of bottle age. Of course that can vary slightly, depending on the vintage. In the best vintages the wine should be consumed within 4-18 years after the vintage.
Serving Domaine Ferrando with Wine, Food Pairing Tips
Domaine Ferrando is best served at 15.5 degrees Celsius, 60 degrees Fahrenheit. The cool, almost cellar temperature gives the wine more freshness and lift.
Domaine Ferrando is best served with all types of classic meat dishes, veal, pork, beef, lamb, duck, game, roast chicken, roasted, braised, stewed dishes, sausage, barbecue and cassoulet. Domaine Ferrando is also good with Asian dishes, hearty fish courses like tuna, mushrooms pasta, eggplant, tomatoes and cheese.
The white wine of Domaine Ferrando is best served with a myriad of different seafood dishes, shellfish, crab, lobster, sushi, sashimi, chicken, pork and veal, as well as Asian cuisine.
Domaine Isabel Ferrando Wine Tasting Notes
20 Vintages 68,418 Views Sort by Vintage-Rating
2020
Famille Isabel Ferrando Saint Prefert (Châteauneuf-du-Pape)

2020 marks the debut of Familie Isabel Ferrando, which is a blend of all the estates terroirs. 2019 was the final vintage of the single vineyards. The new wine is deep, ruby in color. From there you find a spicy nose with notes cloves, cinnamon and nutmeg along with all the scents of dark red fruits. On the palate, the wine is ripe, dark and plummy. You find licorice, ripe, dark fruits, chalky tannins and an opulent, rich character on the palate. One of the deepest wines of the vintage, there is a a beautiful sense of purity, symmetry, length and a touch more of all that spice in the finish. This is so easy to drink now, but you will have a much better experience if you let it age for a few years. Drink from 2025-2045.

1,468 Views

Tasted

Jan 27, 2023

2020
Famille Isabel Ferrando Vieilles Vignes Clairette (Châteauneuf-du-Pape)

The debut vintage for the newly renamed Cuvée Spéciale Vieilles Clariettes pops from the glass with its honeysuckle, white flowers, lemon peel, white peach, pear and almond nose. On the palate, the wine balances between its freshness and depth of fruit. Crisp, long and clean with a racy acidity to all the vibrant yellow citrus, this is going to offer pleasure young, yet age and evolve. Half of the wine was vinified in neutral glass vats which adds a lot of lift and vibrancy. After the vinification, only 30% of the wine was aged in the neutral tanks while the remainder of the wine was aged in used foudres. The wine is made from 100% Old vine Clairettes. Drink from 2023-2035.

924 Views

Tasted

Jan 27, 2023

2020
Famille Isabel Ferrando Isabel de France (Côtes du Rhône)

Produced from old vine Cinsault planted in 1928, in the gravel and sand terroir of Saint Prefert. The first thing you notice is the bouquet of flowers with its strong violet, lilac and rose fragrance. The wine perfectly balanced, fresh and harmonious with richness, purity, spice and opulence. There is a purity to the fruit and a remarkable level of freshness in the layers of opulent, fruit. The wine holds your focus for close 60 seconds while all the intense, dark fruit builds and expands. The wine is aged in used demi-muids for 18 months before bottling. This is a contender for wine of the vintage. However finding it is the issue as the production is only 800 bottles a year. Drink from 2025-2050.

882 Views

Tasted

Jan 27, 2023

2020
Famille Isabel Ferrando Colombis (Châteauneuf-du-Pape)

Floral in character, the pops with flowers, the wine pops with roses, kirsch, mint-leaf, and black raspberry. Medium-bodied, elegant, fresh, bright, clean and pure, the sweetness of the red fruits on the palate, with all the lift, energy and a touch of pepper has length and vibrancy leaving you with a touch of peppery orange peel and green olives in the endnote. The wine is made from 100% old vine Grenache from vines planted in 3 terroirs, sand, limestone and clay. The grapes are whole bunch fermented. Drink from 2024-2037.

815 Views

Tasted

Jan 27, 2023

2019
Famille Isabel Ferrando F601 (Châteauneuf-du-Pape)

Produced from 100% old vine Cinsault, the wine explodes with its display of flowers, roses, spice, and red with black fruits. The sense of purity in the fruits is off the hook. The only thing better is the luscious, sensuous, supple, seamless finish that steals the show. The only issue here is finding a bottle, as the production is about 800 bottles, each of which is individually boxed and numbered. Drink from 2025-2045.

1,530 Views

Tasted

Oct 7, 2022

2019
Domaine Isabel Ferrando Colombis (Châteauneuf-du-Pape)

Elegant, fresh, refined and vibrant, the wine shows off its layers of silky textured kirsch, black raspberries, red cherries and floral notes from start to finish. As good as that is, it is the soft textured palate presence with its purity of fruit that steals the show. The wine was made from 100% old vine Grenache. Drink from 2023 - 2037

3,168 Views

Tasted

Jan 9, 2022

2018
Domaine Isabel Ferrando Colombis (Châteauneuf-du-Pape)

In any vintage this would be a serious wine, but in a difficult vintage like 2018, this is stunning. With a rich hue, the wine is all about the silky, plush layers of ripe, sweet, pure, raspberries, kirsch and cherries that are there right from the start and never want to quit. The strong floral notes are perfect for the wines elegant charm. Produced from 100% old vine Grenache, for a wine at this level of quality and character, it is one of the steals of the vintage!

2,116 Views

Tasted

Oct 12, 2020

2018
Domaine Isabel Ferrando F601 (Châteauneuf-du-Pape)

No F601 is not the latest supercar from Ferrari. It is the most recent offering from Isabel Ferrando. From 100% Cinsault planted in 1928, the parcel is named F601. This stunning wine offers a beautiful perfume packed with flowers, spice box, wild cherries, kirsch, underbrush, and red plums. Soft, silky, fresh, clean and pure, with spicy top notes that fit perfectly with all those sweet raspberries and kirsch notes, the wine, aged in demi-muid is going to be impossible to find as only 800 bottles were produced. Each bottle comes in its own display box, so if you find a bottle, grab it!

2,571 Views

Tasted

Jan 8, 2021

2017
Domaine Isabel Ferrando Colombis (Châteauneuf-du-Pape)

Garrigue, plum, kirsch and cherries are made even better with their spicy, peppery kick. Rich, fresh, juicy clean and pure, the red cherries pop with energetic freshness and purity. The finish, which shows more of that beautiful sense of purity feels as good as it tastes on the palate. The wine is made from 100% old vine Grenache.

4,463 Views

Tasted

Sep 21, 2019

2016
Domaine Isabel Ferrando Colombis (Châteauneuf-du-Pape)

Deep ruby in color, the wine is concentrated, lush, round and peppery fresh. There is a definition to each layer of fruit that varies from black raspberry to kirsch. Opulent, rich and fresh, this is pure velvet in the mouth. The finish, with its purity of fruit seriously goes on and on. Complete decadence is the best way to describe this must have wine. The wine is made from 100% old vine Grenache. For a wine of this quality, it is one of the steals of the vintage!

5,766 Views

Tasted

Sep 18, 2018

2016
Famille Isabel Ferrando Colombis (Châteauneuf-du-Pape)

Compelling from start to finish, the nose, with all of its showy, ripe, spicy fruits, flowers, and herbs is the initial grab. But it is on the full-bodied, dense, rich, opulent, multi-faceted palate, with its non-stop layers of ripe, vibrant, pure, peppery, deep red fruits that seals the deal. Drink from 2022-2035.

3,971 Views

Tasted

Aug 9, 2022

2015
Domaine Isabel Ferrando Colombis (Châteauneuf-du-Pape)

A cornucopia of herbs, a bit of pepper, and thyme with mint on top, with all the kirsch you could ask for, the wine is full bodied, and deep, yet equally fresh and light on its feet. Powerful and refined, the finish leaves you wanting another sip of this elixir. The wine is made from 100% old vine Grenache.

7,643 Views

Tasted

Aug 24, 2017

2014
Domaine Isabel Ferrando Colombis (Châteauneuf-du-Pape)

Made from 100% Grenache, the wine is silky, sensuous and fresh, with symmetry and a poised, elegant, ripe, sweet, cherry dominated finish. This is a really solid effort for the vintage.

2,228 Views

Tasted

Jun 23, 2016

2013
Domaine Isabel Ferrando Colombis (Châteauneuf-du-Pape)

Round, lush, medium-bodied, and loaded with sweet, ripe, peppery red fruits, herbs, olives, pepper, and flowers, with only a minor touch of heat, in the end, this is fully developed and ready for prime-time drinking.

2,162 Views

Tasted

Sep 27, 2021

2012
Domaine Isabel Ferrando Colombis (Châteauneuf-du-Pape)

A mélange of fresh, sweet, ripe red berries and spices are at the front of this wine. It's sweet, spicy, fresh character leaves a good impression on the nose and an even better one on palate. A few years will add more to this 100% Grenache wine.

3,153 Views

Tasted

Sep 10, 2014

2011
Domaine Isabel Ferrando Colombis (Châteauneuf-du-Pape)

Medium bodied, flowery red berries, soft, open and forward, the wine is all about the elegant fresh, ripe cherry and garrigue character that carries through the finish.

2,489 Views

Tasted

Aug 19, 2014

2010
Domaine Isabel Ferrando Colombis (Châteauneuf-du-Pape)

Full-bodied, but not even close to over the top, the combination of luscious, silky textures, pure, sweet, fresh, black raspberry and kirsch and length and vivacity makes this perfect for current drinking. You can also age it for more secondary development.

4,721 Views

Tasted

Dec 9, 2018

If you like your Chateauneuf du Pape produced from loads of perfectly ripe dark, red fruit, topped with pepper, garrigue and fennel, with lush, juicy fruits and plush textures that end with a long, mouth filling, fresh, sweet, enticing finish, you came to the right place.

3,900 Views

Tasted

Jul 9, 2015

2009
Domaine Isabel Ferrando Colombis (Châteauneuf-du-Pape)

A beautiful expression of sweet, ripe, kirsch, juicy fresh, black berries, thyme and voluptuous textures. The wine has richness, ripe fruits and a lively, fresh character giving it vibrancy.

3,949 Views

Tasted

Aug 16, 2015

2007
Domaine Isabel Ferrando Colombis (Châteauneuf-du-Pape)

Mind blowing juice from start to finish! The explosive nose, with its herbs de Provence, black pepper, thyme and sprigs of mint topped with olive tapenade is off the hook. But the incredible wall of opulent, perfectly ripe, fruit, spice, kirsch liqueur and juicy plum notes, with its fat, juicy, opulent, viscous, silky textures must last at least 50 seconds. Little air is needed for this baby, pop and pour works just fine. If someone wanted to score this just a bit higher, I get it, because it is that good!

4,134 Views

Tasted

May 31, 2016

From 100% old vine Grenache, the wine blasts off with cherry liqueur, black pepper, Provencal herbs, strawberry jam and spicy raspberries, Full bodied and packed with sweet, ripe Grenache, this ostentatious Chateauneuf du Pape delivers the unique combination of pleasure and unique character for a fair price.

3,950 Views

Tasted

May 2, 2012

2005
Domaine Isabel Ferrando Colombis (Châteauneuf-du-Pape)

This is drinking great today. The wine is lushly textured, concentrated, vibrant and lusty. There is a depth of flavor with the juicy, ripe, kirsch with overtones of thyme, assorted herbs, pepper and sweet cherries.

2,415 Views

Tasted

Mar 6, 2018