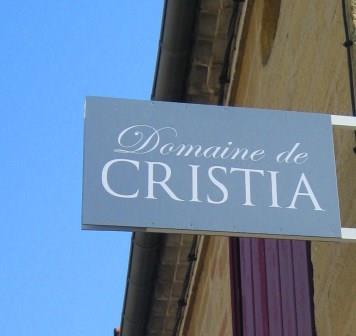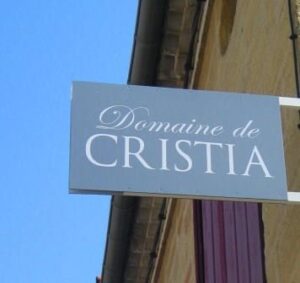 Learn everything about Domaine de Cristia Chateauneuf du Pape with wine tasting notes, wine and food pairing tips, best vintages, a history of the property, information on wine making and terroir, along with wine tasting reviews and images. If you want to read about other important wineries and wine makers from the Rhone valley: Links to all Rhone Valley Wine Producer Profiles
Domaine de Cristia History, Overview
Domaine de Cristia came into being about 1942 thanks to the founder, Etienne Grangeon. The estate takes its name from the lieu-dit, le Cristia, where they have some of their vines. The vineyard is placed not far from the village of Courthezon, which is where the domaine is based.
At first, the Chateauneuf du Pape estate of Domaine Cristia owned about two hectares of Grenache vines in the Southern Rhone Valley. In the early days, like most producers in the appellation, their wines were sold in bulk to negociants.
Etienne Grangeon was able to enlarge their vineyard holdings thanks to the efforts of his son Alain Grangeon. Alain slowly began bottling some of their production.
In the beginning, it was only about ten percent. The amount of wine was not really enough to be sold on a commercial basis. In those early days, the wines of Domaine de Cristia went to family and friends. It was Alain Grangeon who decided to plant other varietals in their vineyards like Mourvedre and Syrah.
Things changed in 1999, when the next generation became involved with the family business at Domaine de de Cristia. Baptiste and Dominique Florent also joined the estate that year.
In fact, 1999 was a vintage of change for everything at Domaine de Cristia as that year they began to produce and bottle 100% of their production. Today, Domaine de Cristia is managed by Baptiste Grangeon and Dominique Grangeon.
One taste of the wines being made currently at Domaine de Cristia and you can easily see that the wines have never been better. Some of the recent changes have been to practice biodynamic farming techniques. In 2008, Domaine de Cristia was certified as Agriculture Biologique by Ecocert.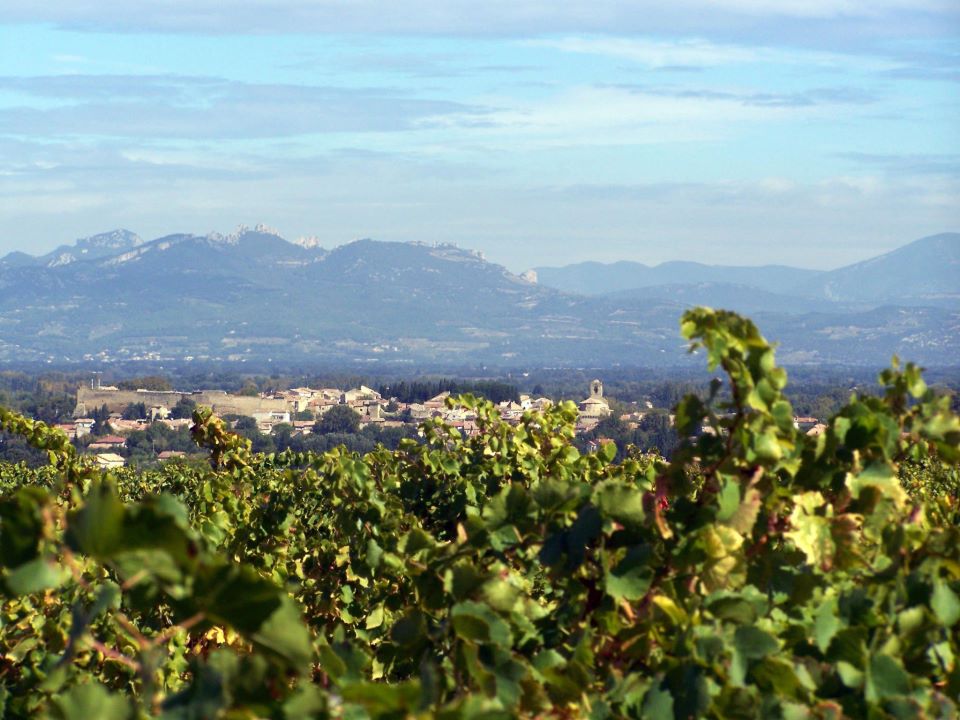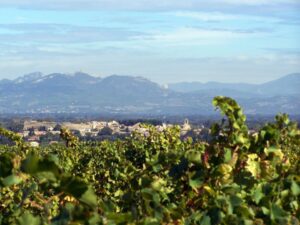 Domaine de Cristia Vineyards, Wine, Winemaking
Domaine Cristia has 13 hectares of vines in Chateauneuf du Pape. 12 hectares are reserved for producing red wine and 1 hectare is used for the production of white Chateauneuf du Pape wine. The parcels are in different locations and terroirs in the appellation.
Although most of the vineyards in the northern part of the appellation. They have vines planted in sand, limestone, loam and even a minor portion has the highly valued, stony soils. They have old vines. They own Grenache vines that range from 50 years of age to over 100 years. Their Mourvedre and Syrah plantings are on average, 50 years old as well.
The best vintages of Domaine de Cristia are: 2022, 2021, 2020, 2019, 2018, 2017, 2016 2015, 2012, 2010, 2009, 2007, 2005, 2003 and 2000.
Domaine de Cristia produces 3 red Chateauneuf du Pape wines and 2 Chateauneuf du Pape Blanc wines. They also produce a Kosher cuvee.
Domaine de Cristia Chateauneuf du Pape is made from 85% Grenache, 15% Syrah, although some vintages have included Mourvedre in the blend. The average age of the vines used varies from 50 to 100 years of age. The terroir is pure sand soils. The vines are planted in the le Crista vineyard.
The grapes are 100% destemmed. Vinification takes place in concrete vats. The Grenache is aged in tank while the Syrah is aged in foudre for 18 months before bottling. The production is about 3,000 cases per year.
Domaine de Cristia Cuvee Renaissance comes from a blend of 60%, 100 year old vine Grenache and 40% Mourvedre. Although in some vintages, Syrah is often added to the blend.
The terroir is sandy soils in the Cristia and la Font du Loup lieux-dits. The Grenache is aged in demi-muids and the Syrah and Mourvedre can be aged in up to 33% new, French oak barrels for 18 months before bottling. On average, 500 cases are produced per year.
Domaine de Cristia Cuvee Vieilles Vignes is clearly their top wine. The wine is made from 100% old vine old Grenache that ranges from 70 to 80 years of age. Some vines are even older. The vines come from their parcels planted in sandy soils of the Cristia lieu-dit. The grapes are 100% destemmed.
The wine is aged for 18 months in a combination of demi-muids, 34% new, French oak barrels and used, French oak barrels. Only 250 cases are produced each year of Domaine de Cristia Cuvee Vieilles Vignes.
Domaine de Cristia Chateauneuf du Pape Blanc is a blend of 30% Grenache Blanc, 30% Clairette, 30% Roussane and 10% Bourboulenc. 90% of the wine is aged in steel vats and 10% is aged in new, French oak for 8 months. 425 cases are produced each year.
Domaine de Cristia Vieilles Vignes Blanc is one of the few white Chateauneuf du Pape wines made from 100% Grenache Blanc. The vines are old, ranging from 55-85 years of age. The modern styled wine is aged in 100% new, French oak barrels for 8 months. Only 100 cases are produced each vintage.
When to Drink Domaine de Cristia, Anticipated Maturity, Decanting Time
Domaine de Cristia can be enjoyed on the young side. Young vintages can be popped and poured, or decanted for about 1-2 hours or so. This allows the wine to soften and open its perfume. Older vintages might need very little decanting, just enough to remove the sediment.
Domaine de Cristia is usually better with 3-5 years of bottle age. Of course that can vary slightly, depending on the vintage. In the best vintages the wine should be consumed within 4-20 years after the vintage.
Serving Domaine de Cristia with Wine, Food Pairing Tips
Domaine de Cristia is best served at 15.5 degrees Celsius, 60 degrees Fahrenheit. The cool, almost cellar temperature gives the wine more freshness and lift.
Domaine de Cristia is best served with all types of classic meat dishes, veal, pork, beef, lamb, duck, game, roast chicken, roasted, braised, stewed dishes, sausage, barbecue and cassoulet. Domaine de Cristia is also good with Asian dishes, hearty fish courses like tuna, mushrooms pasta, eggplant, tomatoes and cheese.
The white wine of Domaine de Cristia is best served with a myriad of different seafood dishes, shellfish, crab, lobster, sushi, sashimi, chicken, pork and veal, as well as Asian cuisine.
In 2009, Baptiste Grangeon of Domaine Cristia and Peter Weygandt formed a partnership to produce wines under the name of Chapelle St. Theodoric. Domaine de Cristia also produces wine from 8.5 hectares of vines they own in the Cotes du Rhone appellation.
Domaine de Cristia Wine Tasting Notes
29 Vintages 75,085 Views Sort by Vintage-Rating
2020
Domaine de Cristia Vieilles Vignes (Châteauneuf-du-Pape)

Dark in color, the wine is loaded with black cherries, flowers, licorice, and kirsch on the nose. On the palate the wine is deep, rich and intense with a lushness to the fruit, a full-bodied and a polish to the fruits and tannins in the finish. The wine was made using 100% old, vine Grenache. Drink from 2023-2034.

532 Views

Tasted

Jan 27, 2023

2020
Domaine de Cristia Renaissance (Châteauneuf-du-Pape)

Produced from a blend of 60% Grenache and 40% Mourvedre, the wine shows off its nose of espresso, incense, smoke, flowers and cherries. Round, full, oaky and spicy with a chewy, kirsch and cherry palate, this modern-leaning wine is going to offer a lot of hedonistic pleasure early in life, but you will need to be oak tolerant. 2023-2032.

492 Views

Tasted

Jan 27, 2023

2020
Domaine de Cristia (Châteauneuf-du-Pape)

Forward, fruity and round with a touch of oak on the plum and kirsch filled palate, this will show quite nicely with a year or so of aging. The wine was made using a blend of 85% Grenache and 15% Syrah. Drink from 2022-2030.

514 Views

Tasted

Jan 27, 2023

2019
Domaine de Cristia (Châteauneuf-du-Pape)

The kirsch and floral notes here get things off to a good start. Soft, silky, polished, fresh and sweet, the red fruits on the palate and in the finish are blended with the perfect amount of spice and herbs to provide complicated nuances along with the ripe kirsch oriented finish. Drink from 2022 - 2033

1,624 Views

Tasted

Jan 9, 2022

2018
Domaine de Cristia Renaissance (Châteauneuf-du-Pape)

Ripe, rich, juicy and fresh, there is a strong sense of purity, sweetness, length and intensity and minerality to the spicy, peppery, red fruits on the palate and in the long finish. The wine is made from 60% Grenache and 40% Mourvedre. This is one of the success stories of the vintage.

1,409 Views

Tasted

Oct 12, 2020

2018
Domaine de Cristia Vieilles Vignes (Châteauneuf-du-Pape)

Deeply colored with a touch of smoke, wild cherry, herbs, pepper, oak and mint, the wine is juicy, sweet, rich, long and focused. The wine was made using 100% old, vine Grenache.

1,808 Views

Tasted

Oct 12, 2020

2018
Domaine de Cristia (Châteauneuf-du-Pape)

Deep in color, the wine is sweet, fruity, fresh, spicy and long. The cherries and black raspberries are fresh, vivacious and feel great on the palate, with a nice peppery kick in the endnote.

1,692 Views

Tasted

Oct 12, 2020

2017
Domaine de Cristia Vieilles Vignes (Châteauneuf-du-Pape)

Deep in color, the wine pops with licorice, dark cherries and garrigue. Soft, round and elegant with a nice pop of lusciously textured red fruits and freshness in the finish. This is going to drink well early, and age nicely. The wine was made using 100% old, vine Grenache.

2,455 Views

Tasted

Sep 21, 2019

2017
Domaine de Cristia Renaissance (Châteauneuf-du-Pape)

Medium bodied, soft, lush, concentrated and refined, with a blast of ripe, red fruits, freshness and purity in the finish. The finish elegant finish shows off its pure kirsch with ease. The wine is made from 60% Grenache and 40% Mourvedre.

5,108 Views

Tasted

Sep 21, 2019

2017
Domaine de Cristia (Châteauneuf-du-Pape)

Round, sweet, soft and forward, the fruit is ripe, red and fresh, with an easy drinking charm. The wine was made using a blend of 85% Grenache and 15% Syrah.

2,876 Views

Tasted

Sep 20, 2019

2016
Domaine de Cristia Vieilles Vignes (Châteauneuf-du-Pape)

Inky in color, this gem hits it out of the park with its showy nose of licorice, thyme, smoke, kirsch liqueur, flowers and dark cherries. Fabulously rich, intense and mouth-filling, this is a palate-staining experience with length, intensity, and richness. Make no mistake, this is a big, bold expression of Chateauneuf du Pape. But it never crosses into being too much or over the top.

2,357 Views

Tasted

Oct 9, 2020

2016
Domaine de Cristia Renaissance (Châteauneuf-du-Pape)

Deep in color, the wine is big, juicy and rich, a well as luscious in texture, The fruits are perfectly ripe, there is density, freshness and complexity. But this is not your grandmothers Chateauneuf du Pape. Instead, this is a delicious example of a concentrated, richly textured, ripe, juicy, modern styled Southern Rhone that has it all going on. The wine is made from 60% Grenache and 40% Mourvedre.

2,180 Views

Tasted

Sep 18, 2018

2015
Domaine de Cristia Vieilles Vignes (Châteauneuf-du-Pape)

The garrigue is made more interesting with the strong thyme accent. Blend in a judicious amount of sweet, fresh kirsch, cherries and licorice with silky tannins and a long, polished, fresh finish, and well, you get the picture. The wine was made using 100% old, vine Grenache.

3,689 Views

Tasted

Aug 21, 2017

2015
Domaine de Cristia Renaissance (Châteauneuf-du-Pape)

Luscious textures and a real density of flavor here. Juicy, rich and spicy, the wine is full bodied fresh and long with layers of pure, rich, ripe, sweet fruits that keep on coming, long after the glass is empty. The wine is made from 60% Grenache and 40% Mourvedre.

3,082 Views

Tasted

Aug 21, 2017

2015
Domaine de Cristia (Châteauneuf-du-Pape)

With a nod to the floral side, the dark, ripe, juicy, fresh , spicy red fruits are easy to find and like. On the finish, you will encounter the pure kirsch and thyme characteristics. The wine was made using a blend of 60% Grenache with 40% Mourvedre.

2,872 Views

Tasted

Aug 21, 2017

2014
Domaine de Cristia (Châteauneuf-du-Pape)

Red fruits, licorice and kirsch aromatics paired with supple textures and a sweet, plush finish.

2,137 Views

Tasted

Jun 23, 2016

2013
Domaine de Cristia Vieilles Vignes (Châteauneuf-du-Pape)

Smoke, licorice and sweet, plush cherries are easy to find, before you hit the silky, smooth, fresh, kirsch filled finish. The wine was made using 100% old, vine Grenache.

2,168 Views

Tasted

Sep 7, 2015

2013
Domaine de Cristia (Châteauneuf-du-Pape)

Fennel, incense and cherries, with a soft, forward, supple, fruit filled, cherry charm. Made from a blend of 70% Grenache, 15% Syrah and 15% Mourvedre.

2,946 Views

Tasted

Sep 7, 2015

2012
Domaine de Cristia Vieilles Vignes (Châteauneuf-du-Pape)

This is already starting to drink well. The showy floral, cherry, garrigue and thyme nose is perfect for the soft, pure, supple, elegant textures and finish. It should be even better with another couple of years in the bottle.

1,576 Views

Tasted

Apr 30, 2015

Notes of vanilla bean, juicy ripe berries and fennel create the perfume. The silky tannins and a long, spicy, black and blue fruit ending make this a treat. From 100% old vine Grenache, the wine reached 14% ABV.

1,557 Views

Tasted

Sep 17, 2014

2012
Domaine de Cristia (Châteauneuf-du-Pape)

With smoke, licorice and kirsch on the nose, the wine is plush, polished and ends with a rich, round, ripe wave of spicy black cherries. From a blend of 70% Grenache, 15% Mourvedre and 15% Syrah.

2,535 Views

Tasted

Sep 10, 2014

2011
Domaine de Cristia (Châteauneuf-du-Pape)

Truffles hide just behind the sweet kirsch sensations. This is followed by a plush, sensuous pop of ripe, spicy, black cherries to complete the experience.

3,362 Views

Tasted

Aug 19, 2014

2010
Domaine de Cristia Renaissance (Châteauneuf-du-Pape)

Ripe, ABVic and almost too much to taste… Note I said almost with its jammy, licorice, chocolate and spicy character, the wine coats your palate, teeth and gums with layers of decadent fruit. There is a touch of heat in the massive finish.

4,070 Views

Tasted

May 31, 2013

2010
Domaine de Cristia (Châteauneuf-du-Pape)

Silky, ripe, fat juicy berries, pepper, earth and herbs create a supple textured wine that delivers a pure, fresh, sweet, red and black, berry finish.

3,835 Views

Tasted

May 29, 2013

2009
Domaine de Cristia Vieilles Vignes (Châteauneuf-du-Pape)

Supple, rich and sexy, with loads of ripe, sweet, juicy, cherries, kirsch, pepper, garrigue and a hint of smoke. This is a lush, full bodied wine of pleasure that is already fun to drink.

2,728 Views

Tasted

Oct 23, 2015

2007
Domaine de Cristia Vieilles Vignes (Châteauneuf-du-Pape)

Produced from 100% old vine Grenache, this rich, fat, juicy, concentrated, sensuous wine shows off and wants to be noticed with its aromatic display of black raspberry, boysenberry jam, licorice, pepper, earth, spice and kirsch liqueur nose. If that didn't win you over, the voluptuous textures, purity of fruit and persistence in the finish should do the job.

3,196 Views

Tasted

May 18, 2013

2007
Domaine de Cristia Renaissance (Châteauneuf-du-Pape)

Already drinking great, deeply colored, packed with exuberant ripe cherries, jammy strawberries, plums, spice and fennel, the wine is silky, lush, concentrated and forward in style. There is no reason not to pop a cork on this delicious blend of old vine Grenache, Syrah and Mourvedre.

3,679 Views

Tasted

Jun 5, 2012

2005
Domaine de Cristia Vieilles Vignes (Châteauneuf-du-Pape)

This is what you get when you have a producer that knows what to do with 100 year old, Grenache vines! Concentrated, lush, richly textured with layers of kirsch, black cherry, licorice and spice. The wine is full, deep and long, with a plushly textured, polished, sweet kirsch finish that sticks with you.

2,933 Views

Tasted

Aug 24, 2017

2003
Domaine de Cristia Renaissance (Châteauneuf-du-Pape)

Concentrated and rich. The texture is sublime. More black fruit than red. Already open. A wine for pleasure seekers.

3,557 Views

Tasted

Jul 25, 2005

2000
Domaine de Cristia Renaissance (Châteauneuf-du-Pape)

Aromas of plums, prunes, pepper, herbs, spearmint and green olives filled the glass. Huge, dense, opulent, chewy, multi layered wine. Very concentrated with dense black fruit that oozes from the glass onto your palate.

2,116 Views

Tasted

Aug 7, 2004