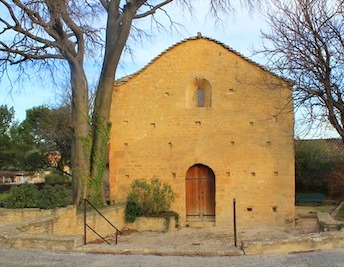 Learn everything about Chapelle St. Theodoric Chateauneuf du Pape with wine tasting notes, wine, and food pairing tips, best vintages, a history of the property, and information on the vineyards and winemaking. If you want to read about other important wineries and winemakers from the Rhone valley: Links to all Rhone Valley Wine Producer Profiles
Chapelle St. Theodoric is one of the new Domaines in the Southern Rhone Valley as its debut vintage was produced from the 2009 harvest. The Domaine was created when the owner of Domaine de Cristia, Baptiste Grangeon, and the well-known importer Peter Weygandt decided to produce a wine together to show different expressions of similar terroir.
Peter Weygandt and Baptiste Grangeon quickly formed a partnership. The winery, Chapelle St. Theodoric takes its name from a small Chapel that is more than 1,000 years old, located in the village of Chateauneuf du Pape.
Chapelle St. Theororic Vineyards, Wines, Winemaking
Chapelle St. Theodoric produces 3 red Chateauneuf du Pape wines from three uniquely different terroirs. All the vineyards are farmed using 100% biodynamic farming techniques.
Chapelle St. Theodoric Les Sablons is their entry-level wine. The wine is produced from 100% Grenache that is a combination of vines planted in the Les Sablons lieu-dit and, the young vines from the wineries two main vineyards, La Guigasse and Grand Pin, along with the press wine from the two other wines that the Domaine produces. The wine is then is aged in used, French oak barrels before bottling.
Chapelle St. Theodoric Les Grans Pin is made from 100% old-vine Grenache planted in the sandy terroir of the Pignan Lieu-dit. This is located not far from Chateau Rayas. The vines range in age from 50-100 years. The grapes are whole-bunch fermented in concrete tanks. The wine is aged in demi-muids before bottling.
Chapelle St. Theodoric La Guigasse is produced from 100% old vine Grenache that comes from the sandy soils of the La Guigasse lieu-dit. The vines are quite old as they range from 50 to 100 years of age. The grapes are not destemmed. They are whole-bunch fermented. The wine is then aged in 600-liter demi-muids prior to bottling.
The best vintages Chapelle St. Theodoric are: 2022, 2021, 2020, 2019, 2018, 2017, 2016, 2015, 2012, 2010 and 2009.
When to Drink Chapelle St. Theodoric, Anticipated Maturity, Decanting Time
Chapelle St. Theodoric can be enjoyed on the young side. Young vintages can be decanted for about 1 hour, give or take. This allows the wine to soften and open its perfume. Older vintages might need very little decanting, just enough to remove the sediment.
Chapelle St. Theodoric is usually better with 2-4 years of bottle age. Of course, that can vary slightly, depending on the vintage. In the best vintages, the wine should be consumed within 3-12 years after the vintage.
Serving Chapelle St. Theodoric with Wine, Food, Pairing Tips
Chapelle St. Theodoric is best served at 15.5 degrees Celsius, 60 degrees Fahrenheit. The cool, almost cellar temperature gives the wine more freshness and lift.
Chapelle St. Theodoric is best served with all types of classic meat dishes, veal, pork, beef, lamb, duck, game, roast chicken, roasted, braised, stewed dishes, sausage, and cassoulet. Chapelle St. Theodoric is also good with Asian dishes, hearty fish courses like tuna, mushrooms pasta, eggplant, and tomatoes as well as a wide variety of both hard, and soft cheese.
The majority of the production for Chapelle St. Theodoric is exported out of France.
Chapelle St. Theodoric Wine Tasting Notes
11 Vintages 23,160 Views Sort by Vintage-Rating
2020
Chapelle St. Theodoric Le Grand Pin (Châteauneuf-du-Pape)

Roasted strawberries, flowers, orange citrus rind, spice and roses create the perfume. On the palate, the wine is pure, clean, silky, polished, sweet, vibrant and fresh, with a garrigue-accented, kirsch, supple-textured finish. The wine is produced from 100% old vine Grenache. Drink from 2023-2034.

552 Views

Tasted

Jan 27, 2023

2020
Chapelle St. Theodoric La Guigasse (Châteauneuf-du-Pape)

Spicy kirsch, garrigue, red plums and strawberry create the nose. There is a strong sense of minerality that shines through here on the nose and on the fresh, medium-bodied, kirsch filled palate. The wine is produced from 100% old vine Grenache. Drink from 2022-2033.

499 Views

Tasted

Jan 27, 2023

2018
Chapelle St. Theodoric La Guigasse (Châteauneuf-du-Pape)

The sweet, ripe cherries pop as soon as the wine hits the glass. From there, leaf, thyme and fresh herbs join in. On the palate, the wine is round, plush, polished and juicy, with a purity to the fruit that carries through to the well-defined, kirsch oriented finish. The wine is made using 100% old vine Grenache.

2,032 Views

Tasted

Oct 12, 2020

2018
Chapelle St. Theodoric le Grand Pin (Châteauneuf-du-Pape)

Medium-bodied, elegant, fresh, and refined, with a nice purity to the fruits. On the palate, the wine is soft textured, silky and sweet, with ample notes of juicy kirsch in the finish. The wine is made using 100% old vine Grenache.

1,807 Views

Tasted

Oct 12, 2020

2017
Chapelle St. Theodoric La Guigasse (Châteauneuf-du-Pape)

Luscious, spicy, fresh, sweet dark, red fruits, pepper, herbs and olives are on the nose and palate. The finish offers freshness with tapenade stained cherries. The wine is made using 100% old vine Grenache.

2,556 Views

Tasted

Sep 21, 2019

2017
Chapelle St. Theodoric le Grand Pin (Châteauneuf-du-Pape)

Earthy, smoky red fruits and garrigue open the nose. On the palate the wine is soft, polished sweet and juicy with a refined , polished and freshness. The wine is made using 100% old vine Grenache.

2,056 Views

Tasted

Sep 21, 2019

2016
Chapelle St. Theodoric La Guigasse (Châteauneuf-du-Pape)

Garrigue, pepper, ripe, juicy kirsch and black plums are all over the place. Concentrated, lush, sensuous and fresh, the wine has power, elegance and the ability to age and evolve. The wine is made using 100% old vine Grenache.

2,260 Views

Tasted

Sep 18, 2018

2016
Chapelle St. Theodoric le Grand Pin (Châteauneuf-du-Pape)

Smoky, long, rich, silky and polished the wine is deeply concentrated, elegant, polished and fresh. There is length and density with the ability to age found here. The wine is made using 100% old vine Grenache.

3,041 Views

Tasted

Sep 18, 2018

2016
Chapelle St. Theodoric Les Sablons (Châteauneuf-du-Pape)

Black raspberry and floral notes with their licorice accents distinguish the wine. Fresh, elegant, supple and sexy, the fruit is elegant, sweet, and ripe, with a kirsch leaning in the pure, cherry finish.. The wine is made using 100% old vine Grenache.

1,556 Views

Tasted

Sep 18, 2018

2012
Chapelle St. Theodoric La Guigasse (Châteauneuf-du-Pape)

Luscious textures, bold, ripe, sweet dark cherry, kirsch, thyme and spice notes are all over the place. Rich, and supple, with freshness and character, this is quite nice for the vintage, and should be dynamite in a top year.

3,747 Views

Tasted

Feb 14, 2017

2009
Chapelle St. Theodoric le Grand Pin (Châteauneuf-du-Pape)

Pure silk, pure Grenache and pure pleasure all wrapped up in a delicious, ripe, sweet, blast of fresh kirsch, black raspberries and garrigue. As good as this is now, in a couple of years, this is only going to get better.

3,054 Views

Tasted

Oct 1, 2015