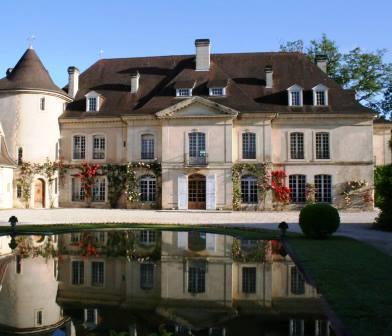 Learn everything about Chateau Bouscaut, Pessac Leognan with wine tasting notes, and wine with food pairing tips. Learn the best vintages, the history of the property, information on the vineyards, and winemaking. If you want to read about other important, Bordeaux Chateaux: Links to all Bordeaux Wine Producer Profiles
Chateau Bouscaut History, Overview
The vineyards of what we know of as Chateau Bouscaut has existed since the 16th century. So you can see, the estate has a long history. During its formative years, the property was known as Haut Truchon. In 1929, the name was changed to Chateau Bouscaut.
In 1960, a fire destroyed the original chateau of Bouscaut. All that remained from the original structure of Chateau Bouscaut were the cellars.
Victor Place, the dedicated owner rebuilt the entire chateau to the exact original specifications. That was an amazing labor of love, especially when you consider that this took place during difficult economic times. In 1968, Victor Place sold Chateau Bouscaut to a group of investors from New York, who went under the name of Domaine Wohlstetter Sloan.
The new owners, who were not living in Pessac Leognan at the time, made a smart decision and hired the managers of Chateau Haut Brion, led by Jean Bernard Delmas, to help run Chateau Bouscaut. Lucien Lurton, a well-known Bordeaux vigneron who already owned at least ten other Bordeaux estates bought Chateau Bouscat in 1979.
Sophie Lurton, Lucien's daughter, has been managing the estate since 2002. She is joined by her husband, Laurent Cogombles, who is the director in charge of winemaking.
Under the Lurton family ownership, Chateau Bouscaut has enjoyed continued improvements in the wine and in the winemaking. In 2010, they completed a renovation and modernization of the cellars. They also added to their holdings with the purchase of Chateau Lamothe Bouscaut.
Chateau Bouscaut Vineyards, Terroir, Grapes, Winemaking
The 52-hectare vineyard of Chateau Bouscaut is the largest vineyard in the Cadaujac commune. At Chateau Bouscaut, 42-hectares of vines are reserved for red wine grape varieties. The vines are planted to 50% Cabernet Sauvignon, 42% Merlot, 7% Malbec, and 1% Petit Verdot for their red wine. This shows an increase in the percentage of Cabernet Sauvignon in the vines. It is interesting to note a large amount of Malbec is planted here as well.
For the white wine grape varieties, 10 hectares of vines are planted to 55% Sauvignon Blanc and 45% Semillon. This shows an increase in the amount of Sauvignon Blanc over the years. It is important to note they have some of the oldest Semillon vines in the appellation including a small parcel of ungrafted Semillon that is over 100 years of age!
Even though the vineyard is quite large, it is essentially one large parcel of vines. The terroir is gravel, clay, limestone, and sand soils on sloping hillsides. At their peak, the vineyards reach up to 34 meters.
On average, the vines are old, at close to 40 years of age. However, Chateau Bouscaut has some very old Semillon vines that are over 100 years of age! The vineyard is planted to a vine density of 7,200 vines per hectare. Picking varies for the red wine grapes, as the estate uses both machine harvesting and handpicking depending on the grape variety. The white wine grapes are always picked only by hand.
After receiving HVE3 certification in 2018, Chateau Bouscaut continues farming more of their vibes organically, with the goal of being 100% organic in the future.
To produce the red wine of Chateau Bouscaut, vinification takes place in a combination of temperature-controlled, traditional cement vats and stainless steel tanks. Malolactic fermentation takes place in vats and barrels. The wine is aged in an average of 50% new, French oak barrels for 16 months.
To produce the white Bordeaux wine of Chateau Bouscaut, vinification of the Sauvignon Blanc takes place in used, French oak barrels. The Semillon is vinified in 40% new, French oak barrels. There is some skin contact allowed. There is no malolactic fermentation.
The white wines from each varietal are aged in their own barrels until the wine is blended before bottling. On average this is after between 10-12 months of barrel aging. The white wine is blended just before bottling.
On average, for Chateau Bouscaut, the production of the red wine is close to 16,000 cases per vintage and the white sees about 4,000 cases each year. There is a second wine for both the red and white wine, Les Chenes de Bouscaut. Here, even though much more red wine is produced, most of the time, white wine is usually their better wine.
The best vintages of Chateau Bouscaut are: 2022, 2021, 2020, 2019, 2018, 2017, 2016, 2015, 2014, 2012, 2010, 2009, 2005 and 2000. However, it is important to note that there are years when the red wine is better than the white wine and vintages when the white wine is better than the red.
When to Drink Chateau Bouscaut, Anticipated Maturity, Decanting Time
Chateau Bouscaut can be enjoyed on the young side with decanting. Young vintages can be decanted for an average of 1-2 hours, give or take. This allows the wine to soften and open its perfume. Older vintages might need very little decanting, just enough to remove the sediment.
Chateau Bouscaut is usually better with at least 5-7 years of bottle age. Of course, that can vary slightly, depending on the vintage character. Chateau Bouscaut offers its best drinking and should reach peak maturity between 9-17 years of age after the vintage.
Serving Chateau Bouscaut, with Wine, Food, Pairing Tips
Chateau Bouscaut is best served at 15.5 degrees Celsius, 60 degrees Fahrenheit. The cool, almost cellar temperature gives the wine more freshness and lift. The red wine of Chateau Bouscaut is best served with all types of classic meat dishes, veal, pork, beef, lamb, duck, game, roast chicken, roasted, braised, and grilled dishes.
Chateau Bouscaut Rouge is a perfect match with Asian dishes, hearty fish courses like tuna, mushrooms, and pasta as well as cheese.
The white wine of Chateau Bouscaut is a perfect wine to serve with shellfish, sashimi, sushi, all types of seafood, chicken, veal, and cheese.
Chateau Bouscaut also produces 2 other wines in the appellation, Chateau Valoux and Chateau Lamothe-Bouscaut from vines they own in the Pessac Leognan.
Château Bouscaut Wine Tasting Notes
34 Vintages 77,689 Views Sort by Vintage-Rating
2021
Château Bouscaut Blanc (Pessac-Léognan)

Bright, fresh and floral, this is like biting into a crisp Granny Smith apple with just squeezed lemons, lime and pomelo. The elegant, fresh, sweet, citrus in the finish lingers. Drink from 2023-2033. 91-93

836 Views

Tasted

May 20, 2022

2021
Château Bouscaut (Pessac-Léognan)

Leafy herbs, tobacco leaf, black raspberries and red plums on the nose. On the palate, the medium-bodied wine is fresh, bright and a bit light, with a soft, vibrant, soft, olive-tinted, red cherry finish. Drink from 2023-2033. 89-91

791 Views

Tasted

May 20, 2022

2021
Château Bouscaut Les Chenes de Bouscaut (Pessac-Léognan)

The green apples, flowers and grapefruit are crisp, bright, fresh, juicy and ready to go. This is perfect for enjoyment over the near term. Drink from 2023-2026. 87-87

735 Views

Tasted

May 20, 2022

2020
Château Bouscaut (Pessac-Léognan)

Tobacco leaf, plums, currants and cherries with a touch of licorice and smoke on the nose work well together in this medium-bodied, soft, silky charmer. Fresh, forward, fun and fruity, this elegant beauty will be easy to like on release and will improve from there for at least 15 years. 90-92 Pts

1,096 Views

Tasted

May 20, 2021

2020
Château Bouscaut Blanc (Pessac-Léognan)

Sweet, yellow citrus, flowers, green apples, a touch of honeysuckle with spice is found on the nose and in the creamy, sweet, citrus filled palate. You can enjoy this on release. 90 Pts

1,032 Views

Tasted

May 20, 2021

2019
Château Bouscaut (Pessac-Léognan)

Savory herbs, wet earth and spice box nuances come along with the dark cherry notes on the nose and palate. The wine is medium-bodied, a bit meaty. savory, round, forward and fruity, finishing with smoked black cherries and a hint of spice on the back end. There is a healthy dose of Malbec that brings the blend to 50% Merlot, 43% Cabernet Sauvignon and 8% Malbec. Give it a year or 2 of rest before opening a bottle. Drink from 2024-2035.

590 Views

Tasted

Mar 29, 2022

Elegant, medium-bodied wine with an earthy, tobacco leaf, dark red berry filled nose. Soft textured, silky and refined, with a touch of Asian spice, give this 4-5 years to develop additional complexities before popping a cork. 90-92 Pts

2,926 Views

Tasted

Jun 28, 2020

2019
Château Bouscaut Blanc (Pessac-Léognan)

Flowers, peach, yellow and orange citrus and a touch of dried pineapple shine through on the nose and in the creamy, fresh, fruit-filled citrus-centered palate. Drink from 2024-2032.

694 Views

Tasted

Mar 29, 2022

Lemon wax, honeysuckle and flowers, coupled with ripe, juicy citrus taste, smell and feel fresh and lifted. 91 Pts

1,894 Views

Tasted

Jun 8, 2020

2019
Château Bouscaut Les Chenes de Bouscaut (Pessac-Léognan)

Forward, medium-bodied, earthy and fresh with touches of smoke, flowers, espresso and red fruits. This is fully ready for its prime time window of enjoyment. Drink from 2022-2028.

454 Views

Tasted

Mar 29, 2022

Nice second wine with a smoky, tobacco and red fruit palate. Medium-bodied with a soft, light, olive tinged finish, drink this now while waiting for the Grand Vin to develop. 86-88 Pts

1,436 Views

Tasted

Jun 8, 2020

2019
Château Bouscaut Les Chenes de Bouscaut (Pessac-Léognan)

Green apples, and pomelo with lemon peel nuances on the nose and palate create a ready-to-drink, citrus filled charmer. Drink from 2022-2026.

507 Views

Tasted

Mar 29, 2022

Juicy, fresh, bright, white Bordeaux wine with a forward yellow citrus charm. 86 Pts

2,303 Views

Tasted

Jun 8, 2020

2018
Château Bouscaut (Pessac-Léognan)

Soft, refined, medium-bodied, elegant, forward styled wine with silky tannins and a spicy, dark cherry filled palate. Give this 4-5 years to develop additional complexities before popping a cork. This is showing much more depth in bottle than it displayed in barrel.

844 Views

Tasted

Mar 9, 2021

2018
Château Bouscaut Blanc (Pessac-Léognan)

Creamy, sweet, juicy and lush with layers of ripe Meyer lemons, tropical fruits, pears and spice. It is rich, lively and offers ample lift all the way to the sweet, fruit filled finish.

653 Views

Tasted

Mar 9, 2021

2018
Château Bouscaut Les Chenes de Bouscaut (Pessac-Léognan)

Forward, medium-bodied, light, soft, elegant, easy drinking, smoky, cherry filled wine for early drinking consumption.

498 Views

Tasted

Mar 9, 2021

2018
Château Bouscaut Les Chenes de Bouscaut (Pessac-Léognan)

Light, easy drinking, yellow citrus dominated early drinker. This is perfect for uncomplicated summer drinking around the pool while waiting for the Grand Vin to develop.

518 Views

Tasted

Mar 9, 2021

2017
Château Bouscaut Blanc (Pessac-Léognan)

Fresh, crisp, vibrant blend of green apples, lemon, grapefruit and flowers with just a dab of honey hits the spot right now.

2,487 Views

Tasted

Jul 29, 2020

2017
Château Bouscaut (Pessac-Léognan)

Salty red fruits, tobacco and underbrush define the medium-bodied character. The fruit is crisp and spicy and a few years will no doubt help soften the wine.

1,763 Views

Tasted

Apr 26, 2018

2016
Château Bouscaut Blanc (Pessac-Léognan)

Fresh ripe and juicy, the wine is already displaying its just-squeezed, ripe, zesty, citrus, floral, green apple and honeysuckle character.

1,707 Views

Tasted

Sep 21, 2019

Richly textured, full bodied, and showing off its floral, honeysuckle and just squeezed citrus character with ease, this should show well on release.

2,509 Views

Tasted

Apr 29, 2017

2016
Château Bouscaut (Pessac-Léognan)

Medium bodied, ripe, round and with the fruit and structure to age, the wine offers dark cherries, espresso and smoke filled notes.

2,679 Views

Tasted

Apr 29, 2017

2015
Château Bouscaut Blanc (Pessac-Léognan)

The sweet citrus notes really sing out here. The honeysuckle adds to the complexity. The wine is rich, fresh and long.

2,246 Views

Tasted

May 21, 2018

Fresh lemons, lime and grapefruit on the nose, medium bodied, with a refreshing pomelo finish. 90 Pts

1,436 Views

Tasted

Apr 23, 2016

2015
Château Bouscaut (Pessac-Léognan)

Tobacco, cigar wrapper, wet earth and red fruits lead off the wine. On the palate, the wine is soft, medium bodied, forward and finishes with smoky fruit and a hint of dust in the tannins. You can drink this elegant wine young or age it.

2,448 Views

Tasted

May 21, 2018

Ripe, earthy plums and red cherries add an interesting dimension to the tobacco character found in this softly textured, early drinking wine. 87 - 89 Pts

2,384 Views

Tasted

Apr 23, 2016

2014
Château Bouscaut Blanc (Pessac-Léognan)

Bright, sweet, fresh and lightly honeyed, with a floral charm, to go along with its sweet, bright citrus, this will drink well young.

2,161 Views

Tasted

Feb 6, 2017

2014
Château Bouscaut (Pessac-Léognan)

Lighter style of Pessac Leognan, with a bright, crisp, red fruit center, some, smoke, fruit and tobacco, this will be best in its first decade of life.

2,593 Views

Tasted

Feb 6, 2017

2013
Château Bouscaut Blanc (Pessac-Léognan)

Ready to go with its lighter style of bright, crisp, fresh yellow citrus. Pleasant, but not overly complex. This is not a wine for much more aging.

1,416 Views

Tasted

Aug 24, 2020

2013
Château Bouscaut (Pessac-Léognan)

Spicy light berries with a hint of mocha are at the core of this nice—but simple—value-priced Bordeaux wine. 83-85 Pts

1,854 Views

Tasted

Apr 21, 2014

2012
Château Bouscaut Blanc (Pessac-Léognan)

Fresh lemons, lime and grapefruit on the nose, medium bodied, with a refreshing Pomelo finish.

1,507 Views

Tasted

May 25, 2016

Fresh citrus and grapefruit on the nose, medium bodied, with a light, fresh and refreshing Pomello and vanilla finish.

2,118 Views

Tasted

Mar 11, 2015

2012
Château Bouscaut (Pessac-Léognan)

Light in color, with a focus on fresh, bright red fresh in a forward, early drinking, uncomplicated style.

3,000 Views

Tasted

Mar 11, 2015

Light in style, the smoky black raspberries and soft, easy style make this a nice, crowd-pleasing style of wine. 87-89 Pts

2,504 Views

Tasted

Apr 25, 2013

2011
Château Bouscaut Blanc (Pessac-Léognan)

Fully ready to go with all its soft, creamy lemon, tart green apple, floral and honey topped nuances. Not very dense, but quite nice.

2,422 Views

Tasted

Mar 29, 2021

2011
Château Bouscaut (Pessac-Léognan)

Cassis, cranberry and espresso bean open to medium body, soft textures and a bright finish. 86-89 Pts

2,297 Views

Tasted

Apr 25, 2012

2010
Château Bouscaut (Pessac-Léognan)

Light in the nose and body, with some red berries, spice, coffee bean and a soft textured, oaky finish.

3,668 Views

Tasted

Feb 15, 2013

Bouscaut - Smoke, earth, burnt wood and blackberry scents , this medium bodied wine ends with an earthy, four square finish. 87-89 Pts

2,390 Views

Tasted

Apr 29, 2011

2009
Château Bouscaut (Pessac-Léognan)

Definitely ready for prime time drinking, the wine is medium-bodied, soft, refined, smoky and displays its earthy cherries and tobacco nuances with ease. Soft and round on the palate, the finish offers earthy bright red fruits, leaf and tobacco wrapper sensations in the finish. This has developed quite nicely.

1,748 Views

Tasted

Sep 4, 2020

2009
Château Bouscaut Blanc (Pessac-Léognan)

Golden yellow in color, the wine offers a honeysuckle and citrus character, with a bite of green apple in the finish. Fully mature, the wine requires drinking.

886 Views

Tasted

Sep 20, 2019

2008
Château Bouscaut (Pessac-Léognan)

Medium bodied and on the fresh, light, spicy red berry side of the style range, the wine delivers a bright, sweet and tart red berry finish. This is close to fully developed.

2,636 Views

Tasted

Sep 17, 2018

2008
Château Bouscaut Blanc (Pessac-Léognan)

Golden yellow in color, the nose offers orange, honey and light, citrus notes. Fully mature, the fruit is starting to fade, still, you find enough, sweet, yellow fruits and tart apple to keep you busy.

1,682 Views

Tasted

Sep 17, 2018

2006
Château Bouscaut (Pessac-Léognan)

Light, bright, and more tart than sweet red fruit on the palate, the wine is better on the smoky, earthy, leafy, red plum nose than on the palate. This is at, or past full maturity and should be drunk up over the next few years before it fades much further.

2,965 Views

Tasted

Dec 10, 2018

2005
Château Bouscaut Blanc (Pessac-Léognan)

Fully mature, but with some life left, as the grapefruits and assorted, mostly yellow, citrus fruits remain fresh. There is a touch of honey and floral aromatics that add nuance to the wine.

2,376 Views

Tasted

Dec 11, 2017