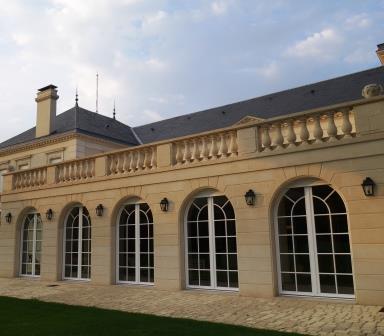 Learn everything about Chateau Malartic Lagraviere, Pessac Leognan, with wine tasting notes and wine with food pairing tips. Learn all the best vintages, a history of the property, and information on the vineyards, and winemaking. If you want to read about other important, Bordeaux Chateaux: Links to all Bordeaux Wine Producer Profiles
Chateau Malartic Lagraviere History, Overview
Chateau Malartic Lagraviere started out life with a shorter name. Originally, it was known as Domaine de Lagraviere. The Malartic family obtained the Bordeaux vineyard at the close of the eighteenth century. In the 1850s, the chateau changed its name to Malartic Lagraviere.
The name change was to honor the family's famous son, Comte Anne-Joseph-Hippolyte Maures de Malartic, who was a well-known French colonial Governor and French Navy Admiral. In fact, this explains the reason for the boat on their logo.
Chateau Malartic Lagraviere passed from the family of Maures de Malartic family to Arnaud Ricard. The Ricard family was quite well-known in the Graves region as they also owned Chateau de Fieuzal and Domaine de Chevalier.
The Ricard family eventually sold the property in 1990 to the famous Champagne producer, Laurent-Perrier. In 1997, Chateau Malartic Lagraviere, became the property of Michele Bonnie and Alfred-Alexandre Bonnie in 1997.
They earned their fortune as producers and marketers of detergent, before becoming chateau owners. Without prior experience in the wine world, the Bonnie family dove right in at Chateau Malartic Lagraviere, spending close to $20,000,000 to completely modernize the estate, and replant and increase the size of their vineyards.
They started out with 19 hectares cultivated with vines. By 2017, after 20 years of work, they had 53 hectares of vines at Malartic Lagraviere!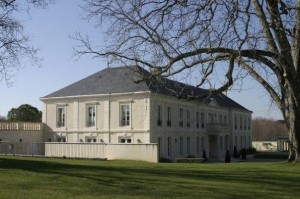 In 1998, the entire wine-making facilities were renovated. The design was created by Bernard Mazieres. At the time, the cellars of Malartic Lagraviere were revolutionary. They were one of the first major estates to begin using only gravity to move the wine in their cellars, which results in a softer, more elegant wine.
The design featured an octagonal-shaped, vat house with 10 large wood vats and 20 large, conical-shaped, stainless steel tanks for the vinification. They also expanded the vineyards with purchases of additional parcels, including the interesting named vineyard known as Chateau Neuf.
They also increased the amount of Semillon planted for their white Bordeaux wine, which added more richness to the wine.
Aside from modernizing all their facilities, at Malartic Lagraviere they began a new way of working in vineyards, moving to sustainable farming techniques and replanting sections of the vineyards. An important component of their rebuilding program was to enforce making a stricter selection in the vineyards and placing a larger percentage of their harvest into their second wine.
All of this has led to the production of a much better wine. This is clearly seen starting with the 2005 vintage. All you have to do is taste the wine to see. But things really turned around starting with the back-to-back 2009 and 2010 vintages. 2009 and 2010 Chateau Malartic Lagraviere were clearly the two best vintages produced by the estate.
However, 2015 could be even better. And you also need to consider 2018 and 2019. It is going to be fun to taste all these wines over the years as they evolve and mature. Today, Chateau Malartic Lagraviere is managed by the charming Severine Bonnie and Jean Jacques Bonnie, and the wines have never been better!
Michel Rolland, their longtime consultant was replaced by Eric Boissenot in 2020. With the 2021 vintage, you can really see a major shift in the style of wine being produced here.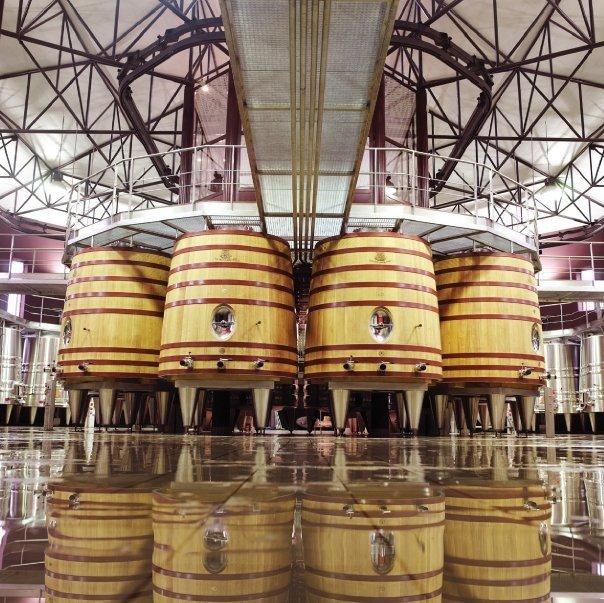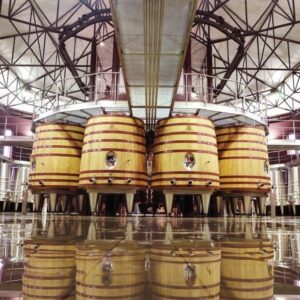 Chateau Malartic Lagraviere Vineyards, Terroir, Grapes, Winemaking
                                
The 73-hectare vineyard of Chateau Malartic Lagraviere is planted to produce both red and white Bordeaux wine. 64 hectares are planted for red Bordeaux grapes and 9 hectares are reserved for white wine grapes.
The increase in the size of the vineyard is due to Gazin Rocquencourt being annexed into Malartic Lagravieire.
For the red wine grapes, the vineyard is planted to 45% Cabernet Sauvignon, 45% Merlot, 8% Cabernet Franc and 2% Petit Verdot. The terroir for the red wine grape varieties is gravel and clay with limestone soils.
9 hectares of vines are reserved for white Bordeaux wine grape varieties. For that, the vineyards are planted to 83% Sauvignon Blanc and 17% Semillon. For the white wine grape varieties, the terroir has more limestone and clay in the soils along with a slightly cooler microclimate in the vineyards.
Their best terroir is probably the parcel behind their cellars, with the really deep gravel soil that can be as deep as 8 meters in some places! Below the surface, you find more clay and iron deposits. All work in the vineyards is done using only self-sustaining, farming techniques.
There are gravel slopes and elevations that rise up to 53 meters at their high point. The red wine grape varieties are divided into 4 lieux-dits, which can be subdivided into 75 separate parcels.
The vineyard for the red wine grapes is planted to a density of 10,000 vines per hectare. On average, the red wine grapes are a respectable 30 years of age. Off to the side of the tasting room, you will find their oldest vines, which date back to the 1950s, most of which are Cabernet Sauvignon.
On average the vines are close to 25 years of age, but they have old vines too, some of which are more than 60 years of age. The vineyard is planted to a vine density of 10,000 vines per hectare.
To produce the red wine of Chateau Malartic Lagraviere, vinification takes place in a combination of 20 stainless steel vats which range in size from 80 hectolitres up to 104 hectoliters and 10 oak tanks, which vary in capacity from 50 to 60 hectoliters.
The wood vats are used for their old vines and better parcels. The 30 different, conical-shaped vats allow for a parcel by parcel vinification due to the harvesting dates of the plots. Malolactic fermentation takes place in barrels. The wine is aged in an average of 65% new, French oak barrels, which is a moderate decrease for the property.
                                                                                            
For the production of the white wine for Chateau Malartic Lagraviere, vinification takes place in 50% new French oak barrels. There is limited skin contact. The wine is aged on its lees, adding a richer character and more complexity. There is no malolactic fermentation. The wine is aged in an average of 50-70% new French oak barrels for 12 months.
The best vintages of Chateau Malartic Lagraviere are: 2022, 2021, 2020, 2019, 2018, 2017, 2016, 2015, 2014, 2012, 2010, 2009, 2008, 2006, 2005, 2001, 2000 and 1998. Although it is important to note, there are vintages when the white wine can be very high in quality, when it was quite difficult for the red wines, for example, in 2013, 2011, and 2007. And vice-versa in the very hot years, when the red wines are clearly better.
The annual production of Chateau Malartic Lagraviere is close to 18,000 cases of Bordeaux wine per vintage. This breaks down to 16,000 cases of red wine and 2,000 cases of white wine. There is a second wine for the red and white wine, which changed its name in about 2007, La Reserve de Malartic. Starting with the 2020 vintage, the second wine was renamed aging to, Le Comte de Malartic.
In addition, they own Bodega Diamandes in the Mendoza region of Argentina. Bodega Diamandes makes both red and white wine including a Viognier.
When to Drink Chateau Malartic Lagraviere, Anticipated Maturity, Decanting Time
Chateau Malartic Lagraviere needs at least 8-12 years of aging in good vintages until it is ready to be enjoyed. Young vintages can be decanted for 2-3 hours or more. This allows the wine to soften and open its perfume. Older vintages might need very little decanting, just enough to remove the sediment.
Chateau Malartic Lagraviere offers its best drinking and should reach peak maturity between 8-30 years of age.
Serving Chateau Malartic Lagraviere, with Wine, Food, Pairing Tips
Chateau Malartic Lagraviere is best served at 15.5 degrees Celsius, 60 degrees Fahrenheit. The cool, almost cellar temperature gives the wine more freshness and lift. The red wine of Chateau Malartic Lagraviere is best served with all types of classic meat dishes, veal, pork, beef, lamb, duck, game, roast chicken, roasted, braised, and grilled dishes.
Chateau Malartic Lagraviere is a perfect match with Asian dishes, hearty fish courses like tuna, salmon, mushrooms, and pasta as well as cheese.
The white wine, Chateau Malartic Lagraviere Blanc is a perfect wine to serve with shellfish, sashimi, sushi, all types of seafood, chicken, veal, and cheese.
Château Malartic-Lagravière Wine Tasting Notes
50 Vintages 371,341 Views Sort by Vintage-Rating
2022
Château Malartic-Lagravière (Pessac-Léognan)

With a depth of color, the wine pops with nuances of flowers, cherries, cedar, tobacco leaf, black currants, spice, cocoa, and mint tea. Even better on the palate, the concentrated, showy display of spicy, black cherries, blackberries, plums, white pepper, and dark chocolate is perfectly balanced with length, freshness and creamy, silkiness in the finish. The wine is a blend of 53% Cabernet Sauvignon, 43% Merlot, 2.5% Petit Verdot and 1.5% Cabernet Franc. 14.2% ABV pH 3.58. Harvesting took place September 5 - September 29. Drink from 2026-2050. 94-96 Pts.

1,901 Views

Tasted

May 8, 2023

2022
Château Malartic-Lagravière Blanc (Pessac-Léognan)

Flowers, white chocolate, pineapple, spice, papaya, white peach, and orange scents are easy to pick up on the nose. On the palate, the wine is fresh, sweet, and fruity leaving you with creamy yellow citrus, grapefruit and white peach notes. The wine blends 76% Sauvignon Blanc with 24% Semillon. The harvest took place August 24 - September 1. 14.56% ABV, pH3.29. Drink from 2025-2032. 94-94 Pts.

1,570 Views

Tasted

May 8, 2023

2021
Château Malartic-Lagravière Blanc (Pessac-Léognan)

Spices, honeysuckle, lemon rind, pomelo, pears and yellow apple notes are easy to find on the nose and palate. The wine is creamy, fresh, bright, long and packed with sweet yellow fruits and crispness in the finish. The wine blends 89% Sauvignon Blanc with 11% Semillon. Drink from 2023-2034. 94-94

1,958 Views

Tasted

May 20, 2022

2021
Château Malartic-Lagravière (Pessac-Léognan)

Flowers, smoke, tobacco leaf, and bright red fruits shine on the nose. The wine is energetic, crisp and focused on its finesse-styled textures and freshness. There is a touch of chalk along with the red currants in the finish. Eric Boissenot is the new consultant, and with the 2021 vintage, you can really see a major shift in the style of wine being produced here that is not only due to the vintage conditions. It will be interesting to follow the change in direction here. The wine is produced from blending 67% Cabernet Sauvignon, 32% Merlot and 1% Cabernet Franc, 12.8% ABV. The harvest took place September 29 - October 19. Drink from 2023-2040. 92-94

1,793 Views

Tasted

May 20, 2022

2021
Château Malartic-Lagravière Le Comte de Malartic (Pessac-Léognan)

Fresh, bright clean, spicy, savory, red pit fruits show a nice sweetness and lift on the nose and palate. This will be ready to drink on release and over the near term. Le Comte de Malartic is the new name for the second wine of Malartic Lagraviere. Drink from 2023-2029. 87-89

1,900 Views

Tasted

May 20, 2022

2021
Château Malartic-Lagravière Le Comte de Malartic Blanc (Pessac-Léognan)

Flowers, green apples, citrus and pears are easy to find on the nose and on the fresh, sweet, bright palate. Enjoy this over the next few years. Le Comte de Malartic Blanc is the new name for the second wine of Malartic Lagraviere. Drink from 2023-2028. 88-88

1,825 Views

Tasted

May 20, 2022

2020
Château Malartic-Lagravière (Pessac-Léognan)

Dark in color, the wine shows its blackberry, black cherry, dark chocolate, smoke, espresso, and an array of spice aromas on the palate with ease. Rich, full-bodied, vibrant, and intense. the wine is fresh as well as lush, and polished. Vibrant, expansive, creamy, and deep, this is going to rival many of the best vintages produced here. Drink from 2025-2048.

2,647 Views

Tasted

Mar 21, 2023

Dark garnet in color, the wine grabs your attention with its display of flowers, currants, espresso, smoke, licorice and incense. Full-bodied, rich and concentrated, the wine is lush and polished, with waves of opulent dark fruits that keep on coming. Fresh and expansive, creamy and deep, this is going to rival many of the best vintages produced here. Give this at least 5-7 years in the cellar and enjoy it for the following 2 decades after that. 96-94 Pts

4,032 Views

Tasted

May 20, 2021

2020
Château Malartic-Lagravière Blanc (Pessac-Léognan)

Green apples, honeysuckle, spice box, orange rind, white peach and vanilla emerge from the perfume. On the palate the wine is fruity, lush, creamy and rich, with finishing touches of white peach, waxy lemons, mangos, Granny Smith apples and an array of spices on the backend. Drink from 2023-2035.

1,118 Views

Tasted

Mar 21, 2023

Mango, white peach, lemon, flowers, an array of spices and a gentle touch of almond make a beautiful perfume. Lush, creamy and loaded with sweet, fresh, bright, yellow citrus, green apples, grapefruit and a drizzle of pineapple are found on the palate. This is so good now, it is going to be hard not to open it on release. But patience is a virtue. So give it at least 5 years in the cellar and it will be a much more complete, complex wine. 94 Pts

2,279 Views

Tasted

May 20, 2021

2020
Château Malartic-Lagravière Le Comte de Malartic (Pessac-Léognan)

Medium-bodied, soft, silky, fresh and fruity with a sweet core of red cherries and plums on the mid-palate that carry through to the cinnamon-accented finish. If you do not already know, Le Comte de Malartic is the new name for the second wine of Malartic La Graviere. Drink from 2023-2032.

1,410 Views

Tasted

Mar 21, 2023

Medium-bodied, forward, smoky and already delivering ripe blackberry, cherry and tobacco nuances, the wine is round, forward, soft and easy to like, with its earthy, sweet plum, cigar wrapper and dark espresso bean filled mid-palate and finish. This will be just great to enjoy on release. Le Comte de Malartic is the new name for the second wine of Malartic Lagraviere. 90-92 Pts

2,477 Views

Tasted

May 27, 2021

2020
Château Malartic-Lagravière Le Comte de Malartic Blanc (Pessac-Léognan)

Spicy green apples, flowers, lime and lemons create the perfume. Fresh, forward, juicy and fruity, this will be perfect to enjoy on release and over the next few years. Le Comte de Malartic Blanc is the new name for the second wine of Malartic Lagraviere. Drink from 2023-2030.

1,399 Views

Tasted

Mar 21, 2023

Green apples, flowers, melon, lemon and lime create the perfume. Fresh, juicy and with a green apple, pear, citrus and herbal finish, this will be ready to go on release. Le Comte de Malartic Blanc is the new name for the second wine of Malartic Lagraviere. 90 Pts

2,328 Views

Tasted

May 27, 2021

2019
Château Malartic-Lagravière (Pessac-Léognan)

Deeply colored, the wine jumps out due to its showy nose with its smoked plum, chocolate, black cherry, espresso, flower and crushed rock aromatics. The flamboyant, full-bodied palate fills you up with layers of velvet-textured, polished blackberries, black cherries, coffee bean, mocha and licorice. The wine is elegant, lush and polished with silky tannins that provide you with length and purity. While you can enjoy this early, its best days are ahead. Drink from 2027-2055.

8,767 Views

Tasted

Mar 29, 2022

Deep ruby in color, with polished, soft, fresh, ripe, sweet fruits from start to finish. The wine is elegant, lush and polished with silky tannins. The long, generous finish and its layers of ripe, lush fruits and drizzle of chocolate-covered plums tastes great and feels even better! 94-96 Pts

8,122 Views

Tasted

Jun 8, 2020

2019
Château Malartic-Lagravière Blanc (Pessac-Léognan)

The white peach, honeysuckle, lemon rind, green apple and pears on the nose are just perfect. On the palate, the wine hits that hard to accomplish feat of being equally fresh and creamy with a sweetness to all the ripe citrus and spice in the finish. Drink from 2022-2032.

2,056 Views

Tasted

Mar 29, 2022

The honeysuckle, just-squeezed lemons, green apple and pears on the nose are just perfect. On the palate, the juicy, ripe, creamy, fresh citrus fruits, with their sweetness keep on going, due to all that racy acidity. This should age quite well. 95 Pts

3,202 Views

Tasted

Jun 8, 2020

2019
Château Malartic-Lagravière La Réserve de Malartic (Pessac-Léognan)

Medium-bodied, soft, round and forward with a sweet, fresh, fruity palate that is perfect for restaurants and near term drinking. 89-91 Pts

2,726 Views

Tasted

Jun 8, 2020

2019
Château Malartic-Lagravière La Réserve de Malartic Blanc (Pessac-Léognan)

Beautifully ripe yellow citrus and Granny Smith apples with floral accents really allows this to come alive in this second wine. There is good lift and a bright bite of juicy citrus in the finish. 89-91 Pts

2,873 Views

Tasted

Jun 8, 2020

2018
Château Malartic-Lagravière (Pessac-Léognan)

Deep in color, this beauty pops with licorice, smoke, tobacco, coffee and roasted, deep red fruits on the nose. Lush, round, fruity and creamy, with waves of sweet black, red and blue fruits that keep on coming. Give this at least 5-7 years in the cellar and enjoy it for the following 2 decades after that. The wine blends 57% Cabernet Sauvignon, 36% Merlot, 4% Petit Verdot and 3% Cabernet Franc.

2,943 Views

Tasted

Mar 9, 2021

Almost opaque in color with violet, purple hues around the rim, the wine is intensely concentrated. Opulent, silky, sexy and dense, the necessary addition of acidity keeps this focused in the right direction. The fruit offers a spectrum of black and red berries, smoky licorice and espresso infused plums. The velvet textured finish comes with lift, energy and length. This is a very polished, seductive expression of the vineyard. Produced from a blend of 57% Cabernet Sauvignon, 36% Merlot, 4% Petit Verdot and 3% Cabernet Franc, the wine reached 13.8% ABV. Aging will take place in 70% new, French oak barrels for 18-22 months. The harvest took place from September 26 to October 12 and 55% of the harvest was placed into the Grand Vin. 94-96 Pts

6,449 Views

Tasted

Apr 19, 2019

2018
Château Malartic-Lagravière Blanc (Pessac-Léognan)

With a strong bees wax character, the wine shows off its nose of green apple, yellow citrus, lemon curd, vanilla and flower aromas with ease. Vibrant, juicy, sweet and creamy, with stony accents to its layers of fruit, the sweetness and lift in the finish comes though nicely. The wine is made from a blend of 90% Sauvignon Blanc and 10% Semillon.

1,561 Views

Tasted

Mar 9, 2021

Crisp, stony, yellow citrus, lemon curd, vanilla and green apple are on the nose and in the palate. The wine has cut, definition and a mineral essence. You'll find juice, sweetness and refreshment with a core of ripe citrus in the finish. The wine is made from a blend of 90% Sauvignon Blanc and 10% Semillon, reaching 13.5% ABV and will be aged in 55% new, French oak barrels.

2,666 Views

Tasted

Apr 19, 2019

2018
Château Malartic-Lagravière La Réserve de Malartic Blanc (Pessac-Léognan)

Better from bottle than in barrel, this is showing just great with its waxy lemon, flower and green apple character. Elegant, fresh and vibrant, with a sweet yellow citrus and mildly honeyed finish, this is ready for prime time drinking, while you wait for the Grand Vin to come around.

1,196 Views

Tasted

Mar 9, 2021

2018
Château Malartic-Lagravière Réserve de Malartic (Pessac-Léognan)

Easy to like, and even easier to drink, as it's soft, round, forward, medium-bodied, ripe, smoky and filled with sweet, ripe, red berries. 89-91 Pts

4,023 Views

Tasted

Apr 19, 2019

2018
Château Malartic-Lagravière La Réserve de Malartic (Pessac-Léognan)

Medium-bodied, forward, fresh, vibrant, juicy red berries are front and center here. This will be perfect on release. Enjoy it while waiting for the Grand Vin to develop.

2,574 Views

Tasted

Mar 15, 2021

2017
Château Malartic-Lagravière Blanc (Pessac-Léognan)

Full, rich, fresh and floral, with a big blast of ripe, sweet, yellow citrus, vanilla, grapefruit and lemon peel. The orange on the back end comes in nicely in the long, citrus finish with just a dab of honey in all the right places.

2,858 Views

Tasted

May 14, 2020

Floral in nature with a fine dusting of vanilla bean, a slather of lemon curd and a thin slice of pineapple, this wine is fresh and alive with lift, sweetness and snappy yellow fruit prompting a crisp, incisive finish. The wine is made from a blend of 80% Sauvignon Blanc and 20% Semillon, reaching 13% ABV and will be aged in 50% new, French oak barrels.

2,463 Views

Tasted

Apr 26, 2018

2017
Château Malartic-Lagravière (Pessac-Léognan)

Lush, round, sensuously textured, smokey fruits with extra notes of espresso, wet earth, thyme and tobacco leaf hit your nose with ease. Round, soft, plush and loaded with ripe, dark red berries and a kiss of oak from start to finish, give this at least 7-8 years and could merit a higher score.

3,500 Views

Tasted

May 17, 2020

The wine opens with the warm toke of a luxurious cigar brushed with graphite and rich with dark fruits. Lambskin texture, verve on the palette, polished, round and juicy, this wine is all fruit and lift with creamy but lively tannins. Using almost 40% less new oak than the previous vintage, the fruit demonstrates its charms early on. Produced from a blend of 65% Cabernet Sauvignon, 30% Merlot, 3% Petit Verdot and 2% Cabernet Franc, the wine reached 13.5% ABV. The higher portion of Cabernet Sauvignon is due to the frost, which damaged mostly Merlot vines. The harvest took place from September 14 to October 3.

4,587 Views

Tasted

Apr 26, 2018

2016
Château Malartic-Lagravière (Pessac-Léognan)

Deep in color, here you find a wine with concentration, round, supple textures and silky tannins, The fruit shows maturity with its sweetness and its serious depth of flavor. Full-bodied, plush and polished, the long intensive finish serves up dark, red berries, licorice, espresso and smoke. This will be a much better wine with age, so give it at least 7-8 years before opening a bottle, if you can wait that long!

8,301 Views

Tasted

Sep 21, 2019

Round, plush, polished and with a great, silky mouth feel, there is depth of flavor on the palate, and complexity in the nose with its deep, dark cherry, thyme, espresso, smoke and wet earth. You find length, and richness with an espresso bean, fresh, dark cherry and cocoa loaded finish. This could be the best vintage for the red wine of Malartic Lagraviere.

6,082 Views

Tasted

Feb 10, 2019

Espresso, smoke, licorice, blackberry and dark cherry notes are all over the place. Lusciously textured, round, concentrated and fleshy, the wine will offer a lot of pleasure if you can hold off for 6-8 years, allowing the oak the integrate, while it develops more complexities.

6,651 Views

Tasted

May 12, 2018

Licorice, dark cherry, espresso and smoke create the character. Full bodied, richly, concentrated and intense, the fruit is fat, yet, crunchy, spicy and juicy. It offers volume, and freshness with depth of flavor. Until now, I thought the 2015 was the best vintage from Malartic, but it looks like I am going to change my mind, as this year is probably better. Produced from a blend of 53% Cabernet Sauvignon, 40% Merlot, 4% Cabernet Franc and 3% Petit Verdot, the wine reached 13.5% ABV. The harvest took place from September 29 to October 20.

6,599 Views

Tasted

Apr 29, 2017

2016
Château Malartic-Lagravière Blanc (Pessac-Léognan)

It is a good combination of ripe, bright, yellow citrus, a drizzle of honey, dash of vanilla and hint of grapefruit here. The wine is juicy, crisp and refreshing, with a citrus in the finish.

2,280 Views

Tasted

Sep 21, 2019

Rich, ripe, round and sweet, with lusciously textured, fresh lemon, lime, flowers, vanilla and honeysuckle, the wine is crisp, refreshing and ready to go.

1,785 Views

Tasted

Feb 11, 2019

Lemon lime, flowers, and vanilla with a shot of grapefruit are out in the open. Luscious, yet crisp and refreshing, there is a lot of sweet fruit here with refreshing acidity giving it lift and complexity. Harvested from September 19 to September 26. The wine was produced from a blend of 85% Sauvignon Blanc and 15% Semillon.

1,895 Views

Tasted

Apr 29, 2017

2015
Château Malartic-Lagravière (Pessac-Léognan)

Luscious, silky, ripe, deep, dark red fruits are found from start to finish here. The wine is round, polished, full bodied and long. The fruit is sweet, ripe and leaves a lingering impression on the palate. In time, as the oak further integrates, this will be a super wine to enjoy over the next 2 decades.

8,305 Views

Tasted

May 21, 2018

Velvet drenched black cherry, plum and licorice, with side notes of smoke, incense, espresso and truffle, the wine is rich, concentrated, opulent and finishes with silky, round tannins. There is length, volume and intensity with the ability to age for decades. This could be the finest vintage of Malartic Lagraviere produced yet!

8,433 Views

Tasted

Mar 12, 2018

Still on target as the best vintage of Malartic Lagraviere yet, the wine is richly textured, lush, polished and smoky. There is a wealth of ripe, silky, soft fruits with depth of flavor and roundness n the tannins.

8,277 Views

Tasted

Jul 12, 2017

This is probably the best vintage of Malartic Lagraviere to date! Soft, round and polished, with lush fruits and silky tannins, this wine has depth, texture and roundness -- but it is not for the oak averse. Produced from a blend of 53% Cabernet Sauvignon, 35% Merlot, 7% Petit Verdot and 5% Cabernet Franc, the wine reached 13.8% ABV. The harvest took place from September 21 to October 7. 93 - 95 Pts

8,995 Views

Tasted

Apr 23, 2016

2015
Château Malartic-Lagravière Blanc (Pessac-Léognan)

Luscious yellow fruits, vanilla, flowers and white peach create an intoxicating bouquet. The is the perfect amount of acidity to keep all the sweet, ripe, fruits in check, leaving you a slightly honeyed, just squeezed, bright, citrus finish.

3,448 Views

Tasted

May 21, 2018

Unctuous, with multiple waves of pomelo, lemon and vanilla bean. The wine is vibrant, refreshing, long and rich, with a slightly honeyed, citrus finish.

3,196 Views

Tasted

Mar 12, 2018

Fresh-squeezed pomelo, lemon zest and vanilla start the fragrant aromatics, this long, fresh, clean wine is packed with lively, vanilla, lemon, orange and green apple that really stick with you. Harvested from September 8 to September 15, the wine was produced from a blend of 85% Sauvignon Blanc and 15% Semillon.

2,587 Views

Tasted

Apr 23, 2016

2014
Château Malartic-Lagravière Blanc (Pessac-Léognan)

Lots of depth, freshness, juicy, ripe, yellow citrus, grapefruit, vanilla bean, flowers, spice and honey going on here. All that ripe, juicy, fruit, balances quite nicely with the acidity that shines through from start to finish.

2,558 Views

Tasted

Feb 6, 2017

Kicking off with grapefruit, lemon peel and vanilla, this cheerful, fresh, zippy wine serves up a blast of vanilla and citrus zest in the finish. The wine was made from a blend of 90% Sauvignon Blanc and 10% Semillon.

2,148 Views

Tasted

Apr 24, 2015

2014
Château Malartic-Lagravière (Pessac-Léognan)

With a round, silky, texture, the wine shows plenty of smoke, licorice, dark chocolate, espresso bean and ripe, juicy, plums. There is depth of flavor and fruit in the finish that carries through. The wine was made from a blend of 52% Cabernet Sauvignon, 40% Merlot, 5% Cabernet Franc and 3% Petit Verdot.

5,323 Views

Tasted

Feb 6, 2017

Plush, polished and lush with richness, concentration and a silky, round, fruit-filled finish. The wine was produced from a blend of 52% Cabernet Sauvignon, 40% Merlot, 5% Cabernet Franc, and 3% Petit Verdot at 13.5% ABV. 91-92 Pts

4,143 Views

Tasted

Apr 24, 2015

2013
Château Malartic-Lagravière Blanc (Pessac-Léognan)

This continues developing complexity and richness while better integrating the oak, fruit, sweetness and acidity. There is good weight, freshness, lush textures and loads of sweet, ripe, yellow citrus, flowers and a background note of tropical fruits. This is a good time to start drinking this wine.

3,848 Views

Tasted

Oct 13, 2019

Nice volume, length and freshness going on here, which helps all the crushed stone, vanilla, sweet citrus and floral character that is the hallmark of this wine.

2,730 Views

Tasted

Feb 1, 2016

Fresh, lively citrus rind and zippy acidity make this wine come alive, while the rich fruits and crisp lemon wax finish carries throughout. 91-93 Pts

2,305 Views

Tasted

Apr 21, 2014

2013
Château Malartic-Lagravière (Pessac-Léognan)

Ready to drink, with a translucent, ruby hue, there are elements of licorice, fresh herbs, cherry, coffee bean and earth in the perfume. Medium bodied, with very little tannin, the short finish shows freshness to the sweet, cherry fruit, with a touch of dusty, herbs in the end note. This is not a wine to age, I'd drink it over the next 5 years or so.

4,074 Views

Tasted

Dec 5, 2016

Successful for the vintage, due to low yields and selection, this blend of 56% Cabernet Sauvignon, 38% Merlot, 4% Cabernet Franc and 2% Petit Verdot opens with a nose built of espresso, thyme, dark cherry and earthy, smoky aromatics. Medium bodied, with round tannins, the wine ends with oak tinged, cherries and plums.

2,782 Views

Tasted

Feb 3, 2016

Licorice, dark berries and softly textured fruit comprise this nose. The wine ends with a sweet, but dusty, cherry finish. From a blend of 56% Cabernet Sauvignon, 37% Merlot, 4% Cabernet Franc and 2% Petit Verdot. 89-91 Pts

1,971 Views

Tasted

Apr 21, 2014

2012
Château Malartic-Lagravière Blanc (Pessac-Léognan)

This nose really grabs your attention with its showy perfume of flowers, citrus, honeydew, grapefruit and marmalade. The wine is concentrated, fresh and vibrant, with a real sense of lift that balances the natural sweetness of the fruit in the finish. The wine was made from a blend of 90% Sauvignon Blanc and 10% Semillon and reached 14% ABV.

2,917 Views

Tasted

Mar 11, 2015

Citrus peel, stone, grapefruit and honeysuckle scents, fleshy, concentrated, ripe and refreshing, the wine ends with sweet Meyer lemons and a hint of pineapple. 91-93 Pts

3,015 Views

Tasted

Apr 28, 2013

2012
Château Malartic-Lagravière (Pessac-Léognan)

Showing good dark color, the wine has a soft, round, character with concentration and richness. There are ample sweet, ripe dark, smoky berries that remain from with you from start to finish.

5,604 Views

Tasted

Mar 11, 2015

Truffle, cocoa powder and blackberry scents are easy to find. On the palate, the wine is rich, soft, polished and round with a sweet, ripe and fresh black cherry finish. 90-92 Pts

7,020 Views

Tasted

Apr 28, 2013

2011
Château Malartic-Lagravière Blanc (Pessac-Léognan)

Fresh citrus, floral, grapefruit, white peach and vanilla aromas open to a fresh, bright, lemon, lime filled wine that offers crisp, refreshing citrus and notes in the finish.

2,894 Views

Tasted

Feb 10, 2014

With ample freshness, the wine pops with citrus, vanilla, lemon and lime sensations. 92-94 Pts

2,558 Views

Tasted

Apr 25, 2012

2011
Château Malartic-Lagravière (Pessac-Léognan)

Medium bodied, soft, approachable and already open, the wine delivers sweet black cherries and espresso notes along with its earthy palate. Drink this lighter style of wine young, to preserve its fruit.

2,016 Views

Tasted

Feb 19, 2014

From 55% Cabernet Sauvignon, 37% Merlot, 5% Cabernet Franc and a bit of Petit Verdot, the wine delivers coffee, licorice, smoke and blackberry. Medium bodied in weight with some dryness in the tannins, the wine ends with blackberry and cherry. 88-91 Pts

2,572 Views

Tasted

Apr 25, 2012

2010
Château Malartic-Lagravière Blanc (Pessac-Léognan)

The wine has picked up steam, dropped some of its youthful ok trappings and offers more invigorating, lemon, lime, pomelo and floral sensations. Rich in texture, yet with an equal amount of lift, this is really good in your glass today.

3,546 Views

Tasted

Mar 23, 2018

Crisp, fresh, citrus, lemon, lime, floral and grapefruit notes get you going. The wine is zippy, refreshing and delivers a blast of sweet, fresh, citrus fruits in the finish.

2,939 Views

Tasted

Sep 22, 2014

Pale yellow in color, honeydew, citrus and spicy notes open the wine. Medium bodied with sweet fruits, soft textures and citrus.

2,786 Views

Tasted

Mar 31, 2013

2010
Château Malartic-Lagravière (Pessac-Léognan)

It's going to be fun tasting and debating the merits of 2009 vs 2010 Bordeaux. With many wines, I prefer the flamboyant style of the 2009. But that is not the case here. The 2010 has more depth, length and complexity. There is a beautiful, rounded freshness that makes you keep going back to the glass for another sip.

6,911 Views

Tasted

Sep 22, 2014

With an aromatic display filled with espresso bean, licorice and black cherry liqueur, this rich, opulent, polished wine is a winner. From a blend of 45% Merlot, 45% Cabernet Sauvignon, 8% Cabernet Franc and 2% Petit Verdot, the wine ends with a with a sweet, ripe, silky, pure finish.

5,601 Views

Tasted

Feb 15, 2013

Malartic Lagraviere Blasting off with licorice, oak, jammy blackberries and truffle, this concentrated, deep, full bodied , lush wine is filled with anise and blackberry. 92-94 Pts

5,171 Views

Tasted

Apr 21, 2011

2009
Château Malartic-Lagravière Blanc (Pessac-Léognan)

Juicy lemons, tangerine rind, vanilla, banana and grapefruit create a complex perfume. On the palate, the wine is even better with its volume, freshness and juicy, sweet, ripe fruits. The wine balances between perfectly lushness and freshness. At 10 years of age, this is really starting to kick in!

2,564 Views

Tasted

Sep 20, 2019

This is really showing great today. All those beautiful, perfectly ripe citrus fruits, floral notes and crushed rock tones are making a great impression. The long finish combines sweet, yellow fruits, green apple and a touch of honeysuckle with minerality and just a hint of vanilla with ample freshness.

3,579 Views

Tasted

Jul 6, 2017

Loads of sweet, fresh, citrus flavors with a dash of honey and floral notes. The wine has depth coupled with freshness and complexity that really shine through. This has gotten much better with a few years of age.

3,234 Views

Tasted

Sep 22, 2014

Minerality, spring flowers, citrus, spice, honeydew melon and orange rind create the complex aromas. Soft, round, rich and elegant, the wine is loaded with fresh, pure citrus and stone.

4,515 Views

Tasted

Dec 13, 2012

With strong notes of citrus oil, lemon wax, apples and spice, the wine combines rich textures and freshness that ends with a mineral driven, lemon wax finish.

4,071 Views

Tasted

Jan 27, 2012

2009
Château Malartic-Lagravière (Pessac-Léognan)

Luscious, richly textured, round, forward and velvety, the wine is concentrate, silky, smoky and fresh. You can drink this young, if you like forward styled fruits and silky tannins, or you can easily wait a decade for more secondary notes. Either way, this is just great stuff.

5,447 Views

Tasted

Jul 5, 2017

This is a very nice style of wine, with its soft, opulent fruits, smoky aromas and round finish. And it's only going to get better from here.

5,427 Views

Tasted

Sep 22, 2014

Deep in color, it requires little effort to find the truffle, tobacco, smoke and dark cherry aromatics. Sensuous in texture, this lush wine from a blend of 59% Cabernet Sauvignon, 38% Merlot and 3% Petit Verdot offers freshness, concentration and a long, deep, multi-layered finish.

6,743 Views

Tasted

Jan 30, 2012

2009 Malartic La Graviere is a deeply colored wine that opens with smoke, crushed stone, black fruit, and cassis aromatics. Rich and full bodied, the round textured wine finishes with a blast of licorice, cassis, and juicy blackberries. 92/94 Pts

6,464 Views

Tasted

Aug 26, 2010

2008
Château Malartic-Lagravière Blanc (Pessac-Léognan)

At 10 years of age, this is really coming on strong. The wine is fresh, stony, citrusy and delivers a ripe, sweet, crisp, citrus filled finish. Sweet and fresh, with good energy, this is really quite strong today. I am not sure if it gets better, but it's just great today, so why wait?.

2,355 Views

Tasted

Sep 17, 2018

2008
Château Malartic-Lagravière (Pessac-Léognan)

At 10 years of age, this continues developing along a positive curve. Still showing a depth in the color, the nose offers truffle, cedar, tobacco, espresso, pepper and plums. The tannins are plush, giving the wine a polished character, but there is some oak in the finish, that takes away from the experience.

2,937 Views

Tasted

Sep 17, 2018

Malartic La Graviere opens with tobacco, black cherry, cappuccino and earthy scents. Soft in texture, with round tannins and a plush style, the wine finishes with a sweet chocolate covered, dark cherry finish.

5,395 Views

Tasted

Jan 28, 2011

2007
Château Malartic-Lagravière Blanc (Pessac-Léognan)

Vanilla, lemon wax, orange rind, grapefruit and spice scents open to a concentrated, lush, balanced white Bordeaux wine that ends with a roasted nut and citrus oil finish.

3,611 Views

Tasted

Oct 7, 2011

2006
Château Malartic-Lagravière Blanc (Pessac-Léognan)

Really showing its stuff at 10 years of age. The fresh, zippy, stony, bright yellow fruits are ripe, sweet, crisp and refreshing. There is a slight honeyed note at the end that rounds out all the acidity, making you want to go back for another sip.

2,486 Views

Tasted

May 25, 2016

This is a really fine, white Bordeaux wine packed with fresh, zesty lemons, grapefruit, green apple, vanilla bean, stone and honeysuckle. Rich, lively and fresh, drink this now, or age it another few years, either way, you're going to like it.

2,414 Views

Tasted

May 17, 2014

2006
Château Malartic-Lagravière (Pessac-Léognan)

If you're ever looking for an example of a wine that improved with age, look no further. This once ugly duckling has kicked it up from start to finish. The smoky, licorice, tobacco, earth and black cherry nose gets you. Lush, poised and polished on the palate, the wine is sweet, ripe, fresh and long.

5,139 Views

Tasted

May 25, 2016

2005
Château Malartic-Lagravière (Pessac-Léognan)

At 13, this is still youthful, but it is developing well. The oak, which has been more noticeable, has been receding. The wine is fleshy, fresh and offers its lush, round, ripe, dark fruits, licorice and earthy nuances with ease. The wine continued improving in the glass for several hours, so this should age well.

3,867 Views

Tasted

Mar 23, 2018

With effort, incense, dark fruits, smoke, licorice and earthy aromas, along with the vanilla tinged, espresso bean notes of youth come out. Plush, round and polished, the finish is elegant, but much of this wine remains in reserve. Still quite young and almost primary, a few hours of air helps, as will additional time in the cellar.

4,426 Views

Tasted

Aug 14, 2016

Medium bodied, with a nose packed with tobacco, smoke, dark red fruits and wet earthy aromatics. The wine is slightly more intriguing on the nose, than on the fresh, cherry centered finish.

4,647 Views

Tasted

Jun 28, 2015

Not the most complex wine, but it is a real crowd pleaser. Spicy, soft and polished with good intensity. Will drink young.

7,987 Views

Tasted

Jan 20, 2008

2005
Château Malartic-Lagravière Blanc (Pessac-Léognan)

With a developed nose offering floral, honeyed lemon peel, citrus, stone, and lemon lime aromas. The medium bodied wine is fresh, spicy and vibrant and can be njoyed now, or aged for at least another 5 years.

4,095 Views

Tasted

May 17, 2014

2004
Château Malartic-Lagravière Blanc (Pessac-Léognan)

Fully evolved, the wine has taken on a yellow-gold hue, matching its developed nose of honeysuckle, citrus, flowers, yellow tropical fruit, and green apple profile. Medium-bodied, and slightly oily in texture, but in a good way, the fruit offers sweetness and lift, with just a touch of honey from the Semillon in the finish. If you have been waiting to pop a cork, your wait is over as you should drink this over the next few years.

3,025 Views

Tasted

Dec 25, 2019

2004
Château Malartic-Lagravière (Pessac-Léognan)

Light, bright and showing a distinctive olive tapenade note, with its fresh red berry character, this will best over the next few years.

4,332 Views

Tasted

Jan 4, 2015

2003
Château Malartic-Lagravière (Pessac-Léognan)

Medium-bodied and already on the start of its downslope into a gentle decline, the wine combines dark red fruits, figs, smoke, licorice, cocoa and tobacco with round textures and a short finish. This is not a bottle to hold for further development.

4,221 Views

Tasted

Oct 3, 2019

2001
Château Malartic-Lagravière (Pessac-Léognan)

Medium/full bodied, fully mature with round textures, soft tannins and showing its licorice, tobacco, smoky, black cherry, espresso and plum characteristics quite easily. This is ready for prime time drinking. It should remain at his stage for at least a decade.

2,939 Views

Tasted

Nov 17, 2017

2000
Château Malartic-Lagravière (Pessac-Léognan)

Nice wine here, with load of fresh, ripe, sweet, spicy, earthy, dark red fruits, with a side of smoke, tobacco, cigar wrapper, wet earth, thyme and cedar. Elegant, refined and soft, enjoy this now, or give it a few more years.

4,351 Views

Tasted

Oct 20, 2016

1998
Château Malartic-Lagravière (Pessac-Léognan)

Even better with more age, this was so much fun to taste, it was impossible to put the glass down. Round, plush and rich, with layers of sweet, ripe, juicy, dark red fruits, earth, smoke, truffle, mocha, licorice and pipe tobacco, the wine tasted as good as it felt. Enjoyed from a magnum, so I imagine standard bottles are at peak.

2,508 Views

Tasted

Jul 5, 2017

Fully mature, this has developed quite nicely. The smoky, tobacco, cigar box nose has a spicy complexity that adds to the ripe, dark red berries. Silky, soft in texture, with length in the finish, this is drinking really well today.

3,093 Views

Tasted

Dec 2, 2016