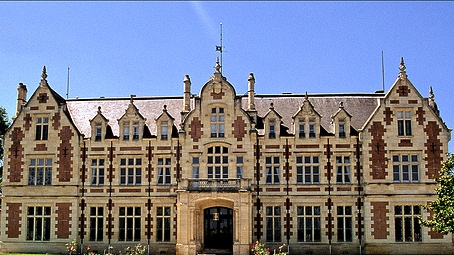 Learn everything about Chateau Cantenac Brown Margaux, Third Growth with wine tasting notes, and wine with food pairing tips. Learn all the best vintages, a history of the property, information on vineyards, and winemaking. If you want to read about other important, Bordeaux Chateaux: Links to all Bordeaux Wine Producer Profiles
Chateau Cantenac Brown History, Overview
The Chateau for Cantenac Brown is unique in the Bordeaux wine appellation. It is perhaps the only Bordeaux chateau designed in the style of a traditional, Tudor mansion in the entire region! How did that happen?
At the start of the 19th century, the well-known Scottish, animal painter, John Lewis Brown purchased the estate. It was John Lewis Brown that drew up the plans and designed the ostentatious chateau in the Tudor style. While beautiful, it stands out, due to its unique design which includes 370 windows and doors.
As was the tradition in the Medoc at the time, he renamed the property, Chateau Cantenac Brown. Financial issues forced a sale of the estate. The vineyard was reduced as a portion of the vines were sold to Chateau Boyd Cantenac.
The estate passed through the hands of several owners including Armand Lalande who also owned Chateau Leoville Poyferre in St. Julien.
Chateau Cantenac Brown the Modern Era
More recently, in 1989 AXA, the massive insurance company with several Bordeaux chateaux in their portfolio including Pichon Baron in Pauillac, and estates in Pomerol and Sauternes bought the vineyard. AXA sold the property in 2006 to the Halabi family.
One of the first moves made by the new owners was to place Jose Sanfins in charge of the winemaking at Cantenac Brown. Under the direction of Jose Sanfins, the level of quality has continued to improve since 2009, followed by 2010 and 2015 as benchmark vintages for the chateau.
In December 2019, Chateau Cantenac Brown was sold to Tristan Le Lous of the Urgo Group. Urgo was founded in 1880 as a pharmaceutical company whose main business remains in the healthcare industry. Jose Sanfins remains in charge of the estate.
The new owners wasted no time improving and building up the vineyards. In June 2020, they purchased 9.5 hectares of vines from the neighboring estates of Chateau La Galiane and Chateau Charmant.
Chateau Cantenac Brown Vineyards, Terroir, Grapes, Winemaking
The 62.5-hectare Left Bank vineyard of Cantenac Brown is planted to 65% Cabernet Sauvignon, 30% Merlot, and 5% Cabernet Franc. Although 1.2 hectares of Petit Verdot were just added to the vineyard.
In total, they have 59-hectares under vine in Margaux. Aside from vineyards, the large estate of Cantenac Brown uses 5 hectares of land to create a stunning, park-like setting with picturesque greenery and a lake with swans.
For bio-diversity, you can find beehives on the estate which they use to produce their own honey. The jars are cool because they use a Cantenac Brown label. Their closest neighbor, as their name suggests is Chateau Brane Cantenac which is just down the small paved road.
The vineyard can be divided into 3 separate parts, which can be further subdivided into 62 parcels. The 3 main sections are based on their soils. Cantenac Brown has 34 hectares of gravel, which includes 16 hectares of vines planted on the plateau of Cantenac, which are close to the chateau and in view of the tasting room. This is their best terroir. They also have 16 hectares of gravel terroir in Margaux, Soussans, and further inland, close to the vineyards of Chateau du Tertre, and roughly 6 hectares of clay, and limestone where they plant Merlot and their white wine grapes. The peak elevation in the vineyards is just about 18 meters.
They have old vines, some of which are close to 60 years of age. The density of the vines varies from a density of 8,500 vines per hectare for the old vines, and up to 10,000 vines per hectare in other parcels, most of which are the more recent plantings. All replanting takes place at 10,000 vines per hectare.
The vineyard of Cantenac Brown is farmed using a sustainable approach to their farming techniques. This approach means only plant-based fertilizers are used. The grapes are picked parcel by parcel, which is how they are vinified as well.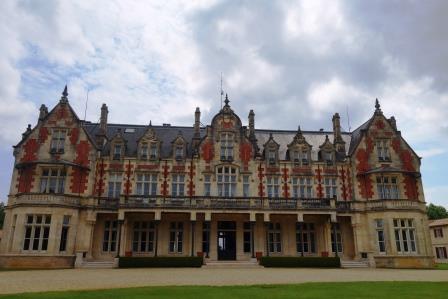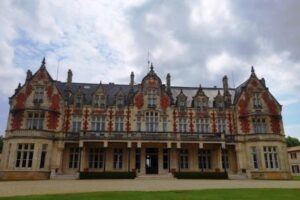 Chateau Cantenac Brown Winemaking
To produce the wine of Cantenac Brown in the new cellar, the wine will be vinified in 70 stainless steel tanks ranging in size from 50 hectoliters to 120 hectolitres. This is a big improvement over the previous cellar which was only 28 tanks.
Malolactic fermentation takes place in a combination of French oak barrels and vats. The wine of Cantenac Brown is then aged in 60% new, French oak barrels for 12 to 15 months, depending on the vintage.
On average, Chateau Cantenac Brown produces 11,000 cases of Bordeaux wine per year. There is a second wine, BriO de Cantenac Brown, which made its debut in 2001. Before 2001, their second was sold as Chateau Canute.
The best vintages for Chateau Cantenac Brown are: 2022, 2021, 2020, 2019, 2018, 2017, 2016, 2015, 2014, 2012, 2010, 2009, 2008, 2006, 2005 and 2000. Cantenac Brown has truly increased the level of quality at the estate starting with the 2005 vintage.
I've heard good things about older vintages from the 1950s, but I've never seen a bottle. As prices are probably fair, it could be worth taking a chance on.
White Wine of Cantenac Brown
Cantenac Brown also started to produce a small amount of white Bordeaux wine called AltO de Cantenac Brown in 2011.
AltO de Cantenac Brown comes from a specific 5.1-hectare parcel of vines planted to 90% Sauvignon Blanc, 6.5% Sauvignon Gris, and 3.5% Semillon. AltO de Cantenac Brown is vinified in French oak barrels.
There is no malolactic fermentation. The wine is aged in 100% new, French oak barrels for 12 months before bottling. The wine is sold as a generic AOC Bordeaux Blanc. The average production of Alto de Cantenac Brown is close to 800 cases a year.
The estate makes a third Margaux wine, Sijac de Cantenac Brown. In addition, the estate also owns 3.5 hectares of Bordeaux AOC vines where they produce Chateau Brown Lamartine, which is a 50/50 blend of Merlot and Cabernet Sauvignon, which is sold a Bordeaux Superieur.
When to Drink Chateau Cantenac Brown, Anticipated Maturity, Decanting Time
Chateau Cantenac Brown is not a wine to drink on the young side. The wine is usually far too tannic, and concentrated in its youth. Young vintages can be decanted for an average of 2-3 hours, give or take. This allows the wine to soften and open its perfume. Older vintages might need very little decanting, just enough to remove the sediment.
Cantenac Brown is usually better with at least 12-15 years of bottle age. Of course, that can vary slightly, depending on the vintage character. Chateau Cantenac Brown offers its best drinking and should reach peak maturity between 18 and 30 years of age after the vintage.
Serving Chateau Cantenac Brown with Wine, Food, Pairing Tips
Chateau Cantenac Brown is best served at 15.5 degrees Celsius, 60 degrees Fahrenheit. The cool, almost cellar temperature gives the wine more freshness and lift.
Chateau Cantenac Brown is best served with all types of classic meat dishes, veal, pork, beef, lamb, duck, game, roast chicken, roasted, braised, and grilled dishes. Chateau Cantenac Brown is a perfect match with Asian dishes, hearty fish courses like tuna, mushrooms, and pasta as well as cheese.
The technical director, Jose Sanfins also produces a value-priced wine from a 3-hectare parcel of vines he owns in the Margaux appellation, Chateau Chantelune. The family of Jose Sanfins also makes great olive oil from the Duro, Quinta da Lua.
Château Cantenac Brown Wine Tasting Notes
35 Vintages 262,249 Views Sort by Vintage-Rating
2022
Château Cantenac Brown (Margaux)

Deeply colored, the wine shows off its violets, lilacs, licorice, black cherry, and currant character with a single swirl. On the palate, the wine is rich, lush, polished, creamy, and loaded with black, red and blue fruits. There is length, opulence, and layers of ripe, sweet, pit fruits that linger. The wine is a blend of 69% Cabernet Sauvignon and 31% Merlot. 13.8% ABV, 3.64 pH. Yields were 30 hectoliters per hectare. The Grand Vin was produced using only 52% of the harvest. Picking took place September 7 - September 27. Drink from 2027-2055. 94-96 Pts.

1,419 Views

Tasted

May 8, 2023

2022
AltO de Cantenac Brown Blanc (Bordeaux)

Pineapple, grapefruit, white flowers and orange rind fill the nose. On the palate, the wine is sweet, creamy, and expressive, with a lemon curd and white peach filled finish. The wine was produced from a blend of 90% Sauvignon Blanc and 10% Semillon. Drink from 2024-2028. 91-91 Pts.

982 Views

Tasted

May 8, 2023

2022
Château Cantenac Brown BriO (Margaux)

With its black, and red pit fruit profile on the nose,, and palate, the medium-bodied wine is floral, fresh and already, quite easy to taste. The end notes are filled with soft, round, sweet, creamy fruits. Drink from 2025-2032. 89-91 Pts.

912 Views

Tasted

May 8, 2023

2021
Château Cantenac Brown (Margaux)

Flowers, espresso, cocoa and black currants are what you find on the nose. The wine is soft, round and polished on the medium/full-bodied palate, finishing with more of that dark cocoa, roasted coffee, black cherry and a hit of peppery spice on the backend. Drink from The wine is a blend of 73% Cabernet Sauvignon and 27% Merlot. 13.2% ABV, 3.75 pH. The harvest took place September 23-October 4. Drink from 2024-2032. 92-94

1,745 Views

Tasted

May 20, 2022

2021
AltO de Cantenac Brown Blanc (Bordeaux)

Lemon peel, orange, white peach and pineapple show up on the nose and in the bright, fresh, crisp palate. The wine was produced from a blend of 90% Sauvignon Blanc and 10% Semillon. Drink from 2022-2027. 92-92

1,676 Views

Tasted

May 20, 2022

2021
Château Cantenac Brown BriO (Margaux)

Floral, fruity and fresh, the Merlot based, medium-bodied wine is round, soft, approachable and finishes with chocolate covered, black raspberries and cherries. Drink from 2023-2029. 88-90

1,104 Views

Tasted

May 20, 2022

2020
Château Cantenac Brown (Margaux)

Deep, dark and rich, the wine is packed from start to finish with layers of lush, polished, ripe, sweet, pure, black and dark red fruits, flowers, espresso, hints of chocolate and oceanic influences. There is a beautiful sense of symmetry, purity, freshness, length and lift that already expresses its essence. The finish continues with its layers of ripe, opulent, yet refined fruits. This is a top vintage for Cantenac Brown that will age gracefully for 2-3 decades. Drink from 2026-2055.

3,789 Views

Tasted

Mar 21, 2023

Inky in color, the wine hits all the right notes with its floral, camphor, blackberry, incense, espresso and black currant aromatics. There is serious intensity here with layers of ripe, sweet, dark fruits, toasty oak and polished tannins on the mid-palate and in the finish. Long, and deep, give this at least 7-8 in the cellar and this is going to really start to show well. 94-96 Pts

3,836 Views

Tasted

May 20, 2021

2019
Château Cantenac Brown (Margaux)

The best vintage from Cantenac Brown in a while opens with a showy display of flowers, espresso, thyme, black cherries, plums, tobacco and earthy, aromatics. Richly-textured, with soft, polished tannins and a wealth of deep, ripe, sweet, fresh, dark, red fruits, the wine feels as good as it tastes. The round, supple finish delivers loads of fruits and a touch of chocolate in the endnote. Drink from 2027-2055.

3,883 Views

Tasted

Mar 29, 2022

Situated on the corner of power and roundness, you find layers of juicy, ripe, lusciously textured, fresh fruits, dark chocolate, flowers, smoke and spice. The tannins are there, polished and ripe, giving you density and structure, providing the ability age and evolve for at least 2 decades. 93-95 Pts

6,757 Views

Tasted

Jun 8, 2020

2019
AltO de Cantenac Brown (Bordeaux)

Fresh, bright, fruity and focused on its crisp, yellow fruit and green apple character on the nose and palate. Nice lift and creamy textures here. 91 Pts

3,377 Views

Tasted

Jun 8, 2020

2018
Château Cantenac Brown (Margaux)

Concentrated, lush, voluptuously-textured, perfectly ripe, deep, dark opulent fruits are all over the place in the nose and on the palate. Full-bodied, velvet textured with intensity, length and richness, give this at least 7 or more years of aging and this will be a gorgeous wine for the following 2 decades. The wine is a blend of 60% Cabernet Sauvignon and 40% Merlot.

2,997 Views

Tasted

Mar 9, 2021

Flowers, Maraschino cherries, smoke, espresso and thyme on the nose piques your interest. On the palate, however, it is the silky, polished, vital, spicy red fruits that hit the spot. Part of this allure comes from the higher percentage of Cabernet Sauvignon in this year's blend. This wine is going to need at least 6-8 years of aging before it even begins to ready itself for drinking. Produced from blending 60% Cabernet Sauvignon and 40% Merlot, the wine reached 13.6% ABV and the harvest took place September 18 to October 2. 94-96 Pts

4,004 Views

Tasted

Apr 19, 2019

2018
AltO de Cantenac Brown (Bordeaux)

Pineapple, white peach, vanilla and lemon rind produce the aromatic character. On the palate, the fruit is just a little sweet, with a fresh, juicy lemon and semi-tropical finish. The wine was produced from a blend of 90% Sauvignon Blanc and 10% Semillon.

2,679 Views

Tasted

Apr 19, 2019

2017
Château Cantenac Brown (Margaux)

With a nice depth of color, the wine is loaded with deep, ripe, dark red fruits, smoke, cherries, plums and blackberries. Lushly textured with length and complexity, this will be even better with age.

4,537 Views

Tasted

May 14, 2020

Showing respectable dark color in the glass, the wine opens with vanilla, licorice, smoke, black cherry and the scent of a leafy wet valley. Medium/full bodied, forward, polished, sweet and fruity, the wine is focused on the creamy tannins and subtle mouth feel. You'll notice sweet cherries throughout and a light splash of cocoa for an easy drinking finish. Already great now, the wine was produced from blending 67% Cabernet Sauvignon and 33% Merlot. The harvest took place September 14 to October 2.

2,375 Views

Tasted

Apr 26, 2018

2017
AltO de Cantenac Brown (Bordeaux)

The essential oil of a citrus blend with flowers, melons and even more lemons, emerges and endures in this medium bodied, refreshingly crisp, white Bordeaux. This wine is energetic, animated and pops in the mouth with early drinking lure. Produced from a blend of 90% Sauvignon Blanc and 10% Semillon, 30% of the crop was destroyed by the frost.

2,037 Views

Tasted

Apr 26, 2018

2016
Château Cantenac Brown (Margaux)

Flowers, truffle, espresso, tobacco and dark, red fruits are all over the place. Concentrated, full-bodied, lush, round and with layers of fruit and energy, the wine is deep, filled with juice and vivacious. The blend was made from 68% Cabernet Sauvignon and 32% Merlot.

4,692 Views

Tasted

Sep 21, 2019

The floral aromatics pop right away, as does the espresso, wet earth, cocoa, dark cherry and cassis. Full bodied, round, lush and polished and energetic, this is a top-flight Margaux.

4,829 Views

Tasted

May 20, 2018

A fertile violet-ruby in color with a complex array of scents ranging from espresso, violets, truffle, cassis and dark chocolate, the wine is fresh, long and energetic with a lot of lift in the endnote. Balanced and classic with loads of fresh boysenberry and black cherry, this is quite intense and succulent. From 68% Cabernet Sauvignon and 32% Merlot, this wine reached 13.3% ABV with a pH of 3.68 and is aging in 60% new, French oak barrels. The harvest took place from September 23 to October 19. Only 49% of the harvest was used in the Grand Vin.

4,511 Views

Tasted

Apr 29, 2017

2016
AltO de Cantenac Brown (Bordeaux)

Made from a blend of 90% Sauvignon Blanc and 10% Semillon, the wine shows its floral, lemon, lime and honeysuckle quickly. Vibrant, with a green apple and citron finish.

2,135 Views

Tasted

Apr 29, 2017

2015
Château Cantenac Brown (Margaux)

Opulent, lush, deep, dark, and concentrated, there is a wealth of ripe, dark plums, black cherries, blackberries, tobacco, espresso, cocoa, and flowers from start to finish. This is quite good now, but it is only going to improve from here. Drink from 2025-2050.

6,128 Views

Tasted

Jul 8, 2022

Just a few months of aging since this was last tasted has added more aromatic development. Now, you find dark, red fruits, chocolate mint, wet earth, flowers, espresso and a touch of mint. Full bodied, concentrated and silky, the wine paints your palate with fruit, velvet textured tannins and freshness. The wine sticks with you as it lingers on your palate.

6,724 Views

Tasted

May 21, 2018

With a god depth of color, the wine offers concentration of ripe, dark, red fruits, polished, round, silky tannins and nuances which thyme, espresso, juicy, sweet, fruits and wet earth. The opulent finish with all its fresh, ripe, dark red fruits lingers.

6,123 Views

Tasted

Mar 12, 2018

Clearly one of the top vintages produced here ever, the wine is focused, ripe, deep, long and richly textured. There is volume, freshness, weight, complexity and character.

5,569 Views

Tasted

Jul 12, 2017

Deep, rich violet-ruby in color with a complex array of scents ranging from espresso, violets, truffle, boysenberry, cassis and black cherry, this wine is sensuous, concentrated, opulent and balanced with a long, intense, mouthful of fresh, pure berries. The finish is impressive and lingers with a flurry of sweet, dark, red fruits and even darker chocolate. Easily the best wine since 2009. From 61% Cabernet Sauvignon and 39% Merlot, this wine reached 13.9% ABV with a pH of 3.7 and is aging in 60% new, French oak barrels. The harvest took place from September 17 to October 8. Only 51% of the harvest was used in the Grand Vin. 94 – 96 Pts

5,912 Views

Tasted

Apr 29, 2016

2015
AltO de Cantenac Brown (Bordeaux)

Flowers, honey, lemon chiffon pie, lime and green apple scents pop with no effort. Using 90% Sauvignon Blanc and 10% Semillon, the wine is fresh, lively and vibrant, with loads of just squeezed citrus in the finish. Enjoy this young for its fresh, juicy fruits.

3,051 Views

Tasted

Apr 29, 2016

2015
Château Cantenac Brown BriO (Margaux)

Brio de Cantenac Brown- Using 47% Cabernet Sauvignon, 42% Merlot and 11% Cabernet Franc, Brio produced a wine with fresh, floral characteristics, earthy notes and sweet, red fruits. Medium-bodied, forward, light, fresh and ready to drink. 87 - 89 Pts

2,605 Views

Tasted

Apr 21, 2016

2014
Château Cantenac Brown (Margaux)

Soft textured, with a generous blast of sweet, ripe, black cherry, dark chocolate, espresso and wet earth, the wine has charm, character and backbone to age, yet, drink well relatively early.

3,523 Views

Tasted

Feb 4, 2017

Vibrant, full-bodied and alive with easy to find notes of fragrant violets, blackberry, boysenberry and espresso, this wine continues ripe and sweet with a soft and even, fruit-filled finish. From 65% Cabernet Sauvignon and 35% Merlot, the wine reached 13% ABV and is being aged in 60% new, French oak barrels. 91-93 Pts

3,499 Views

Tasted

Apr 22, 2015

2014
AltO de Cantenac Brown (Bordeaux)

Lemon, lime and green apple on the nose with enough acidity to keep this wine hoppin' on the palate, teasing your tasters with the welcome impression of lemon chiffon pie. This should be easy to drink on release. 89 Pts

2,765 Views

Tasted

Apr 22, 2015

2013
AltO de Cantenac Brown (Bordeaux)

From a blend of 90% Sauvignon Blanc and 10% Semillon, the wine is fresh, refreshing and lively, packed with ripe lemon, grapefruit and minerality. 92 Pts

1,717 Views

Tasted

Apr 20, 2014

2013
Château Cantenac Brown (Margaux)

Smoke, licorice, flowers and bright red fruits are found on the nose. The wine is medium bodied, crisp and fresh, with a dusty, cherry finish.

4,695 Views

Tasted

Feb 11, 2016

Black cherry, spice and herbs open this medium-bodied wine that ends with bright cherries and an open finish. From a blend of 68% Cabernet Sauvignon and 32% Merlot, the wine reached 13.1% ABV with a pH of 3.6. The wine represents 40% of the harvest and is aging in 60% new French oak. 88-90 Pts

3,069 Views

Tasted

Apr 20, 2014

2012
Château Cantenac Brown (Margaux)

Earthy, tobacco, fresh, bright, crisp, cassis and dark cocoa, with a tannic, energetic, smooth finish.

5,536 Views

Tasted

May 15, 2015

Soft textured, with sweet cherries, floral notes, plum and earth, the wine ends with a mélange of red and black fruits. 90-93 Pts

5,547 Views

Tasted

Apr 25, 2013

2011
Château Cantenac Brown (Margaux)

From a blend of 67% Cabernet Sauvignon and 33% Merlot, the medium bodied, tannic wine is more interesting in the nose, with its blackberry, earth, coffee bean and smoke filled prefume, than on the palate, which ends with herbs, cherries and a bit of dryness in the finish.

4,440 Views

Tasted

Feb 17, 2014

Blending 67% Cabernet Sauvignon with the remainder taken up by Merlot, the wine reached 12.9% ABV. The wine will be aged in 50% new oak. With some coaxing, earth, coffee and black cherry can be found. Soft in texture, this medium-bodied, soft wine ends with a short, clean, black cherry finish. 88-90 Pts

2,789 Views

Tasted

Apr 19, 2012

2011
AltO de Cantenac Brown (Bordeaux)

For the 2011 vintage, Cantenac Brown introduced a 750 case wine from 90% Sauvignon Blanc and 10% Semillon aged in 1 year-old barrels. With grapefruit, lemon and honeysuckle, the wine ends with a short, lemon wax finish. 87 Pts

2,125 Views

Tasted

Apr 19, 2012

2010
Château Cantenac Brown (Margaux)

Still quite young as you would expect, smoke, tobacco and blackberry aromas are paired with soft tannins and good density of material. The wine leaves a lasting impression of sweet dark berries and freshness.

5,451 Views

Tasted

May 17, 2014

Coffee bean, oak, olives, blackberries and bitter chocolate, the wine is soft, ripe and round, but there is a dusty quality to the tannins in the finish of this blend of 66% Cabernet Sauvignon and 34% Merlot.

6,730 Views

Tasted

Feb 13, 2013

Licorice, black cherry, mint and coffee bean scents open to a supple, polished, fresh, medium bodied, round, chocolate covered cherry wine.

5,976 Views

Tasted

May 1, 2012

2009
Château Cantenac Brown (Margaux)

This showstopper is hitting all the right notes. This supple-textured, rich, concentrated, full-bodied, deep wine opens with smoke, truffle, 5 spice and a basket of black, red and blue fruit. The finish is all about the silky tannins and waves of deep, dark, perfectly ripe, sweet fruits. While still youthful, this is already a pleasure in your glass and will only get better from here.

4,412 Views

Tasted

Mar 2, 2021

Sensuous, silky, concentrated, smoky and just great in your glass, this is a beauty! It is rich, vibrant and the texture, with its velvety fruits makes a real Margaux impression. This is not fully mature, but the fruits are so ripe and tannins so refined, you can pop a cork tonight for pleasure. If you can wait another 5 years for the aromatic complexities to develop, you are going to love it!

4,239 Views

Tasted

Sep 20, 2019

Silky, polished and long, with velvety, soft tannins, opulent textures and sweet blackberries on the end note that really linger. This is only going to better with more time in the bottle. This is a very good wine, in a great style that still sells for a fair price.

5,406 Views

Tasted

May 17, 2014

Truffle, mint, coffee, tobacco, jammy blackberry and subtle vanilla scents lead to a polished, fleshy, fresh, sweet, cocoa and boysenberry filled wine.

8,133 Views

Tasted

May 1, 2012

It's always nice to be surprised when you discover a wine has turned out much better than you originally anticipated. This delicious Margaux offers licorice, earth, cassis, spice and truffles, With rich supple textures, concentrated layers of juicy, ripe, dark berries and freshness, this Bordeaux wine is a winner!

8,270 Views

Tasted

Feb 2, 2012

2008
Château Cantenac Brown (Margaux)

Showing normal color development for its age, the nose shows earth, smoke, herbs, leaf and dark red fruits. On the medium/full bodied palate, you find smooth textures and a bright character to the soft, fruits through to the end note. This is drinking well now, but you can age it for 2-5 more years for more development without any problems.

2,405 Views

Tasted

Sep 17, 2018

Charming, finesse style of Bordeaux. Medium bodied, soft, elegant, fresh and forward, this drinks well now, and will get better with age.

6,405 Views

Tasted

Oct 5, 2014

Sweet, polished and structured, medium bodied, with an olive and plum finish that has some dryness to the tannins on the back end.

6,764 Views

Tasted

May 17, 2014

Coffee, tobacco, stewed fruit and cassis in the nose. With some dryness in the tannins, the wine ends with black cherry, herbs and coffee.

5,112 Views

Tasted

May 1, 2012

Espresso bean, licorice, flowers and black cherry aromas, medium body and soft textures are found in this wine, which ends with a vanilla, red and black plum finish. This will drink well young.

5,377 Views

Tasted

Oct 18, 2011

2007
Château Cantenac Brown (Margaux)

Earth, truffle, dark red fruits and tobacco. Still showing nice color for the vintage, there is sweet and tart fruit, the wine is medium/full bodied, soft textured, and ends with a slightly dry, uncomplicated, fruity finish.

3,458 Views

Tasted

Mar 21, 2017

2006
Château Cantenac Brown (Margaux)

Forest floor and tobacco coupled with blackberries are found in the nose. The wine is fresh, medium/full bodied and finishes with a crisp cassis note, coupled with an herbal streak. The wine was made from a blend of 75% Cabernet Sauvignon and 25% Merlot and was aged in 60% new, French oak barrels. Only 30% of the harvest was used in the Grand Vin.

6,641 Views

Tasted

May 25, 2016

Blackberries, coffee bean, cassis, earth, blueberry and tobacco aromas lead to a medium/full bodied charming, supple style of Margaux wine that finishes with a round, ripe, chocolate, plum finish. Give it a few more years to develop additional layers of complexity.

5,202 Views

Tasted

Nov 16, 2011

2005
Château Cantenac Brown (Margaux)

Much better than my previous tasting, ago, now you find a round, concentrated, blackberry, black currant, and black cherry-filled wine with nuances of green, leafy herbs, forest floor, tobacco leaf, and spice box notes in the finish. Drink from 2022-2040.

2,539 Views

Tasted

Oct 11, 2022

With coaxing you find the truffle, cigar box, cassis and forest floor aromatics. More interesting on the nose than the palate, the wine is full bodied, tannic and fresh, with a fine, dusty texture in the crisp finish. Give it another 5 years to soften and come together and this could be even better. Over the past few years, the estate has clearly upped their game.

3,469 Views

Tasted

Jun 28, 2015

Lean, simple, medium bodied and a bit oaky. This was the last vintage made by the previous owners. Starting with the 2006, there is a marked improvement in the wine, along with a commitment to ratchet up the quality for future vintages.

6,633 Views

Tasted

Dec 20, 2011

2004
Château Cantenac Brown (Margaux)

Fully mature, this medium bodied wine serves up more secondary notes of tobacco and wet forest floor than red fruit.

3,247 Views

Tasted

Jan 4, 2015

2001
Château Cantenac Brown (Margaux)

The wine is medium bodied and has charm, but it lacks concentration and depth of flavor to really get there. Still, this blend of 65% Cabernet Sauvignon, 25% Merlot and 10% Cabernet Franc is fresh, crisp, clean and offers and earthy, leaf-filled nuance that goes along nicely with the bright, red cherry fruits.

4,467 Views

Tasted

Sep 22, 2018

2000
Château Cantenac Brown (Margaux)

Cassis, blackberries, spice, mocha, tobacco and earthy aromas lead to a medium bodied, soft textured Margaux wine that ends with a plum, cherry and cassis filled finish.

7,072 Views

Tasted

Aug 22, 2011

1961
Château Cantenac Brown (Margaux)

Tired, with more tannin than fruit, the wine offers a mostly secondary tasting experience of tobacco, earth, truffle, cigar box, cedar and light, red berries. Drink up as this is not going to get better with age.

1,798 Views

Tasted

Apr 1, 2017