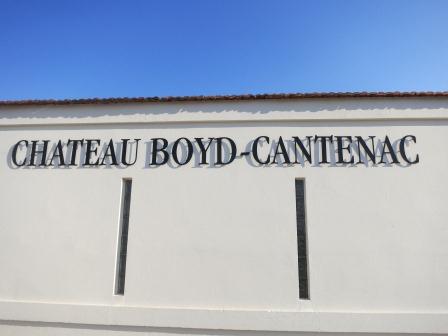 Learn everything about Chateau Boyd Cantenac Margaux Third Growth with wine tasting notes, and wine with food pairing tips. Learn the best vintages, a history of the property, information on the vineyards, and winemaking. If you want to read about other important, Bordeaux Chateaux: Links to all Bordeaux Wine Producer Profiles
Chateau Boyd Cantenac History, Overview
What we know of as Chateau Boyd Cantenac today was formed in 1754 by Jacques Boyd. Almost five decades passed before the chateau changed hands. At that time it was bought by John L. Brown. The property remained in the family because Brown was a relative of Boyd through marriage. It was that relationship that helped increase the size of Boud Cantenac, with vineyard land purchased from Chateau Cantenac Brown.
For a period of time, starting in the late 1800s, the wines of Chateau Boyd Cantenac ceased to exist, as the harvest was placed into other wines that the new owner, Abel Laurent already controlled. Chateau Boyd Cantenac came back into existence in about 1921, under the direction of Marcel Laurent.
Chateau Boyd Cantenac eventually became the property of the Ginestet family, a well-known and established family in the Bordeaux wine trade who was famous for owning numerous top Bordeaux estates including Chateau Margaux.
Due to the 1929 depression, they were forced to sell several of the facilities and other structures to their neighbor Chateau Margaux.
This left Boyd Cantenac without a proper cellar in the Medoc to make their own wine. For a time, they ended up making their wine at Chateau Lascombes. In 1932, the Ginestet family finally sold the remainder of Chateau Boyd Cantenac to Pierre Guillemet.
Guillemet was already an experienced winemaker and vigneron, as he was the owner of another Bordeaux property in Margaux, Chateau Pouget.
The Guillemet family continues to own and manage both Left Bank chateaux today. Lucien Guillemet is currently managing things at Chateau Boyd Cantenac as well as at Chateau Pouget.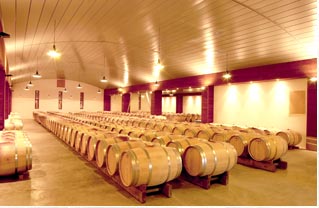 Chateau Boyd Cantenac Vineyard, Terroir, Grapes, Winemaking
The 17-hectare vineyard of Chateau Boyd Cantenac is planted to 60% Cabernet Sauvignon, 25% Merlot, 8% Cabernet Franc and 7% Petit Verdot.
Historically, this was not always the case. As a point of reference, prior to the 1855 Classification, there was also a healthy percentage of Tarney Coulant planted.
The vineyard is planted to a vine density of 10,000 vines per hectare. The terroir is mostly gravel and sand soils. The vines are old, with an average age of 40 years. Much of their vineyards are located in the commune of Cantenac, as the name implies. The vineyard is situated close to both Chateau Kirwan and Chateau dAngludet.
To produce the wine of Chateau Boyd Cantenac, vinification takes place in a combination of temperature-controlled, stainless steel vats and concrete tanks. The vats range in size from as small as 50 hectoliters up to 150 hectoliters.
The maceration period varies from 2 to 5 weeks, according to the characteristics of each vintage. Malolactic fermentation takes place in vat.
The wine of Boyd Cantenac is aged for 12 to 18 months in French oak barrels. The amount of new oak varies from 60% to 80%, depending again on the character of the vintage.
There is a second wine, Jacques Boyd, which takes its name from the original founder of Chateau Boyd Cantenac. The second wine is also sold under 2 more labels, Josephine de Boyd-Cantenac and La Croix de Boyd-Cantenac.
The best vintages of Chateau Boyd Cantenac are: 2022, 2021, 2020, 2019, 2018, 2017, 2016, 2015, 2014, 2012, 2010, 2009 and 2005.
In addition, the estate also produces Clos Maucaillou, a Bordeaux Superieur. On average, the annual production for Chateau Boyd Cantenac is between 5,000 and 5,500 cases of Margaux wine per year.
When to Drink Chateau Boyd Cantenac, Anticipated Maturity, Decanting Time
Chateau Boyd Cantenac can be enjoyed on the young side with decanting. Young vintages can be decanted for an average of 1-2 hours, give or take. This allows the wine to soften and open its perfume. Older vintages might need very little decanting, just enough to remove the sediment.
Chateau Boyd Cantenac is usually better with at least 5-9 years of bottle age. Of course, that can vary slightly, depending on the vintage character. Chateau Boyd Cantenac offers its best drinking and should reach peak maturity between 10-20 years of age after the vintage
Serving Chateau Boyd Cantenac with Wine, Food, Pairing Tips
Chateau Boyd Cantenac is best served at 15.5 degrees Celsius, 60 degrees Fahrenheit. The cool, almost cellar temperature gives the wine more freshness and lift.
Chateau Boyd Cantenac is best served with all types of classic meat dishes, veal, pork, beef, lamb, duck, game, roast chicken, roasted, braised, and grilled dishes. Chateau Boyd Cantenac is a perfect match with Asian dishes, hearty fish courses like tuna, mushrooms, and pasta as well as a wide variety of hard and soft cheeses.
Château Boyd-Cantenac Wine Tasting Notes
16 Vintages 76,052 Views Sort by Vintage-Rating
2018
Château Boyd-Cantenac (Margaux)

Earth and forest aromatics coincide with a medium-body, soft palate and a tobacco leaf, herb and red fruit finish. 89-91 Pts

2,697 Views

Tasted

Apr 19, 2019

2017
Château Boyd-Cantenac (Margaux)

One of the more uncommon Classified Growths from Margaux, the wine is medium bodied and rather classic in nature. The fruit is bright and there is a dusty quality to the red berry finish.

2,197 Views

Tasted

Apr 26, 2018

2016
Château Boyd-Cantenac (Margaux)

Fresh with dark red berries, smoke, earth and forest floor notes, this wine has firm tannins, which need at least five years to further soften and develop.

3,536 Views

Tasted

Apr 29, 2017

2015
Château Boyd-Cantenac (Margaux)

Sweet fresh, fruits, floral accents, freshness and a medium bodied, polished, silky, inviting blackberry and cassis finish. 90 - 92 Pts

4,293 Views

Tasted

Apr 21, 2016

2014
Château Boyd-Cantenac (Margaux)

Medium-bodied with a bright cassis and floral character, this wine ends on a crisp, red-berried note. 87-89 Pts

2,911 Views

Tasted

Apr 22, 2015

2012
Château Boyd-Cantenac (Margaux)

Medium-bodied, forward and floral, with the additional nuances of espresso, smoke, dark cherries and thyme, the wine is round, and ready, although a few more years of cellaring could reduce the oak influence.

1,531 Views

Tasted

Aug 20, 2020

2011
Château Boyd-Cantenac (Margaux)

Cedar chest and cassis aromas and earthy, soft black cherries are found in the finish. 88-90 Pts

3,889 Views

Tasted

Apr 19, 2012

2010
Château Boyd-Cantenac (Margaux)

Deep in color, with ample blackberry, earth and hints of floral character, the polished, wine offers freshness, flavor and ripe tannins in the long finish.

6,264 Views

Tasted

Jul 22, 2013

2009
Château Boyd-Cantenac (Margaux)

Like many 2009 Bordeaux wines, this is opulent, soft, polished and forward, with freshness and sweetness in the fruit. There is a touch too much oak, but that should in time fade into the all the sweet berries. This should be even better with a few years in the cellar. 2009 in Bordeaux is so good from top to bottom, it's silly. In fact, in Margaux, which is normally not the most consistent appellation, almost everyone seems to have made really good wine.

7,509 Views

Tasted

Feb 16, 2014

2008
Château Boyd-Cantenac (Margaux)

Tight, tannic and tough, with a fresh, dark red berry character, the wine is quite tannic for its depth and because of those drying tannins, this is on the stern side for a Margaux wine.

4,554 Views

Tasted

May 17, 2014

2006
Château Boyd-Cantenac (Margaux)

This is one of the more obscure Classified Growths from Margaux. I seldom see it. But tasting the 2006, makes me want to know it a bit better. Soft, round and open, with sweet, ripe fruits, earth, thyme, luscious black cherries to round this off. All that, and the wine is fairly priced too.

3,756 Views

Tasted

May 25, 2016

Better on the nose, with its floral, earthy, black raspberry nose, than on the medium bodied, cherry and black raspberry, tannic finish. I'd give this a few more years to develop, but this is not going to be a miracle in the bottle wine that changes all that much with age.

4,389 Views

Tasted

May 17, 2014

2005
Château Boyd-Cantenac (Margaux)

Medium/full-bodied, the wine is expressive aromatically with its blend of dried flowers, red currants, and tobacco. There is some rusticity in the tannins which adds to the classically made style produced here. This is drinking well today, and it has a long future to look forward to, with at least another 15-20 more years of drinkability.

4,458 Views

Tasted

Oct 18, 2021

With deep color, the wine offers a beautiful perfume of licorice, flowers, cassis, oak and earth. Full bodied, rich and concentrated, the supple wine ends with a long, round, cassis, spice and red plum filled finish. Give it a few more years to soften and come together.

7,857 Views

Tasted

Aug 22, 2011

2004
Château Boyd-Cantenac (Margaux)

This is a wine a seldom see. Perhaps that's a mistake based on the elegant, tobacco, cherry, earth and floral charms in this wine. Instead of concentration, there is a finesse and softness that makes it a pleasure to drink.

5,655 Views

Tasted

Jan 4, 2015

2000
Château Boyd-Cantenac (Margaux)

Nice wine here. Silky, elegant soft and with some polish to the tannins. The sweet, red fruits, earth, tobacco and floral characteristics are easy to find. Medium bodied and refined, this is drinking quite nice today.

3,810 Views

Tasted

Oct 18, 2016

1996
Château Boyd-Cantenac (Margaux)

Full mature with an austere character, the wine is medium bodied, bright and quite fresh in the finish. The is much better on the nose than the palate.

2,703 Views

Tasted

Jul 7, 2017

1995
Château Boyd-Cantenac (Margaux)

Medium-bodied, classically styled, slightly rustic, fully developed, slightly austere wine, offering notes of tobacco, cedar, forest leaf and bright red fruits.

4,043 Views

Tasted

Dec 9, 2018