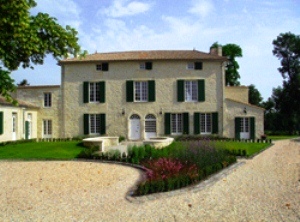 Learn everything about Chateau d'Angludet Margaux with wine tasting notes and wine with food pairings. Learn about the best vintages, ratings, a history of the property, information on the vineyards and winemaking. If you want to read about other important, Bordeaux Chateaux: Links to all Bordeaux Wine Producer Profiles
Chateau d'Angludet History, Overview
Chateau d'Angludet, is one of the oldest Bordeaux wine properties. In fact, Chateau d'Angludet can be traced all the way back to 1150! The name of the chateau means "angle of high land".
Jumping ahead several hundred years to 1791, after the owner of that time passed away, the holdings of Chateau d'Angludet were divided between his four legal heirs. One hundred years later, in 1891, the Left Bank estate of Chateau d'Angludet was brought back together again. At that time, the 130 hectare d'Angludet estate included 55 hectares of vines.
Chateau d'Angludet The Modern Age
After the majority of the Chateau d'Angludet vineyard was destroyed by the 1956 frost, the owners gave up on wine making at their Medoc vineyard and replanted the vineyards with wheat and barley.
The owner thought that type of agriculture would make him more money than growing grapes for making Bordeaux wine. He ended up selling Chateau d'Angludet in 1961 to Diana and Peter Sichel.
The Sichel family were well-known Bordeaux negociants who own the firm Maison Sichel and also maintain a large ownership stake in Chateau Palmer. The vineyards of d'Angludet were in such poor shape at the time the estate was bought, that less than 7 hectares were still planted to vines. That is not the case any longer.
The Sichel's invested large sums of money to bring d'Angludet back into shape. They replanted the vineyards, adding more Petit Verdot to the vineyard and completely renovated and modernized their wine making facilities. The Sichel family still own and manage Chateau d'Angludet today.
Chateau d'Angludet was one of the first estates in the Left Bank to embrace green harvesting, hoping to reduce yields naturally. That practice started in 1988. d'Angludet has another first to their credit, they were one of the first estates in the Medoc to practice ecological pest control as well as to practice green harvesting.
Chateau d'Angludet Vineyards, Terroir, Grapes Winemaking
The 32 hectare vineyard of Chateau d'Angludet is planted to 46% Cabernet Sauvignon, 41% Merlot and 13% Petit Verdot. This shows a decrease in the amount of Cabernet Sauvignon, which was compensated by adding more Merlot and Petit Verdot since the mid 1990's. The Cabernet Franc vines have all been removed.
The vines are planted to a density of 6,666 vines per hectare to 7,300 vines per hectare. The terroir is mostly sand, gravel and clay soils. The vines are located inland, in the southwest corner of the Margaux appellation.
The vineyard is basically in one large parcel in the commune of Arsac. A single parcel of that size in the Margaux appellation is truly, quite scarce. They also have vines that are planted in the Cantenac sector, just inland, off the D2, The Route du Medoc.
Here, they have a slightly cooler terroir, making it hard for the berries to reach the same level of ripeness as some of their more illustrious neighbors. The grapes are machine harvested.
To produce the wine, Chateau d'Angludet is vinified in traditional, large, concrete vats. Malolactic fermentation takes place in vat. The wine is then aged in about 33% new, French oak barrels for 12 to 14 months, depending on the character of vintage. On average, Chateau d'Angludet releases close to 10,000 cases of wine per year. There is a second wine, La Ferme d'Angludet.
The best vintages of Chateau d'Angludet are: 2020, 2019, 2018, 2016, 2015, 2014, 2012, 2010, 2009, 2008, 2005, 2001 and 2000.
When to Drink Chateau d'Angludet, Anticipated Maturity, Decanting Time
Chateau d'Angludet can be enjoyed on the young side with decanting. Young vintages can be decanted for an average of 1-2 hours, give or take. This allows the wine to soften and open its perfume. Older vintages might need very little decanting, just enough to remove the sediment.
Chateau d'Angludet is usually better with at least 5-7 years of bottle age. Of course that can vary slightly, depending on the vintage character. Chateau d'Angludet offers its best drinking and should reach peak maturity between 8 and 15 years of age after the vintage.
Serving Chateau d'Angludet, with Wine, Food, Pairing Tips
Chateau d'Angludet is best served at 15.5 degrees Celsius, 60 degrees Fahrenheit. The cool, almost cellar temperature gives the wine more freshness and lift. The wine will also gently warm in the glass, releasing its aromatics.
d'Angludet is best served with all types of classic meat dishes, veal, pork, beef, lamb, duck, game, roast chicken, roasted, braised and grilled dishes. Chateau d'Angludet is a perfect match with Asian dishes, hearty fish courses like tuna, mushrooms and pasta as well as cheese.
Château d'Angludet Wine Tasting Notes
15 Vintages 79,336 Views Sort by Vintage-Rating
2020
Château d'Angludet (Margaux)

Cherries, raspberries and flowers are there for the taking in the perfume. On the palate the wine is medium-bodied, soft, refined, clean, juicy, spicy and sweet, with a line of earthy black cherries that starts off in the mid-palate and keeps right on going. 89-91 Pts

614 Views

Tasted

May 20, 2021

2018
Château d'Angludet (Margaux)

Medium bodied, bright, fresh, floral and with a hint of coffee bean and spice to the soft, elegantly textured red fruits that are in the nose and in the silky finish. 89-91 Pts

6,516 Views

Tasted

Apr 19, 2019

2016
Château d'Angludet (Margaux)

Medium-bodied with firm tannins, this wine opens with notes of blackberry, cassis and cherry pipe tobacco. You'll also find that same sensation on the palate, when the cherry tobacco reappears with a pinch of herbs. 89 Points

4,106 Views

Tasted

Apr 29, 2017

2015
Château d'Angludet (Margaux)

Medium-bodied, elegant, soft, earthy and fresh, with a real sweetness and refinement to the red fruits, with additional earth and floral notes adding complexity here, give this a few years in the cellar and it should be ready to go. This is probably the best wine ever produced at Chateau d'Angludet. 91 Points

3,716 Views

Tasted

Sep 23, 2019

This is surely a contender for the best vintage of Chateau d'Angludet. The fruit is fresh, polished, soft and ripe. Medium-bodied with sweet cassis, tobacco, cherry and herbal character, this wine is quite nice and well-priced. 89 - 91 Pts

3,557 Views

Tasted

Apr 21, 2016

2014
Château d'Angludet (Margaux)

Medium-bodied with a crisp, red berry character, this classically styled Margaux will drink best in its youth. 85-87 Pts

4,856 Views

Tasted

Apr 22, 2015

2013
Château d'Angludet (Margaux)

Bright red fruits with a lean, strict personality and a dry finish. 83-84 Pts

4,826 Views

Tasted

Apr 20, 2014

2012
Château d'Angludet (Margaux)

Medium bodied, soft and forward, this 48% Cabernet Sauvignon, 40% Merlot and 12% Petit Verdot is spicy, fresh and filled with black raspberries and earthy characteristics. 88 Points

2,949 Views

Tasted

Mar 11, 2015

Fresh red berry notes with earthy scents, medium body and a bright red fruit finish are found in this vintage. 88-90 Pts

6,660 Views

Tasted

Apr 25, 2013

2011
Château d'Angludet (Margaux)

Soft, medium bodied, black raspberries and dusty tannins are found in this early drinking Margaux. This is not a wine to age. 87 Points

2,322 Views

Tasted

Feb 17, 2014

2010
Château d'Angludet (Margaux)

Already approachable, with ample ripe blackberries, earth and floral notes, the wine is soft, round and open, with an earthy, cassis and black cherry filled finish. 90 Points

5,049 Views

Tasted

May 7, 2013

Opening with ripe black raspberries and earthy tones, there is a softness to the tannins one does not normally find in this wine. The finish ends with soft, fresh, spicy, floral, black and red fruits. From a blend of 55% Cabernet Sauvignon, 35% Merlot and 10% Petit Verdot, this is the best vintage of d'Angludet I've tasted yet. 90 Points

4,962 Views

Tasted

Feb 12, 2013

2009
Château d'Angludet (Margaux)

Medium bodied and light in style, there is more going on with the earthy, floral, fresh cherry aromatics than the palate. 88 Points

4,916 Views

Tasted

Feb 1, 2012

2008
Château d'Angludet (Margaux)

Medium bodied with red and black fruits, earth and herbs along with a touch of green in finish; the wine is in some ways similar to a classic Bordeaux from the 70's with its style of tannins. 87 Points

4,398 Views

Tasted

May 2, 2012

2006
Château d'Angludet (Margaux)

Dominated by red fruits, strawberry, cassis and cranberry, the wine also offers earthy tones. Medium bodied, lean and foursquare, the wine is on the austere side of the style range. 85 Points

6,391 Views

Tasted

Dec 5, 2011

2005
Château d'Angludet (Margaux)

Plush, not intense, but rich, nice structure and good palate presence. This should drink well young. 90 Points

6,552 Views

Tasted

Jan 20, 2008

2004
Château d'Angludet (Margaux)

Light in color, with very little of its red fruit remaining, the wine is better on its earthy, forest and cherry tobacco nose, than on its light, bright, tart, red berry palate. 84 Points

2,344 Views

Tasted

Jan 4, 2015

2000
Château d'Angludet (Margaux)

Fully mature, the secondary characteristics of tobacco, earth, cedar and cherries are easy to find. Medium/full bodied and firm in a classic manner, there is some rusticity in the tannins. The freshness in the mature fruit however, was appealing. The bottle was popped and poured. 89 Points

4,602 Views

Tasted

Sep 24, 2016