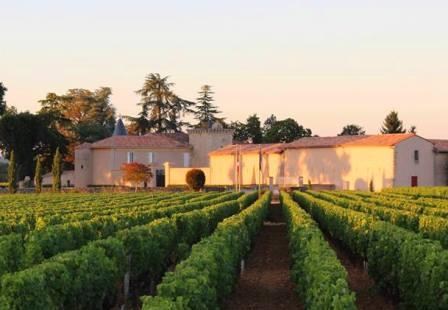 Learn everything about Chateau Coutet Sauternes, Premiers Crus with wine tasting notes, and wine with food pairing tips. Learn the best vintages, a history of the property, information on the vineyards, and winemaking. If you want to read about other important, Bordeaux Chateaux: Links to all Bordeaux Wine Producer Profiles
Chateau Coutet History, Overview
The origin of Chateau Coutet, which takes its name from the Gascon word for knife, dates all the way back to the 13th century when the estate was originally built to be used as a fort. You can clearly see that in the estate's design today.
Chateau Coutet became a full-time Sauternes wine-producing estate in 1643. At one time the estate was even owned by the Lur-Saluces family, who are better known for also owning Chateau d'Yquem. The vineyard was sold to the Rolland family in 1925.
While there is clearly a lot of history at Chateau Coutet, the modern era began when Chateau Coutet was purchased by the Baly family in 1977 from the Rolland family.
Aline Baly, the manager of the estate joined her family at Chateau Coutet in 2005. The first year for Aline Baly, where she worked full time, from start to finish was with the 2009 vintage.
The 110-meter cellars of Chateau Coutet are the longest in the entire appellation. It's one of the most interesting cellars to visit in the Sauternes appellation. Before it underwent its renovation and was turned into a wine cellar, the buildings were used by the owners of Chateau d'Yquem as a horse stable.
The popularity of the wines from Chateau Coutet dates back hundreds of years. In fact, our third President of the United States, Thomas Jefferson called their wines the best that could be found in the entire appellation of Barsac!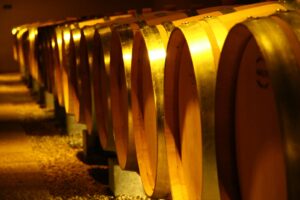 Chateau Coutet Vineyards, Terroir, Grapes, Winemaking
The 38.5-hectare vineyard of Chateau Coutet Vineyard is planted to 75% Semillon, 23% Sauvignon Blanc and 2% Muscadelle. At 38.5 hectares of vines, Chateau Coutet is the largest vineyard in Barsac.
The vineyard has a terroir of sand, red clay, and limestone soils. You can divide the vineyard into 48 parcels that are planted on gradual sloping hillsides that rise up to 19 meters in elevation. The vines are planted to a density of 8,000 vines per hectare. Their vines are old. On average, they are 60 years of age.
To produce the wine of Chateau Coutet, after the grapes are pressed using a vertical press. The wine is vinified in French oak barrels.
Depending on the vintage, the wine is then aged in up to 100% new, French oak barrels for about 18 months before bottling. This shows an increase in the amount of new oak used for both aging and vinification.
The best vintages of Chateau Coutet are: 2022, 2021, 2020, 2019, 2018, 2017, 2016, 2015, 2014, 2013, 2011, 2010, 2009, 2007, 2006, 2005, 2003, 2001, 1997, 1989 and 1988.
Since 1922 the estate has also produced on an infrequent basis, a special, high-end wine. But the first vintage for Cuvee Madame de Chateau Coutet was produced in 1943.
Coutet Cuvee Madame is produced with 100% Semillon using their two oldest parcels of vines. From there they make a selection of the estate's best grapes that are deemed to be the ripest and most heavily attacked with botrytis.
The wine is among the latest releases in Sauternes and Barsac as it's typically held until it is ready for mature drinking.
In fact, the 2003 Coutet Cuvee Madame was not released until July 2015! Coutet Cuvee Madame has been produced most recently in 2009, 2003, 2001, 1997, 1995, 1990, 1989, 1988, 1986, 1981, 1975, and 1971.
As of 2016, only 14 vintages of the wine have ever been produced. Not much Cuvee Madame is made as the production is limited to only 100 to 125 cases, making the wine quite hard to find, and expensive. In 2003, the chateau updated the label design for Coutet Cuvee Madame.
They also make a second wine, La Chartreuse de Coutet and a dry white Bordeaux called Vin Sec de Chateau Coutet as well as Opalie de Chateau Coutet. On average, Chateau Coutet produces close to 3,500 cases of wine per year.
When to Drink Chateau Coutet, Anticipated Maturity, Decanting Time
Chateau Coutet can be enjoyed on the young side with no decanting. In fact, it is delicious and quite a treat young, even on release! However, like all great wines, Chateau Coutet is much better with age and does not reach full maturity until it's between 12-35 years of age, or in some years, perhaps even longer in the best vintages!
That is when the magic happens! But that is unrealistic for 99% of the world's wine drinkers. So, enjoy it on any special occasion that calls for it.
Of course, the wine is sweet, but there is so much, incredible, racy acidity, the wine always feels fresh, and never cloying, which makes it quite fun to enjoy young. With Chateau Coutet and frankly, all Sauternes, the temperature is more important than decanting.
Serving Chateau Coutet with Wine and Food Pairings
Chateau Coutet is best served at 14 degrees Celsius, 57 degrees Fahrenheit. The cool, almost cellar temperature gives the wine more freshness and lift. The wine will naturally warm in the glass, while it develops more aromatic complexities and fleshes out.
Chateau Coutet can be served with seafood dishes, especially shellfish, lobster, crab, and oysters on the half shell. Foie gras is a perfect pairing with its natural sweet, salty and savory characteristics. Chateau Coutet can also be paired with roasted chicken, veal, and pork dishes that are either spicy or prepared with a touch of sweetness.
Spicy Asian cuisine, raw fish, like sushi or sashimi, and cheese, both hard and soft also make great pairings with Chateau Coutet.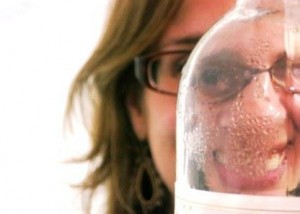 Today, Chateau Coutet's fortune is on the upswing. Thanks to the efforts of the Baly family, especially the young and tireless Aline Baly. Aline Baly is well-known for her more than her efforts at promoting Chateau Coutet and the sweet, white wines of Bordeaux through her use of social media and constant travel.
During her travels, Aline Baly has met numerous wine and food enthusiasts, along with well-known chefs, who delight in creating wine and food pairings for Bordeaux's sweet wines. To help others discover the joy of matching Sauternes and Barsac with food, Aline Baly and the rest of the Coutet team have devoted an entire section of their website to offering great cooking tips and pairings!
Opalie de Chateau Coutet
Chateau Coutet introduced Opalie de Chateau Coutet, a new, dry, white Bordeaux wine for the 2010 vintage. Opalie de Chateau Coutet is produced from a blend of 50% Sauvignon Blanc and 50% Semillon that comes from a specific parcel of 40-year-old vines planted in their unique, clay and limestone terroir. The name emanates from Opalus, which is Latin for stones that combine all the best elements.
Opalie de Chateau Coutet is an expensive, dry white Bordeaux wine to produce. Adding on to the cost was that Chateau Coutet needed to build a new cellar to make the wine in. Opalie de Chateau Coutet is vinified and aged in 60% new, French oak barrels for 9 months and is meant to be enjoyed on the young side for its freshness and fruity character.
Château Coutet Wine Tasting Notes
30 Vintages 128,898 Views Sort by Vintage-Rating
2022
Château Coutet (Barsac)

Flowers, pineapples, mango, apricot and candied lemon notes get the wine going. The palate, with its layers of sweet, ripe and overripe, honeyed yellow, and orange fruits is fresh, long, intense, balanced, and most importantly, delicious! And isn't that the purpose of a wine? Drink from 2025-2055. 94-96 Pts.

1,571 Views

Tasted

May 8, 2023

2021
Château Coutet (Barsac)

Honeysuckle, pineapple, cashew nuts, lemon meringue pie, orange blossoms and honey on the nose move you to know more about this vibrant, racy, sweet treat. Drink from 2023-2050. 94-96

1,811 Views

Tasted

May 20, 2022

2020
Château Coutet (Barsac)

The attention-seeking nose grabs you due to all of its honeysuckle, candied pineapple, orange blossoms, apricots, and mango drizzled with honey, and spice. The wine is perfectly balanced between all of its sweetness and vibrancy, leaving you with ample freshness to provide lift and cut to all of its honeyed, tropical fruits. Drink from 2023-2050.

1,149 Views

Tasted

Mar 21, 2023

Lemon meringue pie, honeysuckle, candied pineapple, orange blossoms, flowers and spice create an enthralling perfume. Sweet, yet zesty, rich and racy with a shot of cinnamon and honey-slathered yellow tropical fruits and vanilla that linger. This decadent sweet treat works because of its balancing acidity that keeps everything fresh and vibrant. 94-96 Pts

2,197 Views

Tasted

May 20, 2021

2019
Château Coutet (Barsac)

Flowers, orange blossoms, pineapple. mango creme brulee and vanilla scents are all over the place here. Sweet, fresh and most importantly, zesty, the finish leans to the tropical orange side with a liberal drizzle of honey and orange marmalade. Drink from 2022-2045.

3,256 Views

Tasted

Mar 29, 2022

Orange blossoms, honey, cinnamon spice, creme brulee, pineapple and candied apricots create the perfume. On the palate, the wine pops with honey-drenched pineapple, mango and orange marmalade. As sweet as this is, there is ample freshness to keep everything lifted. 92-94 Pts

7,296 Views

Tasted

Jun 9, 2020

2018
Château Coutet (Barsac)

With a dark honey colored hue, right off the bat the wine opens with honey, roasted nuts, over ripe tangerine, spice and perfectly ripe pineapple. With all the sweetness you need, buttressed by refreshing acidity, the orange centered tropical fruit and honey coated finish is just great. This is so good now, it is impossible not to be loving it. But wait at least 5 years as it is going to be even better with age.

2,203 Views

Tasted

Mar 9, 2021

2017
Château Coutet (Barsac)

An all-you-can-eat buffet of tropical fruit with a slather of orange honey, this concentrated, opulent wine has a pastried sweetness but the brisk acidity is equally noticeable, bringing everything into equipoise.

2,918 Views

Tasted

Apr 26, 2018

2016
Château Coutet (Barsac)

Pineapple, candied orange rind, vanilla, and apricots with sweet, honey and floral notes create the nose. The wine is lush, sweet and fresh, with a tropical fruit and decadent, honey coated finish.

4,143 Views

Tasted

Apr 29, 2017

2015
Château Coutet (Barsac)

Rich, concentrated, lush and sweet, the mix of ripe and over ripe, sweet, juicy, tropical fruits, apricots, vanilla, orange and are coated honey and floral notes. There is a lot of sweetness here, but the acidity keeps it on the up and up.

4,545 Views

Tasted

Mar 12, 2018

Concentrated, rich and deep, there is more than ample, perfectly ripe and over ripe, sweet, juicy, pineapples, apricot, vanilla, almond and honeysuckle all coated with flowery honey. But like all great sweet wines, it is the vibrant acidity that makes the wine interesting and keeps it fresh. 94-96 Pts

6,862 Views

Tasted

May 3, 2016

2014
Château Coutet (Barsac)

Rich, sweet, fat, juicy, luscious, ripe, apricots, pineapple, mango and honey that grab you from the get go. The wine was produced from a blend of 75% Sémillon, 23% Sauvignon Blanc and 2% Muscadelle. This seems quite sweet, but there is enough acidity to keep it fresh and not cloying.

8,018 Views

Tasted

Feb 4, 2017

2013
Château Coutet (Barsac)

Outstanding in every sense of the word, the wine kicks off with spicy, overripe apricots, pineapple, candied orange vanilla bean, roasted nut and honey on the nose. Rich, dense and with ample depth, the wine is sweet, lush and vibrant, with enough acidity to keep everything in check.

2,875 Views

Tasted

Feb 1, 2016

Packed and stacked with layers of honeyed tropical fruits, vanilla, honey, nuts, apricots and pineapple, this will be another winner in the long line of successes for Aline Baily and Coutet. 94-96 Pts

4,261 Views

Tasted

Apr 22, 2014

2011
Château Coutet (Barsac)

Light in color, the wine pops with its over ripe scented nose of pineapple, apricot, coconut, spice and honey perfume. Balanced, sweet and fresh, the wine delivers a nutty, honeyed, pineapple finish.

4,975 Views

Tasted

Feb 12, 2014

2010
Château Coutet (Barsac)

Even though this is a baby, it's easy to see this is a beauty that serves up the perfect amount of ripe and over ripe, tropical fruit, honey, vanilla, orange peel and apricot on the showy nose. Sweet, rich and balancing fresh with intense, this is very good now. This is going to be even better in a decade once all the beautiful caramel and other secondary notes come into play.

3,415 Views

Tasted

Sep 21, 2014

2010
Château Coutet Opalie Sec (Bordeaux)

Vanilla, candied citrus peel, orange, honey and nuts create the perfume. The wine is thick, but not heavy. It feels like a medium bodied Sauternes without the sugar, while displaying more acidity on the palate. The finish ends with fresh, sweet lemon, lime sensations.

2,951 Views

Tasted

May 8, 2013

2009
Château Coutet (Barsac)

This is the best example of a young Chateau Coutet I have ever tasted. Intense notes of honey drenched pineapple, orange, apricot, nectarine, nuts and minerality focus your attention. Rich, pure, sweet, powerful and refined, there is the perfect amount of lift and balance to keep you interested in tasting the wine. The assemblage this vintage was made from 75% Semillon, 23% Sauvignon Blanc and 2% Muscadelle. Bravo Aline!

5,358 Views

Tasted

Jan 25, 2012

2008
Château Coutet (Barsac)

Honeysuckle, apricot, vanilla and pineapple pop right from the bottle. The wine has freshness, sweet and honeyed fruits, but it lacks the levels of concentration found in the better vintages.

3,045 Views

Tasted

Sep 23, 2018

2007
Château Coutet (Barsac)

A beautiful aroma greets you with little effort. Scents of honeysuckle, orange rind, nuts, apricots, pineapple and vanilla with honey make the perfect appetizer. On the palate, this lush, rich wine is balanced with acidity, leaving with fresh, honeyed, tropical fruits and a hint of sweet, Meyer lemon. Drink this today if you like it sweet and youthful, or age it for a few decades. Either way, it's a delicious treat.

5,137 Views

Tasted

Jul 15, 2012

2006
Château Coutet (Barsac)

Mango, pineapple, white peach and apricots with honey greets your nose. Sweet, but fresh, young but ready, the vanilla custard, honeyed tropical fruits and the liberal dose of orange marmalade is what you'll find in the finish.

4,321 Views

Tasted

Jul 15, 2016

2005
Château Coutet Cuvée Madame (Barsac)

The nose rocked with its butterscotch, orange, pineapple, apricot and honey-drenched aromas. The palate was even better with its waves of honey slathered, tropical fruits. Lush, fat, rich and sweet, it was the acidity that kept the wine fresh and lifted. This is quite young, and should age for decades.

1,988 Views

Tasted

Oct 22, 2018

2005
Château Coutet (Barsac)

With powerful scents of pineapple, apricots, peach, nectarine and vanilla custard all drenched in honey, you know you cannot wait to taste the wine. It delivers there as well, with its sweet, spicy, fat juicy, tropical fruit and honey flavors. Drink it now, or age it for a decade or more.

5,262 Views

Tasted

Aug 12, 2013

2004
Château Coutet (Barsac)

Already drinking well, this medium bodied, fresh, yellow and orange, tropical fruit centered wine comes with a shot of vanilla, flowers and honeyed orange rind. This is a good sweet wine to pair with savory courses.

3,556 Views

Tasted

Mar 8, 2019

2003
Château Coutet (Barsac)

Honey, citrus rind. peach, nectarine, vanilla and floral scents lead to a rich, ripe, unctuous sweet, white Bordeaux wine that is filled with honey coated tropical fruit, creme brulee and honey.

7,262 Views

Tasted

Nov 27, 2011

2001
Château Coutet Cuvée Madame (Barsac)

Talk about intense.... Yet, with the levels of vibrant acidity in the wine, it all comes into focus. The candied orange, honeyed tropical fruit, vanilla, apricot and creme brulee aromatics cannot be ignored. Fat, rich and tongue coating, the wine really fills your palate with sweet pleasure.

2,614 Views

Tasted

Aug 31, 2015

2001
Château Coutet (Barsac)

Pineapple, candied orange rind and apricots coated with vanilla custard and honey create the aromatics. There is a vibrancy to the fruit that keeps it uplifting from start to finish, making this the perfect sweet treat. This is drinking really at 15 years of age.

4,285 Views

Tasted

Feb 14, 2016

1990
Château Coutet (Barsac)

Probably sightly past full-maturity, the medium-bodied wine is taking on more orange notes in character. Still, you find honeyed pineapple, but the mango, orange rind and acidity is wining ground over the fruit. It is time to drink this before it drops more fruit.

3,241 Views

Tasted

Feb 3, 2020

1989
Château Coutet (Barsac)

Fully mature, medium bodied, with a lean to the candied orange and tangerine side of the style range offers a palate painted with sweet pineapple, apricot, custard and white peach, all coated with macadamia nuts and honey. This is not a wine to hold on to for further aging. But it is a wine of pure, sweet pleasure for today.

3,048 Views

Tasted

Aug 23, 2016

1988
Château Coutet Cuvée Madame (Barsac)

The palate screams with apricot, pineapple, custard and tropical fruits slathered in honey. There is good density to the sweet, spicy, nutty fruits. Perhaps the only drawback is, the finish could be a bit longer.

3,074 Views

Tasted

Jul 24, 2013

1988
Château Coutet (Barsac)

Light in color and in fruit. What fruit was there showed tropical, honey notes, but without excitement. Not a bad wine, but there is not much going on in it to recommend.

3,686 Views

Tasted

Nov 15, 2007

1971
Château Coutet (Barsac)

From a magnum, this was much better on the nose, with its complex display of apricot, pineapple, vanilla, spice, honey, candied citrus and and orange peel nose, than on the palate, where the fruit and honeyed sweetness was clearly fading.

3,647 Views

Tasted

May 29, 2014

1961
Château Coutet (Barsac)

Orange and copper hue in color. But, even with the intoxicating color, there was not much going on in the aromatics. On the palate, there was not much fruit to be found in the short finish. This was probably better several years ago.

3,075 Views

Tasted

Mar 22, 2007

1937
Château Coutet (Barsac)

It's always a treat to taste wines at maturity, and even past full maturity, as this wine was. Still, the caramel, burnt sugar, butterscotch, smoke, and burnt, candied, chocolate covered orange rind was a lot of fun to drink. This is more secondary than not, the color was between amber and molasses and if you have a bottle, save it for an anniversary, or drink it, as there is no reason to wait.

1,853 Views

Tasted

Mar 17, 2017