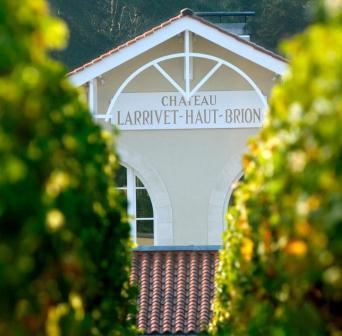 Learn everything about Chateau Larrivet HautBrion Pessac Leognan with wine tasting notes and wine with food pairing tips. Learn all the best vintages, the history of the property, and information on the vineyards and winemaking. If you want to read about other important, Bordeaux Chateaux: Links to all Bordeaux Wine Producer Profiles
Chateau Larrivet HautBrion History, Overview
What we know of today as Chateau Larrivet Haut Brion came into being with the original name of La Rivette. This took place during the 1800s. In 1874, the estate began calling itself Chateau Haut Brion Larrivet by the new owner, Ernest Laurent.
This was much to the consternation of Chateau Haut Brion. Although it took decades until an official lawsuit was filed to remedy the situation. In 1893, the property was sold to the Canolle family who was already experienced in the Bordeaux wine trade as they also owned Chateau Belair in St. Emilion.
At that time, the property was much larger than it was today. For various reasons having to do with needing money, portions of their vineyards for Larrivet Haut Brion were sold to other neighboring properties like Chateau Haut Bailly.
In the late 1800s, the estate was sold to Thomas Conseil. It was Thomas Conseil who changed the name of the chateau in 1949. The name change came about due to a lawsuit filed by the owners of Chateau Haut Brion.
The estate was allowed to retain Haut Brion in their name, provided it followed at the end of the title. This was easy enough. From that point forward, the wines were sold under the name of Larrivet Haut Brion.
Chateau Larrivet Haut Brion changed hands again when it passed to Jacques Guillemaud. Jacques Guillemaud began to replant the vineyards which had become dilapidated. In fact, only 3 hectares of vines were planted when he took over the property.
Chateau Larrivet Haut Brion is quite a popular wine these days. In fact, I think it is safe to say that their wines are probably the best known of the unclassified wineries in the appellation.
Today Chateau Larrivet Haut Brion is owned and managed by the Gervoson family who took over the property in 1987. The Gervoson family is better known for producing the popular line of jams and jellies from Bonne Maman.
Here's a secret for you. When you visit the estate. make sure you ask to walk through their stunning, lush, verdant gardens, ponds, and parkland. It's incredibly verdant and peaceful.
Chateau Larrivet Haut Brion Vineyard, Terroir, Grapes, Winemaking
The 72-hectare vineyard of Chateau Larrivet Haut Brion is planted to red and white wine grape varieties. The terroir at Chateau Larrivet Haut Brion is a mixture of gravel and sandy soils. The vineyard is divided into 5 main blocks. 4 of those blocks are used for the Grand Vin. Their best terroir is located close to the chateau. At its peak, they have slopes that rise to 52 meters in elevation.
61 hectares are planted to 48% Merlot, 42% Cabernet Sauvignon and 5% Cabernet Franc for the red wine grape varieties. This shows a reduction in the Cabernet Sauvignon, an increase in the Merlot, and new plantings of Cabernet Franc in the vines since the mid-1990s. On average the vines are close to 30 years of age. They also have old vines, as some Cabernet Sauvignon is more than 60 years of age.
It is possible that in the moderate future, some Malbec and Petit Verdot could also be added to their vineyards. Larrivet Haut Brion has good neighbors.
Their vineyards are situated close to some very good neighbors. They are not far from Chateau Haut Bailly and Chateau La Louviere and they also have vines bordering Smith Haut Lafitte.
11 hectares of vines are planted to 80% Sauvignon Blanc and 20% Semillon. Although there are some Muscadelle grapevines planted in their vineyards as well. They have some very old Semillon vines that are more than 60 years of age.
The white wine grape vines are kept at an average of 20 years of age. During the mid-1990s, the white wine grapes were planted in an even 50% ratio, which as you can see, has changed over the years.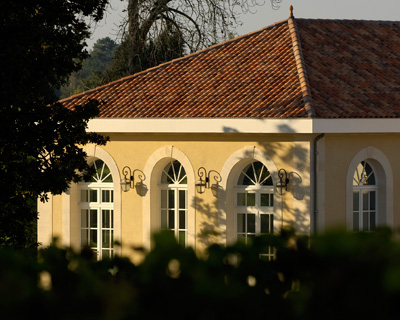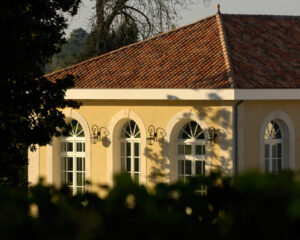 To produce the red wines of Chateau Larrivet Haut Brion, vinification takes place in cement tanks. Malolactic fermentation takes place in oak vats for the Grand Vin. The wine is aged in a combination of 50% new, French oak barrels, 48 large, clay amphora jars, wine globes and foudres for between 15 and 18 months before bottling.
To produce the white Bordeaux wine of Chateau Larrivet Haut Brion, the grapes are whole-cluster pressed. Vinification takes place in 100% new, French oak barrels. There is no malolactic fermentation. The white wines are aged on their lees in 100% new oak for about 12 months prior to bottling. On average, the estate produces 25,000 cases of red wine and 3,000 cases of white Bordeau wine.
The Best Vintages of Chateau Larrivet Haut Brion are: 2022, 2021, 2020, 2019, 2018, 2017, 2016, 2015, 2012, 2010, 2009, 2008, 2006, and 2005. Although it is important to note that vintages can vary as to their quality between the white wine and the reds as in some years, the reds are markedly better and in other vintages the whites are superior.
The property also makes a second wine, Les Demoiselles de Larrivet Haut Brion, which was named to honor their three daughters, Charlotte, Emily, and Valentine.
In 2013, the daughters and the estate's second wine were both honored when they became one of the few Bordeaux chateaus to have a flower named after them. The roses are called, Les Demoiselles Larrivet Haut Brion. Michel Rolland was the consultant. He was replaced by Stephane Derenoncourt.
When to Drink Chateau Larrivet Haut Brion, Anticipated Maturity, Decanting Time
Chateau Larrivet Haut Brion can be enjoyed on the young side with decanting. Young vintages can be decanted for an average of 1-2 hours, give or take. This allows the wine to soften and open its perfume.
Older vintages might need very little decanting, just enough to remove the sediment. Chateau Larrivet Haut Brion is usually better with at least 5-7 years of bottle age. Of course, that can vary slightly, depending on the vintage character. Chateau Bouscaut offers its best drinking and should reach peak maturity between 8-18 years of age after the vintage.
Serving Chateau Larrivet Haut Brion, with Wine, Food, Pairing Tips
Chateau Larrivet Haut Brion is best served at 15.5 degrees Celsius, 60 degrees Fahrenheit. The cool, almost cellar temperature gives the wine more freshness and lift. The red wine of Chateau Larrivet Haut Brion is best served with all types of classic meat dishes, veal, pork, beef, lamb, duck, game, roast chicken, roasted, braised, and grilled dishes.
Chateau Larrivet Haut Brion is a perfect match with Asian dishes, hearty fish courses like tuna, mushrooms, and pasta as well as cheese.
The white wine of Chateau Larrivet Haut Brion is a perfect wine to serve with shellfish, sashimi, sushi, all types of seafood, chicken, veal and cheese.
In 2012, Larrivet Haut Brion began conducting a fun set of experiments. Bruno Lemoine, the director of the property held back two barrels of 2009 wine for extra aging. One barrel remained at Chateau Larrivet Haut Brion, the other was covered with cement and placed in the ocean in the oyster beds of Cap Ferret.
According to Bruno Lemoine, "We often hear about wines aged at sea being better quality, so I wanted to see what happened if we tried it as well." He was referring to wines from the 19th or 20th century that were lost at sea, due to shipwrecks.
Laboratory analysis showed the wine aged in the ocean had softer tannins and slightly lower alcohol levels. As you might expect, there was also more saline in the wine as well.
Château Larrivet-Haut-Brion Wine Tasting Notes
35 Vintages 153,247 Views Sort by Vintage-Rating
2022
Château Larrivet-Haut-Brion (Pessac-Léognan)

Smoked, cherries, strawberry, smoked meats, spearmint, and cigar smoke create the nose. The wine is medium-bodied, elegant, soft, silky and refined. The finish is loaded with sweet, red pit fruits, with chocolate-mint coming in at the end of the refined finish. The wine is made from 61% Cabernet Sauvignon, 21% Cabernet Franc and 18% Merlot. 14% ABV, 3.71 pH. Yields were 40 hectoliters. 38% of the harvest was placed into the Grand Vin. Picking took place September 6 - September 28. It is interesting to note that Larrivet was the first known wine of the 2022 futures campaign to be offered, and it was priced at a discount to 2021! Drink from 2026-2045. 93-95 Pts.

1,102 Views

Tasted

May 8, 2023

2022
Château Larrivet-Haut-Brion Blanc (Pessac-Léognan)

White flowers, grapefruit, spearmint, orange, mango, green apple, and pineapple show in the nose. From there you find sweet, yellow and orange citrus, pineapple, and pears from start to finish on the mid-palate through to the end note. The nose is just great with all of its pineapple, white peach, honeysuckle, mango, orange rind, and waxy lemons in the perfume. Fresh, crisp and energetic, with a bit of chalk to accompany all the yellow fruits in the finish. The wine is produced from 86% Sauvignon Blanc and 14% Semillon. 14% ABV, 3.24 pH. Drink from 2024-2028. 92-92 Pts.

807 Views

Tasted

May 8, 2023

2022
Château Larrivet-Haut-Brion Les Demoiselles de Larrivet Haut-Brion (Pessac-Léognan)

Forward, soft, elegant, easy to like, cherry and plum filled wine that is perfect to enjoy on release for all of its soft, refined fruits on the mid-palate and finish. Drink from 2025-2035. 89-91 Pts.

750 Views

Tasted

May 8, 2023

2022
Château Larrivet-Haut-Brion Les Demoiselles de Larrivet Haut-Brion Blanc (Pessac-Léognan)

Grape fruits and flowers show their essence in the nose and on the palate, with this forward, sweet, juicy white wine. You can enjoy this with pleasure on release. The wine is produced from 100% Sauvignon Blanc. Drink from 2024-2028. 90-90 Pts.

746 Views

Tasted

May 8, 2023

2021
Château Larrivet-Haut-Brion (Pessac-Léognan)

Flowers, strawberry, currants, herbs and a touch of cigar smoke create the nose. Medium-bodied, vibrant, fresh and elegant, the refined palate is fresh, spicy and refreshing on the mid-palate, which is also elegant, lifted and refined. This is quite successful for the vintage. The wine is made from 80% Cabernet Sauvignon and 20% Cabernet Franc. This is the first time in the history of the estate that the wine was produced using only Cabernet in the blend. The yields were quite low at 20 hectoliters per hectare, which is as you can guess, is due to the lack of Merlot this year. 2024-2045. 91-93

1,803 Views

Tasted

May 20, 2022

2021
Château Larrivet-Haut-Brion Blanc (Pessac-Léognan)

The nose is just great with all of its pineapple, white peach, honeysuckle, mango, orange rind and waxy lemons in the perfume. Fresh, crisp and energetic, with a bit of chalk to accompany all the yellow fruits in the finish. Drink from 2023-2030. 92-92

1,592 Views

Tasted

May 20, 2022

2020
Château Larrivet-Haut-Brion (Pessac-Léognan)

It is the purity in the fruit coupled with the wine's elegant nature that is at the core of this wine. Silky, refined, and fresh, the layers of polished red fruits, sweet, ripe, clean cherries, blackberries, and background notes of cocoa, coffee, and spice really come alive on the palate. This is probably the finest vintage of Larrivet Haut Brion I have ever tasted. Drink from 2024-2045.

1,326 Views

Tasted

Mar 21, 2023

The nose hits you with its dark red fruits, spice, smoke, tobacco, espresso and fireplace aromatics. Refined, elegant and fresh, you enjoy a fabulous sweetness and purity to the fruits on the palate and in the elegant finish. Give this 5-7 years in the bottle and this will really start to show its stuff. This should age quite nicely. 92-94 Pts

2,096 Views

Tasted

May 20, 2021

2020
Château Larrivet-Haut-Brion Blanc (Pessac-Léognan)

Waxy lemons, honeysuckle, white peach and lemon grass notes stand out here in the perfume and on the soft, creamy, yellow and orange citrus palate, with its sweet, white peach accents. Drink from 2023-2032.

858 Views

Tasted

Mar 21, 2023

Honeysuckle, white peach, yellow tropical fruit, waxy lemon and lawn grass aromas make for a catchy perfume. Sweet, creamy, juicy and fresh with loads of sweetness and lift in the finish, this will be beautiful to enjoy on release. 92 Pts

1,829 Views

Tasted

May 20, 2021

2019
Château Larrivet-Haut-Brion (Pessac-Léognan)

Medium-bodied, elegant, soft, silky, vibrant, and floral, the cherries and plums are sweet, balanced, and fresh, with a black raspberry and tobacco leaf note in the finish. Drink from 2022-2042.

2,912 Views

Tasted

Oct 8, 2022

Smoked cherries, flowers, licorice and plums show up on the nose easily. Medium-bodied, elegant and refined, with loads of freshness, silky textures and dark red, earthy fruits in the finish are found here. This should drink well with just 5 years or so in the cellar and provide pleasure for at least 2 decades after that. 92-94 Pts

4,468 Views

Tasted

Jun 16, 2020

2019
Château Larrivet-Haut-Brion Blanc (Pessac-Léognan)

Green apple, tangerine, lemon chiffon, pomelo, pineapple and floral notes on the nose are made better with all the sweet, ripe, yellow citrus lemon peel, green apple and white peach in the fresh, zesty, yellow citrus, packed finish. Drink from 2022-2035.

1,462 Views

Tasted

Mar 29, 2022

Floral in nature, this is all made better with all the sweet, ripe, yellow citrus lemon peel, white peach and honeysuckle in the perfume. The silky, round, lush palate with all the vanilla, vivacious green apple, lemon and crushed stone taste and feels great. 93 Pts

4,006 Views

Tasted

Jun 16, 2020

2018
Château Larrivet-Haut-Brion (Pessac-Léognan)

Fresh, round, lush, polished, energetic, tobacco filled wine with elegant, silky textures and layers of perfectly polished, sweet tobacco leaf tinged red fruits. Clearly, this is the finest vintage for Larrivet Haut Brion I have ever tasted! This should offer two decades of pleasure with ease.

2,769 Views

Tasted

Mar 9, 2021

From the initial sniff and sip, this wine is richly textured with sweetness in the fruit. Fresh, silky, medium bodied and energetic, the purity in the tobacco leaf tinged red fruits is just right in the nose, on the palate and throughout the finish. I am sure this is the finest vintage for Larrivet Haut Brion I have ever tasted! This should offer two decades of pleasure with ease. 92-94 Pts

4,584 Views

Tasted

Apr 19, 2019

2018
Château Larrivet-Haut-Brion Blanc (Pessac-Léognan)

This has really jumped in quality since it was in barrel. Now, the wine has taken on more weight, allowing you to experience the complex aromatic profile which shows off its flowers, lemon, white peach and vanilla. Lush, round, juicy and fruity, the finish is sweet, lively and loaded with delicious fruits.

2,392 Views

Tasted

Mar 9, 2021

With a nice aromatic profile of grapefruit and lemon, this wine is medium bodied and while it shows good sweetness and some tension, this is not a wine for long term aging. So enjoy it in its youth for all that juicy, yellow citrus fruit.

3,158 Views

Tasted

Apr 19, 2019

2017
Château Larrivet-Haut-Brion Blanc (Pessac-Léognan)

The freshness is there and so is all the sweet, ripe, juicy, citrus fruits, flowers, honeysuckle and vanilla. Lively and exuberant, with loads of pomelo and vanilla all tempered with stony minerality and steely tannins.

2,167 Views

Tasted

Apr 26, 2018

2017
Château Larrivet-Haut-Brion (Pessac-Léognan)

Red fruits and flowers on the nose create an attractive perfume. On the palate, the wine is medium bodied, soft, earthy and bright. Give this merely a few years in the cellar to smooth out the edges.

4,422 Views

Tasted

Apr 26, 2018

2016
Château Larrivet-Haut-Brion (Pessac-Léognan)

Elegant, refined, fresh and pure, the sweet, earthy, red fruits, tobacco and plums come through with ease. Medium bodied, soft and sweet, here you find lift, energy and loads of smoky red berries. This should age quite nicely.

5,378 Views

Tasted

Feb 10, 2019

Medium bodied, fresh, silky, ripe and with sweet, smoky, red fruits and tobacco leaf, the mic of energy and sweet, fruits is exactly what the doctor ordered.

3,445 Views

Tasted

Apr 29, 2017

2016
Château Larrivet-Haut-Brion Blanc (Pessac-Léognan)

The waxy, lemon peel and grapefruit are sweetened with hints of vanilla and honeysuckle. Sweet, juicy and fresh you can enjoy this on release.

1,768 Views

Tasted

Feb 11, 2019

Soft, medium bodied, forward, elegant and refined, the fruit is ripe, plummy and smoky. The tannins are silky and the finish is refined.

2,146 Views

Tasted

Apr 29, 2017

2015
Château Larrivet-Haut-Brion Blanc (Pessac-Léognan)

With a strong sense of minerality, lemon peel, juicy grapefruit and vanilla bean, the wine offers freshness and a zippy style, allowing the wine the right amount of tension, and sweetness from the ripe fruits.

3,642 Views

Tasted

Mar 12, 2018

Crushed rocks, juicy grapefruit and vanilla with a blast of lemon and lime in the finish, give this wine freshness and sweet, citrus fruits from start to finish.

2,532 Views

Tasted

Apr 23, 2016

2015
Château Larrivet-Haut-Brion (Pessac-Léognan)

Soft, polished, elegant, supple, ripe, red fruits with a plummy edge are made even better due to a spicy quality that shows through the smoke, tobacco, espresso and earthy complexities. The refined, fresh edge on the palate gives the wine lift and extra overtones. You can drink this early and age it for more secondary notes.

4,289 Views

Tasted

Mar 12, 2018

Round supple textures, smoky plummy and earthy, with ripe fruit, espresso and thyme notes that are all over the place. With more volume and depth than usual, the medium/full bodied, soft, tobacco laced, fruit filled finish is right where it needs to be. 91 - 93 Pts

3,888 Views

Tasted

Apr 23, 2016

2014
Château Larrivet-Haut-Brion Blanc (Pessac-Léognan)

Crisp, refreshing citrus fruits are all over the place here. The finish is equally fresh, with all its ripe, yellow, citrus fruits that are aided by just a touch of honey.

2,183 Views

Tasted

Feb 6, 2017

With a warm blast of brioche, vanilla and grapefruit at the start, the experience is enhanced by upbeat, citrus notes in the finish. A zesty, amiable wine. 92 Pts

1,771 Views

Tasted

Apr 24, 2015

2014
Château Larrivet-Haut-Brion (Pessac-Léognan)

Medium bodied, soft, fresh, elegant and charming, the wine has a refined character to its bright, fruit, texture and smoky, tobacco laden, palate presence.

3,736 Views

Tasted

Feb 6, 2017

Medium-bodied, sweet and supple, this wine is laced with smoldering black and red fruits, soft tannins and a smoky finish. 89-90 Pts

2,632 Views

Tasted

Apr 24, 2015

2013
Château Larrivet-Haut-Brion Blanc (Pessac-Léognan)

Forward in character, with a sweet citrus and stone note that carries through to the crisp, bright, fresh, yellow citrus fruits in the bright finish.

1,738 Views

Tasted

Feb 1, 2016

Vanilla, flowers, grapefruit and citrus peel deliver a juicy, refreshing mouthful of fresh-squeezed lemon and lime that lingers on your palate. 91-92 Pts

1,657 Views

Tasted

Apr 21, 2014

2013
Château Larrivet-Haut-Brion (Pessac-Léognan)

Light in color, light in fruit, the wine is on the bright, crisp, tart side of the cherry and cranberry side of the style range. The tobacco notes in the nose add to its perfume. This will be best on the young side. The wine was produced from a blend of 56% Cabernet Sauvignon, 35% Merlot and 9% Cabernet Franc.

2,796 Views

Tasted

Feb 3, 2016

Oaky with a nutty, leafy and red berry-filled nose, the wine is medium bodied with a light red cherry finish. The wine was produced from a blend of 56% Cabernet Sauvignon, 35% Merlot and 9% Cabernet Franc. 87-88 Pts

2,410 Views

Tasted

Apr 21, 2014

2012
Château Larrivet-Haut-Brion Blanc (Pessac-Léognan)

Using a blend of 85% Sauvignon Blanc and 15% Semillon, the wine has a floral, stone, lemon, grapefruit and orange peel nose. Fresh, medium bodied and citrusy, this can be enjoyed young.

2,750 Views

Tasted

Mar 11, 2015

2012
Château Larrivet-Haut-Brion (Pessac-Léognan)

Soft, lush, ripe and open, there is a nice plummy quality to the fruit, with hints of cocoa and tobacco in the nose. The wine was produced from a blend of 56% Merlot and 44% Cabernet Sauvignon.

3,411 Views

Tasted

Mar 11, 2015

With smoke and bright red and dark plums, this medium-bodied, soft wine finishes with an easy-to-drink, light black cherry note. 88-90 Pts

2,501 Views

Tasted

Apr 25, 2013

2011
Château Larrivet-Haut-Brion (Pessac-Léognan)

Light in style, with an herb, olive, leaf, pepper, cranberry and cherry personality, there is a touch of dryness in the finish.

2,287 Views

Tasted

Feb 19, 2014

Smoke, earth, cedar wood, cassis and green leafy aromas lead to medium body and a crisp cranberry and cassis finish. 87 – 89 Pts

2,995 Views

Tasted

Apr 25, 2012

2010
Château Larrivet-Haut-Brion (Pessac-Léognan)

Larrivet–Haut Brion Medium full bodied with soft textures and a sweet, spicy berry filled finish. 89-91 Pts

4,375 Views

Tasted

Apr 21, 2011

2009
Château Larrivet-Haut-Brion Blanc (Pessac-Léognan)

Drinking at its potential apogee, the nose with its floral character is made even better with slightly honeyed lemon peel, pomelo, tart green apple and honeydew notes. Round, a bit oily and with good sweetness remaining, if you are holding any, it is time to drink up.

3,245 Views

Tasted

Mar 29, 2021

2009
Château Larrivet-Haut-Brion (Pessac-Léognan)

From an assemblage of 70% Cabernet Sauvignon and 30% Merlot, the wine opens with scents of oak, cassis and red berries. Medium bodied, with some dryness in the tannins, this will need time before it becomes fun to drink.

6,958 Views

Tasted

Jan 30, 2012

2008
Château Larrivet-Haut-Brion (Pessac-Léognan)

Just starting to wake up and come alive, the smoky, ripe, sweet, dark cherry, plum, espresso and incense filled character pairs perfectly with the soft, elegant, round, texture and smokey, fruit in the finish.

3,606 Views

Tasted

Nov 5, 2016

2008
Château Larrivet-Haut-Brion Blanc (Pessac-Léognan)

Bright, fresh, crisp lemon, grapefruit, floral, orange and honeyed notes are all over the place. The finish is packed with fresh, sweet, citrus and green apple flavors.

3,932 Views

Tasted

Aug 31, 2015

2007
Château Larrivet-Haut-Brion Blanc (Pessac-Léognan)

Honeysuckle, lemon wax, oak, citrus oil and floral scents accompany the concentrated, fresh, spicy, lemon, lime and orange peel filled finish.

3,747 Views

Tasted

Sep 5, 2011

2006
Château Larrivet-Haut-Brion (Pessac-Léognan)

Medium bodied, with crisp, red, smoky berries, tobacco and earth. the fruits are bright with a slighty tart, tannic edge. Burgundian in style, others will probably like this wine more than I did.

6,010 Views

Tasted

Oct 29, 2014

2005
Château Larrivet-Haut-Brion (Pessac-Léognan)

Filled with blackberry, plum, smoke, dark cherry, cocoa and spice, this deep colored, round, soft, tannic beauty asks for a few more years before it really starts to open.

5,309 Views

Tasted

Jan 1, 2012

2001
Château Larrivet-Haut-Brion (Pessac-Léognan)

Elegant, charming, soft, refined, medium bodied and fully ready ready to go. The wine offers a sweet, fresh, smoky, spicy, red fruit character. Popped and poured, was all it needed.

4,230 Views

Tasted

Oct 21, 2016

2000
Château Larrivet-Haut-Brion (Pessac-Léognan)

Ready to go, this medium bodied, round, soft, smoky, tobacco, earth and plum driven wine serves up a nice potion of cherries, tobacco, earth and espresso.

5,138 Views

Tasted

Jan 21, 2017