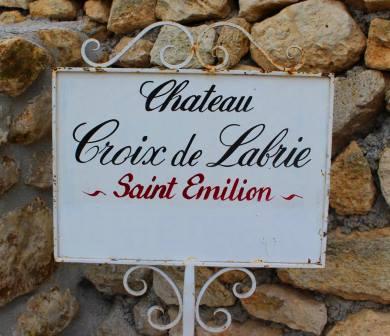 Learn everything about Chateau Croix de Labrie St. Emilion with wine tasting notes and wine with food pairings. Learn the best vintages, a history of the property, information on the vineyards, and winemaking. If you want to read about other important, Bordeaux Chateaux: Links to all Bordeaux Wine Producer Profiles
Chateau Croix de Labrie History, Overview
Chateau Croix de Labrie was a contender for one of the smallest, Grand Cru St. Emilion estates with the property started out in 1991. At the time, the vineyard was a scant 2 hectares of vines. During its formative years, the estate was owned by and made famous by Michel and Ghislaine Puzio-Lesage.
In those early days, Michel Puzio was also well-known in Saint Emilion for his wine store, which was located just inside the village, La Cave de l'Ermitage.
The Puzio family sold Chateau Croix de Labrie to Axelle Courdurie and Pierre Courdurie in 2013. The debut vintage for the new owners was more than difficult as 2013 was the worst vintage in 40 years. In fact, they were only able to produce 4 barrels of wine that year!
The Courdurie family are the current owners of the estate and Axelle Courdurie is the winemaker. After taking over the property, the new owners built new, modern cellars that allowed for everything to move by gravity.
Chateau Croix de Labrie Vineyards, Terroir, Grapes, Winemaking
The 5.9-hectare, Right Bank vineyard of Croix de Labrie is planted to 82% Merlot, 13% Cabernet Sauvignon and 5% Cabernet Franc. The vines are old, averaging about 50 years of age. They also have some very old vines. Some of their Cabernet Sauvignon vines are over 100 years of age!
New plantings in the vineyards are at a higher level of density at 6,500 vines per hectare. They also have a tiny parcel of vines placed close to the chateau planted to 10,900 vines per hectare.
Some of their best terroirs are located not that far from Chateau Pavie with limestone soils, which is where you find much of their Cabernet Sauvignon. While another of their best parcels is placed close to Valandraud which is where you find more deep clay. Yields here are purposely maintained low to increase concentration.
In fact, the yields are often 30 hectoliters or less per hectare. The vineyards are farmed using only organic and biodynamic farming techniques. Chateau Croix de Labrie was certified as organic in 2021.
20% of the wine from Chateau Croix de Labrie is made using micro-vinification techniques, meaning that the wine was vinified entirely in 500-liter French oak barrels. The remaining grapes are vinified in stainless steel vats. Starting with the 2016 vintage, they began aging the wine on its lees for longer periods, adding more color and concentration.
for 20% of the harvest, malolactic fermentation takes place in 100% new, large, 500-liter French oak barrels. The remaining 80% of the wine undergoes malolactic in tank. Close to 65% of the production is aged in 100% new, French oak barrels for an average of 20 – 22 months before bottling. It is interesting to note that the wines are bottled with very low levels of sulfur.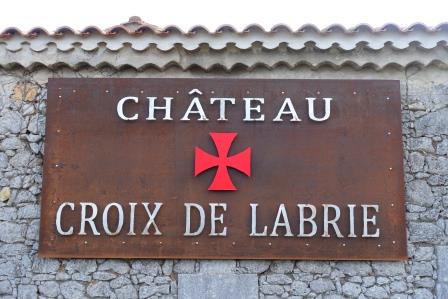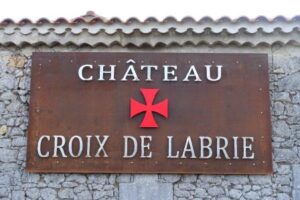 Only 2,000 cases on average are produced of Chateau Croix de Labrie per vintage. There is a second wine which was called Petit Labrie. The name was changed to Chapelle de Labrie.
The fact that there is a second wine, with a production of roughly 1,500-1,600 cases for the Grand Vin should give you a clear idea of the type of quality they are striving to produce with the wines of Chateau Croix de Labrie.
The best vintages of Chateau Croix de Labrie are: 2022, 2021, 2020, 2019, 2018, 2017, 2016, 2015, 2014, 2010, 2009, 2005, and 2000.
They also produce another wine, Les Hauts de Croix de Labrie, which is cobbled together from young vines planted in various sites in the appellation.
In 2015, the estate introduced a new wine, Camille de Labrie, which is a user-friendly, AOC Bordeaux wine. The label was designed by their pre-teen daughter, Camille, who as you can surmise, is where they found the inspiration for the wine's name.
Croix de Labrie Blanc
Starting with the 2015 vintage, the property began producing a white Bordeaux wine, Croix de Labrie Blanc. Produced from a blend of 60% Semillon, 20% Sauvignon Blanc and 20% Sauvignon Gris, the wine is barrel fermented and aged in 100% new, French oak barrels.
There is no malolactic fermentation. The production is quite small. Less than 75 cases are produced each year. The wine is sold as a generic Bordeaux AOC wine.
Character and Style of Chateau Croix de Labrie
Chateau Croix de Labrie is a hard-to-find Saint Emilion wine that can be called, Bordeaux sex in a bottle. The low-acid, rich, opulent wine is lush, plush, and decadent. With its open, forward style, it drinks well young. It is not a wine to age more than 12-18 years. But Croix de Labrie gives so much pleasure the moment it's bottled, buyers should not be worried about how long it will age.
Chateau Croix de Labrie was one of the last remaining examples of a Garage Wine, a trend popular in the latter part of the 1990s. The production of Croix de Labrie was small enough to be aged in the owner's living room or garage. Jean Luc Thunevin consults the Bordeaux wine-making at the estate along with Michel Rolland.
When to Drink Chateau Croix de Labrie, Anticipated Maturity, Decanting Time
Chateau Croix de Labrie is much better with at least 7-10 years of aging in good vintages. Young vintages can be decanted for 1-2 hours or more. This allows the wine to soften and open its perfume.
Older vintages might need very little decanting, just enough to remove the sediment. Chateau Croix de Labrie offers its best drinking and should reach peak maturity between 8-20 years of age after the vintage.
Serving Chateau Croix de Labrie with Wine and Food Pairings
Chateau Croix de Labrie is best served at 15.5 degrees Celsius, 60 degrees Fahrenheit. The cool, almost cellar temperature gives the wine more freshness and lift.
Chateau Croix de Labrie is best paired with all types of classic meat dishes, veal, pork, beef, lamb, duck, game, roast chicken, roasted, braised, and grilled dishes. Chateau Croix de Labrie is also good when matched with Asian dishes, rich fish courses like tuna, mushrooms, and pasta.
www.chateau-croix-de-labrie.fr
Château Croix de Labrie Wine Tasting Notes
34 Vintages 141,215 Views Sort by Vintage-Rating
2022
Château Croix de Labrie (St. Émilion Grand Cru)

Inky in color, the wine exudes flowers, blackberries, boysenberries, mint, smoke, licorice, and black cherries with touches of chocolate. Here you find a blend of concentration, opulence, freshness, and silkiness. The wine is lush, and deep, with layers of ripe, sweet, black cherries, salty plums, peppery spices, and licorice. The wine is produced and bottled with extremely low levels of sulfur. You can enjoy this young, or age it for more complexity, The wine blends 84% Merlot, 10% Cabernet Sauvignon, and 6% Cabernet Franc. This is the first vintage with this much Cabernet in the blend. 14.5% ABV. 3.4 pH. The yields were 35 hectoliters per hectare. Drink from 2026-2050. 95-97 Pts.

1,212 Views

Tasted

May 8, 2023

2022
Château Croix de Labrie Stella Solare Blanc (Bordeaux)

White peach, pineapple, guava and saffron create in the perfume. From there, you find a fleshy, creamy, tropical-accented, citrus oriented wine that will be delicious on release. The wine is a blend of 60% Semillon, 20% Sauvignon Blanc and 20% Sauvignon Gris. Drink from 2024-2030. 92-94 Pts.

2,763 Views

Tasted

May 8, 2023

2022
Château Croix de Labrie Chapelle de Labrie (St. Émilion)

Black cherries, chocolate, fudge, blueberries, and licorice scents are all over the perfume. Creamy, fresh, lusciously-textured, dark red, and back fruits on the palate with hints of spice, and a touch of mint that shows up at the end of the finish are what you find here. This is going to be a beauty on release. Drink from 2025-2037. 91-93 Pts.

847 Views

Tasted

May 8, 2023

2021
Château Croix de Labrie (St. Émilion Grand Cru)

Deeply colored, you find, espresso, licorice, dark chocolate, smoke, roses, black plums, black raspberries and wet earth on the nose. On the palate, the wine is round, lush, rich, flamboyant and loaded with chocolate-coated black cherries and licorice. Long, fruity and fresh, give it a year or so in the bottle and enjoy it for 15 or more years with ease. The wine is a blend of 90% Merlot with 5% Cabernet Franc and 5% Cabernet Sauvignon, 14% ABV, 3.6 pH. The harvest took place September 30-October 16. Drink from 2024-2039. 93-95

1,012 Views

Tasted

May 20, 2022

2020
Château Croix de Labrie (St. Émilion Grand Cru)

Deeply colored, almost opaque in color, the wine opens with a blast of chocolate, black cherry liqueur, blueberries, licorice, espresso and licorice. But as good as the nose is, the palate is the star of the show. Corpulent, lush and polished, the wine coats your palate, yet, it manages to retain lift, balance and freshness, finishing with layers of opulent, perfectly ripe fruits that linger. You can enjoy this young, or age it for more complexity, Drink from 2024-2045.

863 Views

Tasted

Mar 21, 2023

Inky dark purple, almost opaque in color, the wine explodes with a boatload of cassis, black plum liqueur, chocolate, smoke, licorice and espresso. Thick, dense and powerful, the wine paints your palate with chocolate-covered black and blue fruit, licorice and black forest cake. With its velvet textures and endless layers of sweet, ripe, supple textured fruits, this is clearly another step-up in quality for Croix de Labrie. 95-97 Pts

2,810 Views

Tasted

May 20, 2021

2020
Château Croix de Labrie Chapelle de Labrie (St. Émilion)

Licorice, espresso, and cocoa covered cherries are evident in the perfume. On the palate, the wine is lush, supple and polished with layers of black cherries, blackberries, plums and chocolate in the polished, and already approachable finish. Drink from 2023-2037.

361 Views

Tasted

Mar 21, 2023

2020
Château Croix de Labrie Stella Solare Blanc (Bordeaux)

Lush, rich and loaded with flowers, white peach, orange and yellow citrus and almonds on the nose, as well as on the oily, creamy palate. The wine finishes with sweet, juicy, yellow citrus along with a hint of mango. Drink from 2023-2028.

1,883 Views

Tasted

Mar 21, 2023

2019
Château Croix de Labrie (St. Émilion Grand Cru)

Almost opaque in color, the wine exudes a complex aromatic profile with dark chocolate, tobacco leaf, licorice, smoke, flowers, cherries and plums. Rich, concentrated, full-bodied and deep. The wine has staying power as the finish clocks in at 50 seconds! The endnote delivers a wealth of ripe, sweet fruits, supple, polished tannins and richness with a vibrancy to the fruit that does not want to quit. As I said from the barrel, this could be the best wine yet from Croix de Labrie! The wine is a blend of 97% Merlot and 3% Cabernet Sauvignon. Drink from 2024-2042.

1,939 Views

Tasted

Mar 29, 2022

Inky dark purple in color, you know this is intense from the moment the wine hits your glass. Chocolate, vanilla, blackberry, blueberry, smoke, flowers, licorice, and raspberry notes take no effort to find. There is good lift, loads of crushed rocks, opulent, velvety textures, and layer after layer of chocolate-covered black cherries. This could be the best wine yet from Croix de Labrie! The wine is a blend of 97% Merlot and 3% Cabernet Sauvignon, 14.5% ABV. 95-97 Pts

3,886 Views

Tasted

May 4, 2020

2019
Château Croix de Labrie Stella Solare Blanc (Bordeaux)

Loads of honeysuckle, white peach, almonds and apples come through with little effort. Fresh and creamy on the palate, the wine finishes with juicy, yellow citrus along with a hint of mango. Drink from 2022-2027.

710 Views

Tasted

Mar 29, 2022

2019
Château Croix de Labrie Chapelle de Labrie (St. Émilion)

Earthy, smoky, red plums and lead pencil nuances come through the perfume with ease. Medium-bodied with soft, polished, textures with a wave of juicy plums with chocolate and espresso in the finish to top everything off nicely. Enjoy this while waiting for the Grand Vin to develop. Drink from 2022-2032.

564 Views

Tasted

Mar 29, 2022

2018
Château Croix de Labrie (St. Émilion Grand Cru)

Espresso, plum, smoke, incense, black coffee, black cherry and wet earth notes are on the nose and palate. The wine is rich, ripe, lush, full-bodied, round and fruity. The fruits are ripe, sweet, opulent and fresh with real staying power, silky tannins and freshness. The wine is a blend of 90% Merlot, 7% Cabernet Sauvignon and 3% Cabernet Sauvignon. This is the second vintage for Hubert de Bouard as the consultant for Croix de Labrie.

1,529 Views

Tasted

Mar 9, 2021

Black plum liqueur, clay, smoke, licorice and spice are all over the place. Concentrated and quite sexy, the wine is polished, sensuous velvety and stony. The fruit on the palate runs the gamut from black to blue to red. Made from 90% Merlot, 7% Cabernet Sauvignon and 3% Cabernet Sauvignon, it reached 14.2% ABV. This is the second vintage for Hubert de Bouard as the consultant for Croix de Labrie. 94-96 Pts

2,571 Views

Tasted

Apr 19, 2019

2018
Château Croix de Labrie Stella Solare Blanc (Bordeaux)

The nose is quite sweet with all its honeysuckle, candied orange and white peach notes. Lush and creamy on the palate with loads of lemon and tropical fruit with a dab of honey in the finish, you can enjoy this on release. The wine is a blend of 60% Semillon, 20% Sauvignon Blanc and 20% Sauvignon Gris.

1,757 Views

Tasted

Mar 9, 2021

Yellow and orange citrus with honeysuckle and white peach on the nose and in the mouth. The wine is juicy, fresh and with the pop of acidity to lift the wine on your palate. You can enjoy this on release.

1,631 Views

Tasted

Apr 19, 2019

2018
Château Croix de Labrie Chapelle de Labrie (St. Émilion)

Lush, soft and silky with a core of cocoa covered cherries, licorice, smoke and espresso, this forward, round, fruit filled wine is already showing well. It is perfect to enjoy over the next few years while waiting for its big brother to develop.

790 Views

Tasted

Mar 9, 2021

Smoky with licorice, blackberry, dark cherry and even darker chocolate on the nose, the wine is forward, opulent, lush and silky. This supple textured, ripe wine can be enjoyed early or aged for a few years before popping a cork. 91-93 Pts

1,236 Views

Tasted

Apr 19, 2019

2017
Château Croix de Labrie (St. Émilion Grand Cru)

Youthful as you would expect, the wine is on the fresh, bright, red fruit side with soft, polished tannins and a nice sweetness to the fruits. The oak is close to fully integrated, allowing you to savor all the sweet, ripe, red pit fruits and berries. Still, this is quite primary, so give it at least 5 years of cellaring before popping a bottle.

2,760 Views

Tasted

Apr 25, 2021

I like the combination of freshness, ripe fruits, supple textures and lift. Deep in color, the licorice, black cherry, smoke, espresso and thyme pop in the nose. Medium/full-bodied, juicy, sweet, rich and lifted, give this a few years in the cellar for more roundness to develop.

2,482 Views

Tasted

Jul 18, 2020

Succulent textures, sweet, ripe, black cherry, plum, anisette and chocolate are all over the place. The wine is supple, fat, fresh, weighty and long. Made from 100% Merlot, this delight marks the debut of Hubert de Bouard as consultant for Croix de Labrie.

2,269 Views

Tasted

Apr 26, 2018

2017
Château Croix de Labrie Blanc (Bordeaux)

Mouthwatering crispiness, perfectly ripe citrus with white peach, roses and honeysuckle, this wine has an enticing amount of amatory acidity. The wine was made from a blend of 60% Semillon, 20% Sauvignon Blanc and 20% Sauvignon Gris.

1,305 Views

Tasted

Apr 26, 2018

2017
Château Croix de Labrie Chapelle de Labrie (St. Émilion)

Medium bodied, forward and on the fresh side with plummy fruits and hints of licorice, this wine is great for early drinking and kind of a little miracle as the estate suffered damage to 80% of their vineyard.

1,260 Views

Tasted

Apr 26, 2018

2016
Château Croix de Labrie (St. Émilion Grand Cru)

The spicy nose comes along with flowers, incense, black with blue fruit and toasty oak. Rich, full and concentrated, the wine is fresh, structured, bright and filled with soft, polished dark red fruits. But this seems to be holding on to its adolescence for a bit longer than anticipated. So give it 3-4 more years in the bottle and it should soften and better integrate.

3,137 Views

Tasted

Apr 25, 2021

Licorice, dark chocolate, plums and smoke help create a plush, silky, polished, velvet textured wine, focusing on layers of dark chocolate covered, smoky plums and espresso. This is a very good wine but it is going to take some time for the oak to fully integrate into the wine, so wqt at least 5-7 years before opening a bottle. The wine is made from a final blend of 95% Merlot and 5% Cabernet Sauvignon,.

2,928 Views

Tasted

Sep 21, 2019

Quite floral, with truffle, licorice, cocoa, black cherry, smoke and plum notes. The plush, polished, supple textured wine blends freshness with juicy, ripe, soft fruits. The wine is made from a blend of 92% Merlot and 8% Cabernet Sauvignon, reaching 14.5% ABV with a pH of 3.49.

4,078 Views

Tasted

Apr 29, 2017

2016
Château Croix de Labrie Chapelle de Labrie (St. Émilion)

Ripe, juicy dark red fruits create the core of the wine, which also shows plummy red fruits, espresso, licorice, cocoa and round textures.

1,164 Views

Tasted

Sep 21, 2019

From a blend of 90% Merlot and 10% Cabernet Franc, this medium-bodied wine is forward in style with a sensation of minerality and sweet, fresh cherries and red plums.

1,581 Views

Tasted

Apr 29, 2017

2016
Croix de Labrie Blanc (Bordeaux)

The wine opens with a blend of 60% Semillon. 20% Sauvignon Blanc and 20% Sauvignon Gris. The wine is all about the pure, fresh, just squeezed grapefruit, lemon and lime along with its crisp, fresh finish. It's not powerful, nor should it be, but its a nice summery wine with character.

1,411 Views

Tasted

Apr 20, 2017

2016
Château Croix de Labrie Les Hauts (St. Émilion Grand Cru)

From a blend of 90% Merlot and 10% Cabernet Franc, this medium-bodied wine is forward in style with a sensation of minerality and sweet, fresh cherries and red plums. The wine comes from a small 1.5 hectare parcel of vines planted close to Libourne, northwest of St. Emilion.

2,095 Views

Tasted

Apr 29, 2017

2015
Château Croix de Labrie (St. Émilion Grand Cru)

Flowers, licorice, espresso, smoke, herbs and ripe dark cherries permeate the perfume. Soft, polished, lusciously textured on the palate, the silky finish shares the stage with ripe plums, savory herbs, sweet cherries and a touch of coffee bean. Give this 2-3 years more age in the bottle and it will be showing even better.

3,514 Views

Tasted

Apr 25, 2021

Luscious, opulent, ripe, rich fruits are all over the place here. Accompanied by licorice, chocolate, smoke, plums, cherries and espresso. Hedonistically styled, concentrated, round and deep, this is still in the primary stage. A few more years in the cellar will add a lot to this beauty.

4,040 Views

Tasted

Jul 29, 2020

Forward, opulent, silky, lushly textured wine with loads of ripe black cherries, juicy plums, velvety tannins and a sensuous, dark cherry, licorice, chocolate and smoke-filled finish. You can enjoy this hedonistic sexy wine in its youth, or age it for further development.

5,113 Views

Tasted

Nov 8, 2019

Showing a depth of color, this is rich, fat, opulent, sexy and full of silky, velvet textured fruits. This is all about the sensuous textures and finish.

3,469 Views

Tasted

May 21, 2018

Deep in color with chocolate mint, licorice, spicy black cherries and a hint of truffle on the nose, this wine tastes like a blend of black cherry liqueur and dark chocolate. Silky in nature with the structure to evolve, this is a very nice vintage for Croix de Labrie. The wine is made from 100% Merlot and reached 14% ABV.

3,229 Views

Tasted

Apr 29, 2016

2015
Croix de Labrie Blanc (Bordeaux)

From a blend of 60% Semillon. 20% Sauvignon Blanc and 20% Sauvignon Gris, this is the debut vintage for hits new Bordeaux Blanc from the team at Croix de Labrie. Honeysuckle and grapefruit in the nose, the wine is deep in color, with a sweet, grapefruit rind sensation in the finish. Drink this on release.

1,444 Views

Tasted

Apr 29, 2016

2014
Château Croix de Labrie (St. Émilion Grand Cru)

Ready to drink. No decanting needed to enjoy this beauty. Medium-bodied, with soft, silky textures, fresh, sweet, round cherries, plum, truffle, licorice and earthy notes are on the nose and palate. This should be at its best over the next 10-12 years.

2,735 Views

Tasted

May 17, 2020

Truffle, wet forest, herb and cherry centered, medium bodied, wine, with a spicy almost peppery, dark red berry and herb finish.

4,417 Views

Tasted

Jul 2, 2017

Chocolate, licorice and truffle accents with a soft, fresh, polished, black cherry personality and plush, supple textures that are available from the get-go. 91-93 Pts

4,141 Views

Tasted

Apr 27, 2015

2013
Château Croix de Labrie (St. Émilion Grand Cru)

Forward, with an espresso, cocoa and smoky, plum nose, the wine is medium bodied, with a mineral note in the soft textured, black raspberry and earth filled finish.

2,379 Views

Tasted

May 25, 2016

Fresh plum, earth and cocoa aromas move to a soft, round wine that will be fun to enjoy in its first 5-7 years of life. Only 100 cases were produced this year. 88-90 Pts

2,912 Views

Tasted

Apr 28, 2014

2012
Château Croix de Labrie (St. Émilion Grand Cru)

Produced from small parcel of 100% old vine Merlot, the wine pops with rich scents of chocolate covered cherries, licorice and coffee. This medium bodied wine is forward, round, soft and sweet. 91-93 Pts

4,054 Views

Tasted

Apr 26, 2013

2011
Château Croix de Labrie (St. Émilion Grand Cru)

Croix de Labrie is produced from 100% old vine Merlot. Deep purple in color with fresh blackberry, chocolate, coffee and plum aromas, the wine is supple in texture with lush, sweet, black cherries. 92-93 Pts

2,863 Views

Tasted

Apr 24, 2012

2010
Château Croix de Labrie (St. Émilion Grand Cru)

Still dark in color, while the wine is tight, you can find truffles, licorice, smoke and wet forest smells if you look for them. Structured and silky, long and fresh, the wine leaves you with silky, fresh, black raspberries and dark chocolate. Give it some time in the bottle before you pop a cork.

3,472 Views

Tasted

May 25, 2016

2010 Croix de Labrie is produced from 100% old vine Merlot. Licorice, spice, crushed stone and ripe dark berries pair with ripe tannins, a lush, sexy, opulent mouth feel and rich, plummy textures. This is a truly sensuous, hedonistic wine made for pleasure seekers. Not much is made, which is too bad as wines like this deserve more attention. 94-95 Pts

5,049 Views

Tasted

Apr 22, 2011

2009
Château Croix de Labrie (St. Émilion Grand Cru)

Fully mature, this opulently textured wine is all about the palate texture. The nose, with its combination of truffle, licorice, dark cocoa and plums is the perfect starter for this hedonistic treat. Drink this now and over the next 12-15 years.

2,494 Views

Tasted

Sep 26, 2019

Supple, sensuous and sexy, this forward word is all about pleasure without waiting. In today's world, or after a hard day, that's not such a bad idea. Add licorice, espresso, pure black cherry and silky, polished tannins and it's even better. This is not a wine to age for decades, but it's also not a wine that needs decades to offer its charms. Drink now, or wait 5 years and enjoy it.

3,437 Views

Tasted

Mar 3, 2014

2008
Château Croix de Labrie (St. Émilion Grand Cru)

The perfume offers licorice, chocolate covered espresso beans, black cherry liqueur, wet earth and boysenberry aromas. Supple, polished and silky, low in acidity, yet fresh, the lush wine finishes with sweet, ripe, black cherries and cocoa.

3,176 Views

Tasted

Aug 28, 2015

2006
Château Croix de Labrie (St. Émilion Grand Cru)

A nice wine with good intentions, that is soft, lush, and fruity, with ample licorice, smoke, and cocoa toppings to the ripe plums, but it is a bit short and firm in the finish. Drink 2022-2032.

2,184 Views

Tasted

Nov 11, 2022

Flowers, chalk, fresh herbs, mint, wood and plums. Plushly textured, medium bodied, with freshness and vibrant energy, you can drink this now, or age it for a bit longer.

3,603 Views

Tasted

May 25, 2016

This vintage produced a more structured style for the Chateau. Tannins are abundant and the profile is a little beefier than usual. Although ample ripeness, color and roundness can be found, this will not deliver the up-front, hedonistic style they are known for.

3,314 Views

Tasted

Jun 9, 2008

2005
Château Croix de Labrie (St. Émilion Grand Cru)

This pops from the glass with licorice, blackberry and oak notes. In the mouth, the wine is lush and feels ripe. The tannins are elegant and supple. If you are seeking an upfront sex pot of an 05 St. Emilion look no further, this is it. I would drink it in the first 15 years of life

3,569 Views

Tasted

Jul 12, 2008

2001
Château Croix de Labrie (St. Émilion Grand Cru)

Fleshy, flashy and layered with chocolate covered plums, vanilla, truffle and licorice, this sensuous St. Emilion is fully mature. It's not a wine to make old bones. It's drinking great today. Pop it and enjoy...

2,597 Views

Tasted

May 31, 2012

2000
Château Croix de Labrie (St. Émilion Grand Cru)

This is a sexy little wine made for hedonists. Rich, velvety, plush waves of dark chocolate covered plums, licorice and minerals fill your palate. This 100% Merlot is drinking perfectly today. Owners should drink this wine young to capture its fruit and vitality.

3,345 Views

Tasted

Mar 5, 2010

With its coffee, fennel, black fruit nose is a treat. The fruit is silk and velvet. Already showing well, this sexed up wine is a lot of fun to drink

2,780 Views

Tasted

Jul 12, 2008

1998
Château Croix de Labrie (St. Émilion Grand Cru)

This very lush, voluptuous expression of St. Emilion is a wine for hedonists. Filled with ripe blackberry, floral, mocha and chocolate notes, the wine delivers a beautiful silky finish. The wine might improve a little bit over the next few years, but owners should opt for drinking it sooner than later.

3,051 Views

Tasted

Oct 13, 2008